Making Original Large CNC machining (Digico-MILL48)
Digico-MILL48 is completely original CNC machining, was produced from planning, designing, manufacturing to installation, with the founder of Fab Lab West-harima and his friends.
1. Machine Spec
| Machine spec | Description |
| --- | --- |
| Processable materials | Wood, Processable materials (Acrylic, Polycarbonate, PVC, etc), aluminum |
| Work area | About 1300 mm(w) x 2500 mm (L) x 150 mm (H) |
| Feed rate | 1-3000 mm/min |
| Spindle speed | max 18000 r/min |
| Control Board | HICON Integra mill |
| Control Software | Mach4 |
2. Developer
- Kazunari Takeda
Role: Comprehensive producer, Mechanical design, electrical and control design and fabrication
background: Mechanical engineer
Former:
An incumbent:

CEO of Digico LLC
Founder of FabLab West Harima
- Takayuki Mimura
Rule: Mechanical design, Computer numerical control machining, assembly and adjustment
backgound: Mechanical Engineer
Former: Engineering team at RIKEN Harima (SPring-8)
An incumbent: Vice-president of Puroto Design Ltc.
- Kenta Ishino
Mr. Mimura and Mr. Ishino are FabLab Nishi-Harima cooperators.
3. How the original CNC was made
Initially planned to purchase Shopbot using subsidy. (subsidy did not go through, purchase abandoned)
The founder see the Shopbot and feel I can make it myself.
Start considering creating our original CNC machining.
Three developers to identify the structure and components (using open sources such as Shopbot, Avid CNC, etc. as references).
Three developers some original idea that the developers want to use.

For all XYZ axes, Want to use linear rails and ballscrews.
For the Y-axis, we want to use a 3m long linear rail ball screw without connecting rails.

Started looking for a manufacturer. Currently ordering & importing to Chinese manufacturer.

Want to use Millimeter screw and bolt instead of inch. (The reason is Japanese handware store can't get inch screw and bolt easily. )
Joints and mounting stays were originally designed by Takeda and Computer numerical control machining by Mimura.
Want to use the electrical and control parts are slightly better than those used by ShopBot and Avid CNC.
4. Design software
Using Fusion360 (CAD) for Design.
Digico mill48 Version 1
Digico mill48 Version 5
5. Control Board
HICON Integra mill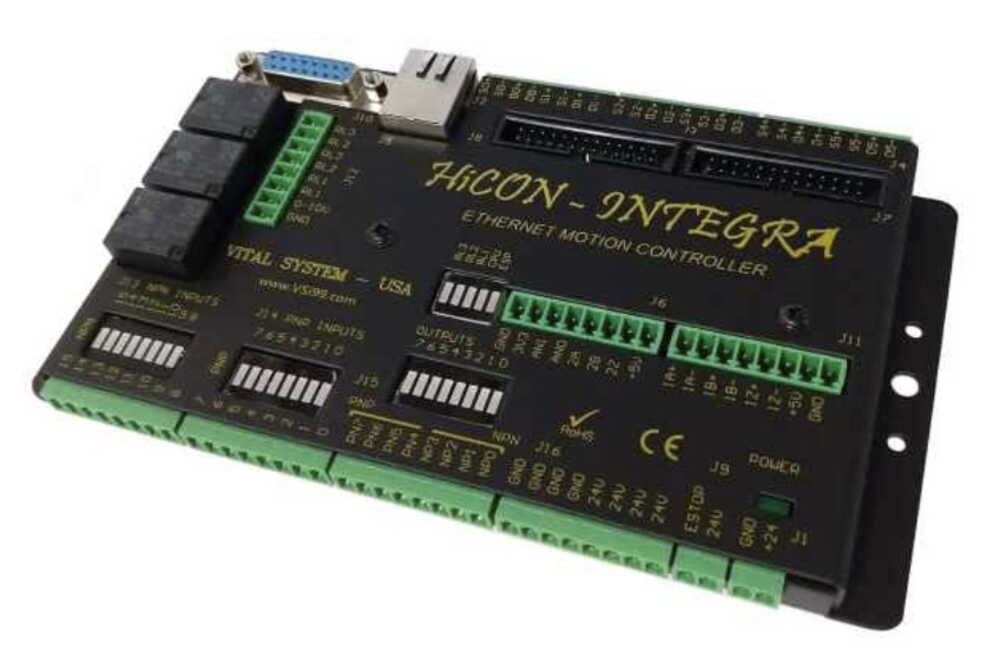 6. Where to Buy Parts
| Title | Where to purchase |
| --- | --- |
| Mechanical parts | MISUMI |
| Original parts | Proto design, MISUMI Meivy , In-house production at FabLab Nishi-Harima (3D printer creation) |
| Linear guide & ball screw | Imported from China manufacturer |
| Electrical parts | AliExpress, VITAL system, HICON, GECKODRIVE |
7. Making Process for Digico-MILL48 Version1
At first, we assembled base aluminum frame. FabLab Kobe members also helped to assemble the frame.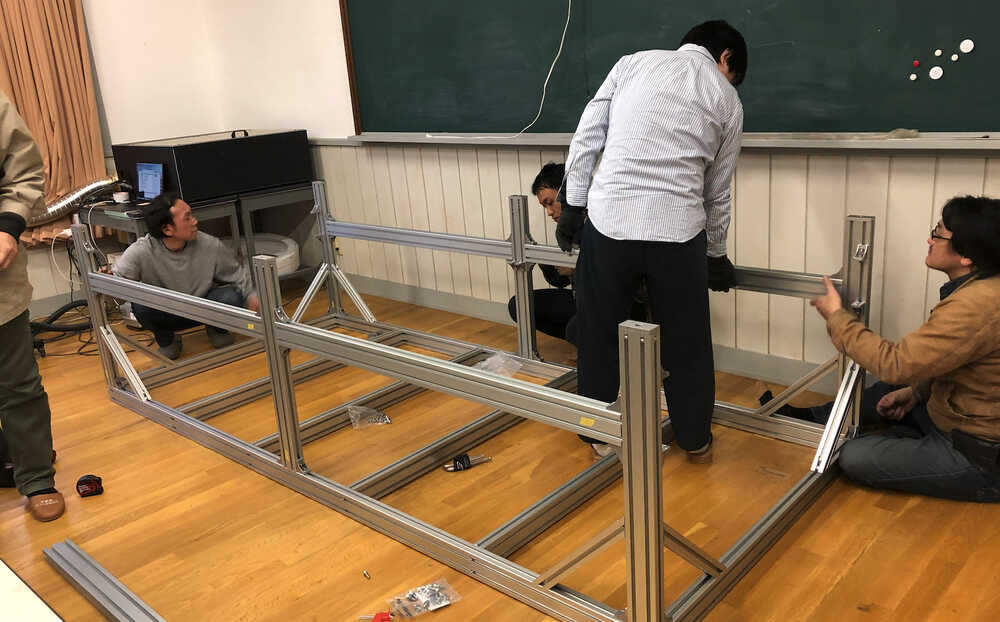 Linear rail and ball screw installation
- For 3m linear rails and ball screws of Y axis, we imported them from China manufacture by sea, We had to go through customs paperwork and undergo a large X-ray inspection, which was a valuable experience.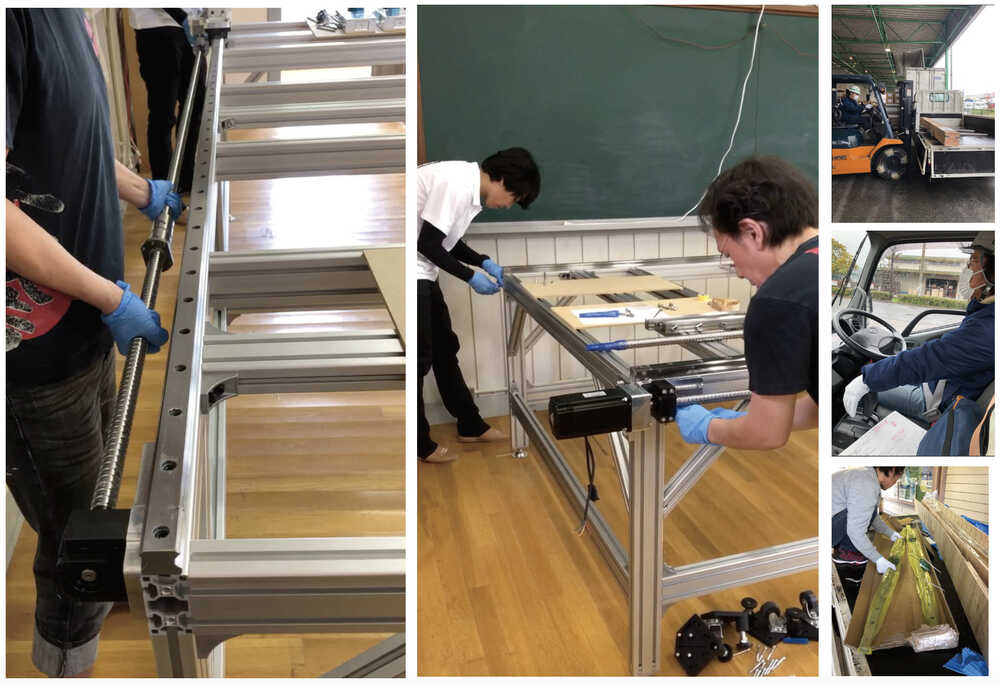 Gantry installed was tough work, as each parts are heavy, and the weight increased with each assembly.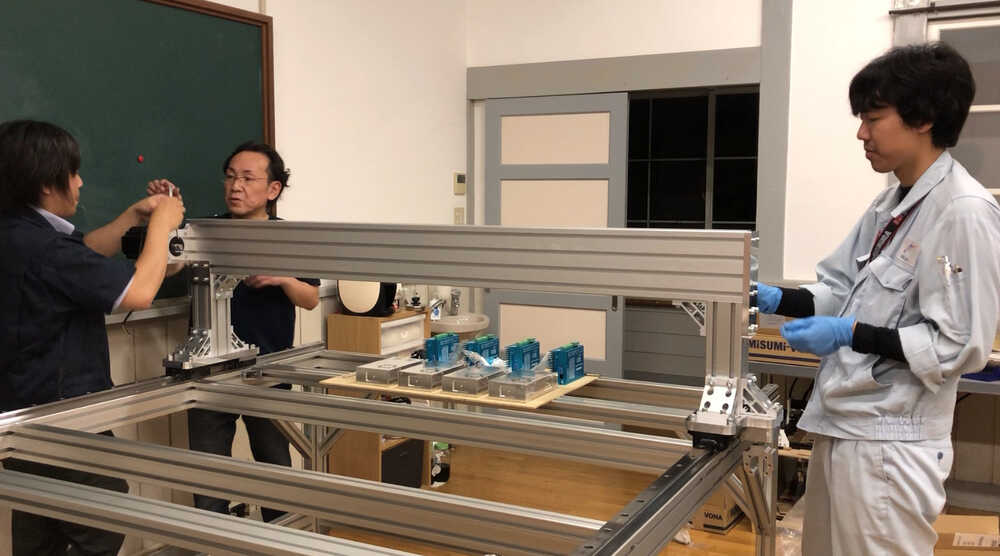 For the joint, Original parts were installed.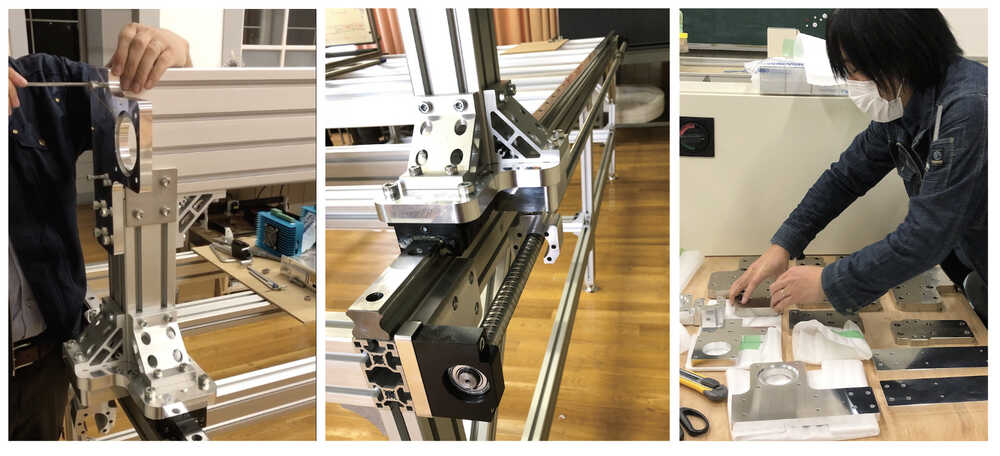 Z-axis installed.
Metal parts assemble should to be care precise position, and all parts are heavy, so it become tough work, too.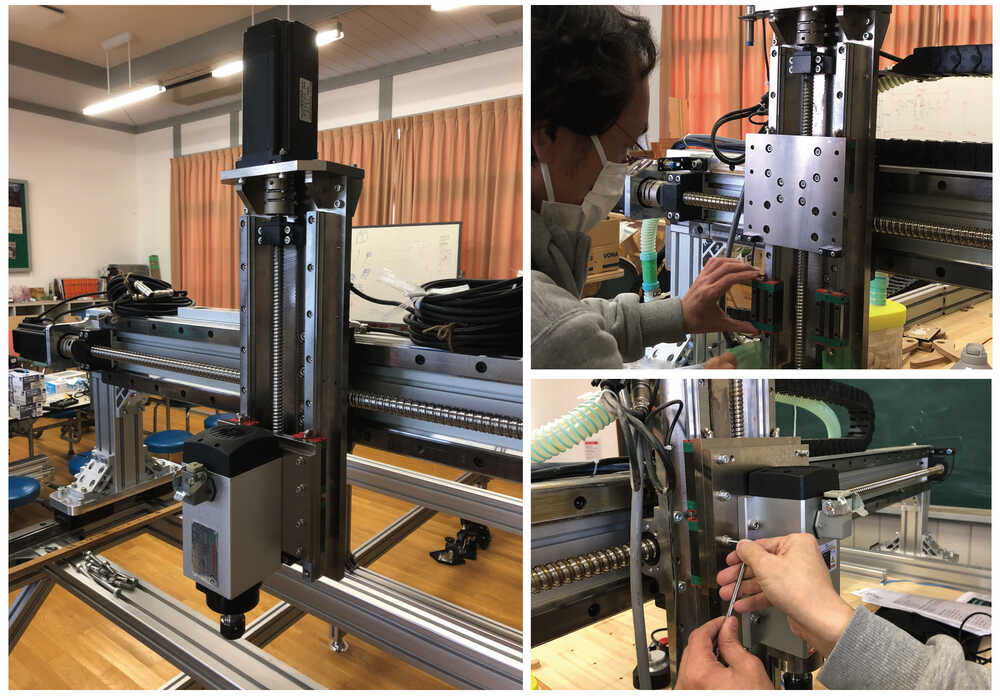 Work for Wire.
It is a large machine, so the wiring is long for motors and sensors, etc. Wiring preparation requires many hours.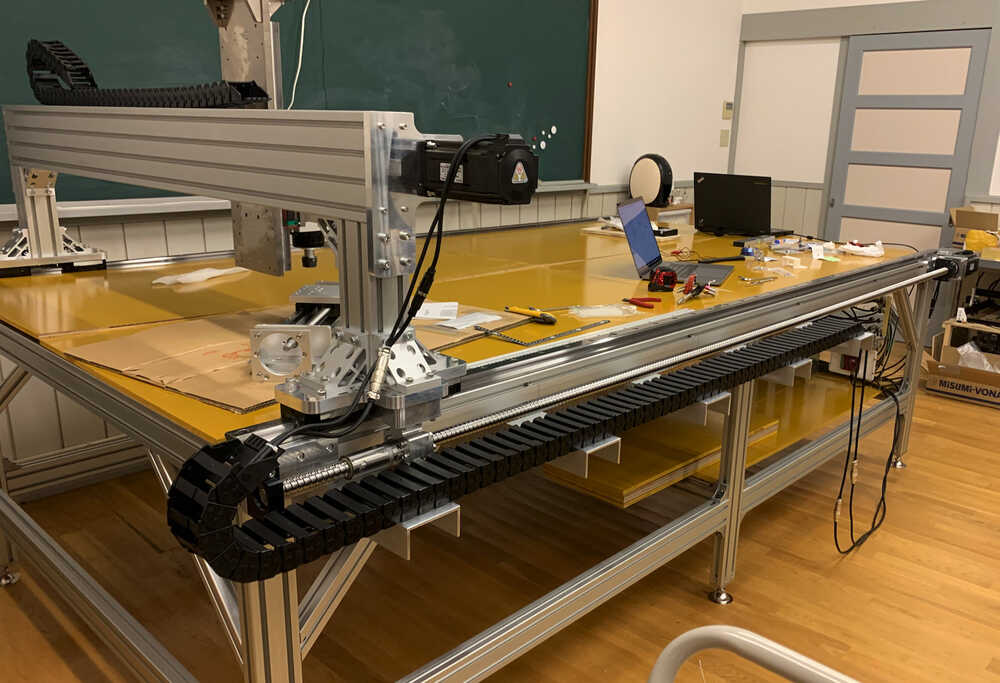 Connect all wires to the Switchboard.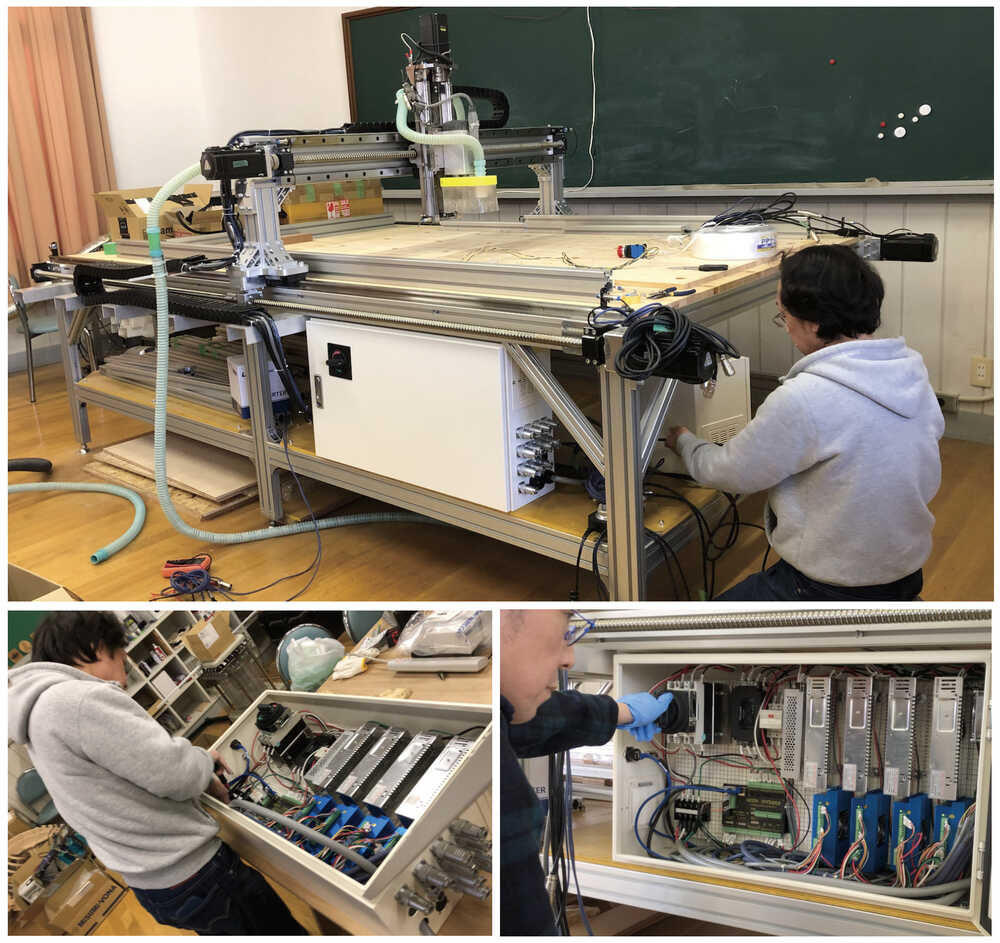 Machine built, and test working is success.
We are quite satisfied with the first completely original machine, was produced from planning, designing, manufacturing to installation by ourselves.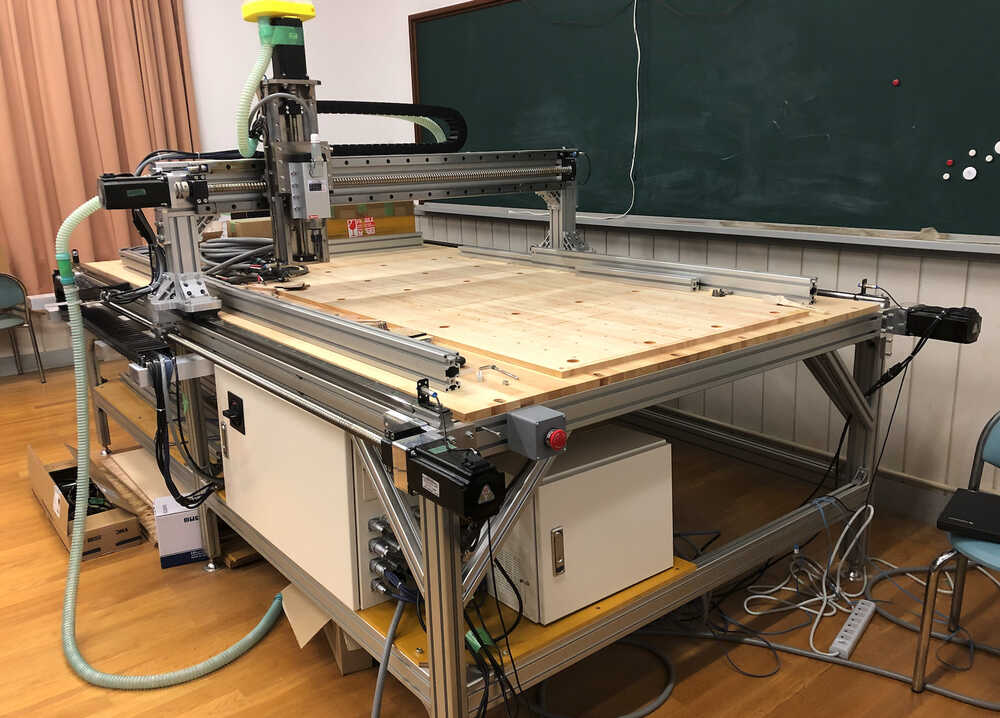 8. Test
We made a desk and chair, and success.


9. Upgrade the machine
The first model was made in a similar way to Avid CNC, which we respect, but since then, we have been upgrading the version with reference to ShopBot and Avid CNC as models, improving parts that may affect the accuracy in terms of strength, parts that we are not satisfied with in terms of structure and mechanism, and improving usability. We are also working on improving the usability of the machine.
| Version | How development |
| --- | --- |
| 1 | Original Avid CNC-like CNC was built. |
| 2 | Improvement of various adjustment mechanisms. (especially Z-axis and spindle section) |
| 3 | Changed frame to 80x80 aluminum frame |
| 4 | 80x80 steel frame and various steel parts |
| 5 | 100x100 steel frame and improved reliability of Z-limit |
10. Making Video
Making, CNC Version 1, build from 2020, 29 JAN to 15-OCT
Making, CNC Version 5 (100x100 Steel Flame model), build from 2022-AUG 23 to 2023-MAR-12
11. Link