Svavar's Fab Academy Journey or: How I Learned To Stop Worrying And Make Stuff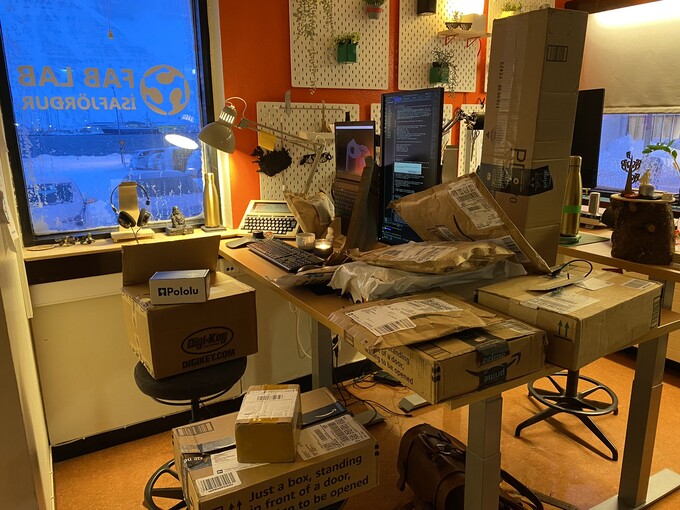 Me
My name is Svavar Konráðsson. Welcome to my home on the web. Here I will document my studies at the Fab Academy, class 2023. I have the good fortune to work at Fab Lab Ísafjörður, Iceland. My instructor and the head of Fab Lab Ísafjörður (and meme grand master) is Þórarinn Bjartur Breiðfjörð Gunnarsson. I plan to pester him day and night for the next six months when my gadgets aren't working.
My rune
The logo in the top left corner is the rune that I made for myself in grade school, made up of my initials SK.
My desk
The image shows my desk when all the components for the Fab Academy arrived. Yay! Outside the window you can see the harbor and the mountain. In the window next to the headphones is the second thing I ever 3D printed, the Stormtrooper Buddha.
My desk setup consists of three screens:
Tandy 102
On the left I have a Tandy 102 laptop from 1985 that I use for writing, because it has the best keyboard I've ever used by far. This was my father's computer. He ordered a device called NADSBox that plugs into its RS232 port and allows me to put my writings onto an SD card. They're in the old .DO format (this came before .DOC, which came before .DOCX). Then I run a little converter program and voilá! I can put the text on the web. I use this computer in memory of my father and I also light a candle on my desk every day to keep him with me.
ThinkPad
In the middle is my ThinkPad laptop, which can become totally flat! So I milled a simple stand out of two pieces of birch plywood and lasered our logo on it. I use the laptop screen mostly for modeling and image editing. It's color calibrated. I also use it to connect to a few Raspberry Pi computers using a VNC Viewer cloud connection.
Vertical monitor
On the right is a vertical monitor that I use for coding, reading documents and browsing the internet.
Missing from the picture is a 10 year old iPad which works great. I mainly use it to read and annotate PDF documents now, but I used it as my work computer at university for a while. I even wrote and submitted a grant application using only the on-screen keyboard!