13.5 Group Project- Inputs¶
This week, for our group project, we were asked to probe an input device's analog levels and digital signals. To see our group work, please visit our site at this link.
On Monday, April 25, colleague and classmate, Nidhie Dhiman and I sat down to see if we could determine how to use the Siglent Technologies SDS1102X LCD Digital Oscilloscope in the Charlotte Latin School Fab Lab.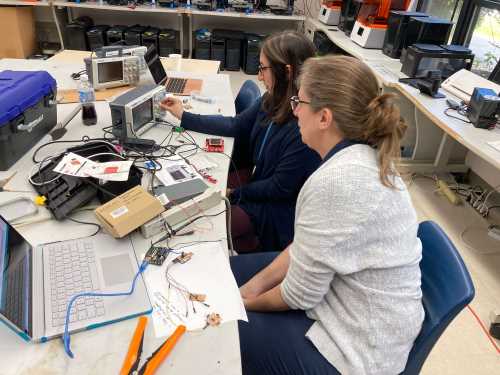 Unsure of how to connect the PIR sensor to the oscilliscope, we decided to do an Internet search. We found and watched "PIR sensor - testing and looking at sensor output with oscilloscope" and "Infra-red sensor In Oscilloscope PIR Sensor lhi778 opamp Circuit"]. Although we had the manual for the oscilloscope, we never really could tell if we were using it correctly. We were unsure of how to make the adjustments needed to see the waves. The following viedo shows Nidhie and I working together to try to use Siglent Technologies SDS1102X LCD Digital Oscilloscope.
When the whole group was able to meet on Tuesday, April 26, we used an Analog Discovery 2 (by Digilent) to investigate some of my PCB's (from this week and previous weeks). We recorded this video on my iPad, and I used iMovie to merge the two clips together into one video. In working on his final project, classmate, Charlie Horvath, had learned a lot about the Analog Discovery 2, and he showed us some of what he knew. Our video is shown below.
---
Last update:
April 27, 2022