About me¶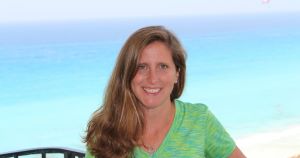 Cancun, Mexico, 2014.
Hi! I am Barbara Morrow. I am a Middle School Girls' Innovation and Design Teacher and a High School (Co-Ed) Engineering Teacher at Charlotte Latin School. I am an educator in my twenty-fifth year of teaching, with an MEd in Inquiry-Based Education.
My background¶
I was born in Bethesda, MD, but with my father in the U.S. Army, my family moved numerous times throughout the world during my childhood. I currently reside in Fort Mill, SC, and I work at Charlotte Latin School in Charlotte, NC.
Previous work¶
Throughout my career, I have encouraged students to participate in engineering and computer science courses as well as extracurricular STEM activities. Having twice received the Lemelson MIT Excite (Teaching) Award, the Lemelson-MIT InvenTeam Grant, the Pam Wilson Endowment Grant, and two Arts and Science Council Grants, I strive to find opportunities that build a passion for learning in the lives of the students I teach. Learning in the Fab Academy Course (with former students) is going to teach me to practice what I preach.
In my twenty-five years of teaching, I began recognizing a need for expanding and cultivating an extracurricular environment for girls that allows them to express and grow an interest in computer science. In the fall of 2020, I co-founded The Angelica Institute (TAI). This company provides teachers with a robust computer science curriculum that is aligned to five national standards and specifically tailored to the way girls learn.
Additionally, for twenty years, I have been heavily involved in the writing of high-stakes End-of-Grade/Course assessments for over twenty-five states in the U.S. This included writing for the New England Common Assessment Program (NECAP) and the online Science ERB Assessment. In 2010, I was asked to write lessons for the U.S. Department of Defense Army Educational Outreach Program (eCYBERMISSION).
Outside of teaching and mentoring students, I am a wife and mother of three grown children. My greatest joy is being a grandmother to three grandsons and one granddaughter.
My Favorite…¶
| | This was one of my favorite days, the NCSU vs. Clemson football game last fall (September 25, 2021)– where NC State beat Clemson in double overtime. An exciting finish for the Wolfpack! |
| --- | --- |
| | One of my favorite "folks" to hang out with- Murphy. My six-year-old Havanese. |
---
Last update:
February 5, 2022