1. Review of existing¶
Full microscopes¶
DIPLE¶
I received my DIPLE microscope and tested to make some early pictures:
| | |
| --- | --- |
| The DIPLE smartphone microscope | My first blood microscopy with my smartphone |
I will be reusing the lens and inspecting the DIPLE, I see that the lenses are not well attached thus moving a little the smartphone blurs the images as the focus changes.
The focus adjustment is really smart. There is one constant height preset by the thickness of the plastic part and on the other side, a screw.
I will 3D model it in the future weeks and adapt it to my design.
16/02/2021 : I ordered a FoldScope to see how it works and how I could use it as a base to build an automated microscope. I should receive it before end of February 2021. I also ordered 2 lenses to be integrated in my projects !
10/02/2021 : The shipping cost from the US are very high (around 60$) so I asked the Fab network and Rico Kanthatham from Japan helped me by asking friends he has at FoldScope who said that I should order from the german distributor at https://www.jot-entdecken.de/.
16/02/2021 : I contacted the head researcher of the paper through Linkedin but have not received an answer yet.
20/02/2021 : I discovered the new project of Manu Prakash's team, the Octopi. The goal of the project is very close to mine so I can take a lot of inspiration of their work. I'll review it in the coming days.
OpenFlexure is an amazing 3D printed microscope that combines the advantages of 3D printing and flexures of the Urumbu stage (see below and the machine week) with off-the-shelf optics and a RaspberryPi and a RaspberryPi camera making it a full digital microscope. Off course it's a opensource one which makes it an amazing candidate.
The Projects¶
I looked for similar projects in the FabAcademy database and asked on the GitLab and found these ones :
Tatiana's project¶
Tatiana's project was to make an automated XY stage for her microscope with a joystick to control it. She also wanted a very fine range of motion.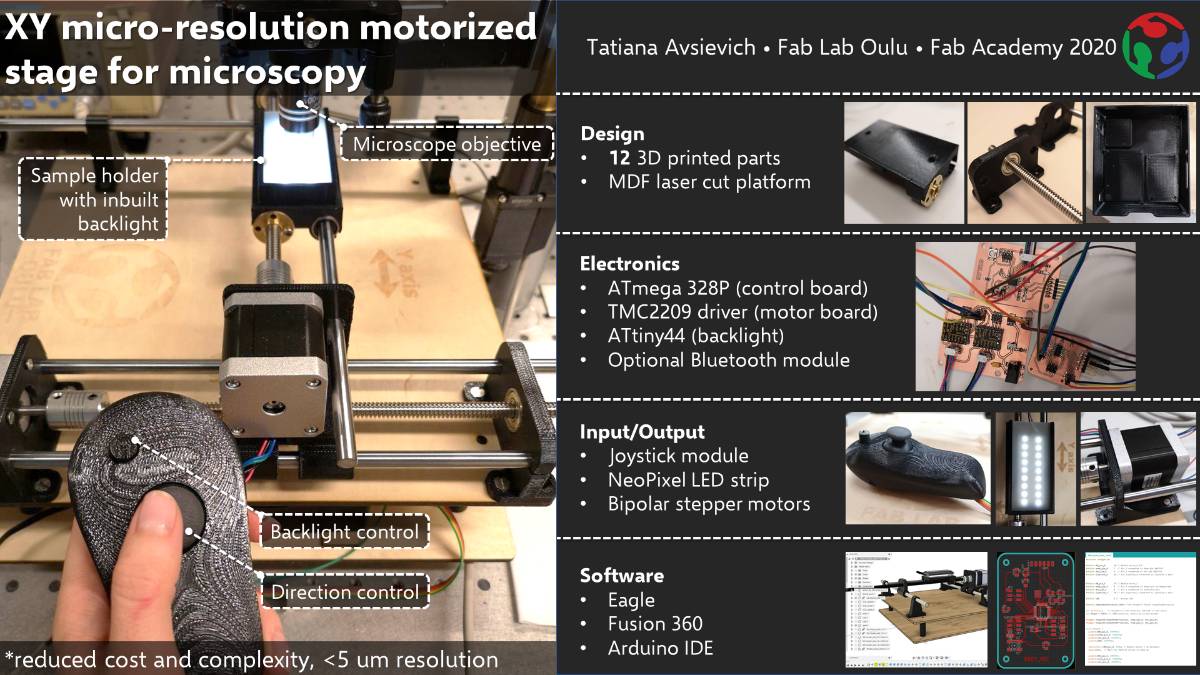 I like these two features very much and I'll try to integrate them as best as I can.
From Tatiana's website, I found lots of inspirations of other projects starting with this video!
One thing I noted was that I will have to pay attention to the vertical (Z) displacement that I had not considered so far.
Urumbu XY stage¶
The Urumbu XY stage is based on a flexure mechanism and looks exactly like what I need for my microscopy stage.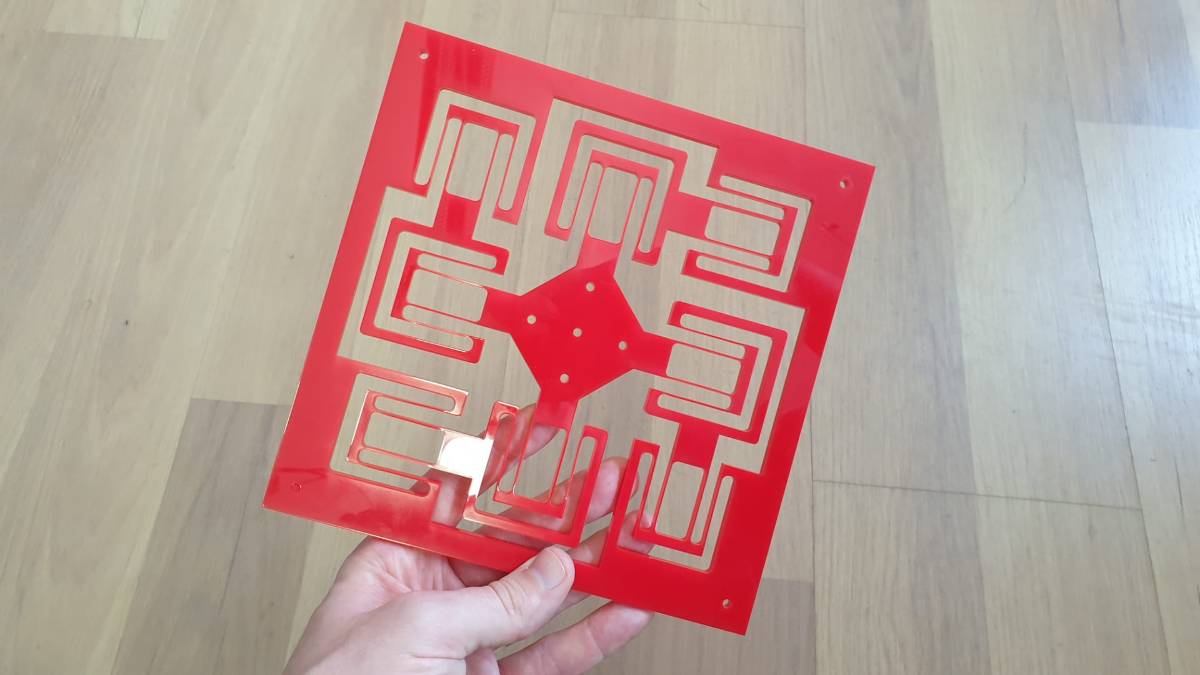 The XY range is limited but that should not be a problem because a microscopy slide is quite small and requires max 2 cm in range of motion.
Based on this and the need to consider the Z displacement, I think my first control on that will be to make the XY Urumbu stage thicker. Indeed, if the blades are wider, shear displacement will be more difficult and thus more limited.
The original design was made using OpenSCAD so I'll learn how it works to reuse it directly, go check the tutorials to see if I learned it already.
Interesting links¶
Creation of a lens from scratch or actually sand.
---
Last update:
April 21, 2021