1. Principles and practices¶
This week I worked on defining my final project idea and started to getting used to the documentation process. The reference lesson for this week is :  Principles and practices Interesting links and topics regarding project management can be found here: http://academy.cba.mit.edu/classes/project_management/index.html
A. Malaria diagnostic platform¶
I already had an idea before starting the FabAcademy and my motivation for doing the FabAcademy is actually partly to be able to build a prototype for this project.
This project aims to tackle diagnostic at the point-of-care, specifically microscopy.
Even more specifically, I want to tackle the microscopy diagnostic of malaria in low resource environment.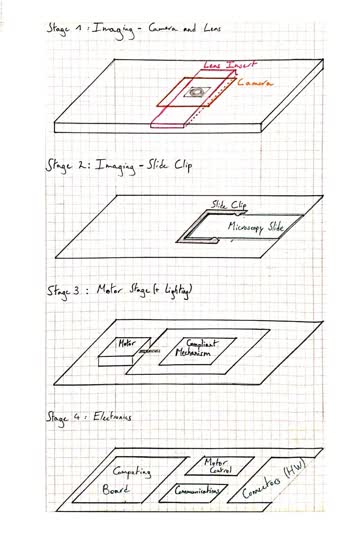 I was inspired by the DIPLE project by SmartMicroOptics which built a microscope to be used with any smartphone.
I believe that for a professional use smartphones are not the most adequate. Even if they are super modular and multifunctional, for application specific devices, I believe that it's better to have a "batteries included" device and not rely on an external device for critical functions.
However, the smartphone is a perfect tool for communication of the infos or if it can integrate the full diagnostic functions, such as what FibriCheck did for arrhytmias detection or SkinVision for melanoma detection.
I started documenting this project on this page
B. Solar Sinter Project¶
I also loved the solar sinter project aiming to 3D print stuff using sand as base material and sunlight as powersource, but I don't know today how to build a big enough and efficient lens that would make this functional.
One of my dream would be to build a gigantic 3D printing-car that could drive around the desert and print infrastructure and factories to move our energy hungry industry to a land of "free energy", where the sun shines indefinitely.
To solve the issue of water, we could build gigantic passive desalinisation farms making fresh water using infrastructure 3D printed in glass.
C. Portable 3D Scanner for photogrammetry¶
I changed my mind regarding my final project halfway through the FabAcademy and decided to build a 3D scanner for photogrammetry which development is documented here.
---
Last update:
August 24, 2021