4. Computer controlled cutting¶
Instruction¶
Individual Assignment
cut something on the vinylcutter
design, lasercut, and document a parametric construction kit, accounting for the lasercutter kerf, which can be assembled in multiple ways, and for extra credit include elements that aren't flat
Group Assignment
My Work in Week3¶
Vinyl cutter
Parametric Constuction kit
lasercutter tests -> Group Assignment Page
Vinyl cutter¶
What I want to cut¶
One of my favorite animations is the snowman I used to watch this animation numerous times in my childhood. -> Youtube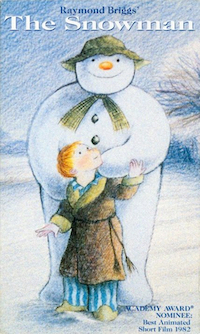 And my first name is "Yukiya" which means "Yuki" = snow and "Ya" = man in Japanese so I decided to make it on vinylsheet.
Moreover, I wanted not only to cut the vinylsheet by vinylcutter but also to make something I can hold in my hand. So I decided to make a frosted glass by using cut vinylsheet and sand brast stencil.
Design on illustrator¶
trace the path on illustrator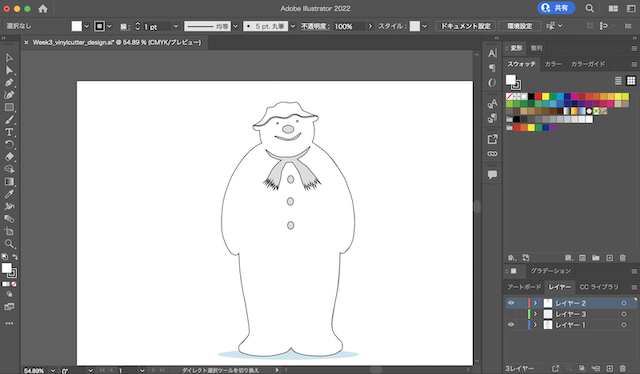 download silhouette studio to manage the vinylcutter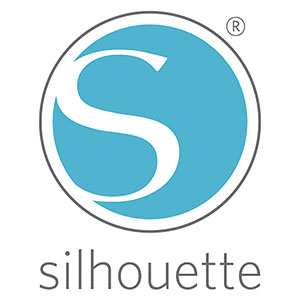 design data in illustrator exports to silhouette studio as dxf file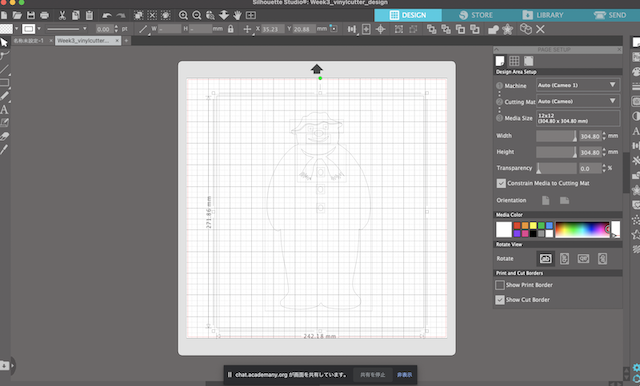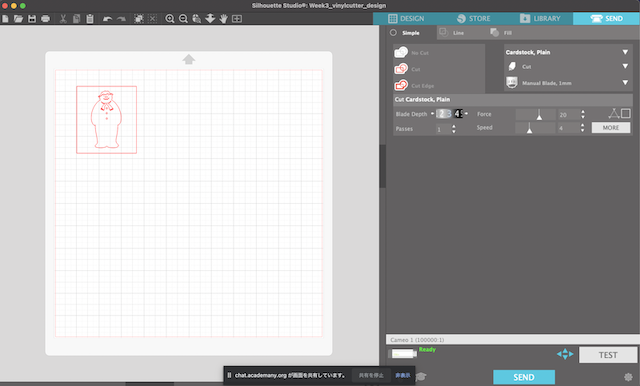 Cut Vinyl sheet¶
The vinylcutter we used¶
I used Silhouette CAMEO as vinyl cutter.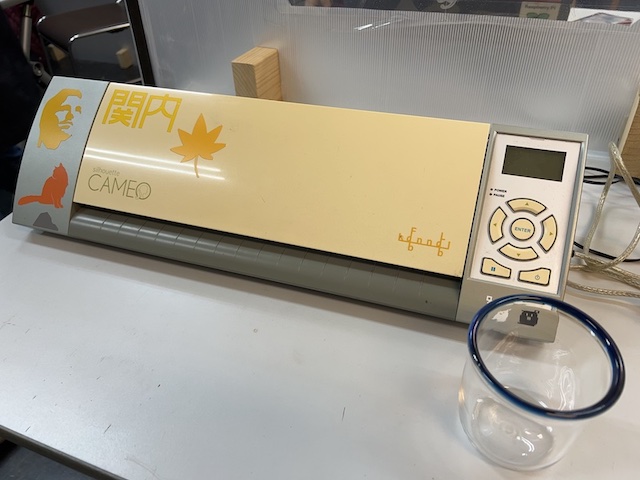 Connect the CAMEO to my computer.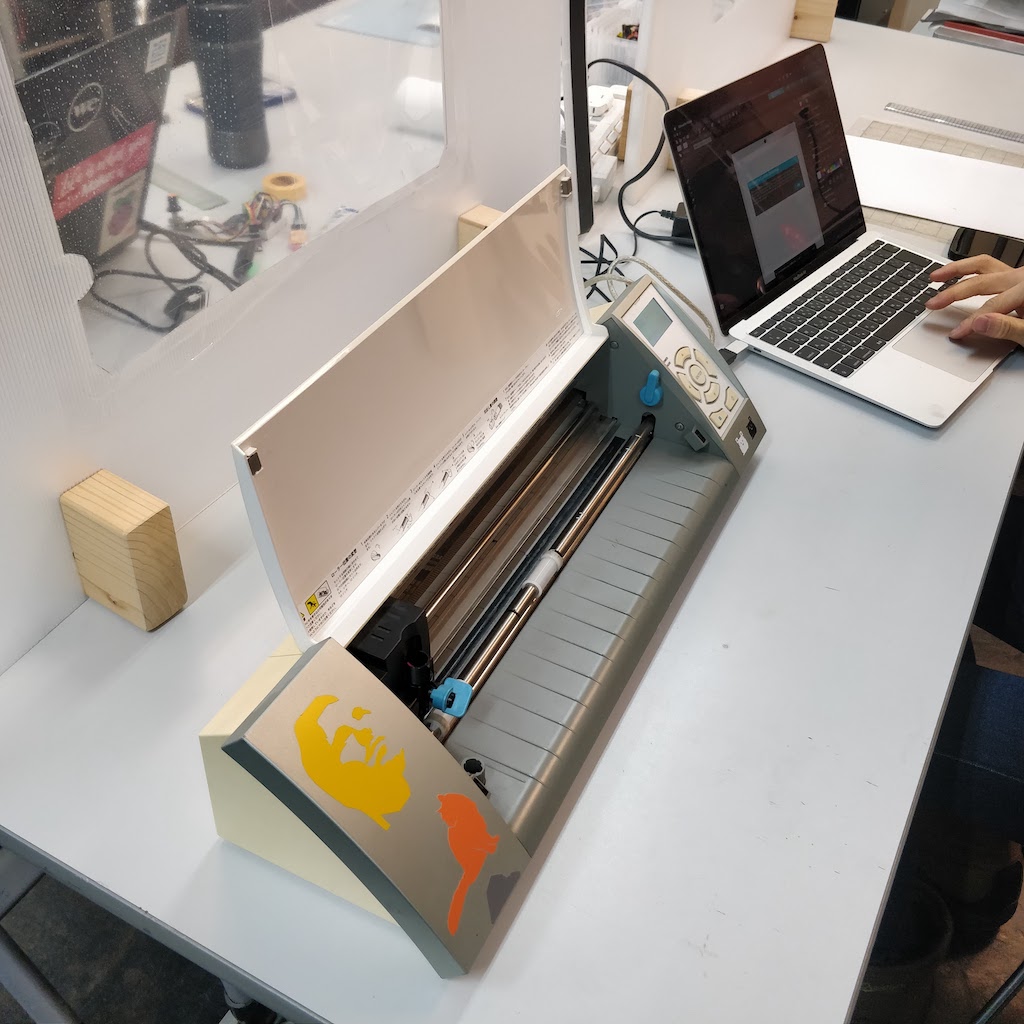 The followings are the procedures I followed to use it.
1.Install Silhouette Studio which is the software for the Silhouette CAMEO.
2.Export my vector data into "DXF" on the Adove Illustrator.
3.Import it into Silhouette Studio.
4.Adjust size or alignment of data for cutting in design view of Silhouette Studio.
5.Set the parameter as follows from clicking on "SEND" button on the top of the screen.
Materials : Cutting Film Gross
Material type : Cut Vinyl, Glossy
Tool :Ratchet blade
Cutting pressure : 4
Force : 10
Path : 1
Speed : 5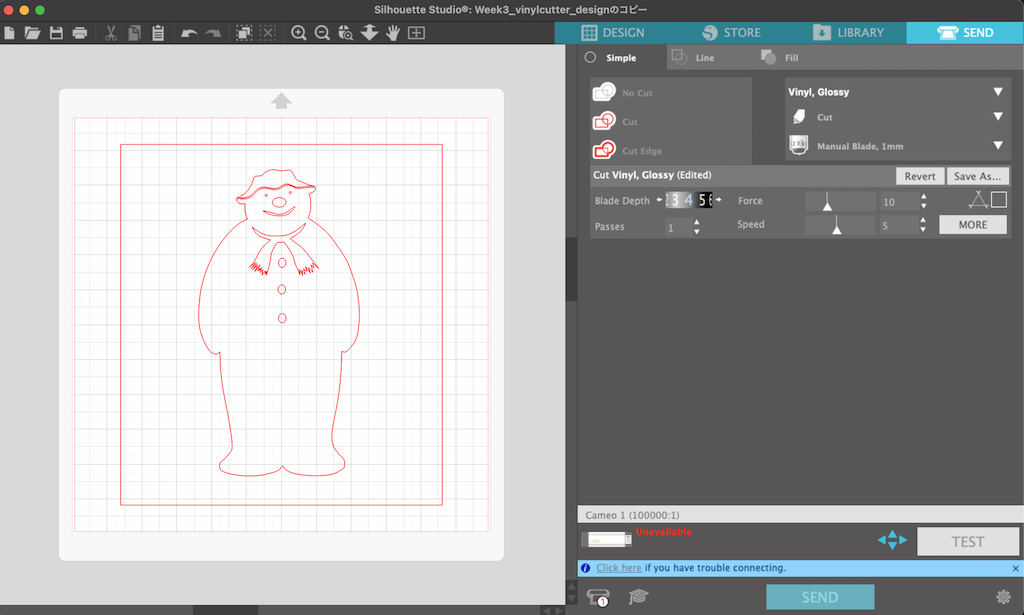 Apply the vinyl sheet on the stage of Silhouette CAMEO.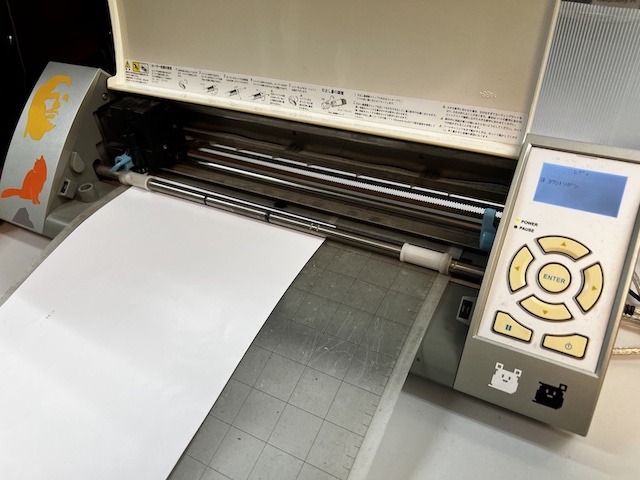 Test and Send to cut vinylsheet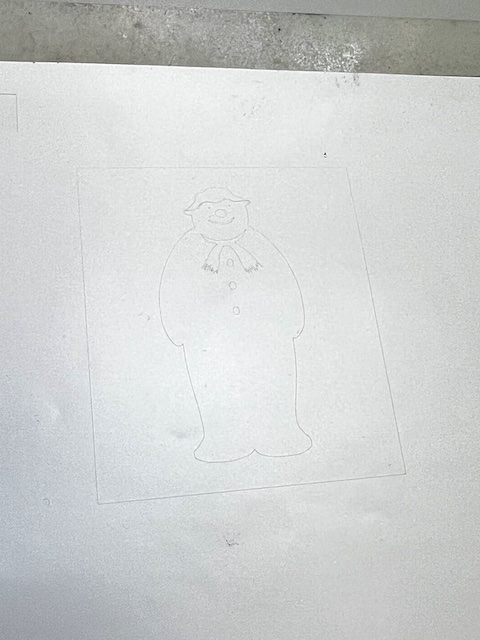 Load the cut vinylsheet on the application sheet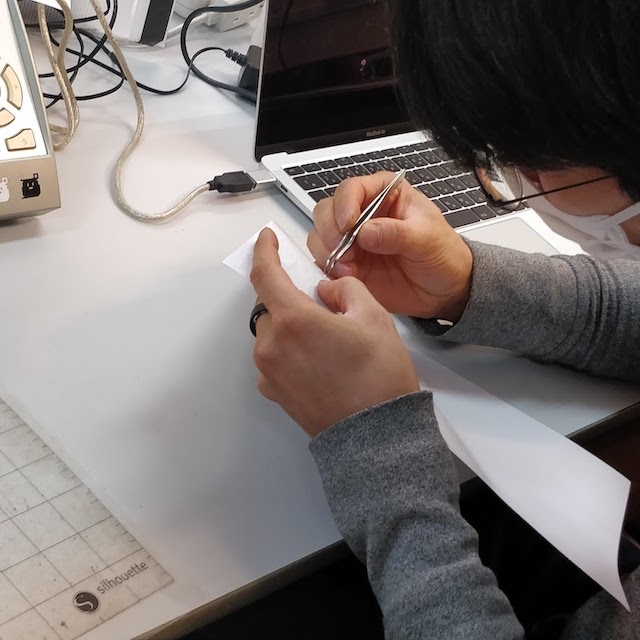 Done successfly.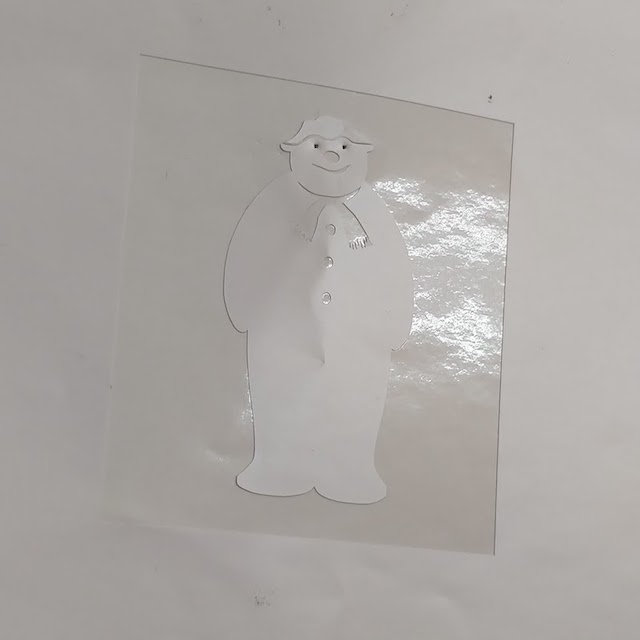 Load vinylsheet on the glass to mask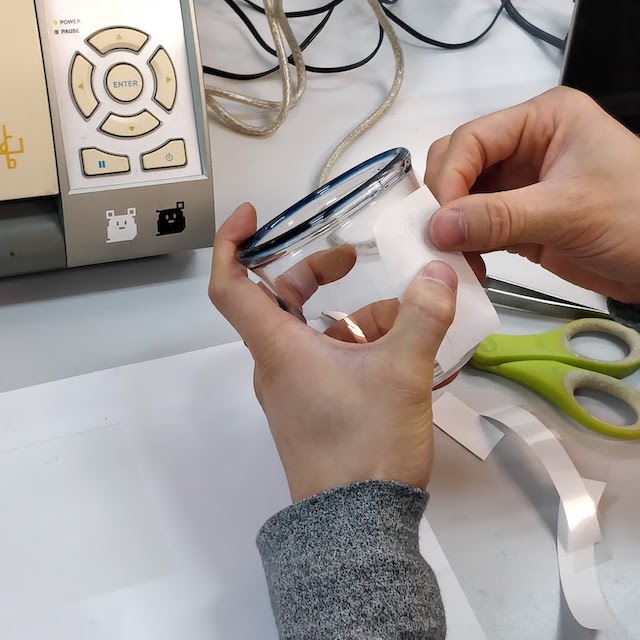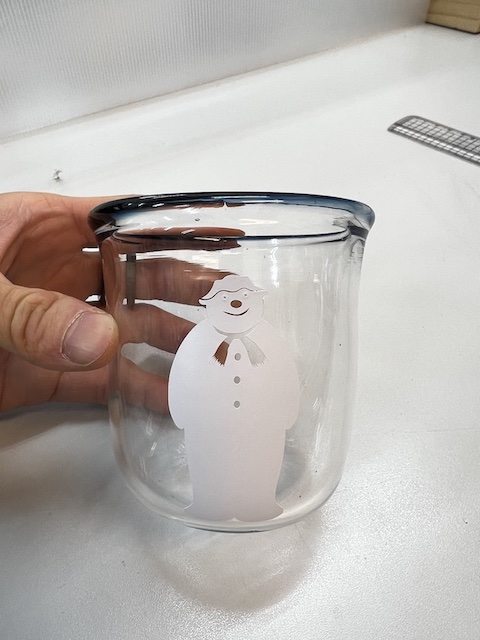 proceed to the process of sand brast stencil.
the frosted grass can be made by spraying sand to glass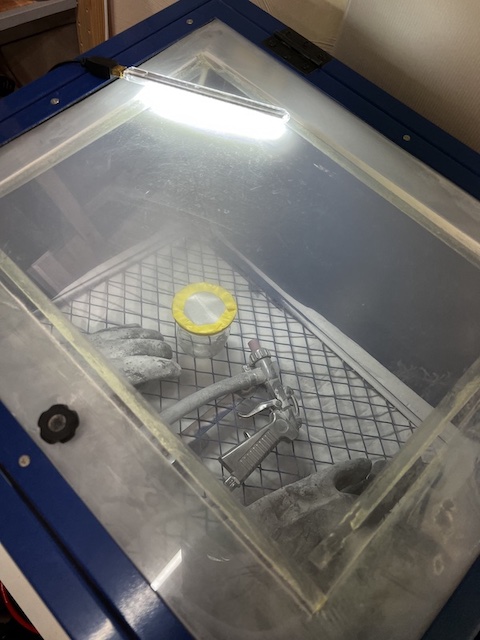 movie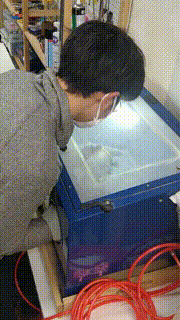 finish sand braster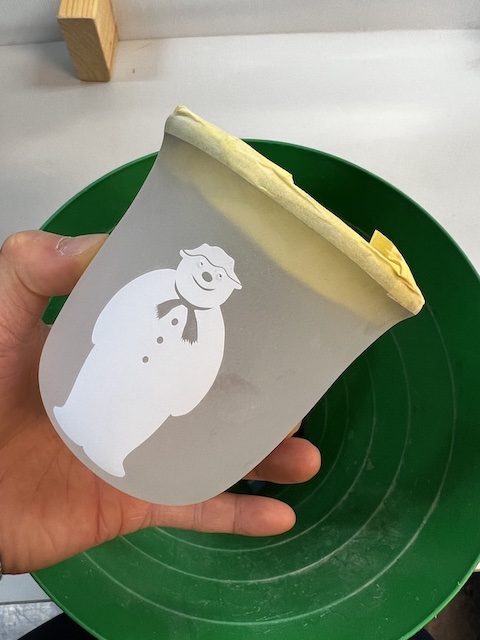 Finish shot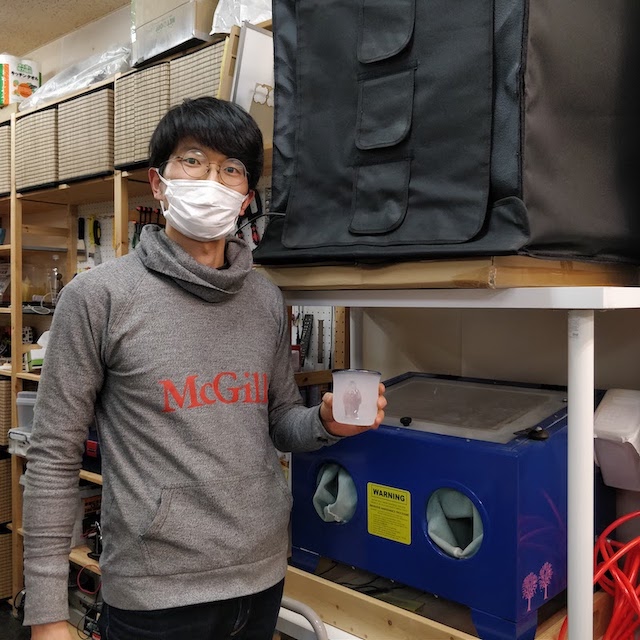 Hero shot of glass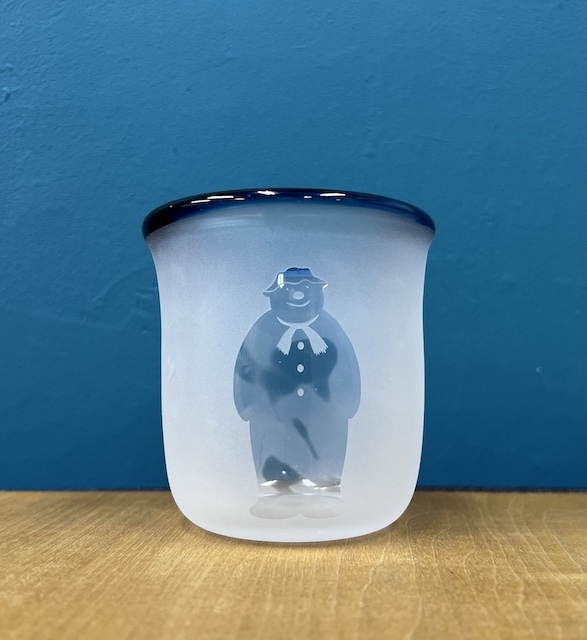 parametric construction kit¶
What I want to make in this work¶
In Asia region including Japan, potato are in short supply. Many hamburger chains such as McDonald or Subway decide to limit the size of french fries so those who love french fries are suffering from their shortage.
Washington Post : A growing global potato shortage is affecting french fries, from Japan to Kenya
This is why I try to make an art work of potato by using cardboard through parametric construction kit.
Concept "Cardboard Potato"¶
image to make source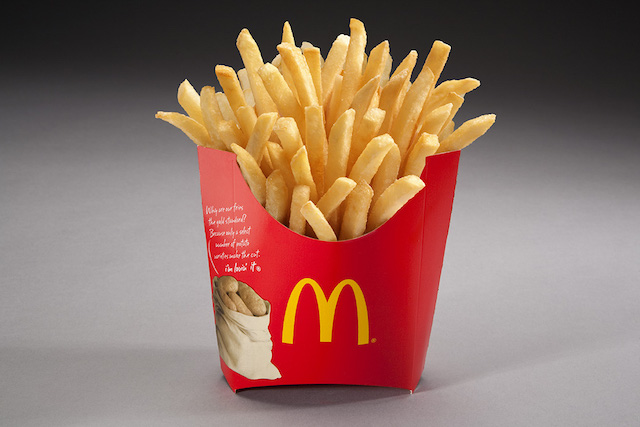 Design by Fusion 360¶
"Cardboard Potato" consist of 4 parts : Basement(potato packbox), potato S, potato M, potato L)
Sketch and Extrude the parts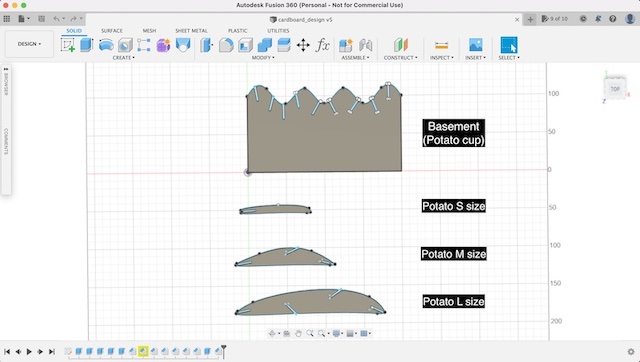 Set the parameter each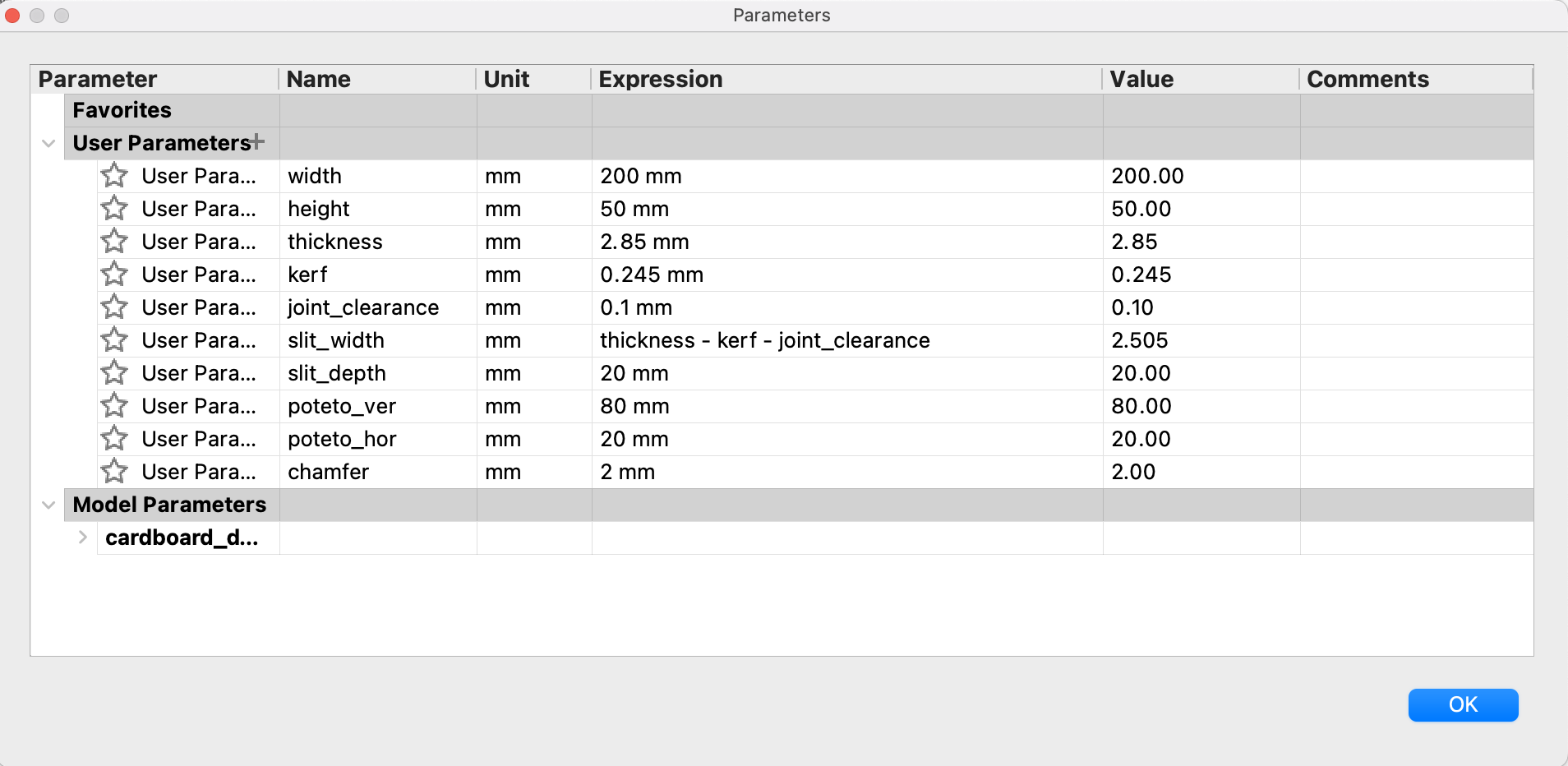 According to Group Assignment, the value of kerf is set below.
Chamfer edges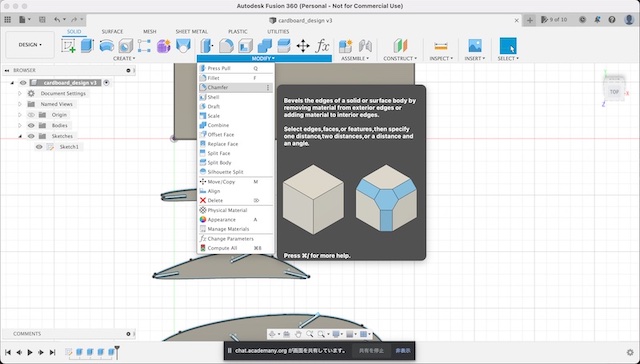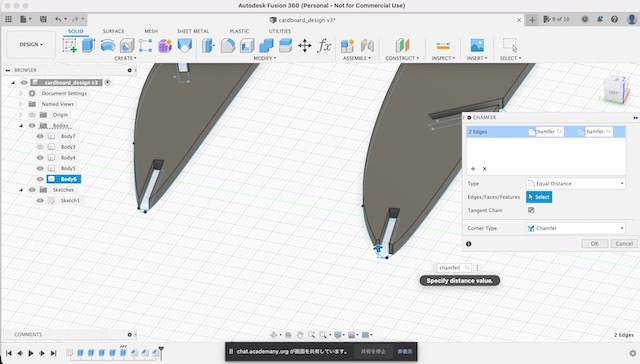 Finish designing parts by fusion 360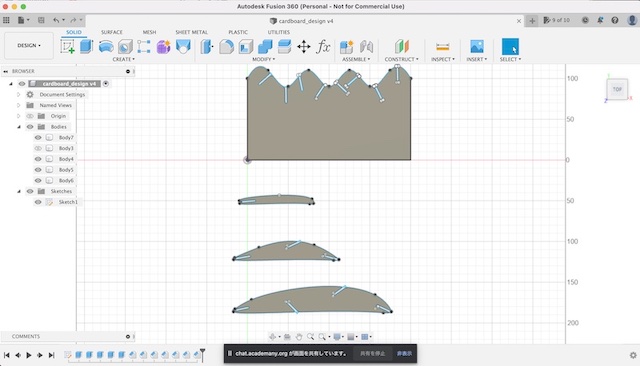 Export to svg file by Shaper Utilities
Note: How to Installe the Shaper Utilities Add-In for Fusion 360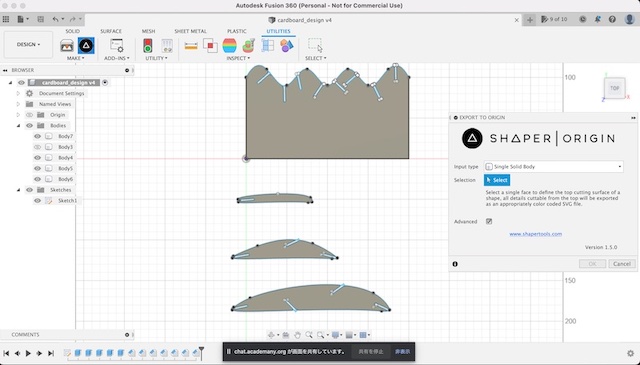 import to CoralDraw and put a pattern of kerf binding on basement
After that, print in UCP software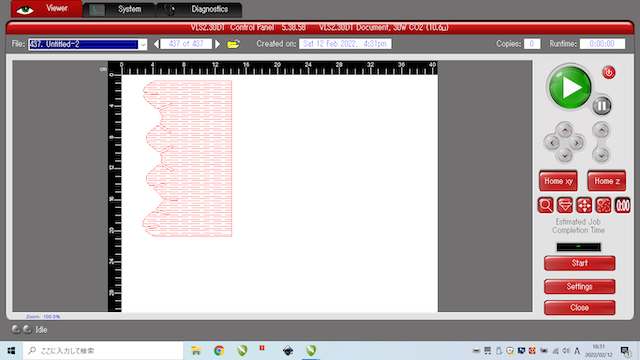 Cut by lasercutter¶
Try to cut basement under the setting below according to Group assignment ) - Power=70 - Speed=20 - PPI=250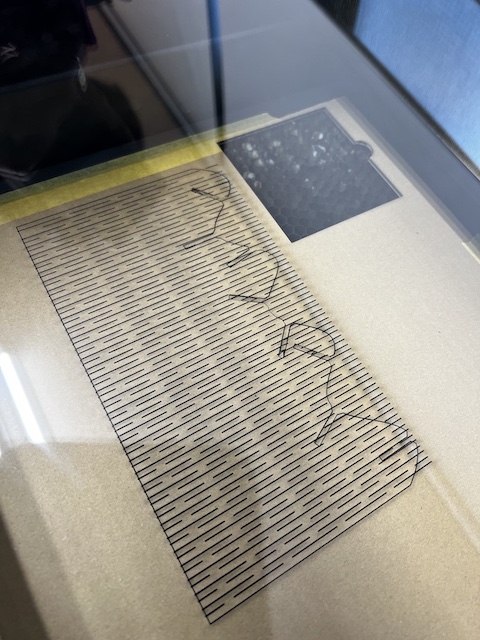 However, it couldnt be cut beautifully because kerf binding and joint line are overlapped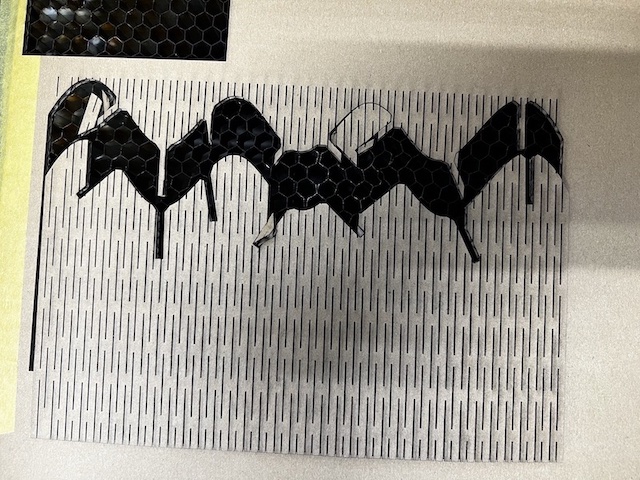 So, I redesign and adjust the angle of joint line taking into account of kerf binding line.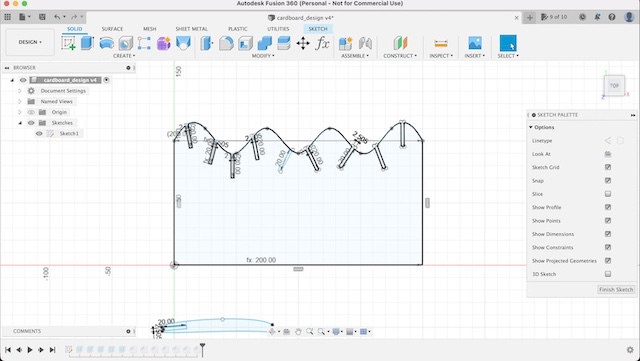 Now, "basement" can be cut as expected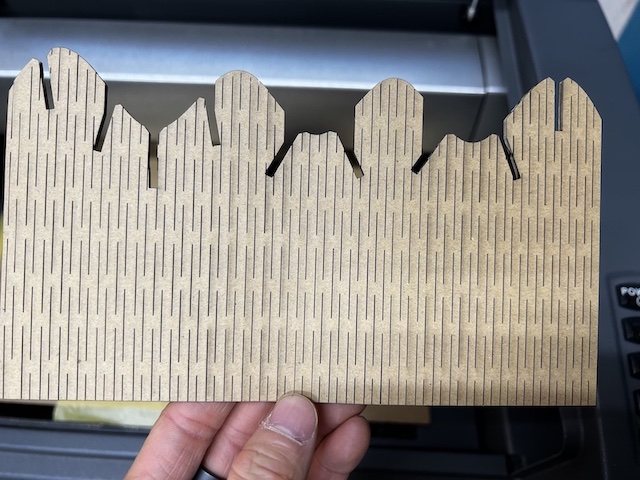 In the same way, parts of "potato" are cut sequential.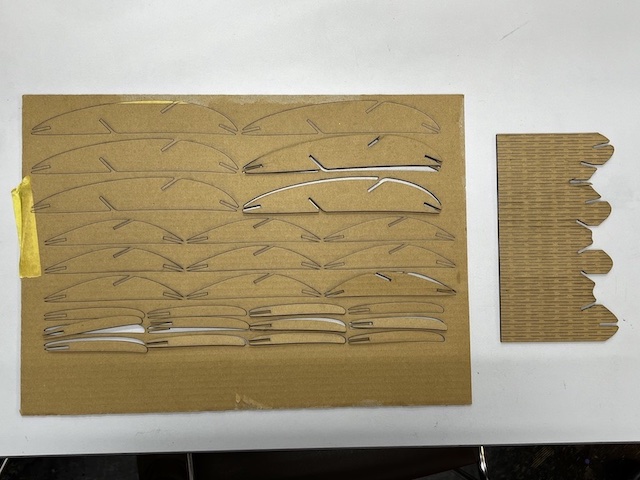 Assembling¶
Assemble these cut parts as I want to. Finally, finish assembling parts enjoyably :)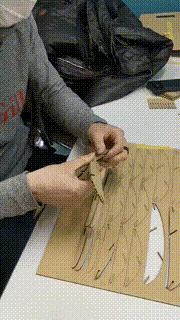 And take a Hero-shot of "Cardboard Potato"
In your mind's eyes, it looks like fried potatoes which are in a pack box…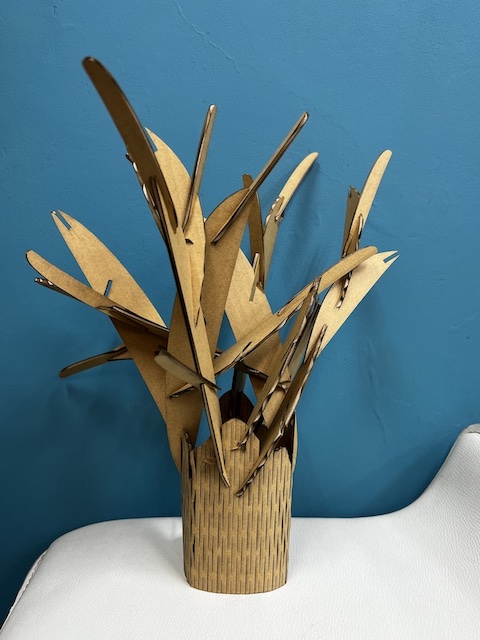 As a side note, my hands got dirty and black in the process of assembling cardboard parts.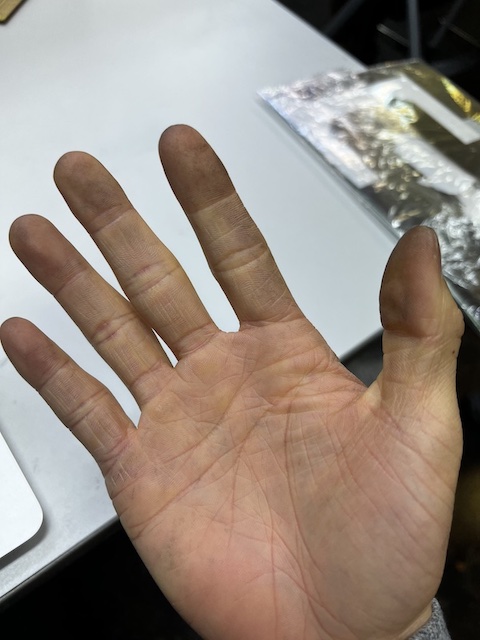 What I learned this week3¶
[group assignment]
Week3 also really seems like a heavy week. We learned how to use lesercutter / vinyl cutter and try to make something by computer-controlled-cutting

I understood the fact that each material has its own characteristics and the need to be tested from the various viewpoint.

I was surprised to cut clearly and beautifully by lesercutter / vinyl cutter
[individual assignment]
Cardboard is fantastic material for make something.

I felt deep pleasure of cutting exactly as I designed on the computer.

It was great to cut and make something based on the experience of computer-aided-design last week.
Weekly Assignment Requirement¶
linked to the group assignment page ->done

Explained how you parametrically designed your files ->done

Documented how you made your press-fit kit ->done

Documented how you made your vinyl cutting ->done

Included your original design files ->done

Included your hero shots ->done
from this page
file¶
Acknowledgement¶
Mr.Tamiya and Ms.Kamei as supportive instructors in Fablab Kannai
and YOU!
retry
---
Last update:
July 9, 2022