2. Project management¶
[1] Summary¶
This week I worked on setting up mkdocs in a local environment and building git for version control. After that, I created the website as the archive of documentation in my Fabacademy 2022.
[2] Weekly Assignment Requirement¶
Project Management¶
work through a git tutorial
build a personal site in the class archive describing you and your final project
Made a website and described how you did it ->done

Created a section about yourself on that website ->done

Added a page with a sketch and description of your final project idea(s) ->done

Documented steps for creating your Git repository and adding files to it ->done

Pushed to the class GitLab ->done

Signed and uploaded Student Agreement ->done
[3] What I did in Week1¶
[a] build environment :local/cloud
[b] Git tutorial / Filesize
[c] create web site
[a] Build environment :local/cloud¶
Development Environment: MacBook Air (M1, 2020) MacOS Big Sur ver.11.2.3

Check my repository on Gitlab.Through the Fab Academy, every students have their own repository on GitLab.
Install Homebrew¶
Install as follows in Homebrew. Homebrew is the Missing Package Manager for macOS.
% /bin/bash -c "$(curl -fsSL https://raw.githubusercontent.com/Homebrew/install/HEAD/install.sh)"

Install Git¶
Git setup¶
% git config --global user.name "Yamane"
% git config --global user.email "***@gmail.com"

SSH key setup¶
generating public/private rsa key pair
% ssh-keygen -t rsa
Generating public/private rsa key pair.
Enter file in which to save the key() (/Users/atsu/.ssh/id_rsa)

Verify that the public key has been generated.
% ls ~/.ssh
id_rsa  id_rsa.pub

id_rsa is the private key. id_rsa.pub is the public key.
view and copy the content of public key "id_rsa.pub"
cat id_rsa.pub
cat id_rsa.pub | pbcopy 

Go to GitLab and set up the public key that you just created.
GitLab > your icon(right up) > Edit profile > SSH Keys(left) > command + v to paste public key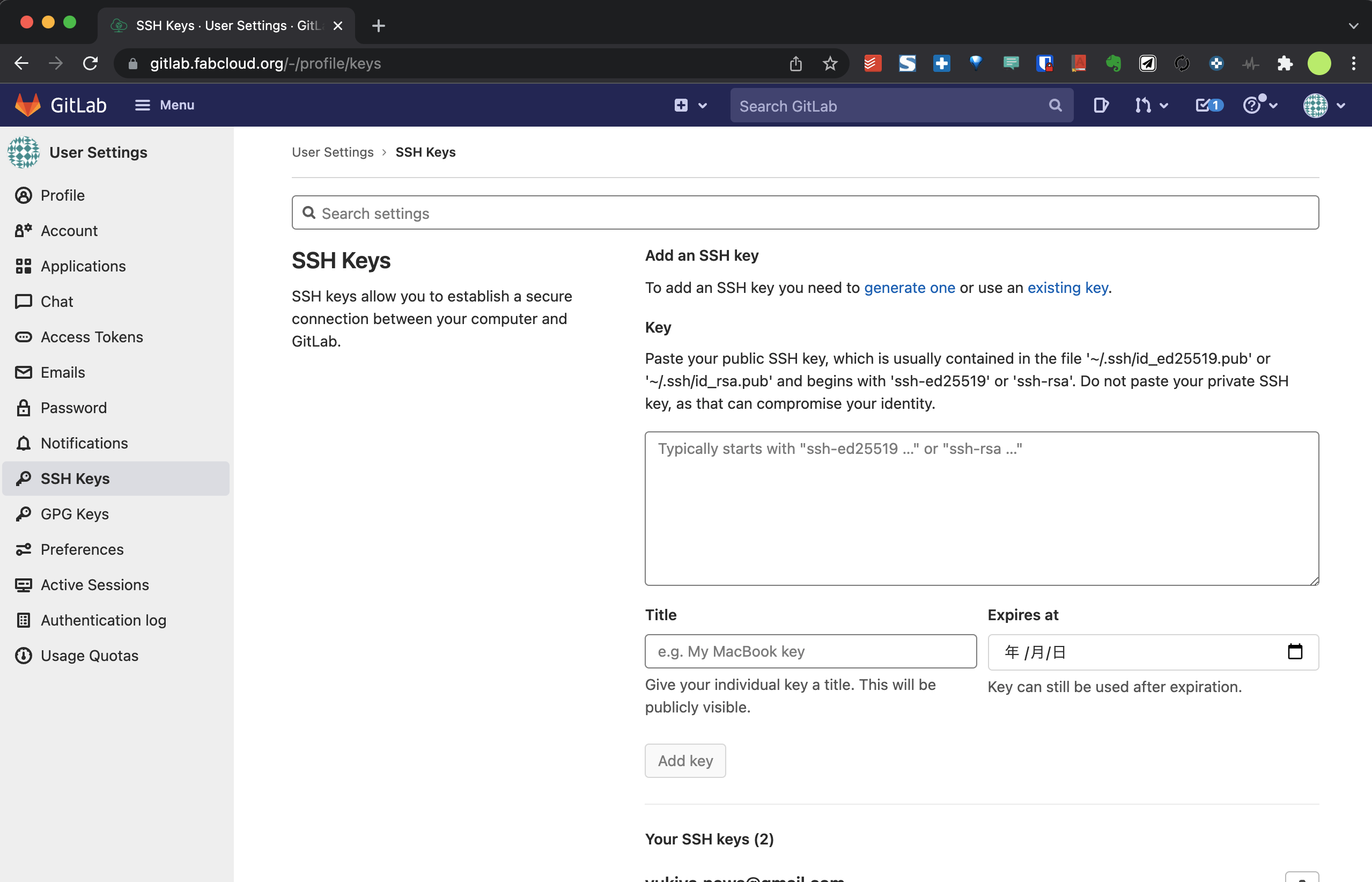 Local repository¶
make local repository and connect to the Gitlab through SSH
mkdir repos
cd repos
ls
git clone [git@gitlab.fabcloud.org](mailto:git@gitlab.fabcloud.org):academany/fabacademy/2022/labs/kannai/students/yukiya-yamane.git
% ssh -T git@gitlab.fabcloud.org

[problem1] cant connect the Gitlab via SSH

->[solution] It turned out that the key's filename must be id_rsa or id_ed25519. After changing filename back to id_ed25519, everything works fine, and finally I got the welcome message:
Install Mkdocs in local PC¶
% brew reinstall python3
% cd Downloads/
% curl https://bootstrap.pypa.io/get-pip.py -o get-pip.py
% python3 get-pip.py

[problem] PATH Error in installing pip3

% brew install mkdocs
% pip3 install -r requirements.txt
% mkdocs serve

Done!
[b] Git tutorial / Filesize¶
Install Atom as a editor¶
access URL and install atom
Set up 4 useful packages in atom
minimap A preview of the full source code
auto-html-preview A live preview tool for Atom Editor
html-tag-auto-complete A simple auto completion of heml tags with class and/or id
tree-view-copy-relative-path Allows you to copy relative path to current file from tree view Opening editor window, on tree view right click and "copy relative path".
Git tutorial¶
I did a W3school Git Tutorial to learn about git. Also, I studied how to use git following Fablab kannai instruction
As a trial, I try to commit and push this documentation to my git repository.
Code
% cd ~/repos/student_site
% ls -la
.git
% git status
% git add .
% git status
% git commit -m "first commit agreement"
% git status
% git push

Terminal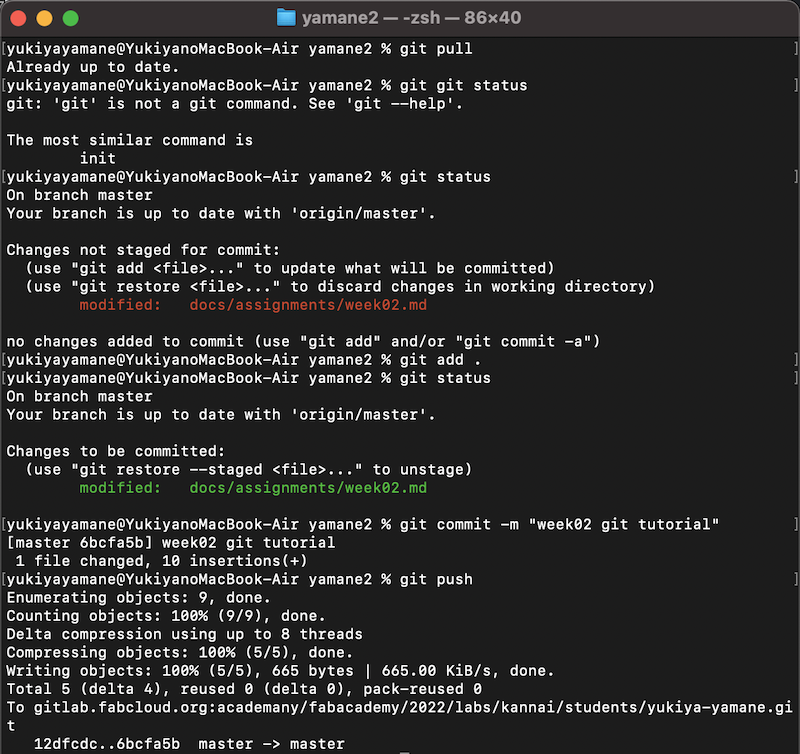 Downsize image by ffmpeg¶
% brew install ffmpeg
% ffmpeg -i original.png -vf scale=-1:1000 downsize.png
% du -ha | sort | head


before/after

We have to check image size before git push. If image size is over 10M, we must compress image size by using ffmpeg.
[c] Create web site¶
I wrote this weekly documentation and create website.
[4] What I learned this week1¶
This was the first experience for me to create website and pull/push git by myself. Though it is simple and plain, I am so impressed to launch my first website.
I spent a lot of time on documentation. I'll try to make notes about documentation as I work.
I felt that it is very exciting to be able to make something by myself. Through only week1/2, I already see the world as the object I can intervene to by fabrication.
[5] Acknowledgement¶
Mr.Tamiya and Ms.Kamei as supportive instructors in Fablab Kannai
Elfe Xu in resolving the coding problem on SSH connection.
and YOU!
Useful site¶
---
Last update:
June 2, 2022