10. Molding and casting¶
Instruction¶
group assignment:
review the safety data sheets for each of your molding and casting materials,
then make and compare test casts with each of them
extra credit: try other molding and casting processes
individual assignment:
design a mold around the stock and tooling that you'll be using,

mill it (rough cut + three-axis finish cut),
and use it to cast parts

extra credit: use more then two mold parts
What I did in this week¶
Review the safety data sheets for molding and casting →Group Assignment
test casts →Group Assignment
Design data in Fusion 360 →in this page
Molding and Casting →in this page
Design data in Fusion360¶
What I want to make by molding and casting¶
I wanted to make the totem from the movie Inception which is one of my most favorite movies in the world.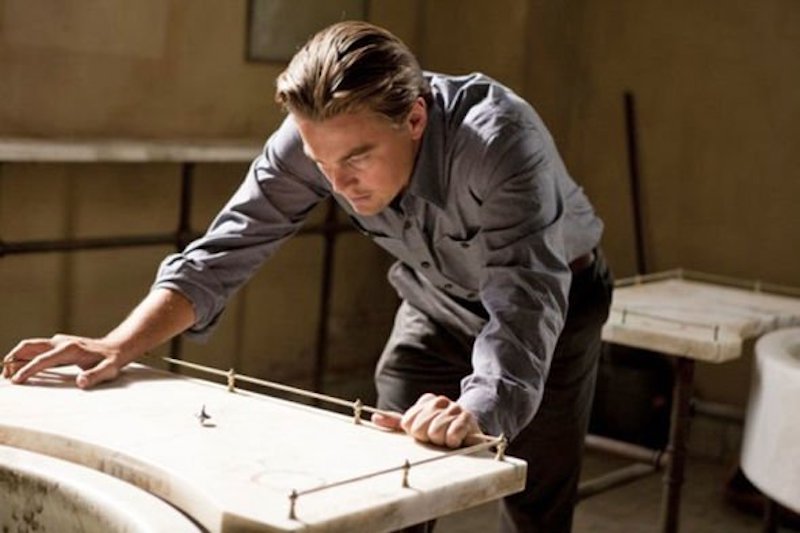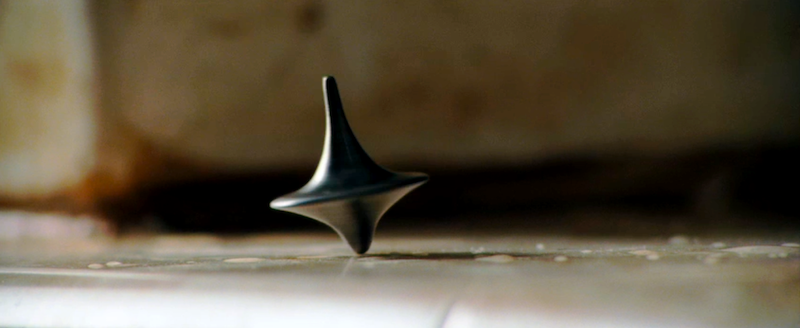 The workflow on this week is as follows: you mill out your design from the block of wax, then you pour a rubber substance into the wax to make a mold, then finally you pour a third substance into your rubber mold to make your object.
Design Process in Fusion 360¶
design posi which is final parts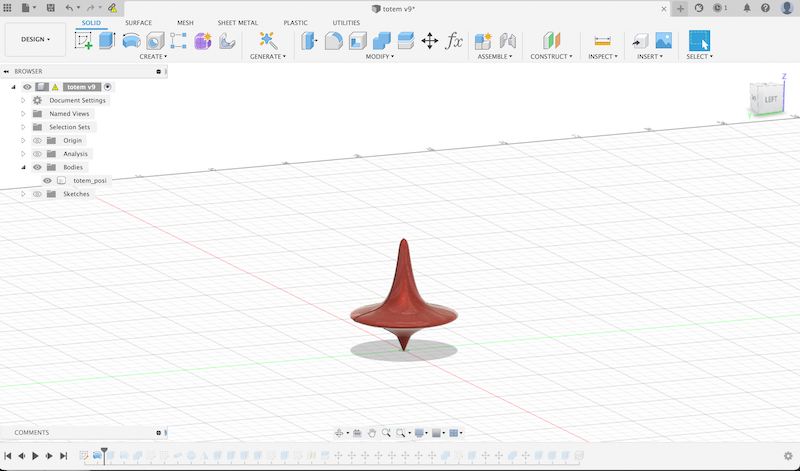 Create nega parts which can be fit to the final parts. After that, create pouring spout and air ventilation for pouring the material. Nesting for assembling 2 parts is created.

It was careful for the endmill not to intervene the object in a milling process. Actually, it is careated frustum of a square pyramid instead of rectangular in order not to intervene the endmill.

create the block of WAX which can be fit to the nega parts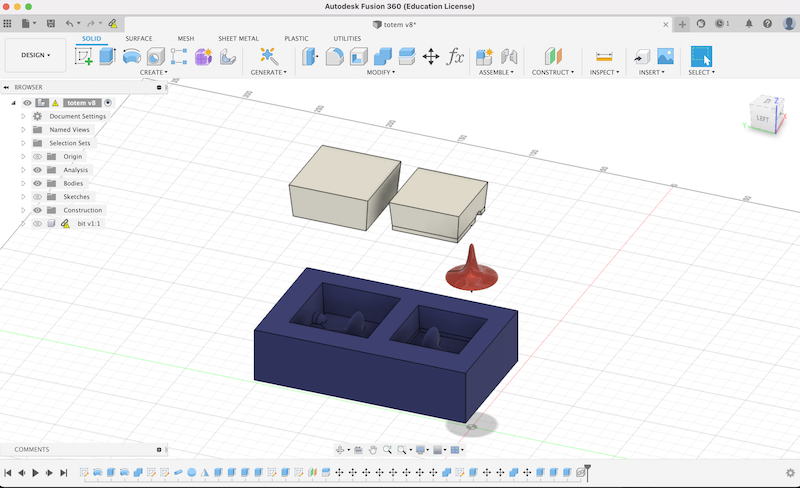 design process is here
fusion data is here
https://gmail2336817.autodesk360.com/g/shares/SH9285eQTcf875d3c539359aaa1123c15606
take measure of Machinable wax

catalog size: 152mm x 92mm x 39mm
real size is smaller

save the body of WAX as mesh to .stl
Milling TIme!¶
Rough cut¶
open the mods to select the file of the WAX .nc data

2.5D setting is here

edit the path to G-code
set the cut speed
culculate → nc file downloaded

check the preview site by loading the above .nc file.
move on to the step of Gsender
Determine the cut parameters, checking the milling time

tool diamater 3.175 mm
cut depth 3mm
max depth 37mm
cut speed 15 mm/s
plunge speed 1mm/s
jog height 2mm
spindle speed 6500 RPM

set and calibrate the position of xyz
load the rough.nc data to Genmitsu

set the WAX on the milling position

finish to mill in 40min

done
Finish cutへ¶
setting the mods

Determine the cut parameters, checking the milling time

tool diamater 1.5875 mm
stepover 0.2
direction yz only
cut speed 20 mm/s
plunge speed 4.65mm/s
jog height 2mm
spindle speed 10000 RPM

Load the finish cut .nc data to Gsender
Milling and finish to mill in 45min-1h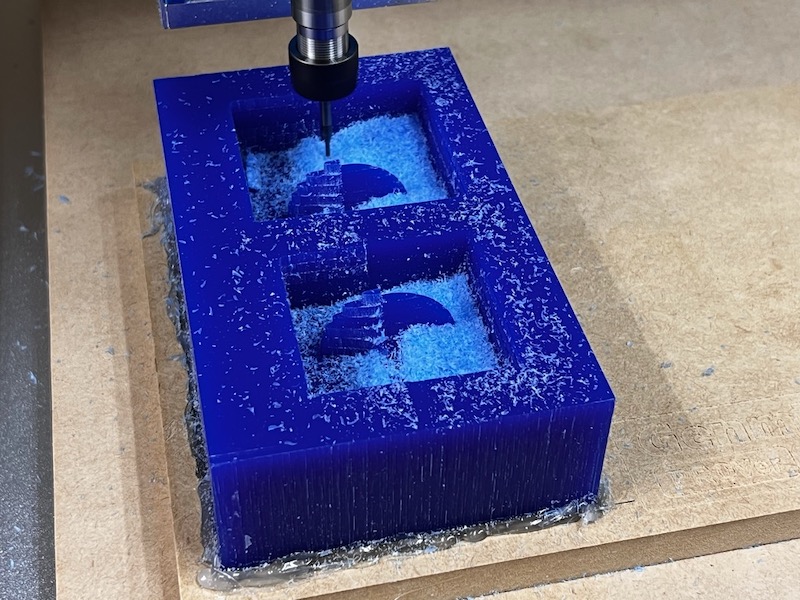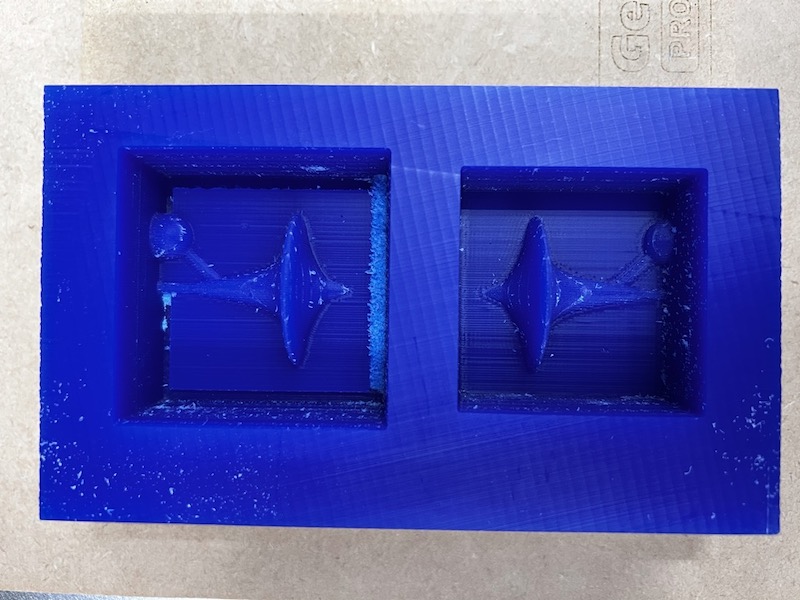 Casting Silicone mold¶
measure the volume of silicon in fusion360

bigger nega parts:58.99 ml
smaller nega parts:43.45 ml
specific gravity 1.08 g/cc
estimated total weight of substances is 112g

the substance is below. safety check is written in group assignment page

Measure 60g each of A and B. Wear gloves and protective glasses. Ensure good ventilation. Be careful not to touch here and there with hands that have been touched.

Since pot life is 5 min, mix and pour within 5 min. After mixing, pour the mixture into the WAX from the top.

I waited for more than 45 minutes because the cure time is 23 degrees and 25 minutes, and today it is 18 degrees.

fixed

When silicone is ready, sandwich it between and MDF and apply rubber bands.
Casiting Trial1: Smooth Cast 320¶
the pouring substance is Urethane resin: Smooth-Cast™ 320

Mix A and B, colored with green So Strong

I tried to pour quickly, but the pipe was too thin and would not go in.

As a result, only about a quarter of the planned amount went in.
Casting Trial 2 : Retry the Smooth Cast 320¶
To solve the slow pouring problem, we now operate on the pipe with a cutter to spread it out.

Mix quickly and pour quickly.

Mix A and B. Put in yellow So Strong and color it.
This time I was able to get all the liquid in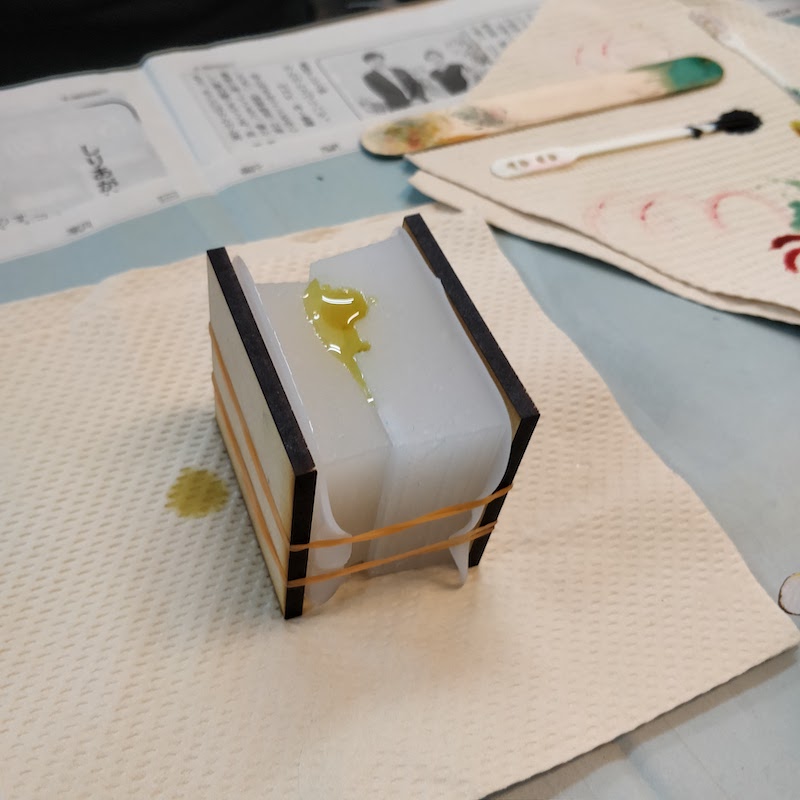 done
CastingTrial 3 : Metal¶
the pouring substanve :

Bismuth Based Low melting point alloy bullion : Sn + Bi
melting point : 138 °C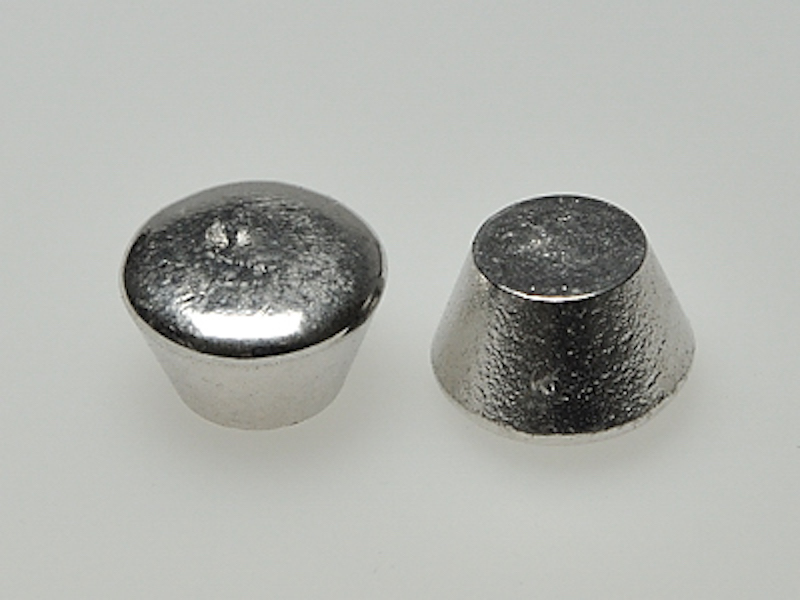 heating the metal to be liquid and pouring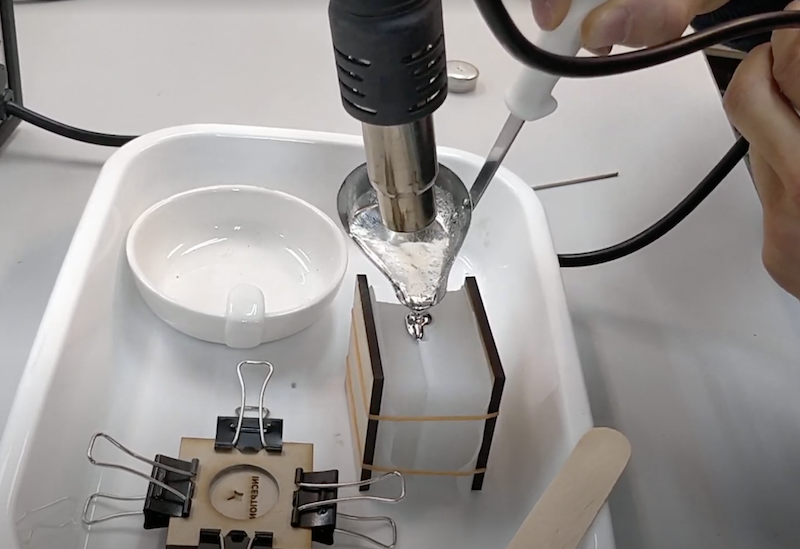 waiting to be cold

done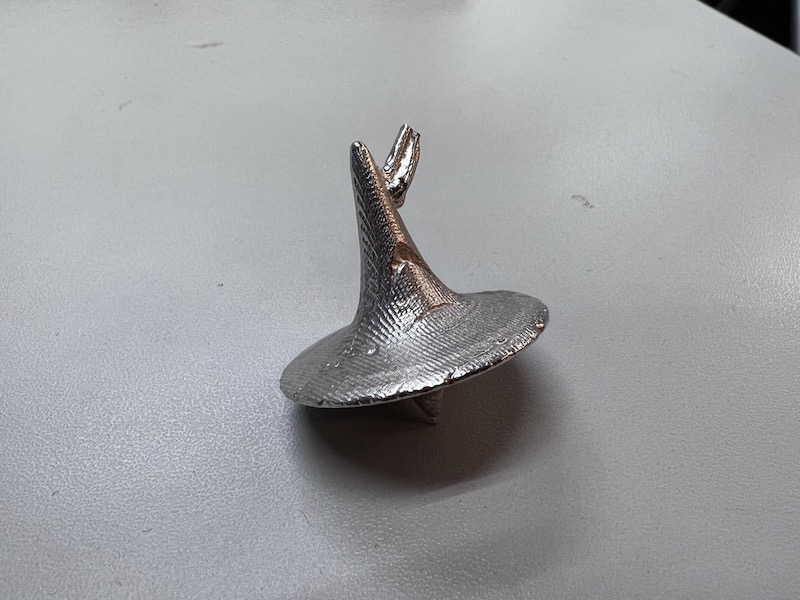 cut off the extra parts and sandering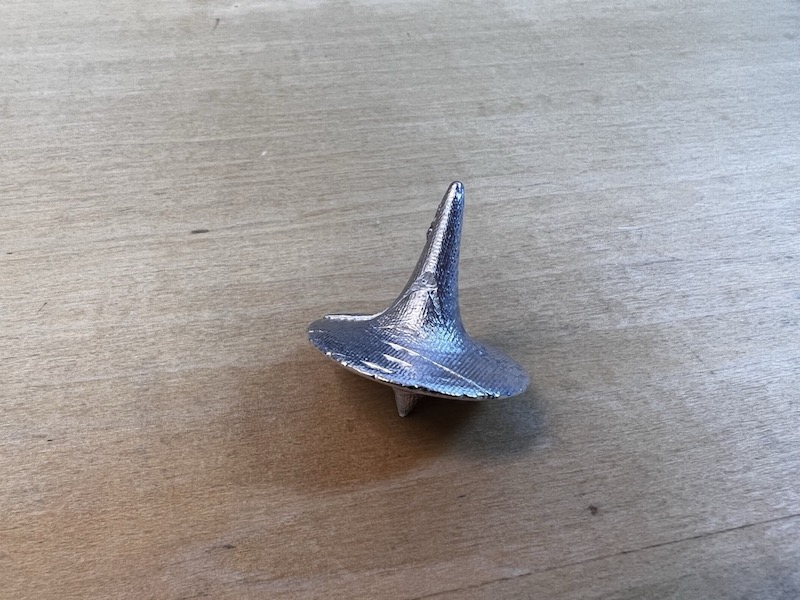 finishing

spinning the totem to chech whether this world is in dream or not…
movie
What I learned in this week¶
group assignment and individual assignment
Complex three-dimensional objects can be created by making molds.
The same mold can be used to create shapes in a variety of materials
This week is very enjoyable to make something new :)
file¶
Acknowledgement¶
Mr.Tamiya and Ms.Kamei as supportive instructors in Fablab Kannai
and
http://fab.cba.mit.edu/classes/863.18/EECS/people/zhang/portfolio/week8/index.html
and You!
---
Last update:
July 9, 2022