8. Computer controlled machining¶
Due Wednesday March 18 2020
Individual project¶
Make (design+mill+assemble) something big¶
Bin Cart¶
This week I will design and build a wooden cart that holds Akro-Mils AkroBins plastic pick bins we use extensively in our fab lab. The idea is to make a DIY version of this louvered rack and dolly system:
Since I am now working from home we will use the Shaper Origin.
Our rack design will be short enough to fit under our workbenches. It will be ~21 inches wide to accommodate 18"x19" Louvered Panels we have already:
The front depth of my bin-cart will be at least 15-16 deep for our largest pick bins. The rear depth of the bin cart will be 5-6 inches deep for our smallest pick bins or none at all, the depth will be just enough to keep the cart from being easily tipped over if a bump is rolled over.
CAD¶
I am using Onshape CAD to design the bin-cart.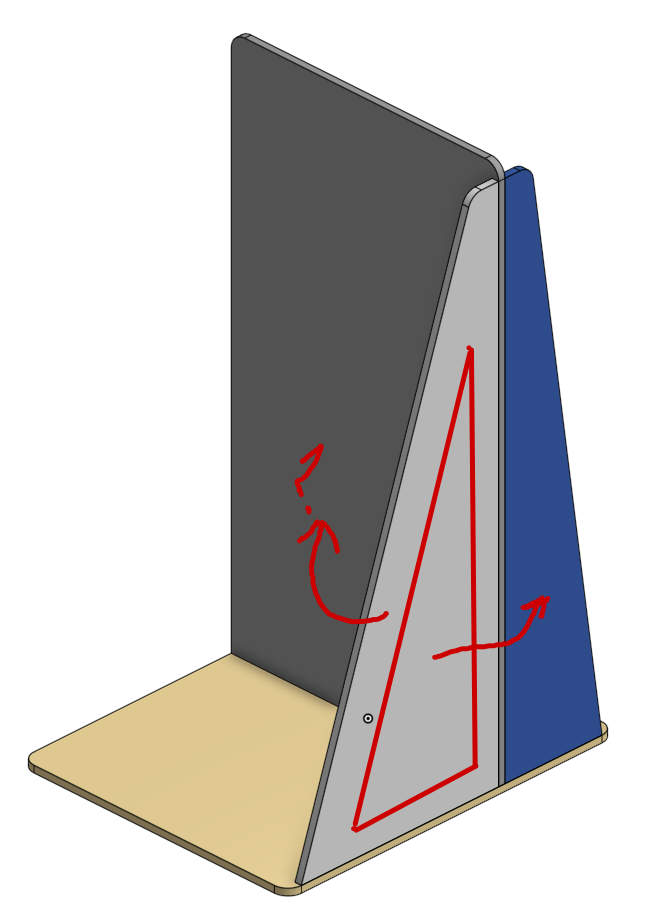 Some thoughts about material usage and nesting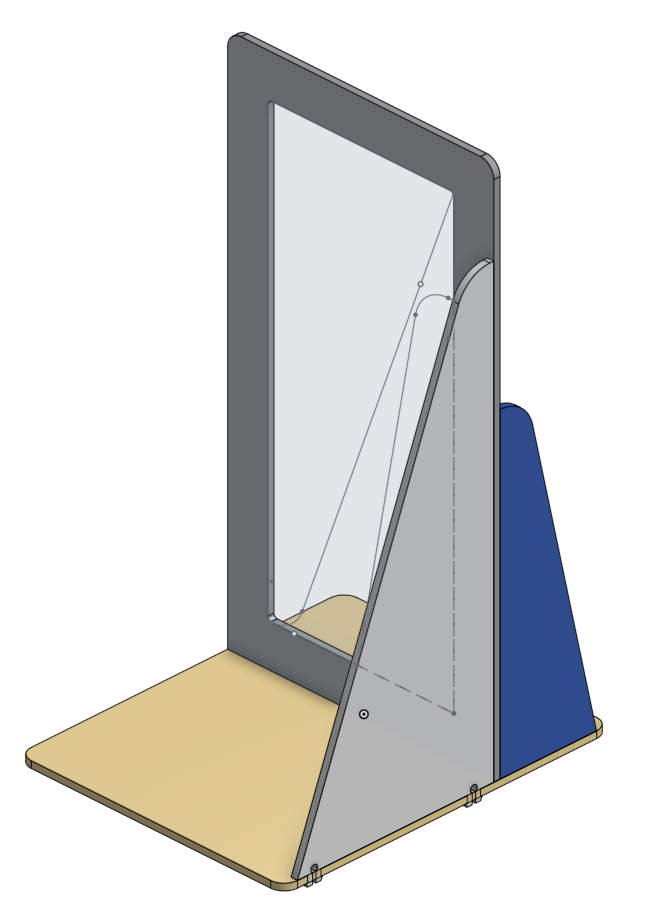 Can the gussets fit in the Mid Plate to save material?

Snap lock tab and slot, wedge will be driven into key hole. In experience simple tab and slot press fits pull out in applications with this much weight due to inertia.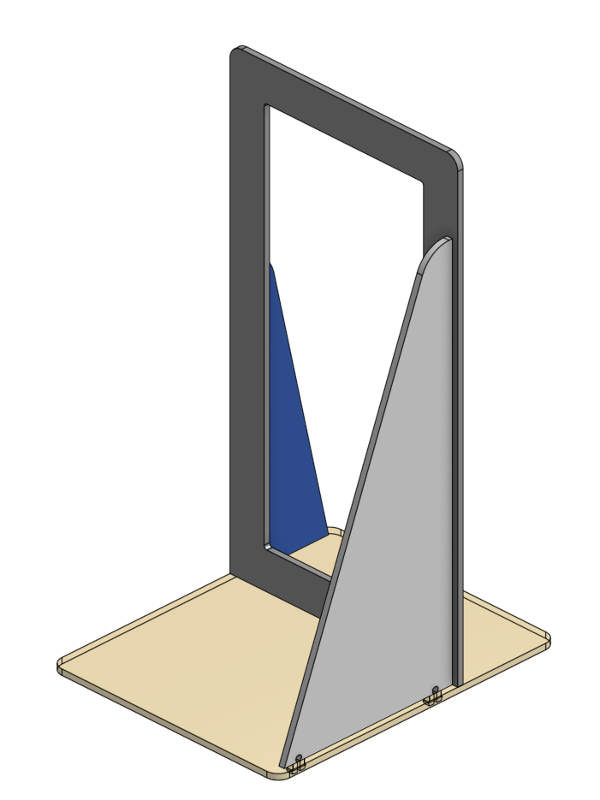 Offset gussets should support the mid-plate well and will use less material.


Updated design with pick bin and louvered plate in place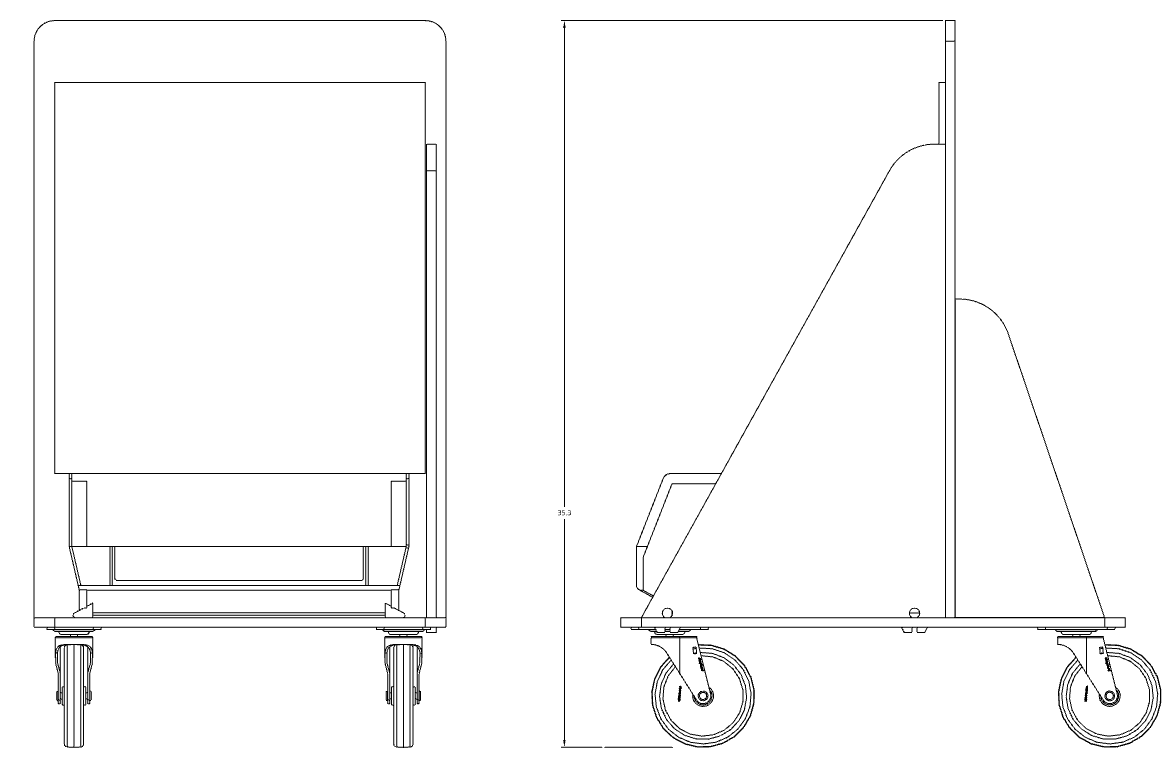 Height dimension drawing 35.3"
Prototypes¶
3D Printed¶
I will test my CAD by 3D printing small scale parts, I think 1:8 or 1:16 scale may work.
Cardboard¶
I will draw try loading cardboard into my vinyl cutter to see if I can draw cutting paths. If that does not work I will draw cutting templates on paper to cut my cardboard by hand.
CAM¶
Shopbot¶
CAMotics on Linux OS or V-carve on Win OS
Shaper Origin¶
I have yet to open up our new Shaper Origin, which I brought home. Hopefully that will happen later this week.
Assessment Check¶
Learning outcomes¶
Demonstrate 2D design development for CNC production Describe workflows for CNC production
Have you?¶
Explained how you made your files for machining (2D or 3D)
Shown how you made something BIG (setting up the machine, using fixings, testing joints, adjusting feeds and speeds, depth of cut etc)
Described problems and how you fixed them
Included your design files and 'hero shot' photos of final object
FAQ¶
How big is big?
Answer: Big enough to show you understand many of the possibilities of CNC machining - drill, pocket, dogbones, nesting, etc.
Does it have to be wood or wood products?
Answer: No. But the lab is only responsible for providing you with a full size wood board.
Group assignment¶
Test your machine¶
1. run-out  0.xxx inches with indicator
2. alignment: with carpenters square?
3. speeds: per bit used v-carve settings
4. feeds: Shaper
5. toolpaths: Shaper