About¶
Introduction¶
Hello, I'm Dan Meyer and my pronouns are He/Him and They/Them!
I am a:
Manufacturing Technologist
who helps...
Humans
Optimize Designs
for
Manufacturing
Personal Background¶
I was born in and currently live in the city of Chicago with my spouse Jet (pronouns They/Them). We love riding and racing bicycles and are members of Half Acre Cycling Team.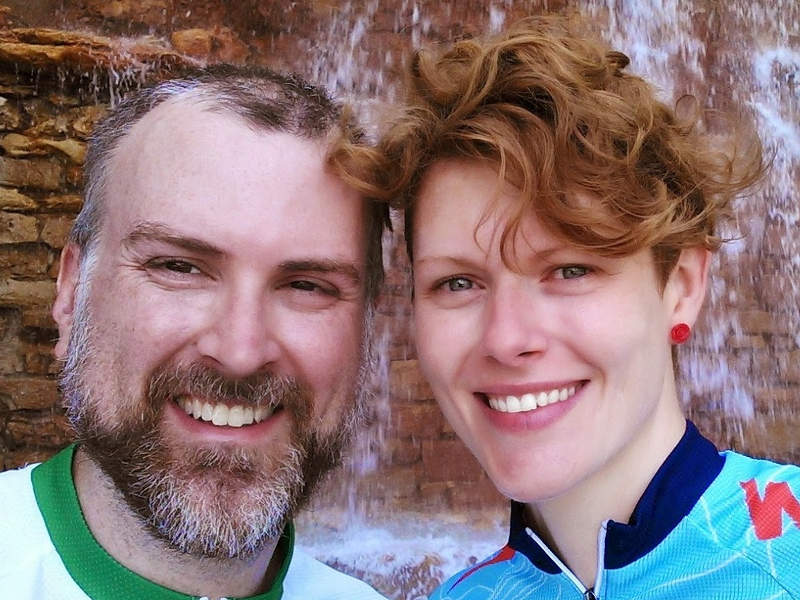 Experience¶
I have been helping humans optimize manufacturing since 1991. That's about 29 years. I love design and fabrication and enjoy experiencing the process flow that connects them. I have worked with almost every manufacturing process there is, but I am world expert in die casting, a high speed metal casting process.
Education¶
I have a Bachelor of Science degree in Manufacturing Technology and Management from the Illinois Institute of Technology.
Fabrication and Community¶
I have been a connecting people in Chicago's fabrication and maker scene for over 10 years. Chicago's makers come from a wide range of communities and spaces. There seems to be a long history of mashing up art and fabrication here in Chicago, and Fab Labs and Hackerspaces have accelerated connecting people from these diverse and often separated communities to collaborate together.
In 2011 I hosted the first Maker Summit connecting makers to each other in the Chicago regional area. This led to one of my core responsibilities to be communications and connecting. I am closely involved with Chicago's two hackerspaces: South Side Hackerspace: Chicago and Pumping Station: One. I served as a advisor for the startup of many of Chicago's maker spaces. Recently I have been advising new Fab Labs being opened in Schools across Chicagoland, especially schools in under resourced areas.
Manufacturing Experience¶
I have worked in manufacturing since 1991, when I was only 18 years old. I worked my way through the following positions over the year: machinist, welder, fabricator, technician, engineer, designer, researcher, educator, and now: fab lab senior manager.
Manufacturing Technologist¶
A lot of people ask me what a Manufacturing Technologist is, it's a combination of a manufacturing technician, engineer and scientist. I study and apply scientific concepts and technology to optimize manufacturing systems for their intended output. I am able to improve the performance of any manufacturing system, from one machine and operator to an entire factory and its supply chain. I apply theses same concepts to improve Fab Labs and Hackerspaces.
Welder¶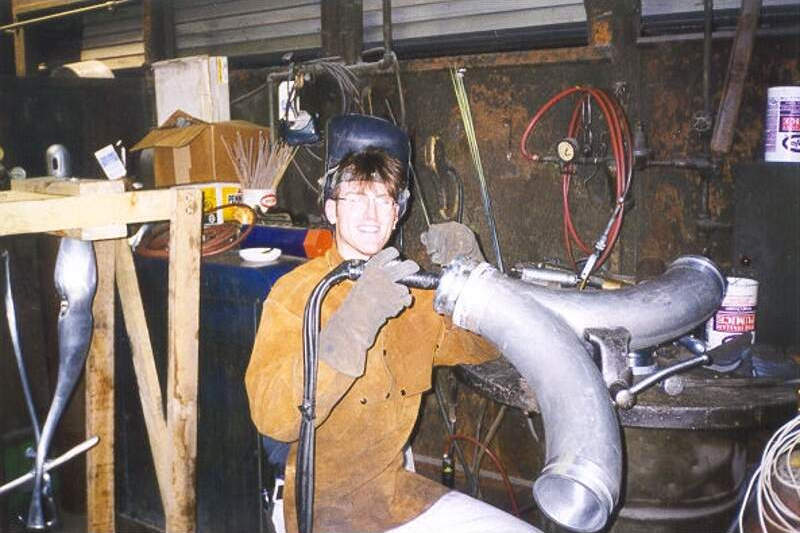 Tig welding sand cast grain handling pipes, and artistic hand railings for Las Vegas, 1992. I am 19 years old in this photo, having started this work at the age of 18 (legal minimum age for working in hazardous occupations)
Industrial 3D Printing¶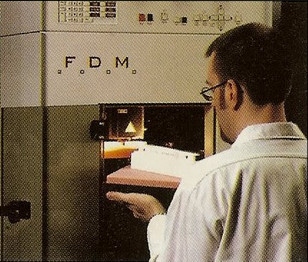 Running a Stratasys FDM 2000 3D Printer in the year 2000 at Chicago White Metal Casting a die caster that manufactured high tech aluminum, magnesium and zinc die castings. We ran this 3D printer 24-7 and it would beep via pagers when it ran out of filament.
The Stratasys FDM 2000 required frequent preventive maintenance and I took the extruder apart and reassembled it several times a week. We 3D printed our customers 3D CAD models and marked them up with paint markers to highlight Design for Manufacturing (DFM) improvements and to discuss tooling and processes with internal and external stakeholders.
Computer-integrated Manufacturing¶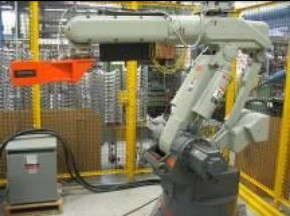 I have extensive experience with Computer-integrated manufacturing. Here is a work cell that I setup and programmed in 2008 to remove castings from a die casting machine and also spray the die with release agent.
Fab Lab Senior Manager 2011 - Present¶
Wanger Family Fab Lab at the Museum of Scinece and Industry, Chicago¶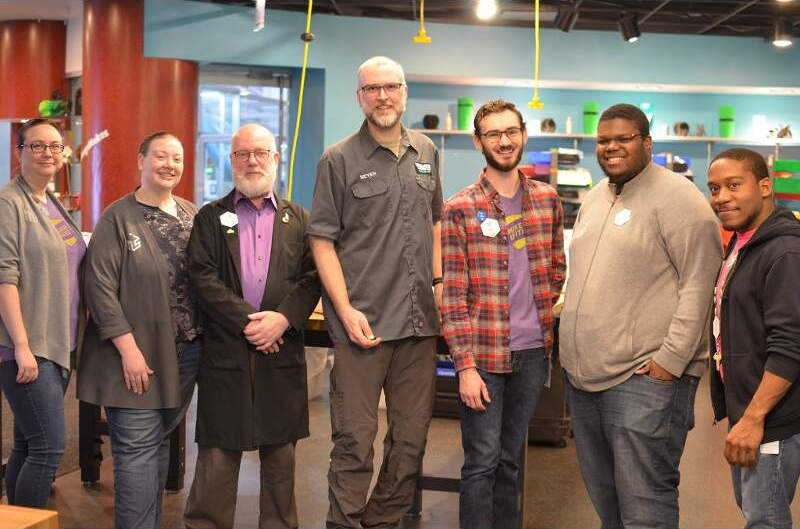 Above: The MSI Chicago Fab Lab Team. Left to Right: Liz, Jen, Patrick, me, Eric, Gerard, Kyle
I am currently the Senior Fab Lab Manager at the Wanger Family Fab Lab at the Museum of Science and Industry Chicago.
Our Fab Lab serves the following people in order of priority:
Students (Public High School in 3 mile radius)
Educators (Chicago Area)
Guests (Museum Patrons)
The MSI Chicago Fab Lab was installed in 2007-2008 by the MIT CBA and the MSI with help from NSF, DOE, Argon National Labs, U of Chicago and IIT. The Fab 4 (or 5?) conference was hosted here. In 2011 I became the Fab Lab Manager and was tasked with increasing the use of the Fab Lab. Over past 10 years my team has optimized our fab lab, with the powerful support and legacy of the MSI behind us, to better serve the community it operates in. In 2011 we had about 900 people visit our Fab Lab to design and fabricate something. In 2019 we had over 12,000 people design and make something.
User Statistics¶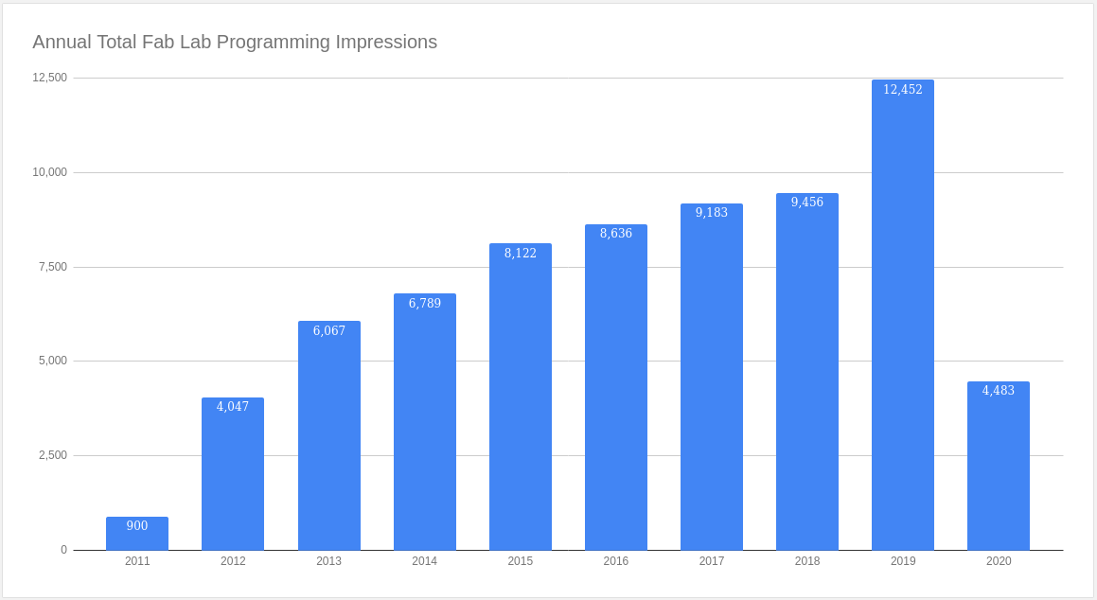 Professional Digital Fabrication 1991 - 2011¶
In 1991 I had graduated high school and entered my local community college, Prairie State. Here I studied Manufacturing Technology. I learned manual machining and welding. This was coupled with learning Computer Aided Design and manufacturing as well as robotics. Eventually I progressed to Computer Integrated Manufacturing. It was awesome! Now I could command computers and machines to build my imagined worlds! I spent long hours lost in the depths of every detail of small training robots and coding g and m code by hand for cnc machines. My final project was programming a small workcell that had a robot, conveyor and cnc lathe. The robot would unload and load the lathe that cnc machined small chess pawns of my own design. My instructor informed me that I was the first student to exhaust all the exercises in the manual that came with the training work cell… and I wished there was more.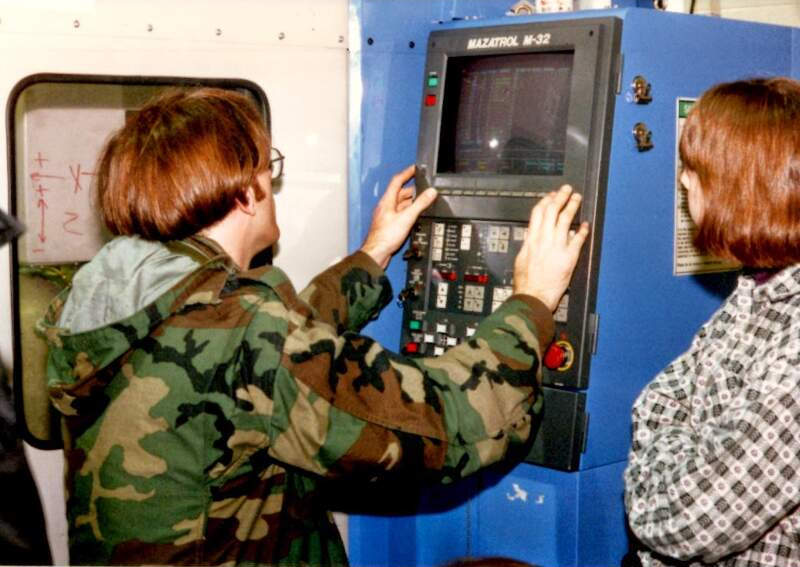 Above: Showing my sister how a Mazak CNC Machining Center Works, 1993
Personal Computer Revolution 1987 - 1991¶
My first personal computer, an Epson Equity II PC clone with CGA monitor and Seikosha dot matrix printer, was acquired by my parents in 1987, I was 12 years old. It was wonderful. I put the pc to use immediately helping me imagining new worlds.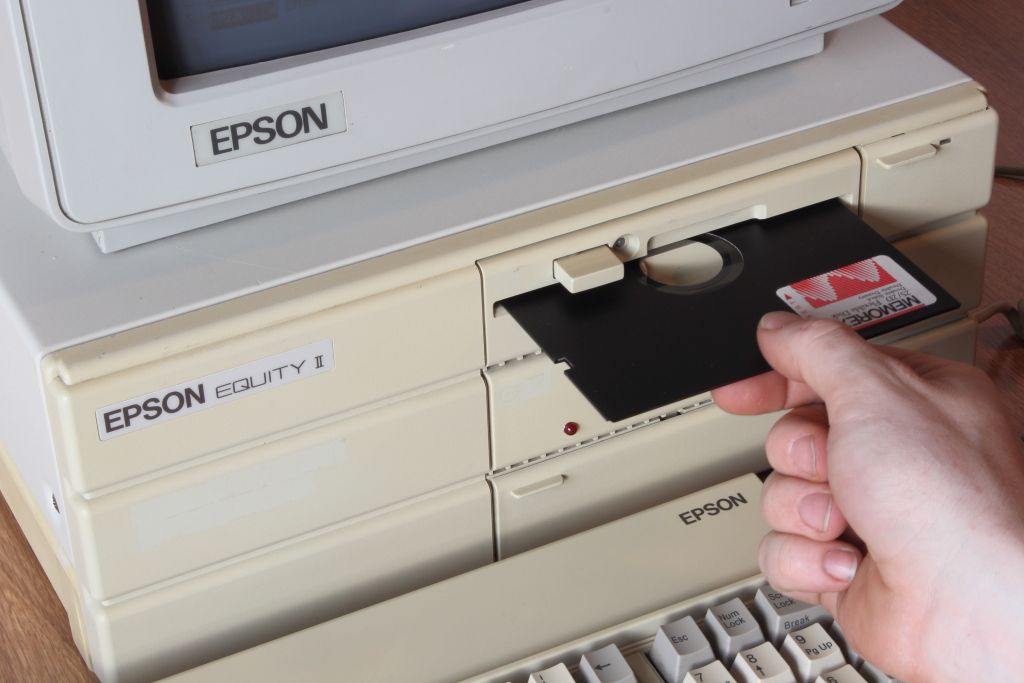 Image above and more info on the Epson Equity II PC available at the Vintage Computer Federation.
By 1988 I had hacked a TRS-80 1200 baud modem to work with my Epson Equity II PC. I think this was my first hack, as the modem was not compatible with my PC and all 25 wires of the serial interface needed to be rerouted and manually soldered to a different pin. Having a modem allowed me to connect to other computers and talk to friends, this fundamentally changed my view of how computers could be used. By 1989 I had opened up the computer and upgraded the ram to 512kb. In 1990 I installed a 20mb hard drive. I used this computer to connect to Bulletin Board Systems across the Chicagoland area.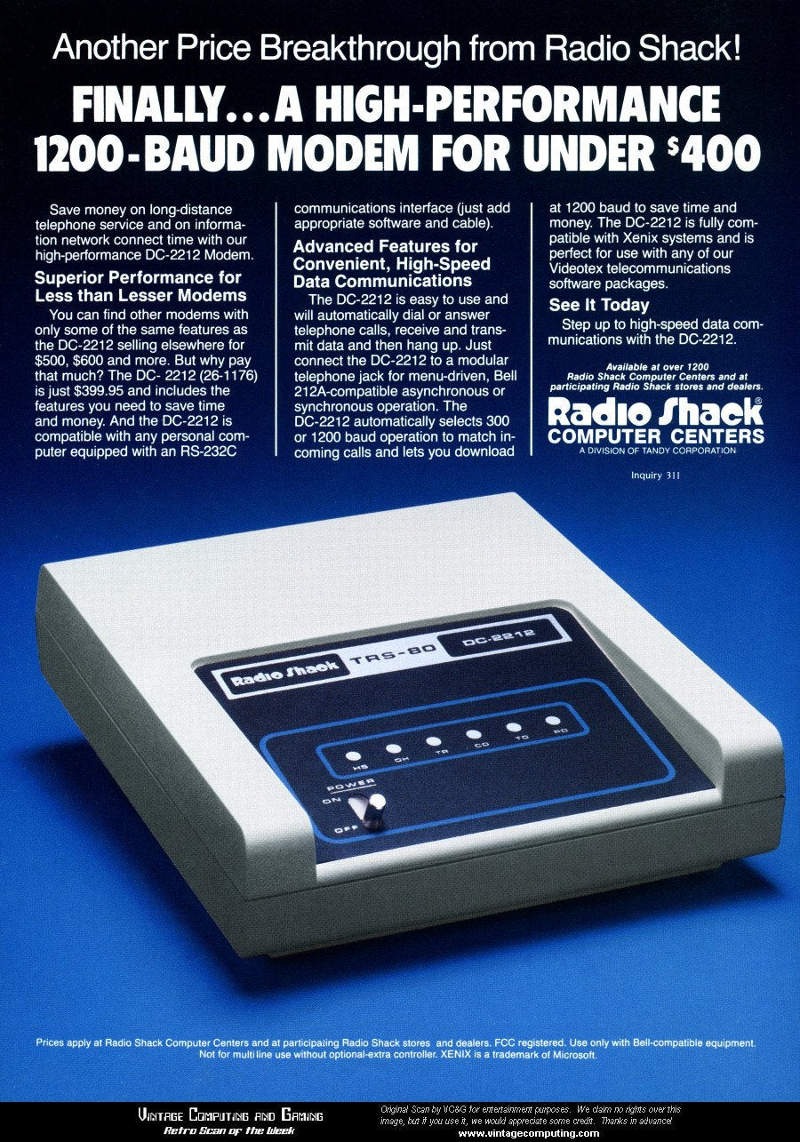 Above: TRS 80 Modem that allowed me to connect to other remote computers in the mid 80's.
South Side Hackerspace¶
I am a member of the South Side Hackerspace: Chicago
Community Digital Fabrication Example¶
One of my favorite, and recent, projects was when I led a mass build of 6 CNC cut radio controlled aircraft at South Side Hackerspace: Chicago. We use my modified CNC Foam Sheet router called a PhlatPrinter to make some aircarft parts. Here are the steps we took:

CAD
Cutting foam sheet on the PhlatPrinter
Resulting CNC cut foam aircraft parts
Parts for build, some are 3D Printed
Building our aircraft
Pre-flight checks
Flying!
Crashing!
Repair and repeat!
Personal Interests¶
Ham Radio¶
I am a General Class Ham Radio Operator, call sign KD9JKH. I mainly talk on Chicago area UHF and VHF repeaters, which allows me to communicate with other operators in a 50 mile radius around Chicago.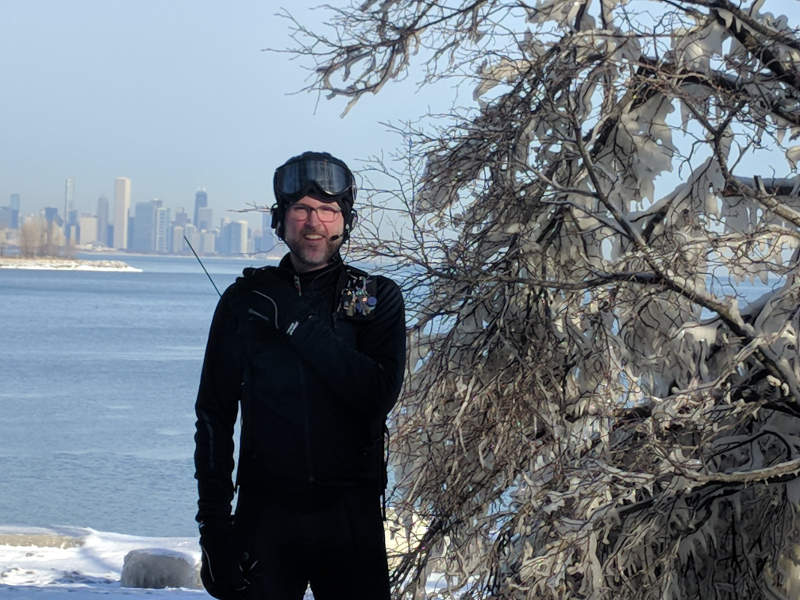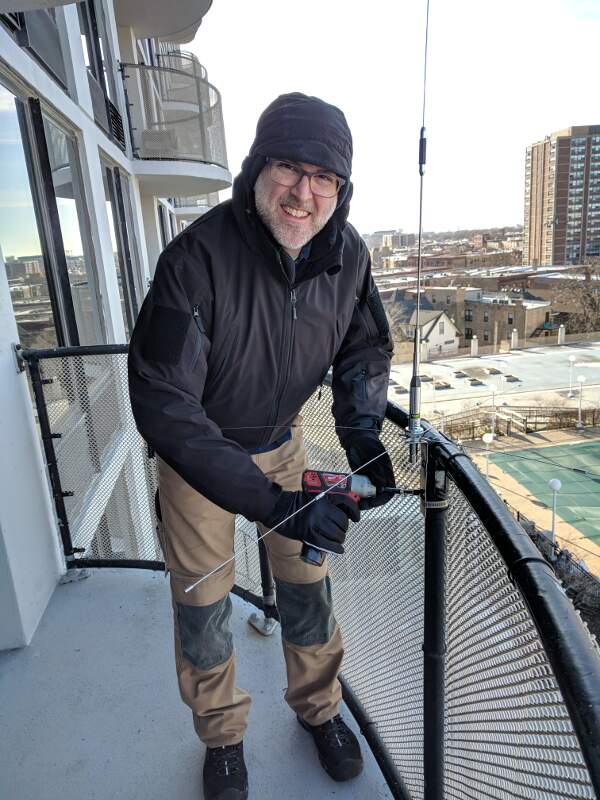 Biking¶