10b. Molding and Casting (CLS Adults)¶
This week, our group was asked to review the safety data sheets for each of the molding and casting materials, then make and compare test casts with each of them.
The following shows the material we each researched in the Charlotte Latin School Fab Lab:
Task 3: Performance Urethane Casting Resin–Nidhie Task 8: Heat Resistant Urethane Plastic– Barbara Mold Star 31T: Platinum Silicone Rubber– Scott Liquid Plastic: Urethane 666–Charlie Smooth Cast 300Q–Avery
We did not find out (until much later) that we had "Dragon Skin 10 NV Silicone". However, Barbara Morrow and Nidhie Dhiman used this material with their individual project molds and compared it to the Mold Star Silicone.
| Material | Pot Time | Cure Time | Viscosity | Mixing Ratio (Part A: Part B) | Special Notes |
| --- | --- | --- | --- | --- | --- |
| Dragon Skin Silicone | 15 min | 70 min | low | 1A:1B | Very flimsy |
| Mold Star Silicone | 5 min | 23 min | relatively low | 1A:1B | More durable |
| Task 3 Urethane Resin | 2.5 min | 10-15 min | very low | 1A:1B | Moisture sensitive/absorbant |
| Task 8 Urethan Plastic | 20 min | 90 min | low | 1A:1B | Produces exothermic reaction |
| Urethane 666 Plastic | 7 min | 30 min | low | 1A:1B | Finicky– if mixed improperly |
| Smooth Cast 300 | 3 min | 7-10 min | low | 1A:1B | Bubble free and no de-gassing |
The following video shows us all mixing each material's Part A and Part B. (All of the materials we had in the Fab Lab had a mixing ratio of 1:1).
||
The first thing we did was spray eight batman and superman "chip" molds with "Ease Release-200". We mixed equal amounts of Part A with Part B of each substance in a disposable cup, and mixed (gently and vigorously). We poured enough of the material into the mold to just reach the top (although some of them were over-poured). We allowed the materials to cure for the next three hours and examined them, noting characteristics of each substance.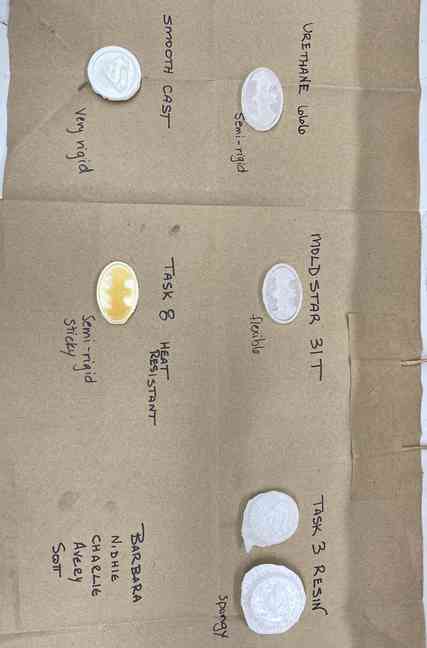 One of the biggest things to note is the fact that the Task 3 Resin seemed to be outdated as it foamed. We thought at first that we didn't mix it well, and we redid it. The same thing happened when we repeated it. When we left that night, the Task 8 resin bubbled up. (The bubbles were not present when we left for the night). Within the eight hours we were gone, it not only bubbled in the center, but it also darkened in color.
---
Last update:
May 24, 2022