W06│ 3D Scanning and Printing
What is FDM?.
General Design Considerations.
Design and 3D print an object.
3D scan an object.
---
---
---

1.Group Assignment
For this week's assigment we have use a FDM (Fused Deposition Modeling) 3D printer..In FabLab Tecsup we have a Makerbot Replicator x2.
You can download the User Manual here.
What is FDM?

Image retrieved from:https://www.makerbot.com/learn/
1.1 HOW IT WORKS?
To start we prepared a simple geometry(hexagon) on Rhinoceros and exported it as STL 3D File (Standard Triangle Language. This format is suitable to most 3D printers.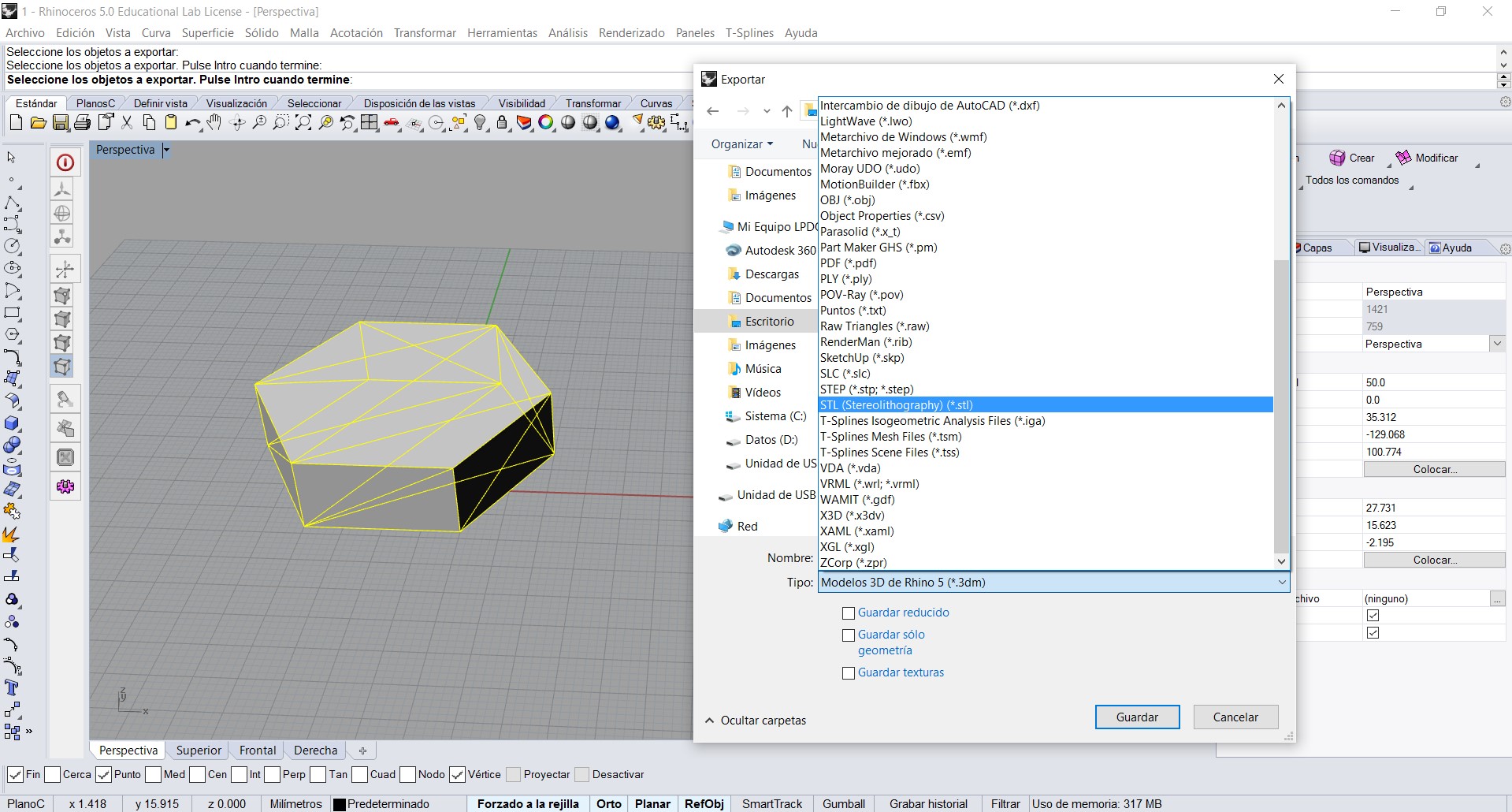 WorkFlow

Image retrieved from:https://www.makerbot.com/learn/
MakerBot's User Interface:
MakerWare is really easy to understand and to work with, here we let you the most important information: Settings & Preview.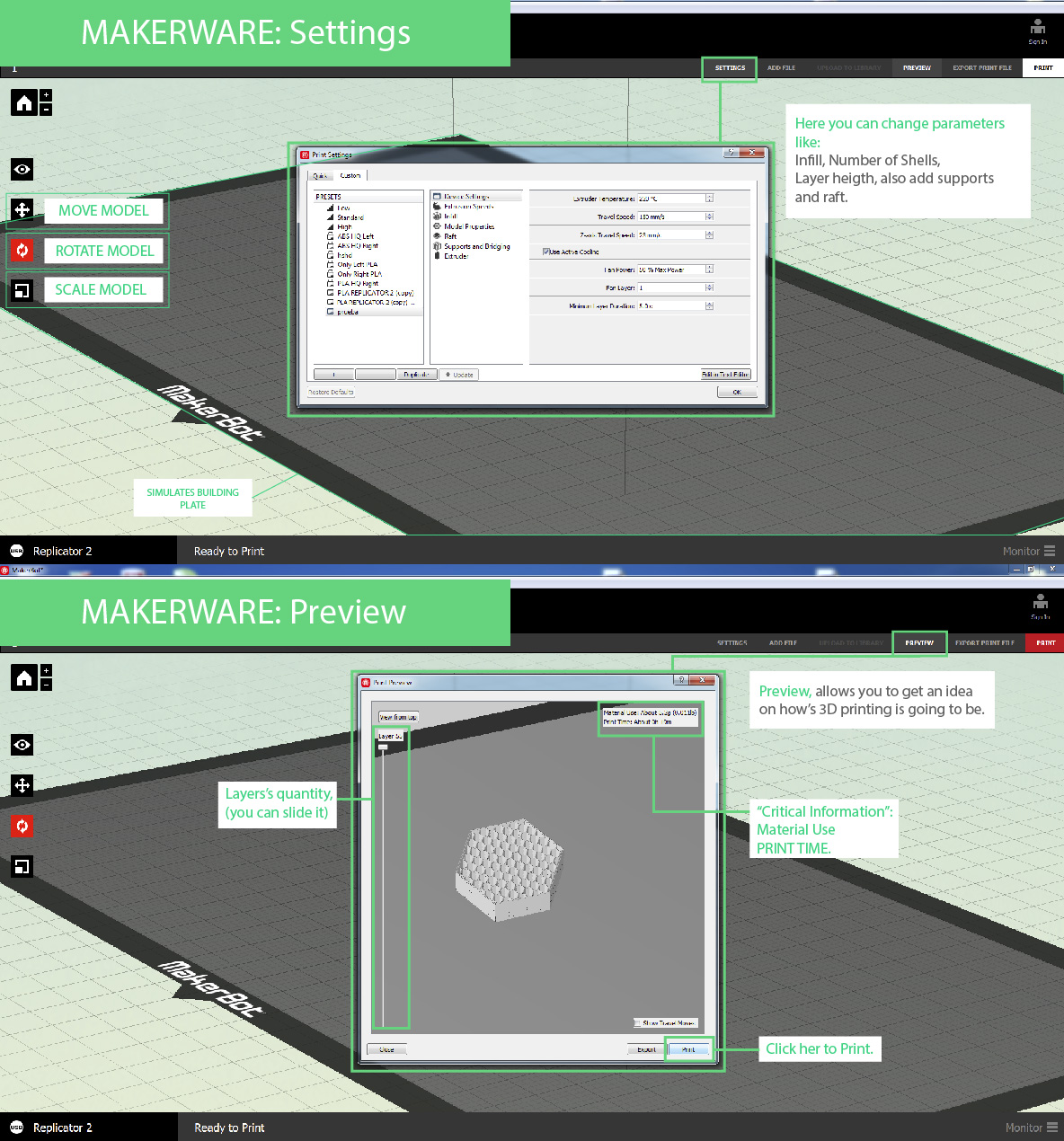 We recomend to click on Preview before printing. Doing it will allow to have Printing time and also check how the 3D printer will work.
1.2 GENERAL DESING CONSIDERATIONS FOR 3D PRINTING
According to the research we made about 3D printing, when we design we have to know what are the different capabilities and design restrictions. We have tested: Infill %, Number of Shells, Layer Height and Overhans. We are using PLA filament (1.75 mm diameter).
Checkout this interactive image were you will find all the parameters and considerations we took. We didn't experience any trouble at printing.
a.Infill: internal structure of an object.b.Number of Shells: layers on the outside of an object
c.Support: allows a model to be built up to angles of 45°. Post-processing is always required.
We downloaded a 3D Model from Thingiverse (3D Modeling poster). It was suggested to print it with supports. As a first try we didn't use any. On the second try we used it but it didn't have any considerable change. Nevertheless, it was difficult to remove the support material and by doing it the model damaged a little bit.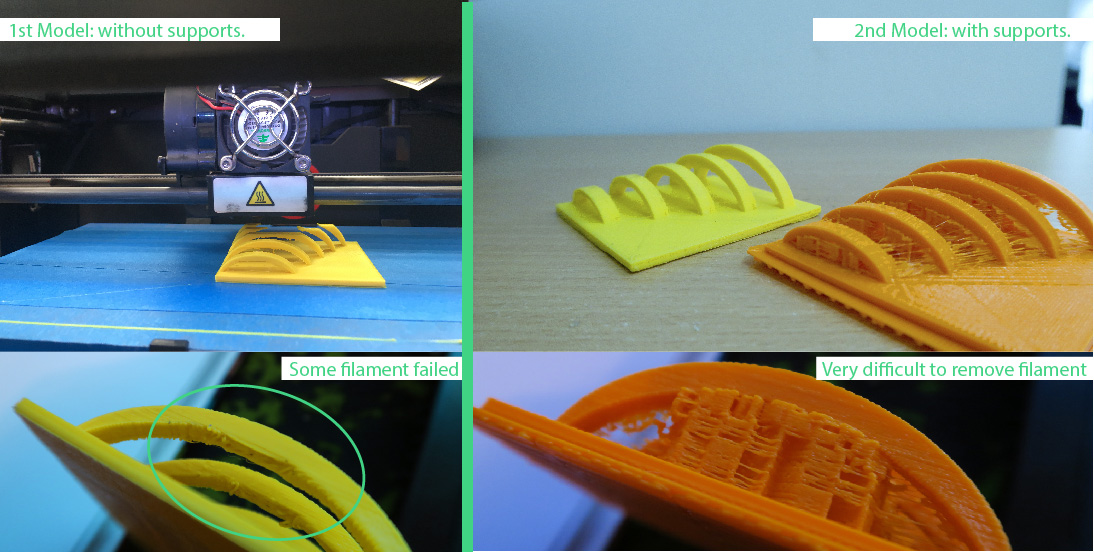 Parameters: Infill 20% / N° of shells: 2 / Rooft: 0.80 / Layer Heigth:0.2 / Print time: 1h20
d.Overhang: We also try this 3D model (from the same source) to test angles.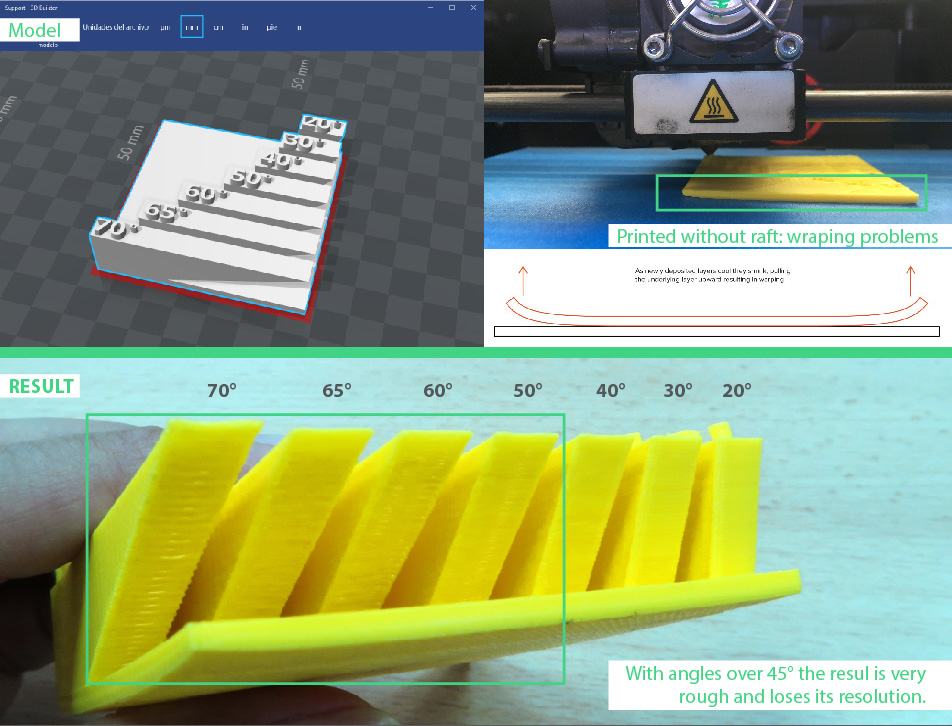 Parameters: Infill 20% / N° of shells: 2 / Rooft: 0.80 / Layer Heigth:0.2 / Print time: 1h33
e.Layer heigth:Pprint Resolution.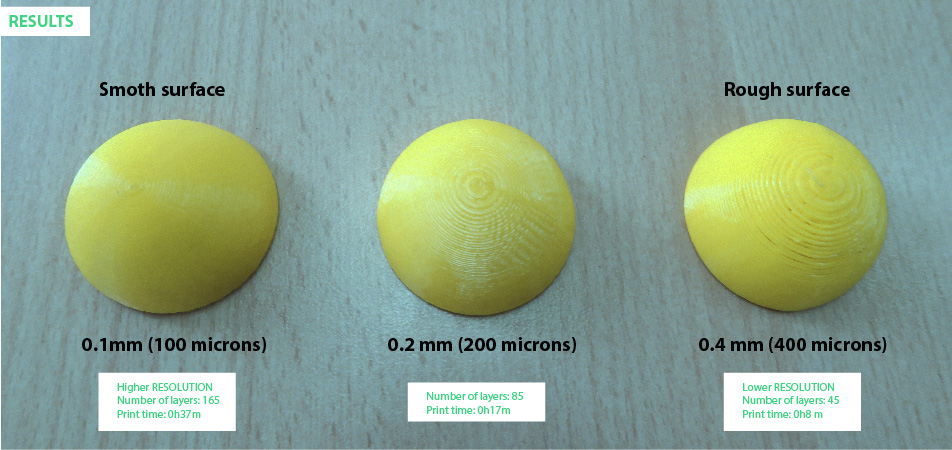 Parameters: Infill 15% / N° of shells: 2 / Rooft: 0.80
---

2. Individual Assigment.
2.1 DESIGN & 3D PRINT AN OBJECT
I designed and printed a case for my FabTiny using Fusion 360. Here you can check the 3D Model ↓
To assembly both pieces (uppber & bottom) I used a space tolerance of 0.04
a. PRINTING PROCESS: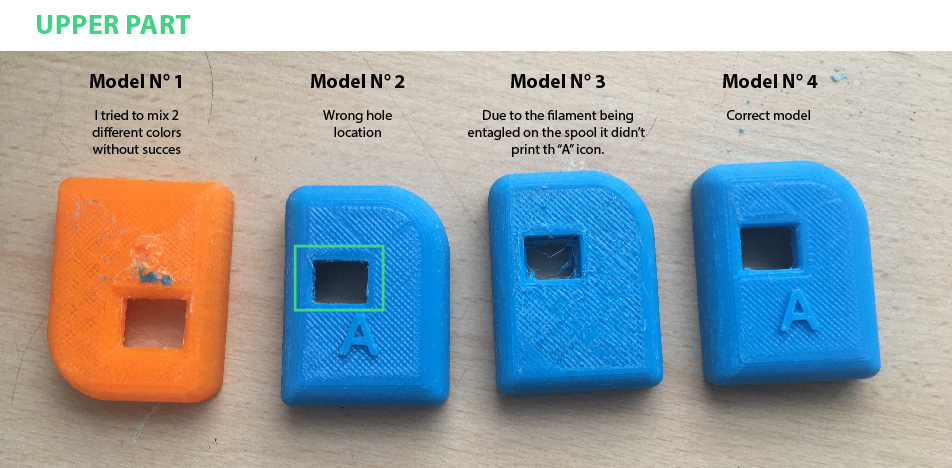 b. POST PROCESS: Removing supports.
c. RESULT
2.2 3D SCANNIG
I used to methods to scan an object: With Sense 3D Scanner and Kinnet from Xbox.
a. SENSE
To be able to work with the Sense Scan, I used a "holder prototype" localy built that help us to rotate the scanner around the object. Due to the prototype, it was imposible to do it alone because I hab to hold the computer during the scang process. Future adjustment: Modify holder design.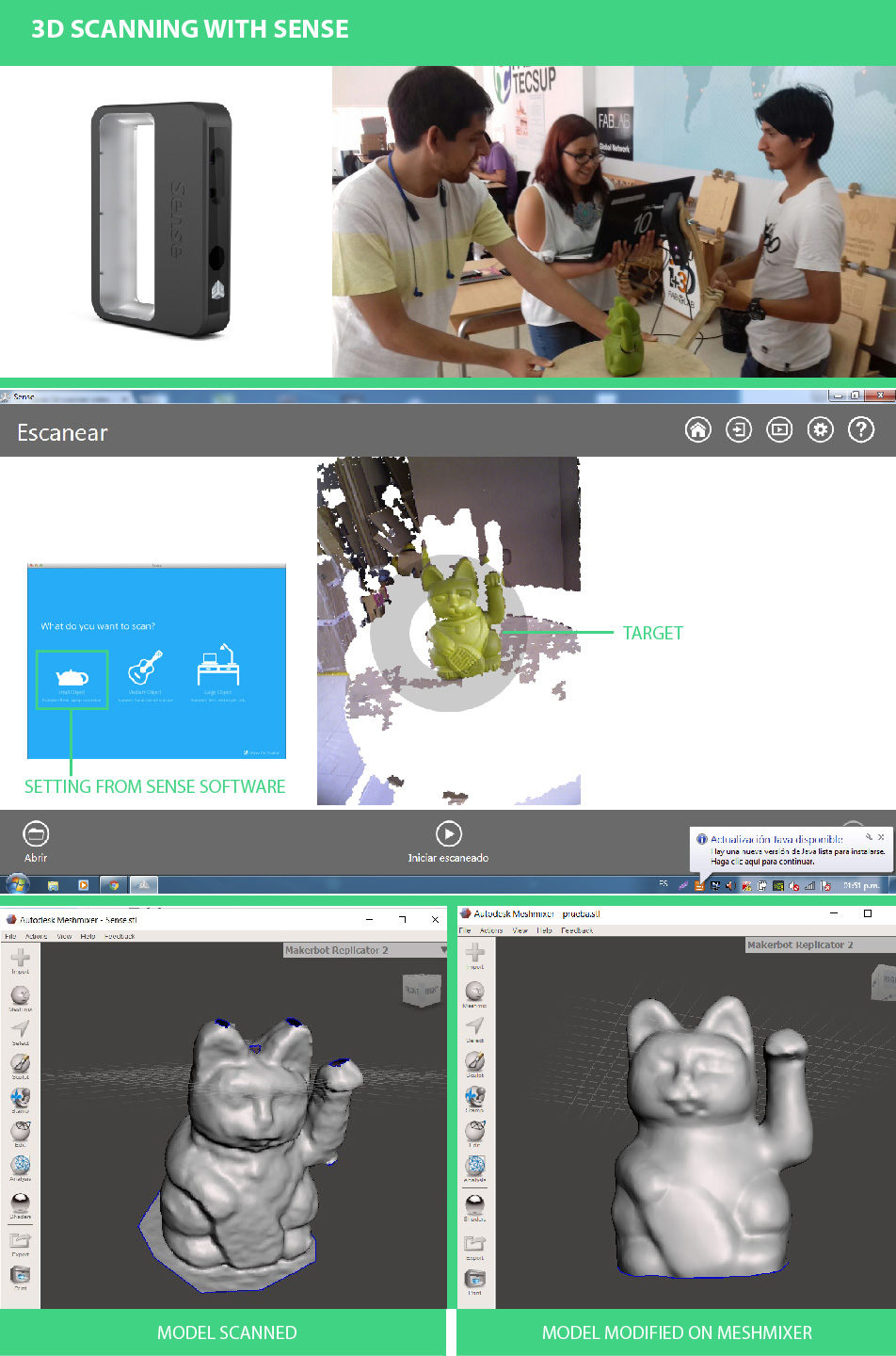 RESULT
As you can notice on the photos ↑ the resulting model was very damage and I had to cleaned up and repaired it by using Autodesk Meshmixer. To be honest, I enjoyed very much this process, it allowed me to try digital sculpting.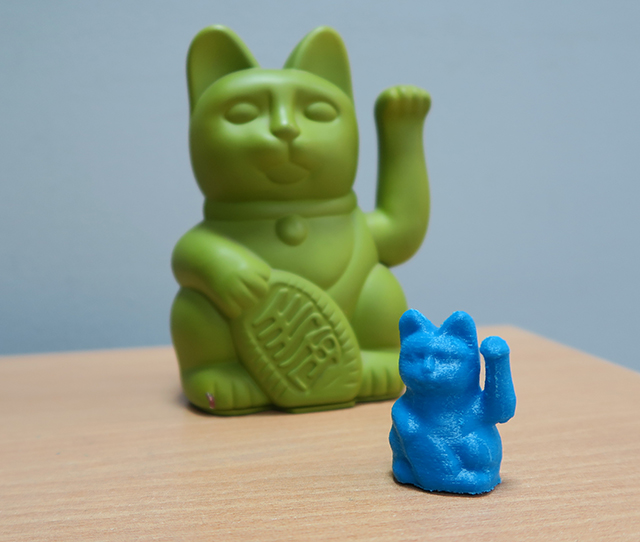 b. KINECT
As you can notice on the photos below ↓ the resulting model was less damage but with less details. The most important difference is that with this type of scannig I didn't rotate the SCANNER, instead of it I rotated the object and I used a metal rotating support.I could do it without any help and using Kinnet's Software:KScan3D. You can download it here.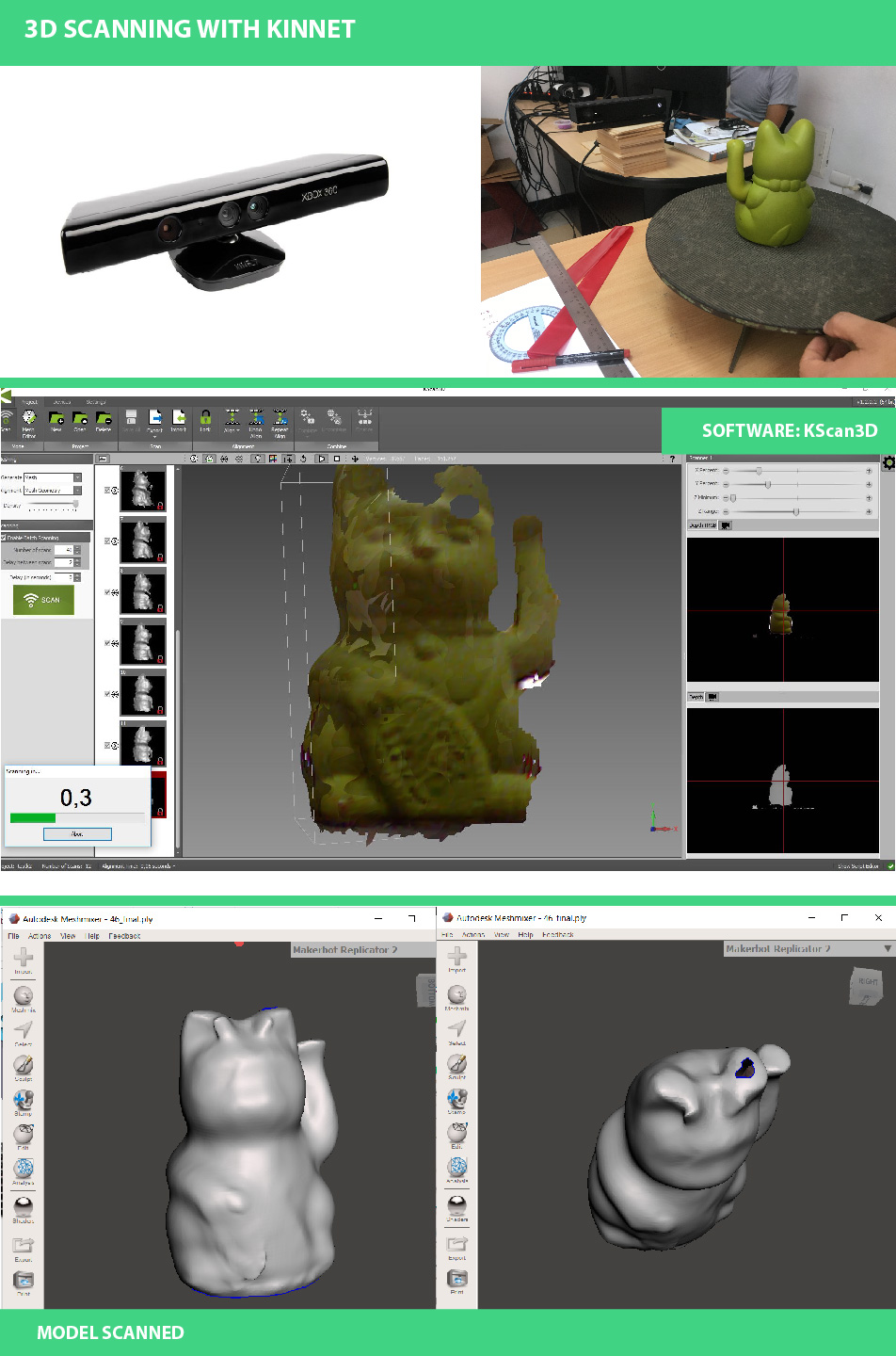 ---
---
FILES
3D Case: Download Fusion File
Cat: Download STL File
---