W17│ Wildcard
Design and produce something with a digital fabrication process (incorporating computer-aided design and manufacturing) not covered in another assignment, documenting the requirements that your assignment meets, and including everything necessary to reproduce it. Possibilities include (but are not limited to) composites, textiles, biotechnology, robotics, and cooking..
---
---

2. Individual Assigment.
2.1 Concept
As we are reach the end of the Academy, I'm deciding on wich type of fabric I will use for my Final Project. For that reason, on this week's assignment I wanted to experiment with fabric and electronics.
My objective was to make a board with fabric.
2.2 Experimentation
Fabric and Laser Cut

Trotec recommends to use 100% polyester felt as it is especially suited for processing with the laser. I used one the final board for my project to engrave the fabric and then use conductive thread as a trace. 1. Importing DXF files from Eagle. 2. I redrawed the traces in corel. 3. Laser Parameters: Due to the size of the board, the parameters suggested on Trotec's site didn't work (Power: 20 %, speed: 50 %, resolution: 500 ppi). The tests I made didn't worked as I spected, Isai (he is part of Tecsup's Fab Lab suggested me to add a new type of "cut" for the traces. 4. Sewing I was looking foward this moment, but I realized the components were to small. Silly me!
2.3 New Idea
I was disapointed but I started looking for information that could help and I "disccoverd" a new world full of componets specially made for E-textiles.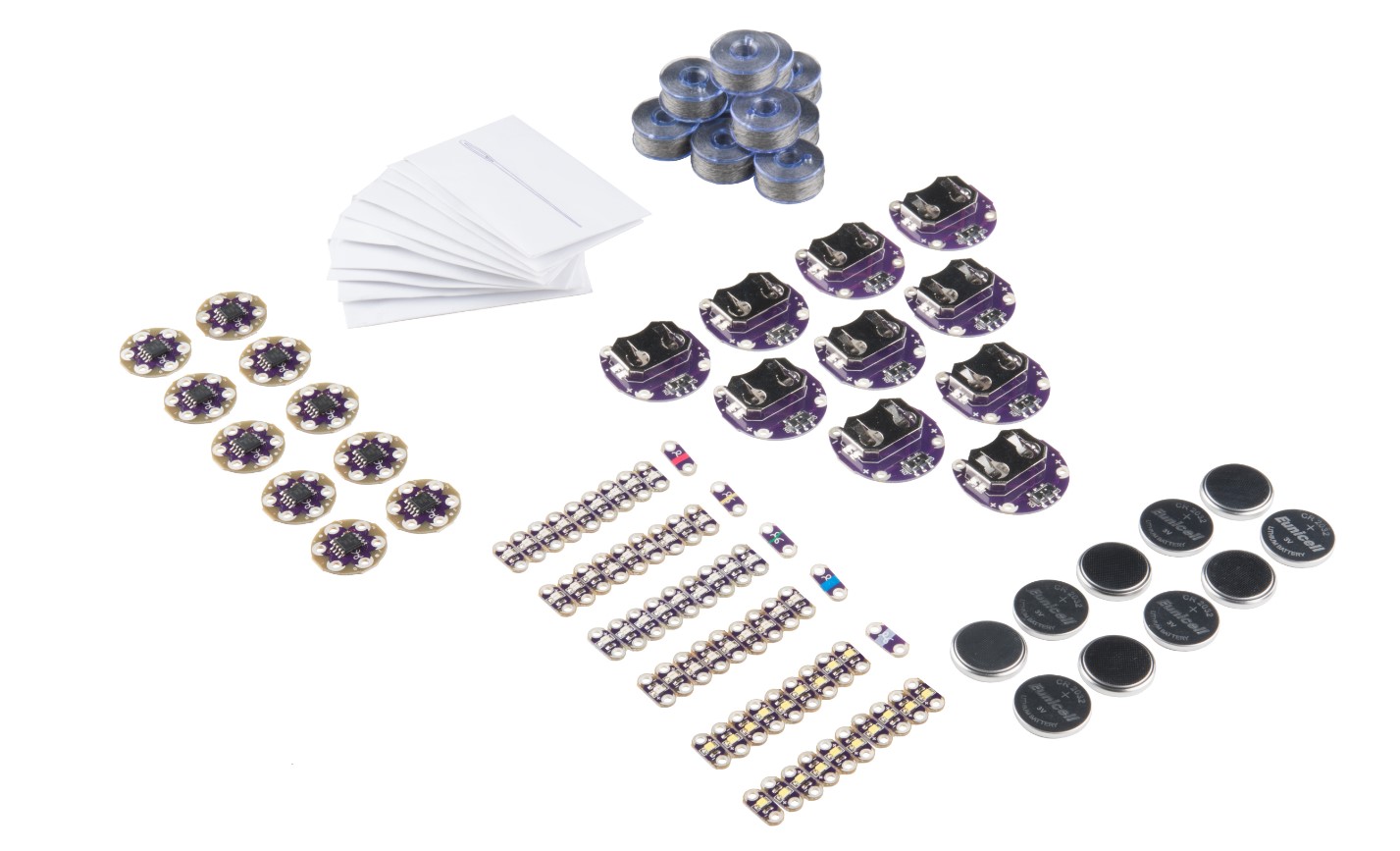 image retrive from:
Sparkfun
Decided not to fail again a new idea came to me, I was going to fabricate my own components. I designed a board with to leds and one button.
Drawing:
Laser Parameters: Red line - Cutting: Power: 20 %, speed: 3 %, resolution: 1000hz Blue line - Cutting: Power: 15 %, speed: 4 %, resolution: 1000hz Black - engraving: Power: 50 %, speed: 60 %, resolution: 500ppi
Fabric testing: I've bought two diferent types of felt to test, one (drak gray) thick almost 4 mm, and the others (gray & cyan) are thin (1mm). As you can see, cyan resisted high temperatures better than the gray/thin)
Sewing: I learnt how to sew when I was a kid, so this part wasn't hard at all.
RESULT
Finally, to tested it I used a power source to make it work. The red led didn't work as I spected. My ideal was to give light to the "F" from Fab and the "A" from Academy, the button is beneath the icon.
etextile from alucyem on Vimeo.
---
FILES
Eagle: Schematics / Traces / Interior
Corel: CDR
---