Who I am
My name is Ambroise de Vries, better unknown as Anar on the World Wide Web.
I'm a french 3D addict since 1996 and I work as fabmanager for a
french graduate school since 2018.
---
Background
I started my professional life as a mainframe programmer in 1989.
After discovering 3D design in 1996, I decided to give up mainframe programming for design making.
During several years I worked as a freelance designer under my own "one man" agency Spacymen.
Back in 2010 I also got interested into 3D printing and bought myself the very first commercial 3D printer kit (a Rapman from Bitsfrombytes).
I also spent several years in local fablabs as a maker before to become fabmanager for a french graduate school 2 years ago.
Portfolio and blog
You can discover some of my previous work with this mini portfolio.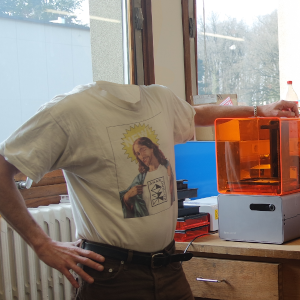 You may also be interested at my blog about 3D design and 3D printing that I started in 2010.
Why did I apply to FabAcademy
This year I decided to take the FabAcademy courses because I lack knowledge in the electronic field, which makes me uncomfortable with my mission as a fabmanager.
I hope to produce quality content that will reflect my progress.
I also want to thank my employer for his agreement.
What else?
Aside from 3D, design and fablab related things, I also enjoy
art
music
gardening
learning and teaching