2020 project - Card Music Box
2020 project idea
This was my initial project description for 2020.

Project idea - inspiration and description
As a music enthousiast I started to search ideas related to that and found something I liked. It's a "Card reader Jukebox".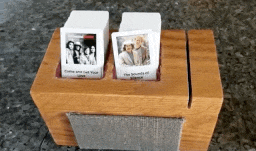 Not only it can be a good looking device (if made with quality material) but it's also an excellent and easy way to
show your music collection to friends
let them choose something
let them make their playlist
interact with the music
talk about souvenirs ("Do you remember this album / artist ?")
And without the need for a mobile, tablet or laptop to browse your collection.
It lets you play music in an old fashion way, by manipulating a physical support (cards), just like we were used with vinyls, K7, MiniDisc and CD.
---
Project research
I found a few similar projects using different type of input cards that were worth reading.
Some are RFID based, others are QRcode or even Barecode based.

---
I like the QRcode approach best because the card production is cheap.

Cards can represent
a song title
an entire album
a playlist
an action (next track in a playlist for ex.)
Exemple of cards used by the QRocodile
A song card :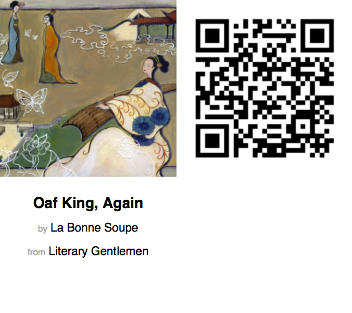 Some action cards :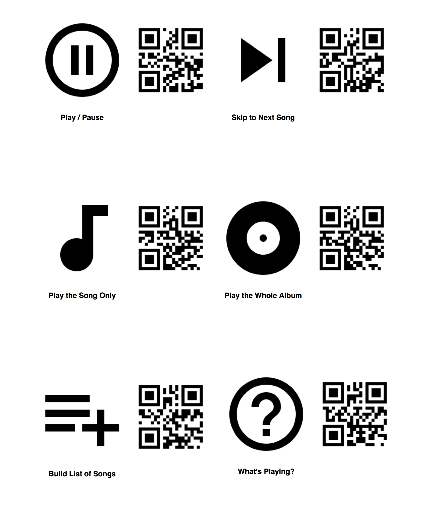 ---
Project goal
I really like the QRocodile.
And the kids seem to like it aswell on that video :

But it connects to a commercial speaker system (Sonos) and I don't want that.
I'd like to be able to play the cards either on

an internal speaker
or my old home hi-fi system
To make it short I'd like to build something like
this
but to decode QRcode instead, in the same way the
QRocodile
does.
These 2 sources of inspiration will have to be mixed.
---
Project sketch
Here is a rapid sketch I've made showing the final look I'd like to achieve.
It could be made from scratch or maybe just implemented in a ready-made old speaker.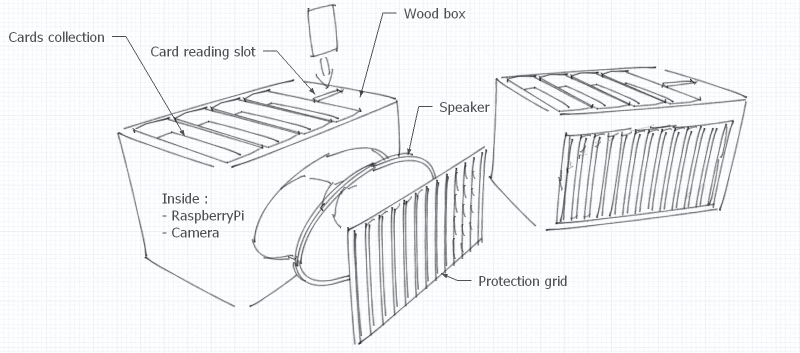 Project CAD
MusiCard V0.1
This is the first model I've made :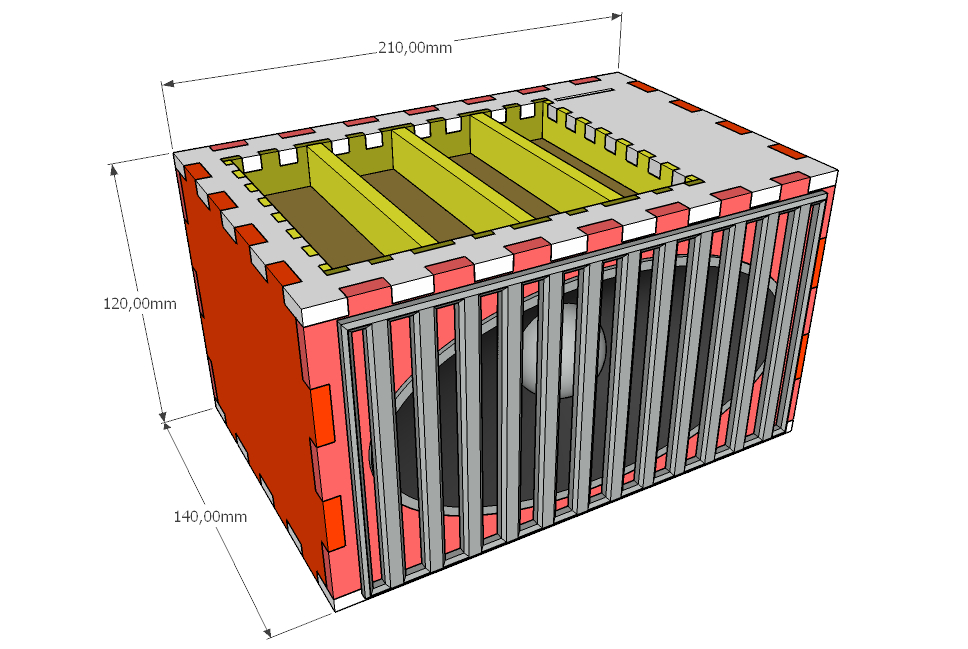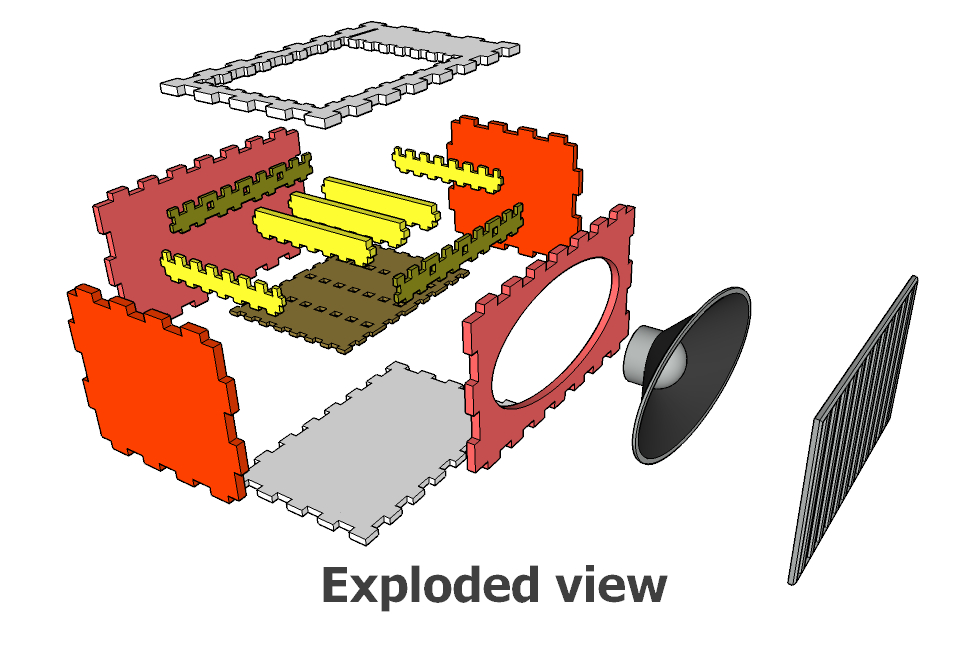 MusiCard V0.2
I decided to make it a bit more complex by
adding sliding doors
to the card drawers:
The door will be made out of 3mm wood with partially cutted lines allowing it to retract and bend back in the groove.
I don't know if it will work and
tests will have to be made
on a smaller scale beforehand just to make sure...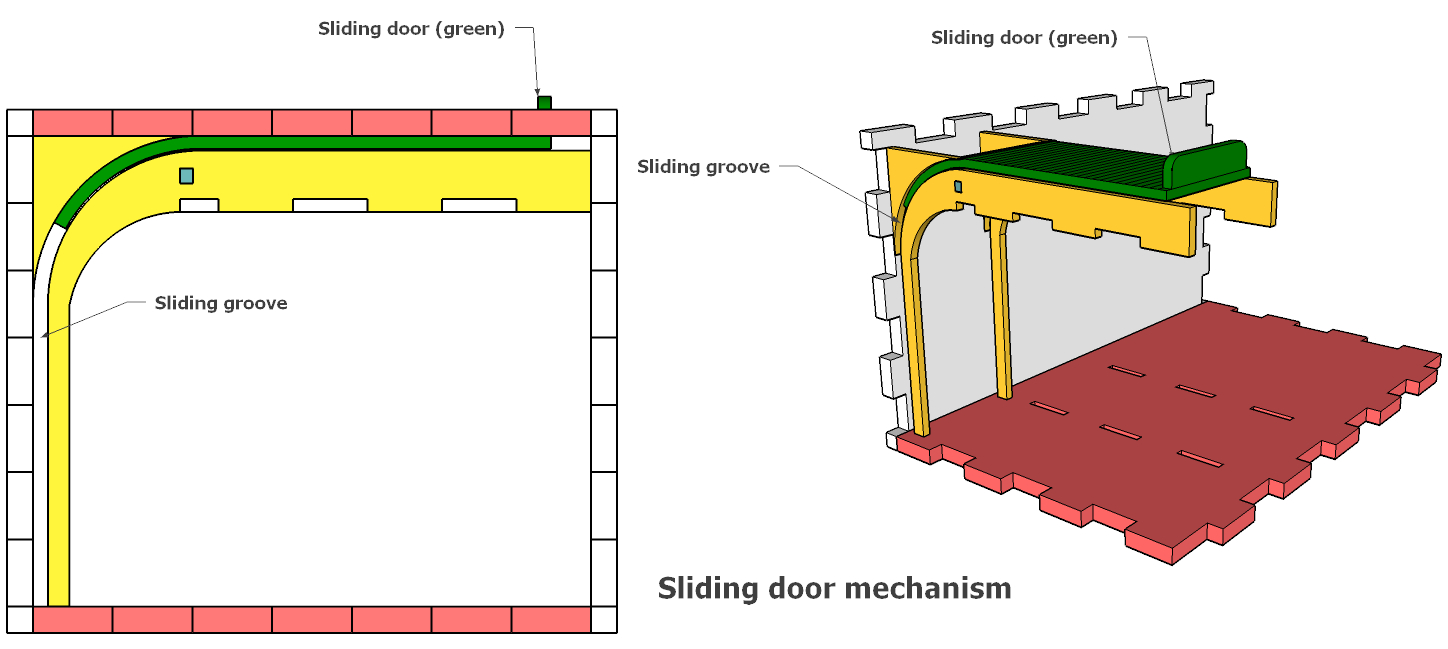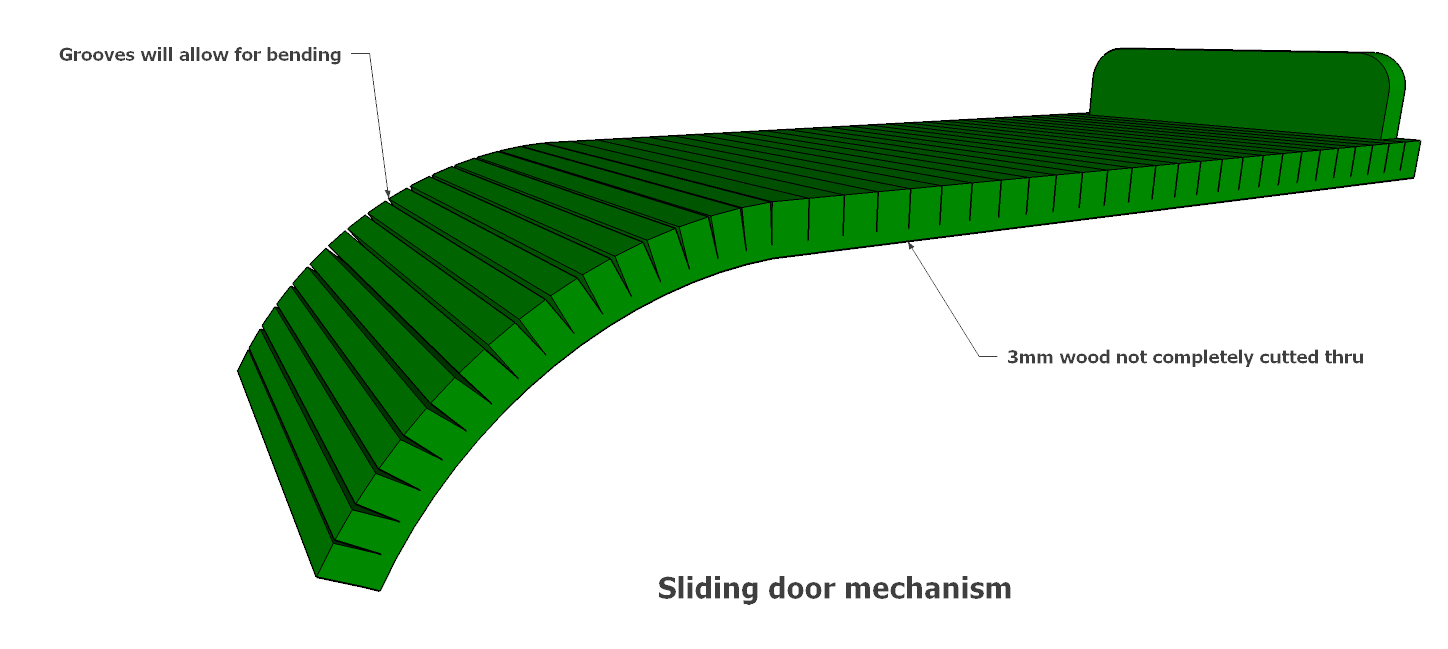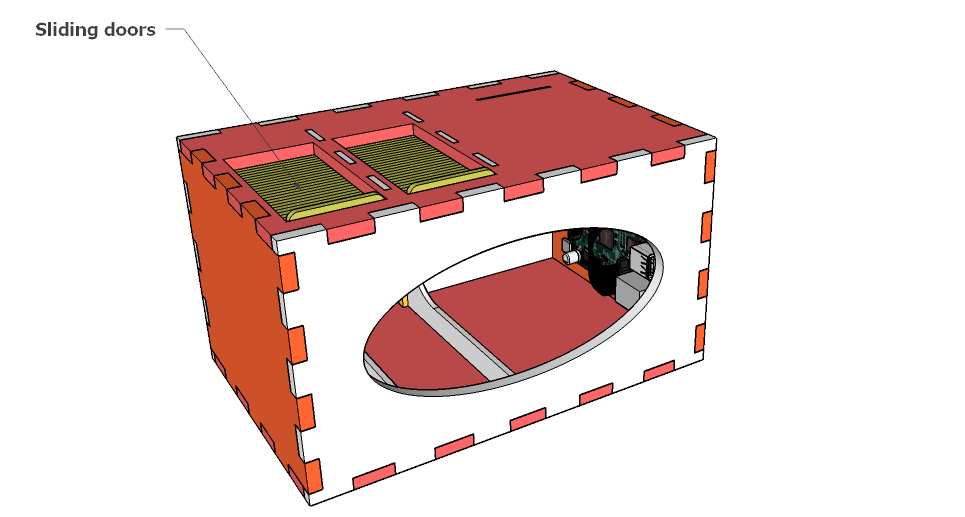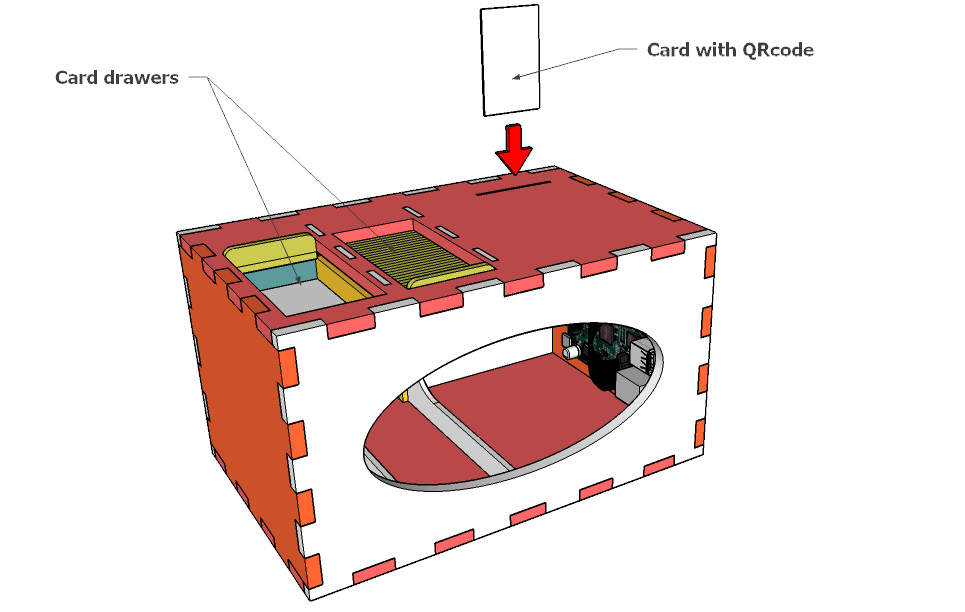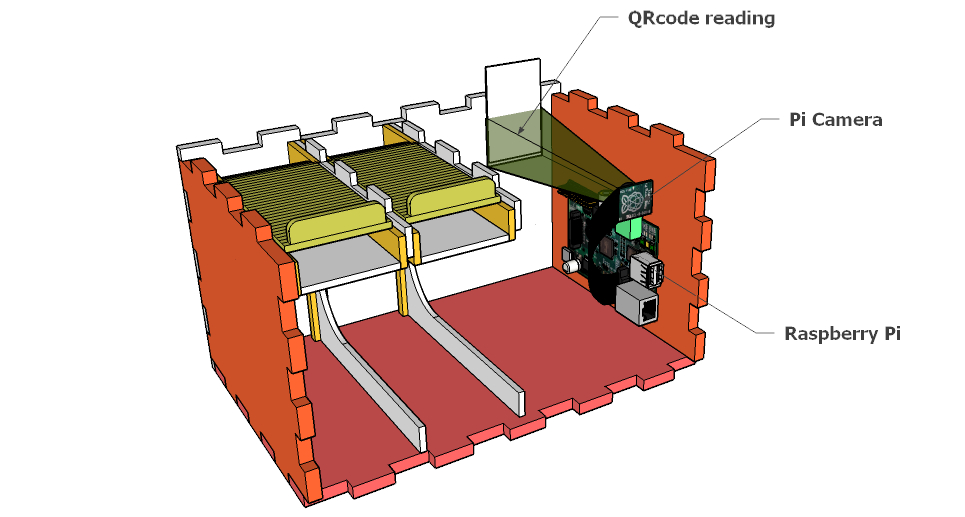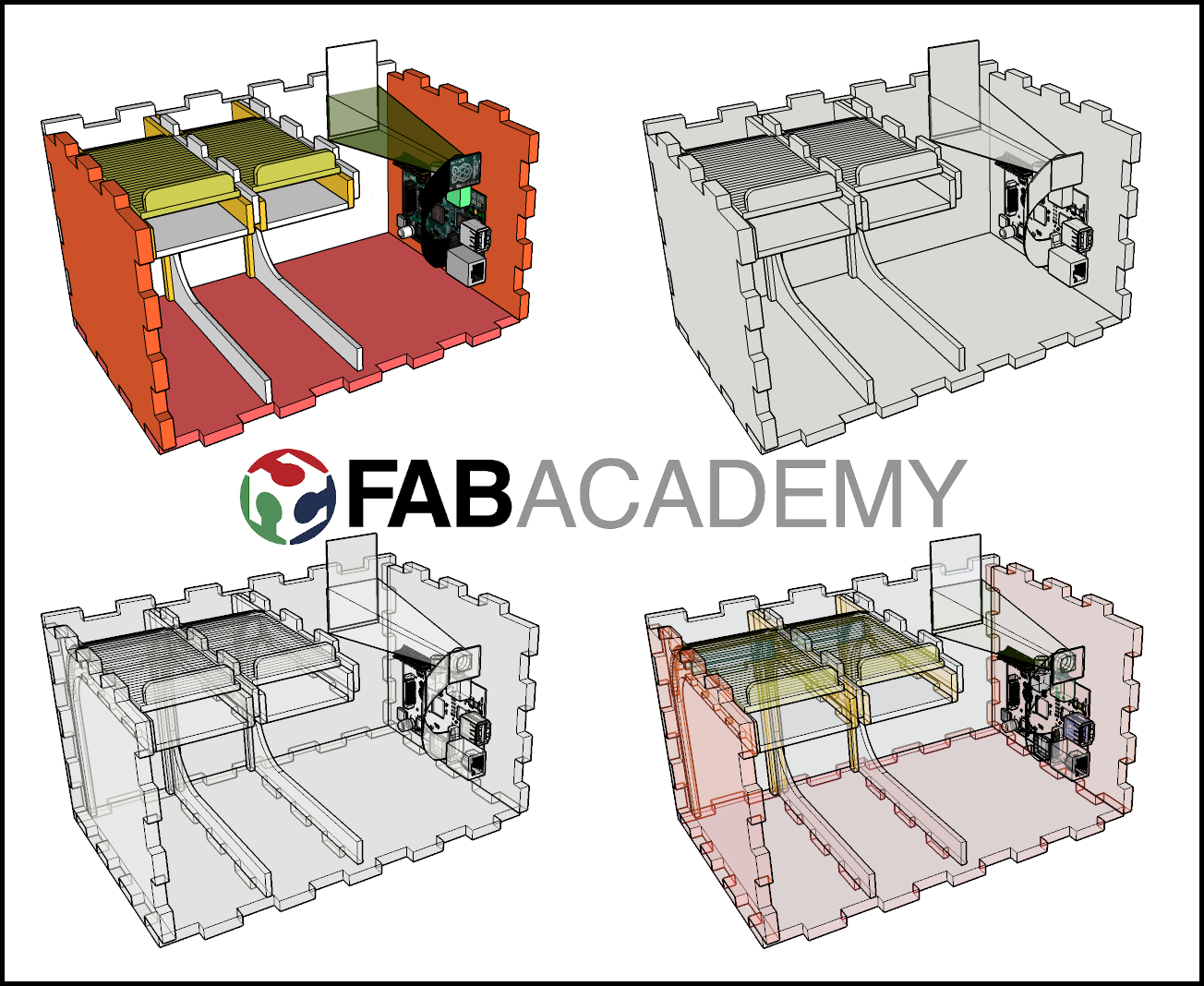 MusiCard V0.3
Why not implement some extra manual (physical) controls?
Maybe a third version with
an "On/Off" switch
a "Volume" knob
"Previous" and "Next" songs buttons
This way
it will involve more electronics
which is what I really need to learn.