10. Molding and casting¶
Assignment¶
Design a 3D mold around the stock and tooling that you'll be using,
mill it,
and use it to cast parts
Group assignment is documented on it's dedicated page.
Design¶
Our lab is planning a workshop on auxetic mechanical metamaterial so I got to make a mold for casting a sample in silicone.
I started from a SolidWorks drawing that was proven to be working, from an internship in the lab. From there, I designed a 3D positive mold that will be used to cast the mold.
I exported it to .stl format, then I tried to generate a milling toolpath with PyCAM.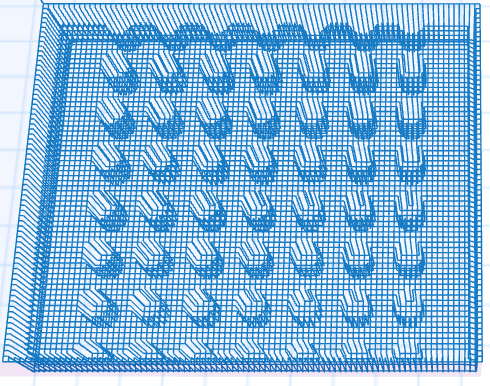 Note that PyCAM uses a safety height that is defined in the Settings tab → Preferences window → GCode tab.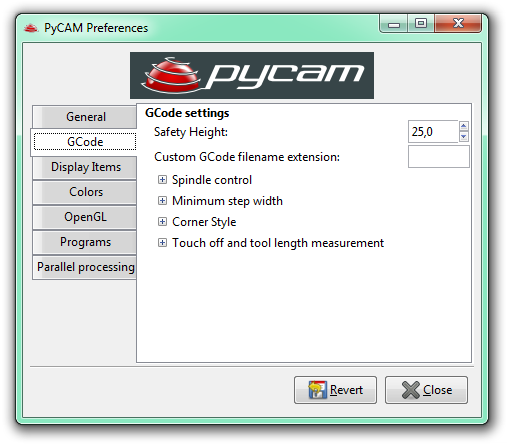 The default 25mm safety height was very time consuming (and useless) so I lowered it down to 5mm.
But the generated toolpath was still so time consuming (more than 1 hour) that I changed my plan.
So I exported a 2D .dxf drawing, opened it in CorelDraw to close open shapes and finally imported it in Easel.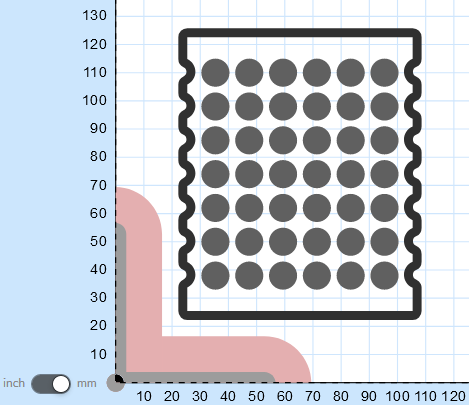 Light grey areas will be cut at 10mm depth and dark grey lines will be 3mm deeper.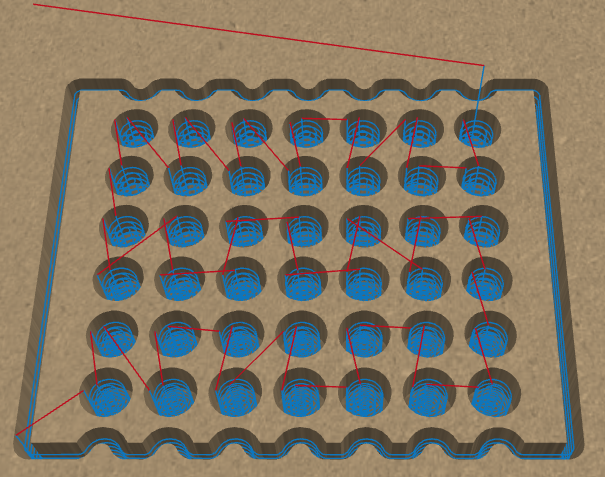 This can be milled in 20 minutes with a ⅛" end mill.
Milling¶
I used a scrap insulating foam panel as stock material (I am not sure if it's made of polystyrene or polyurethane).
I stick it to the martyr board using double-sided tape.
The end mill I choosed for this job is an upcut 3 flute spiral bit that sould allow me to mill with a high feedrate.

First, I milled a pocket that will make the bottom of my mold :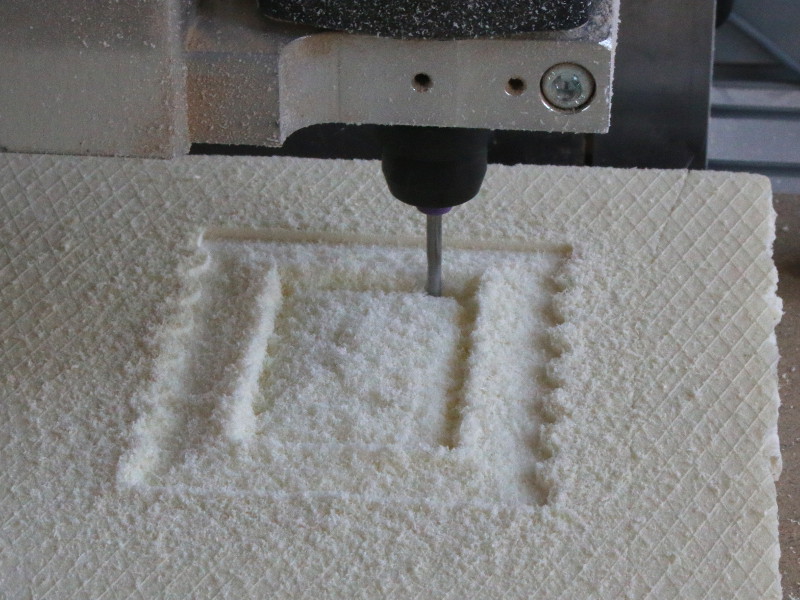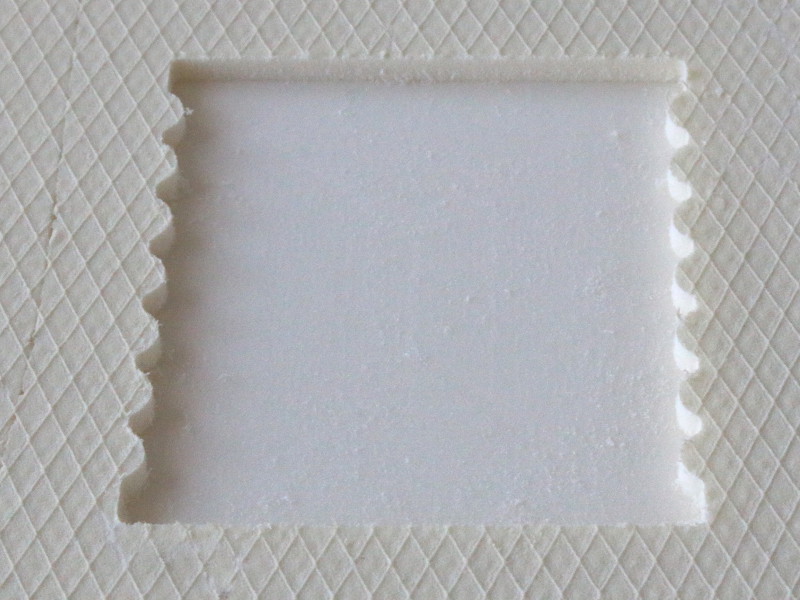 Then I set the Z reference to the top of this pocket :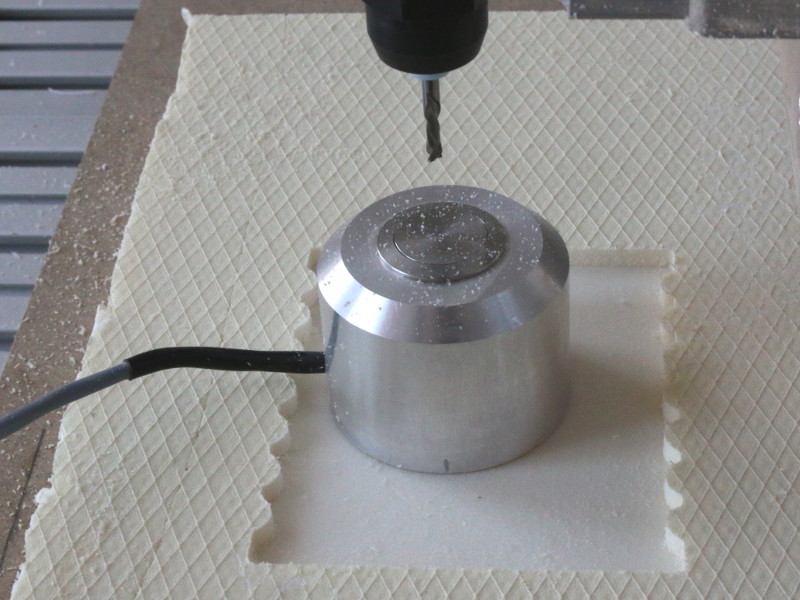 And finally, I milled the auxetic pattern :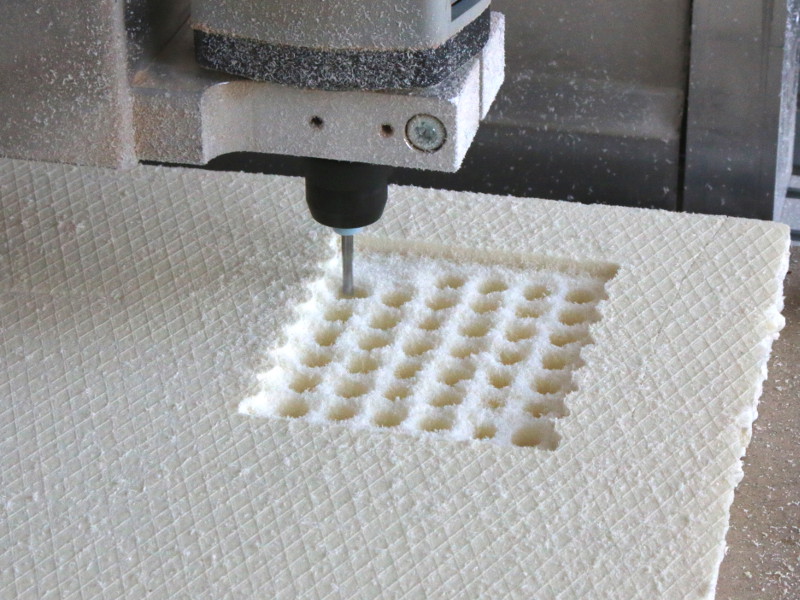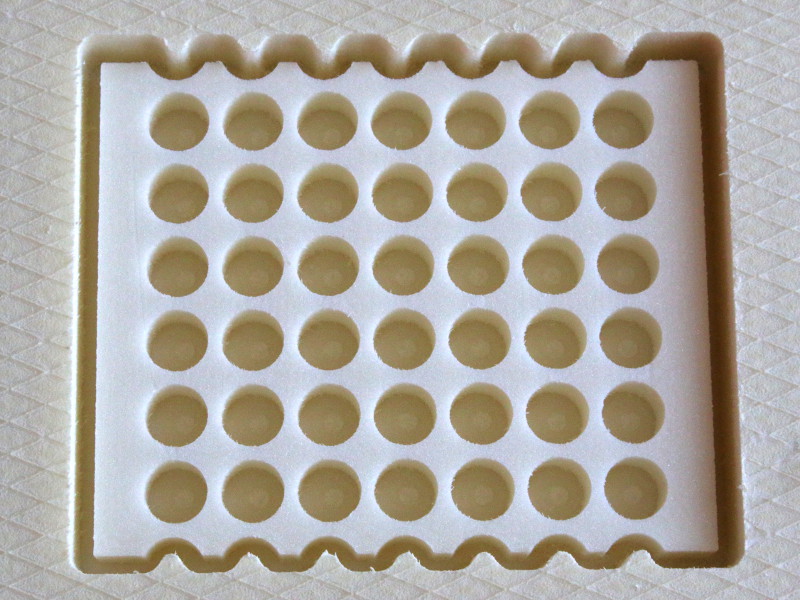 Casting the mold¶
Materials used¶
I used AS40 addition cure silicone rubber from EasyComposites to cast the negative mold.
Before getting started, I read the Material Safety Datasheet and the Technical Datasheet.
I learned from the MSDS that the catalyst is not safe, so I should wear nitrile gloves to protect my skin. In fact, I always use gloves when handling silicone because it is so sticky that you may have some hard times trying to clean your hands. Silicone stains are also difficult to remove on clothes, so I will wear a lab coat.
In the technical datasheet, I found some useful informations about pot life, curing time and a list of materials that are susceptible to cause cure inhibition.
Flexible compact PUR is listed as an inhibiting material but the foam I used for the mold is not flexible nor compact, so I believe it would work fine.
Preparation and casting¶
So I prepared a paper cup, a weighing scale and a mixing stick. I mixed the silicone base and the catalyst with a 10:1 ratio.
After stirring the mixture for 5 minutes, I placed the cup in a vacuum chamber and degassed it until the foam reaches the top of the cup.
Then I started pouring the silicone mix into the mold.
It was not as easy as expected because the rubber was very viscous and it took a long time to fill every little gap.
Here you can see there is a lot of bubbles, even after degassing the mix :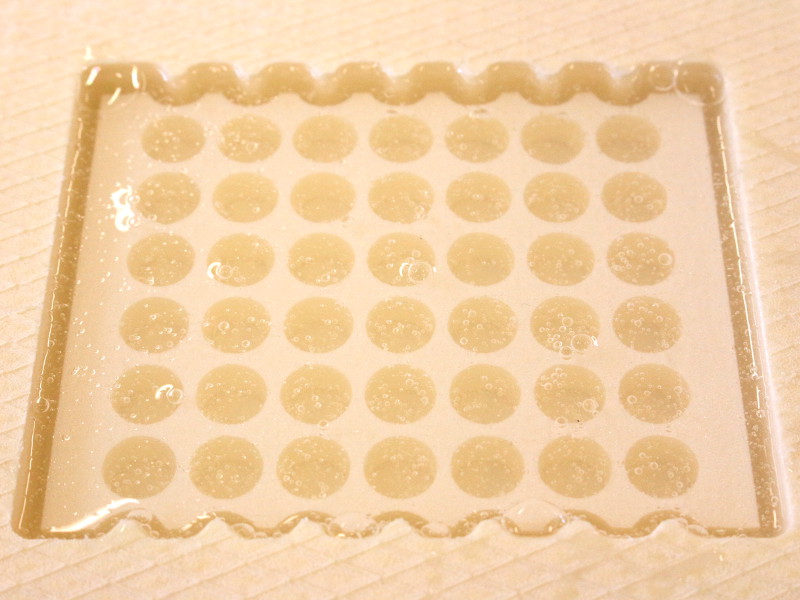 But the bubbles were not a real problem because most of them went to the surface (the bottom of the mold).
Demoulding¶
After 24h of curing, I tried to remove the cast from it's mold but it was so hard that I was afraid to break it.
So I decided to break the mold, in order to save the cast.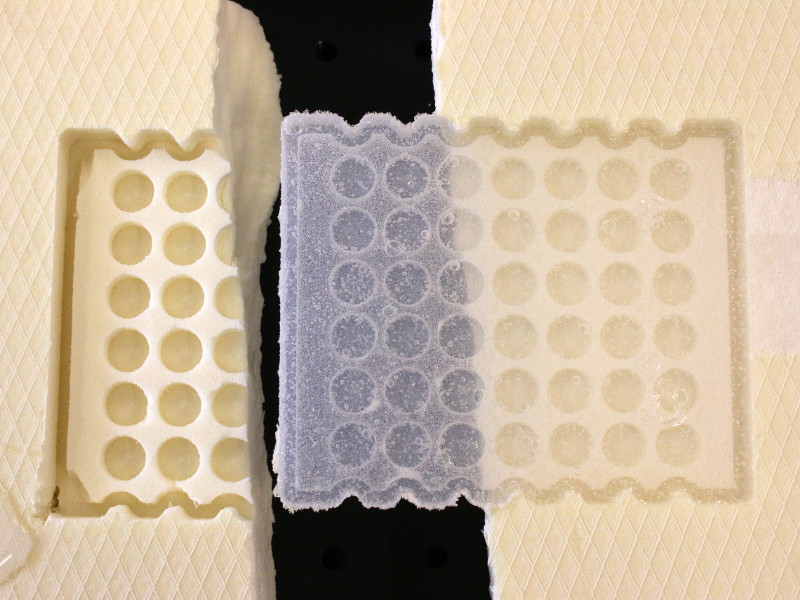 For the second one, I decided to cut foam into pieces so it would be easier to remove :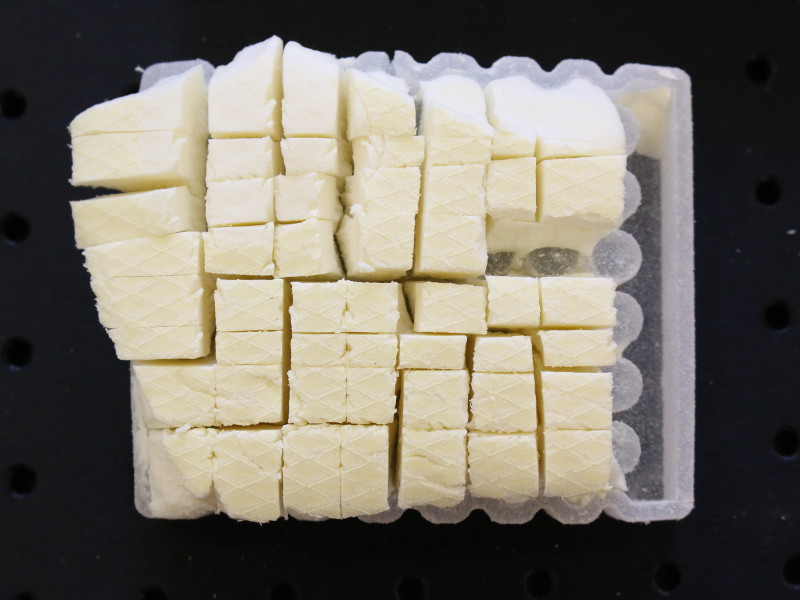 And there are the results :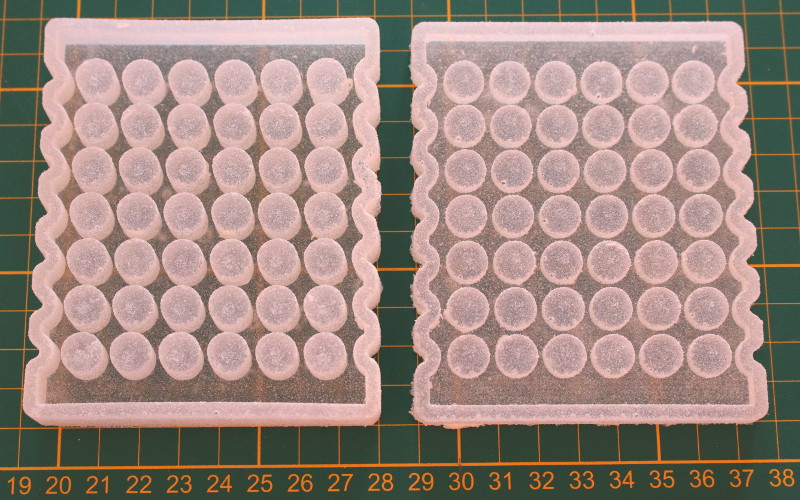 It retained the foam surface texture :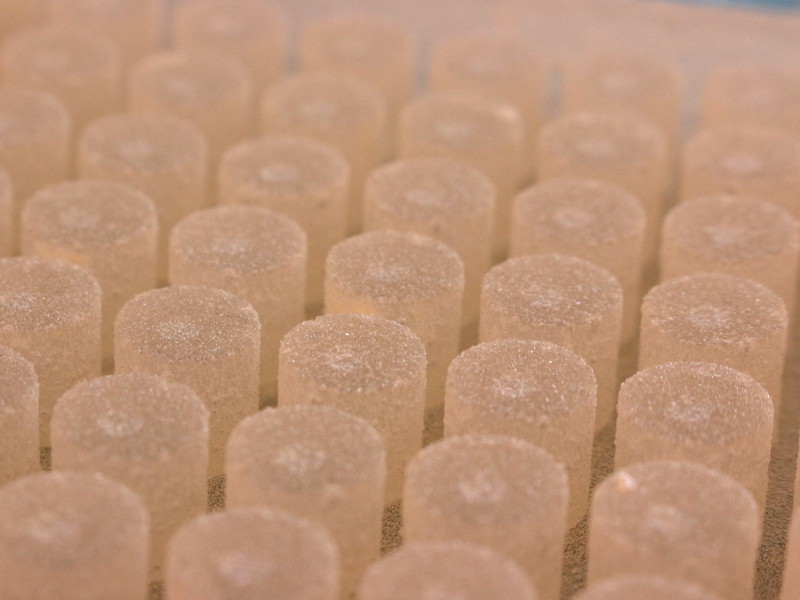 I like it's aesthetic look but I guess it will be problematic when it comes to removing the cast.
So I coated it with PVA mould release agent :
As the assignment is over, I don't want to waste casting rubber so I will have to wait for the workshop to see if my mold works as expected.
What I learned¶
Don't try to cast silicone in a silicone mold, it will probably stick too much.
Don't try to cast epoxy in a soft polyurethane foam, heat will melt the mold.
Never trust MDF for mould-making :
CAD files¶