Week08. Computer controlled machining¶
This week, we will create machine tools that are not large enough to be made on the desk.
Group Assignment¶
The content of our group assignment is here
Week08 Group Assignment
Impressions¶
In the case of woodworking, the weight of the material is.
Therefore, I felt it would be better to take a tight offset so that it does not fall off under its own weight
Computer controlled machining¶
Envilonment¶
Place

Cut target

Plywood(1200mm * 1200mm * 15mm)

actual measured value is 1.48mm


Cut Machine

Used Software
Designing¶
I decided to create a seat. I tried to bend the backrest.
Design

Parameters

Rendering
If export sketches as they are, construction lines will be included in the exportfile. I have projected a face, generate a new sketch and export it.
Projection

Export dxf file
Generate Cutting path¶
Edit the data for processing using Vcarve.
Open Vcarve

Job Setup

Setting
Job Size
Z zero position

Machine bed

In order to prevent cutting too deeply when processing.

Import dxf file

Join Vectors

If the lines are not joined, all data can not be processed.

Add fillet

Setting
Fill the tool radius size
dog bone fillet
It is necessary to put it in order to prevent it from entering if the corner is rounded.

Line up

seat parts * 10
side parts * 2

Bis point setting

Designate a point to strike a screw to prevent movement of the board.
create Another layer.

Using tool setting

Add Tab

Add tabs to prevent parts from flying.

Generate cut path

Output each processing path.
Cut¶
Processing with ShopBot.
Wear the following when using.
Protective eyewear
Earplug
ShopBot¶
Open ShopBot

Select Cutpart

How to Move

How to Move Z-0 position

Click Z icon

Set Z-0 Tools

Start Cut

Click Start

Start Vacuum cleaner

Insert Key

Start Spindle

Processing

Result
Check¶
Assemble and check. … I didn't turn very well.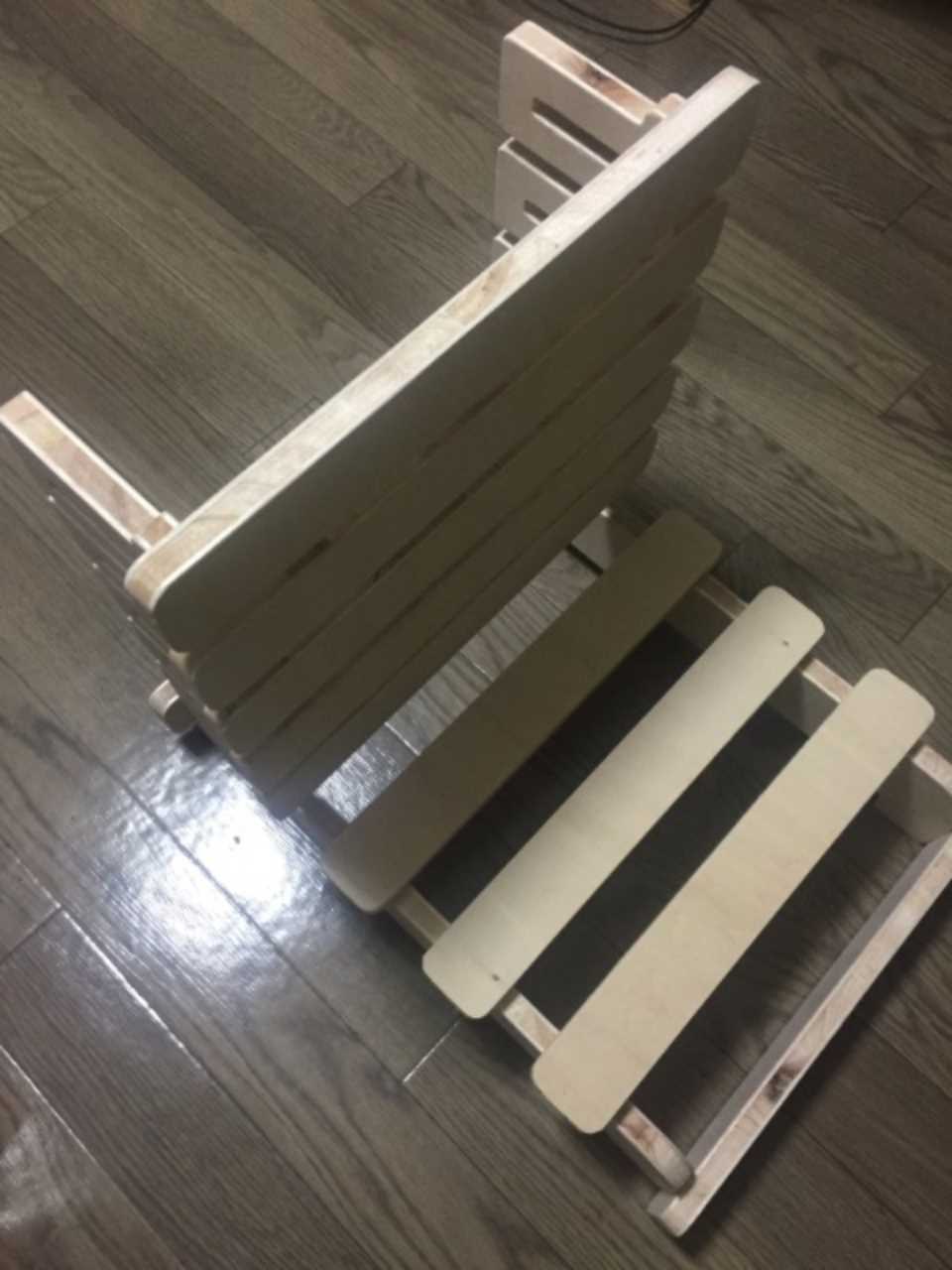 Impression¶
The load was concentrated at the base of the backrest and cracked.
When I checked the cracked area, the wood was not full enough.
I think that design bends more in the lateral direction than in the longitudinal direction.
The direction in which my backrest bends is vertical.
I made a big one, but I felt it better to make one that can withstand everyday use.
With regard to bending, it is better to make and try a lot more prototypes.
Files¶