About me¶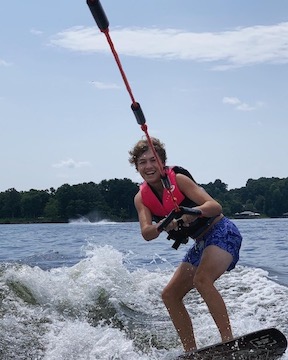 Above is a photo of me having fun on the lake during the summer doing one of my favorite activities, wake surfing on lake norman with my friends.
Hello, My name is Grant Fleischer, I am a 10th-grade student at Charlotte Latin School in Charlotte North Carolina. I have had a passion for engineering since the 3rd grade when I began the Young Engineers of Today program. Since then I have participated in school-sponsored engineering programs. I am excited to participate in Fab Academy to greatly increase my knowledge in the realm of engineering. My favorite fabrication machine to use in the CLS fab lab is the 3D printer because I enjoy the versatility of it. I have had experience using CNC machines, Laser cutters, and 3D printers. Outside of school I have a part-time job at Chick Fil A as well as progressing through the ranks of boy scouts. I enjoy my free time playing tennis and lacrosse as well as hanging out with my friends.
Through this program I hope to gain knowledge in fabrication that will aid me in the future. I would enjoy using my engineering knowlege in the futre to aid me in my career, innvolving my self in automotive engineering for performance vehicles, something that has always amazed me.
Previous work¶
Prior to this program, I have created numerous projects in school sponsered engineering classes and competitions. Some of my favorites include designing a Underwater robot for Seapearch as well as a lego battlebot for Sumo Bots. In school classes I have created many cool fabrication products including custom paper folders, and a xbox cover case with a clear window and neo pixel strips to illuminate the inside of the Xbox.
Past Projects¶
Word clock From Youtube¶
---
Last update:
July 12, 2021