5. Electronics production¶
Process Characterization: PCB production¶
Mill Test Traces¶


The fab academy test trace file above was use to create cam to test our X-Carve 500mm size milling machine. I purchased the smallest 500mm model of the X-Carve mill because it would be more rigid and so it would fit on a normal work bench top.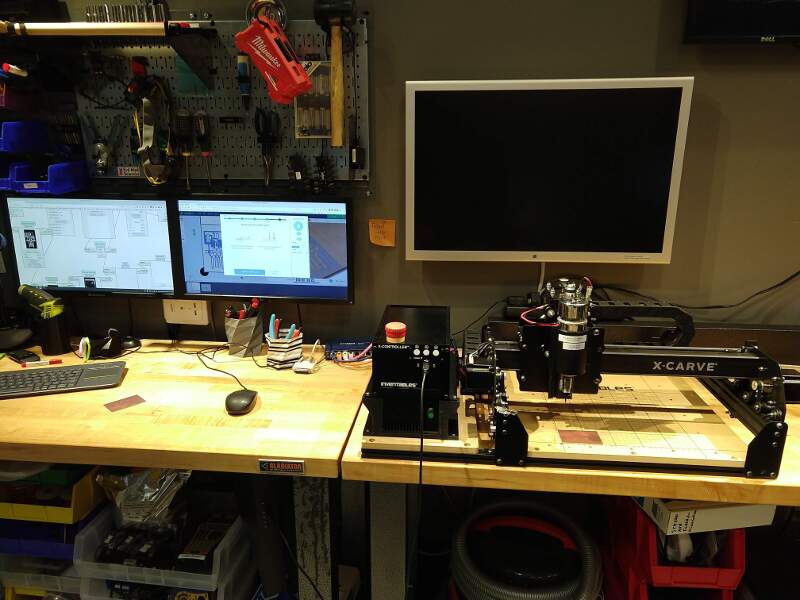 I had been told that it was impossible to micro-machine or mill a circuit board on a lower cost (sub $1000) milling machine like an x-carve. I suspected that this was not true, so I proceeded in the following way. It seemed to me the mass of the spindle, small cutting diameter, and rigidity of the machine was capable. I did know that vibration and concentricity of the tooling in the spindle may be important.
I wanted to make sure my x-carve spindle was ready for micro-machining. The first few times I tried to machine my circuit board on my x-carve it broke the 1/64" diameter end mill almost immediately. The bit also seemed to be vibrating a lot despite the fact that the spindle itself was runny vibration free and quietly. Being trained as a machinist years ago, I knew I should check the spindle and tooling run-out of the 400watt 48vdc quiet cut spindle we have installed on our x-carve mill. Below you can see photos where I am using a Mitutoyo 513-406-10E Dial Test Indicator to check the runout. This specific Dial Test Indicator was suggested by Ron Reed at Precise Bits a micro machining supplier I called in the process of researching micro-machining.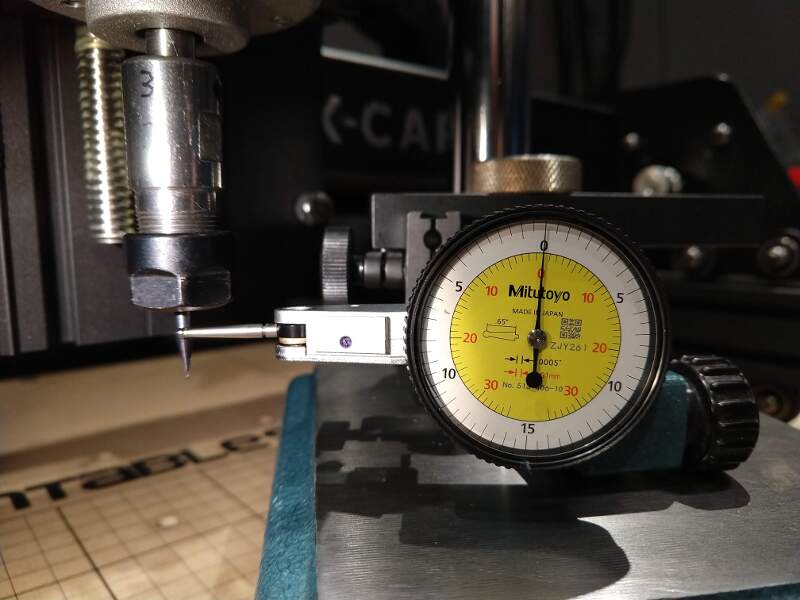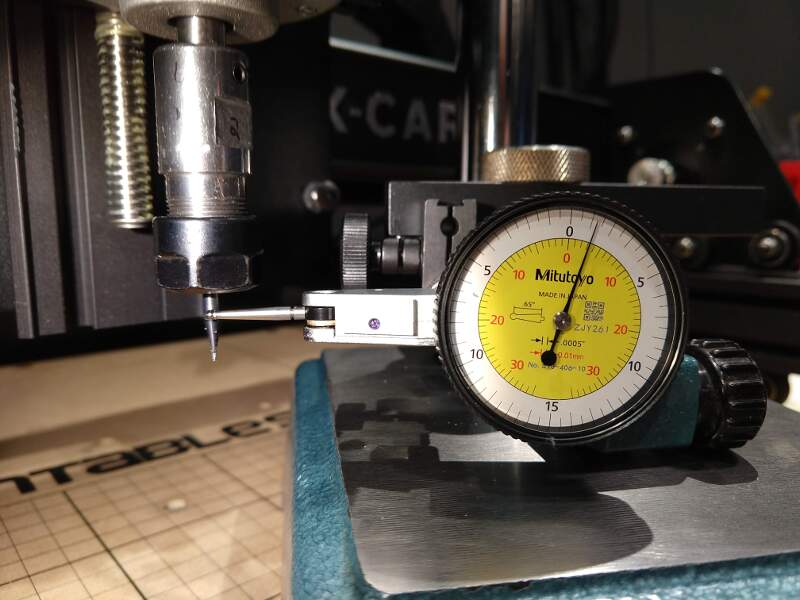 After rotating the tooling, collet and spindle the Total Indicated Run-out (TIR) measures a max of .0015" which is OK for a 1/64" diameter bit, but could be improved. I am waiting for some new collets from Precise Bits and we will see if they can improve TIR.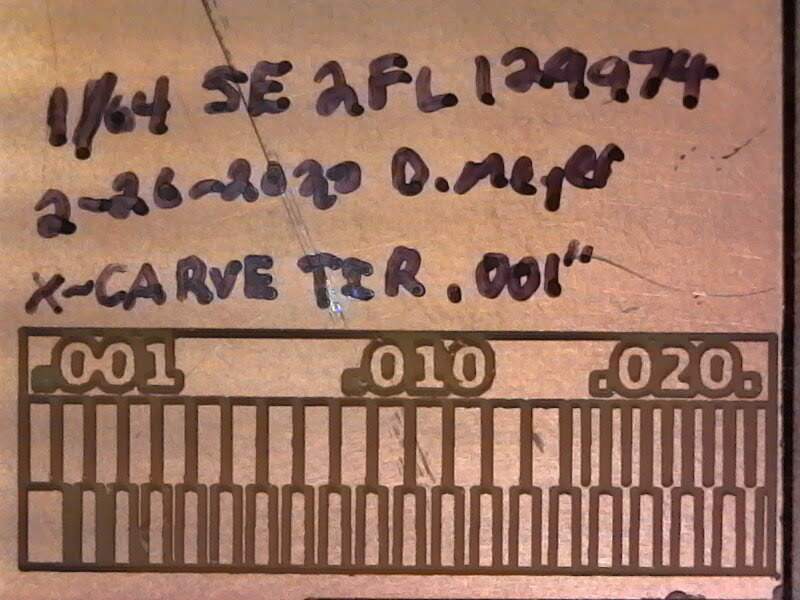 The above test trace file was cut with the following parameters:
| Feedrate | Speed | Plunge Rate | Cut Depth | Tool | TIR |
| --- | --- | --- | --- | --- | --- |
| 10 ipm | 12000rpm | 4 in/min | .004 in | 1/64" 2FL CU 129974 | .0015 in |
The test traces came out quite good for the purposes of the Fab Academy and matched the typical output of a Modela mill. The traces stayed in place into the 4th segment from the left, this means all typical trace widths will be easily machined on our x-carve. If I have time I will further optimize the x-carve with a focus on further reducing TIR.
The section above satisfies the group assignment assessment requirements of: 1. Characterize the design rules for your PCB production process: document feeds, speeds, plunge rate, depth of cut (traces and outline) and tooling. 2. Document your work individually
Making: FabTinyISP¶
After being unable to program a ARM based JTAG programmer I made, I checked in with the Saturday Zoom help group. Pablo and Adrián from Fab Lab Leon both suggested that I make a FabTinyISP first and then move on to other boards. I took their advice and followed these instructions to make a FabTinyISP
I will return to my ARM JTAG Programmer project at a later date and my work and documentation will be updated here: JTAG Programmer
Milling¶
I used the same steps to mill the board as documented for my JTAG Programmer.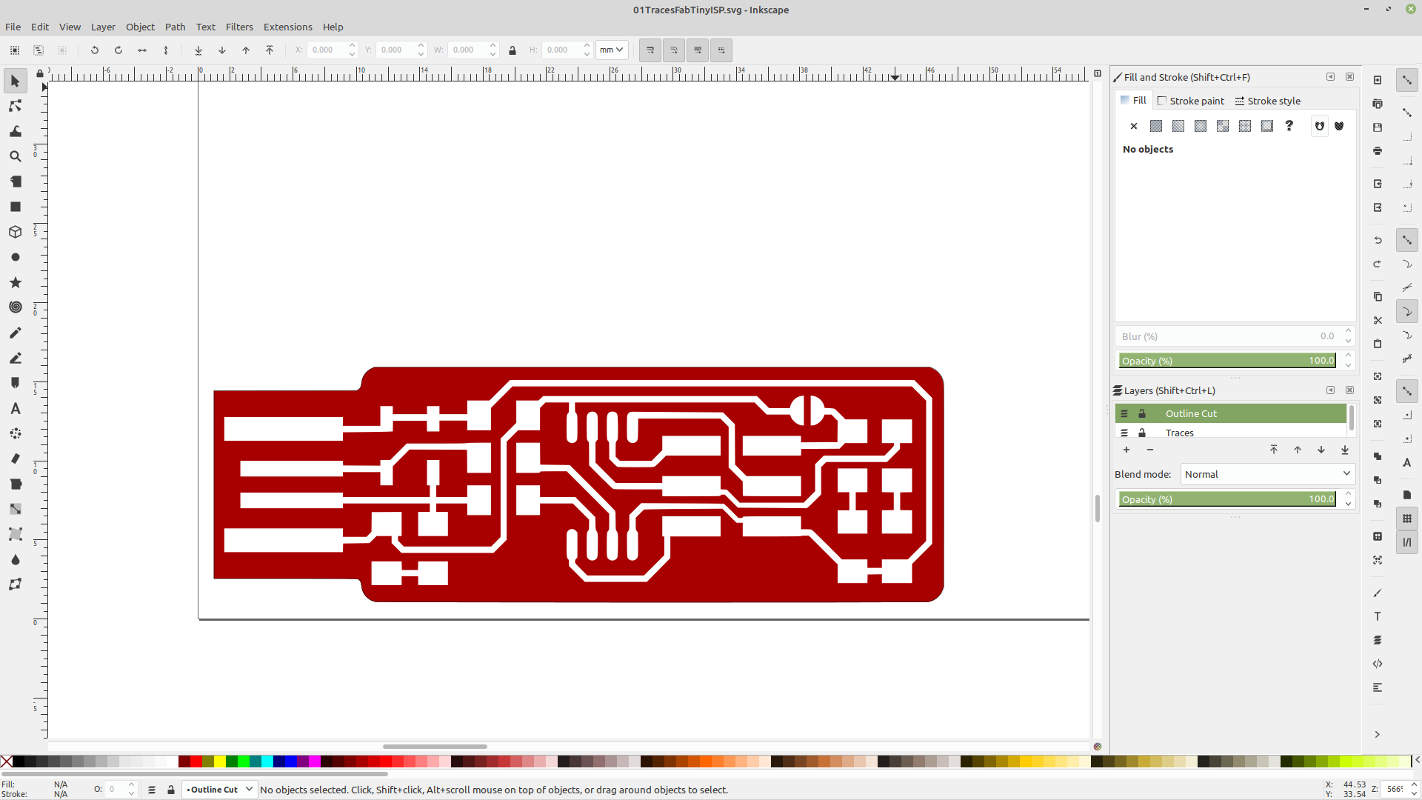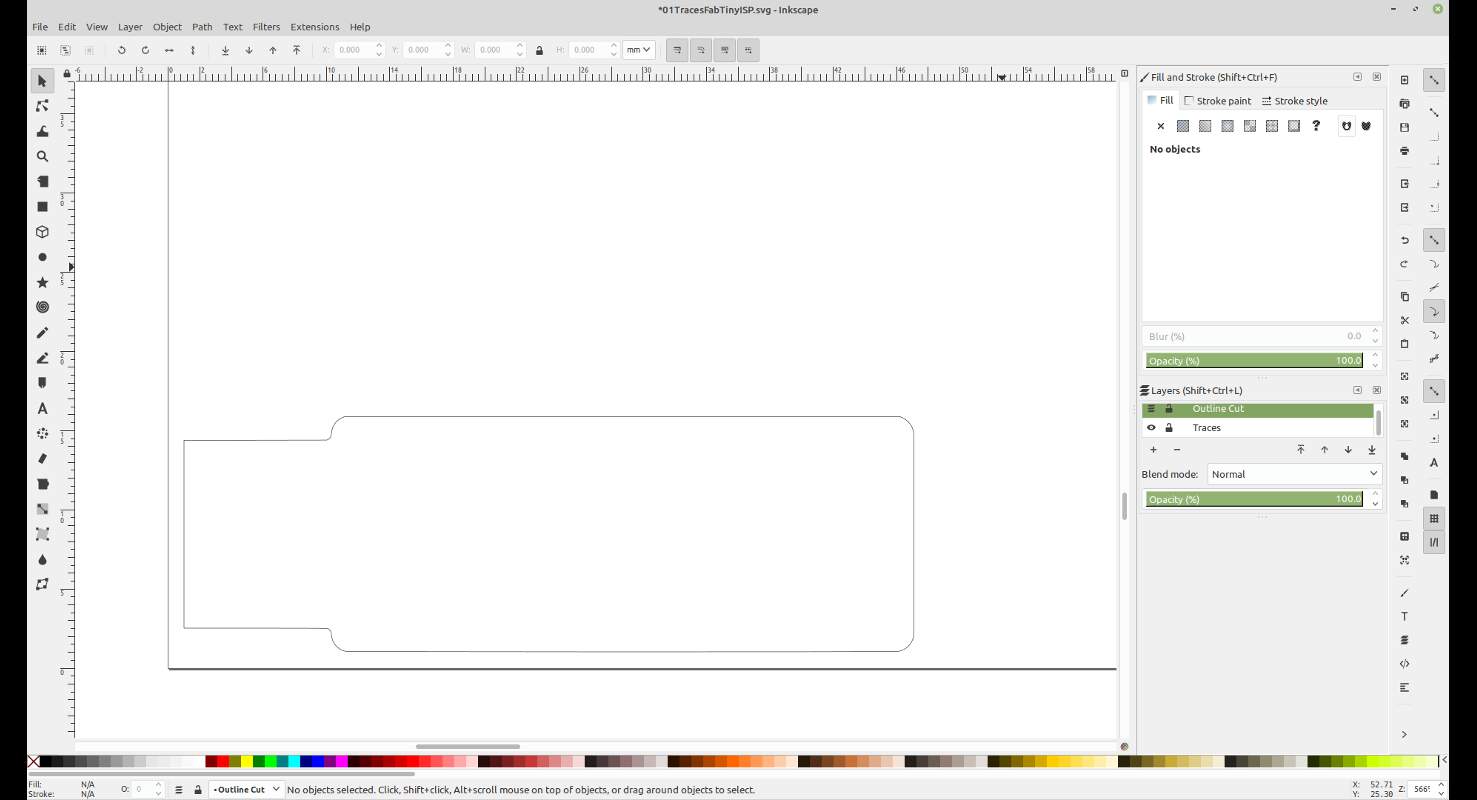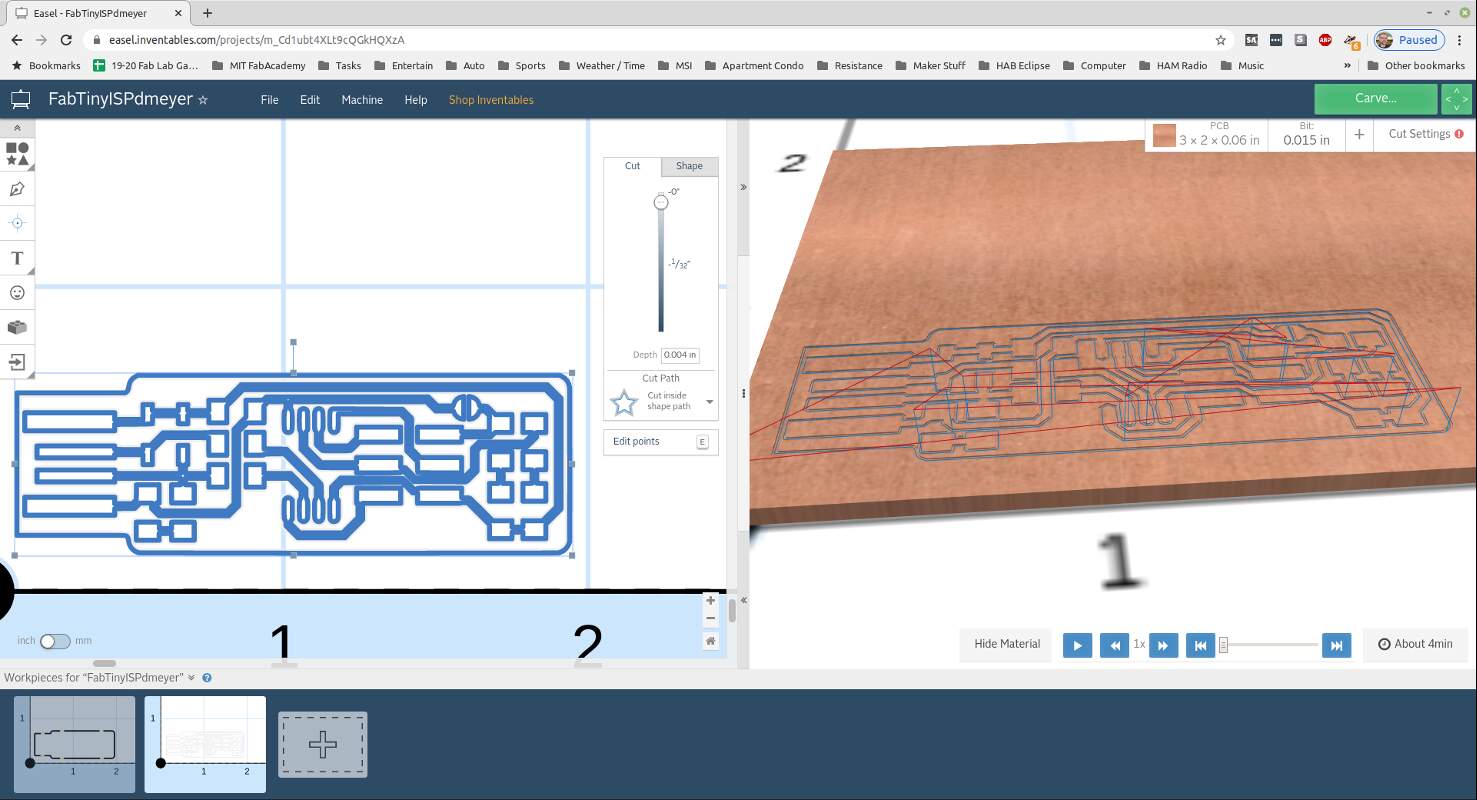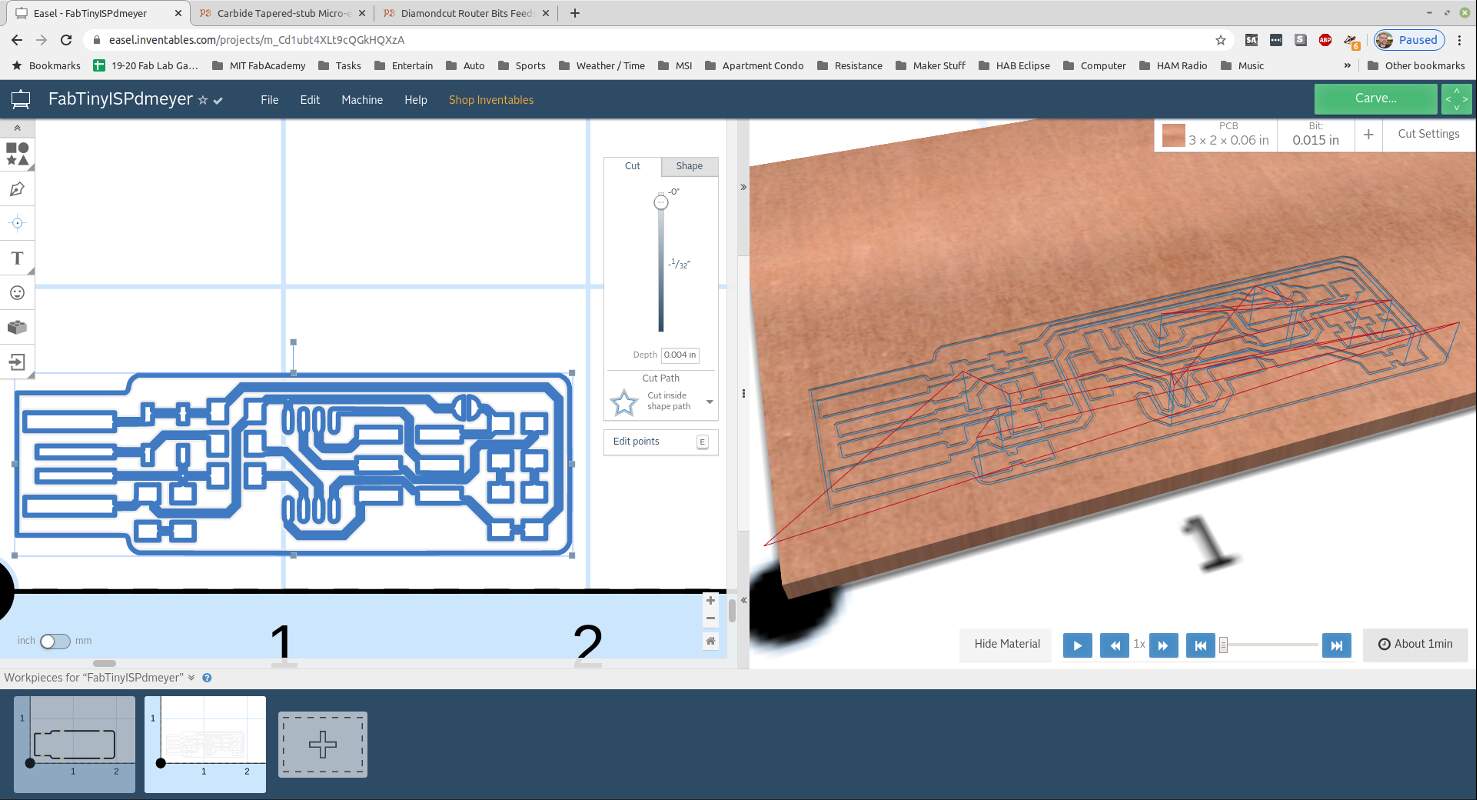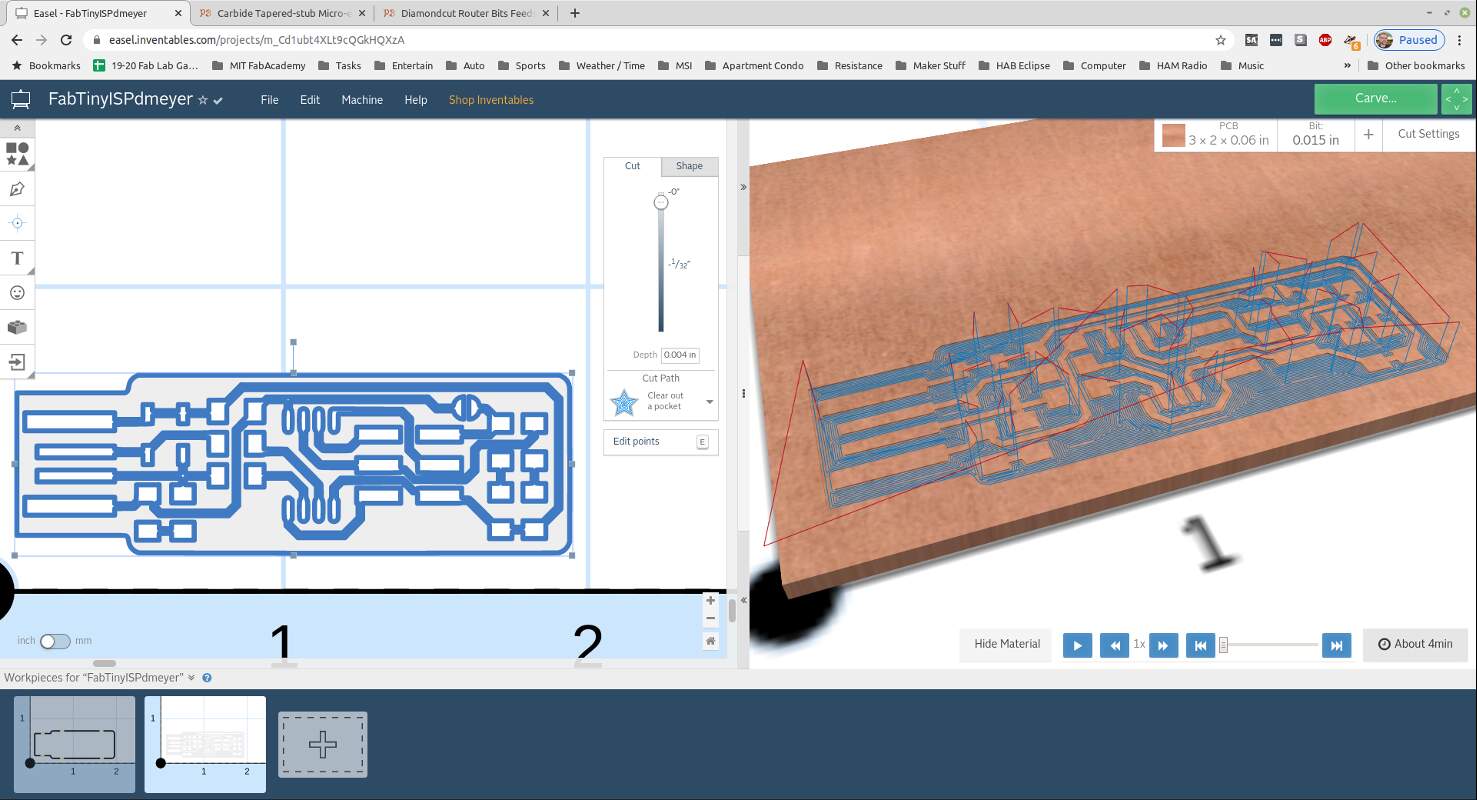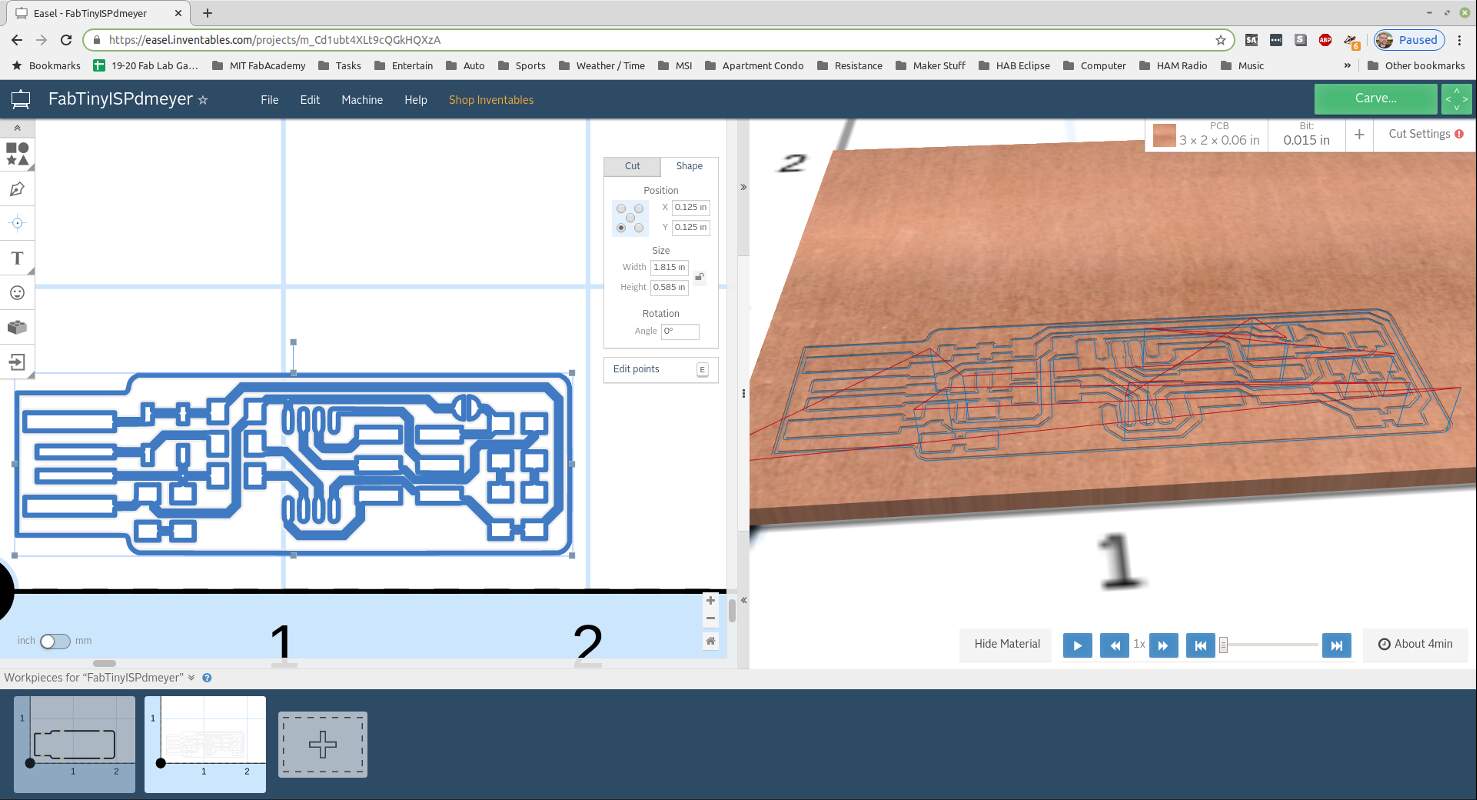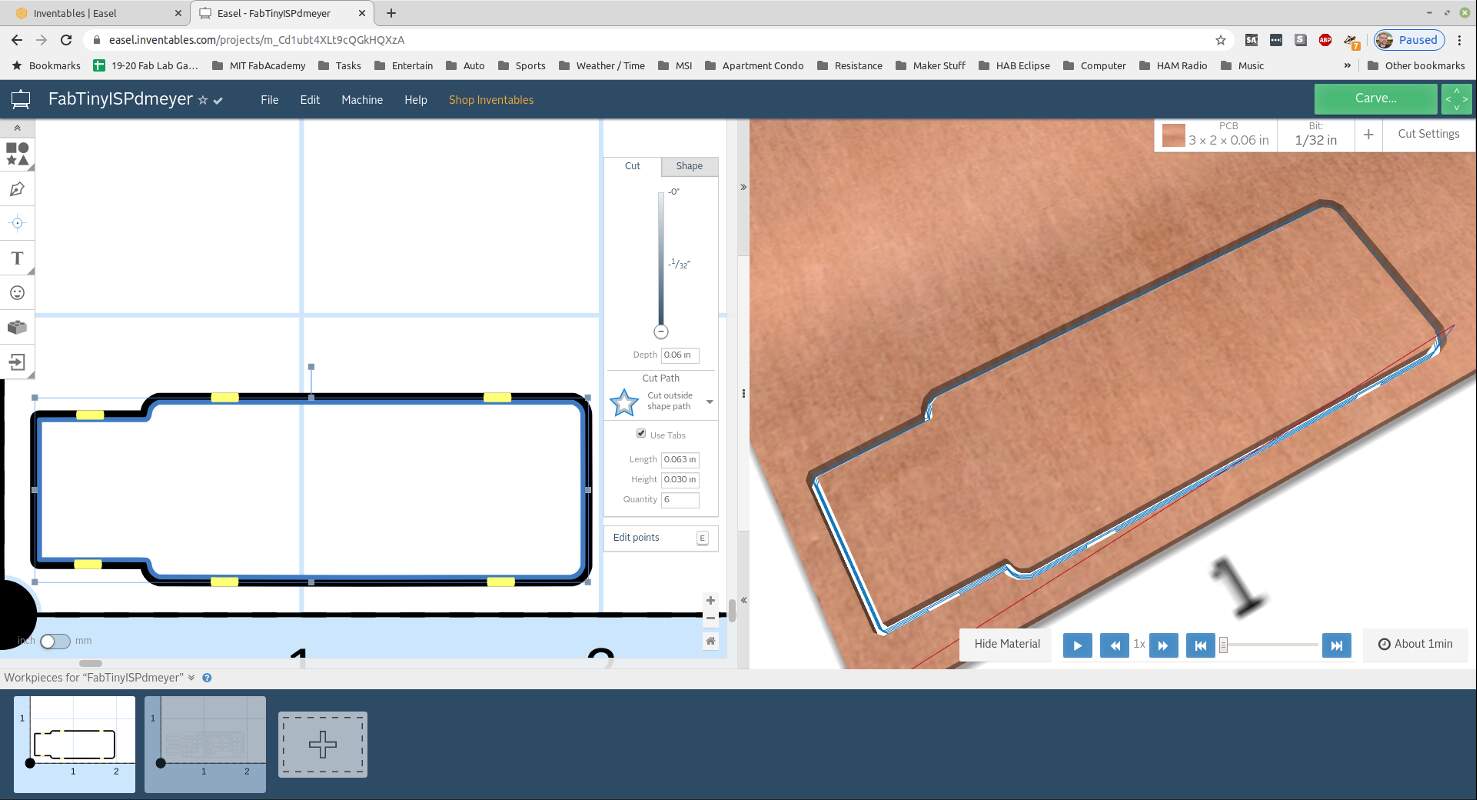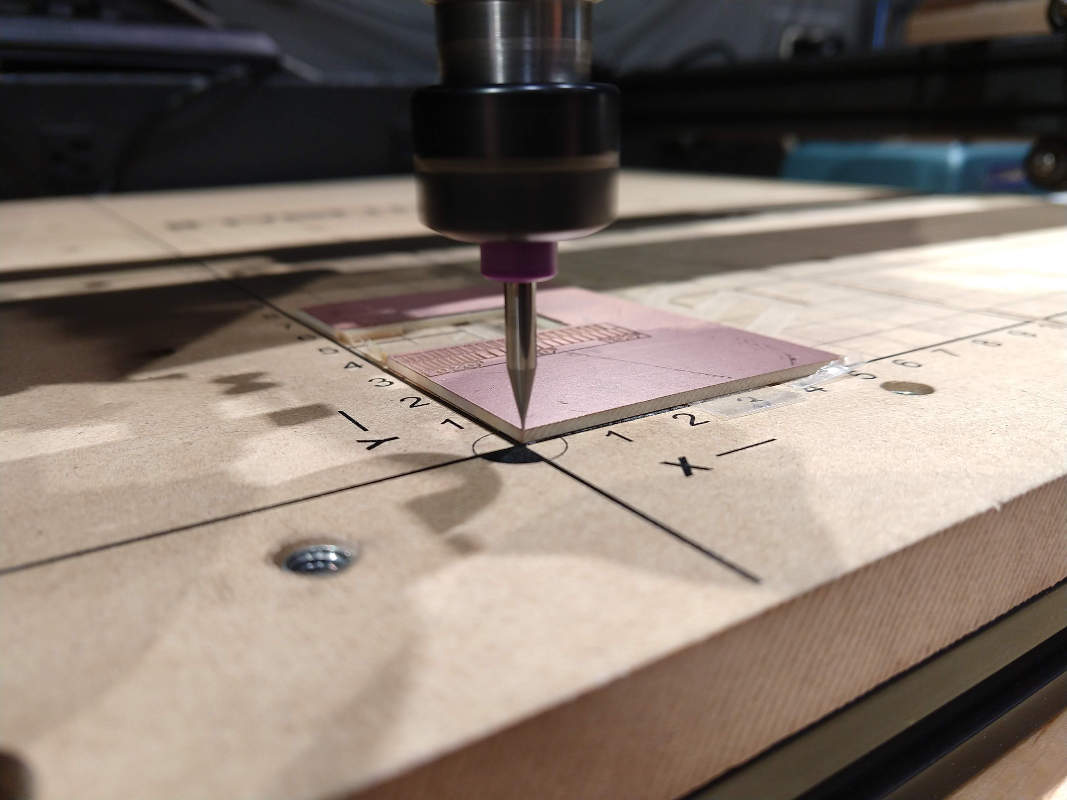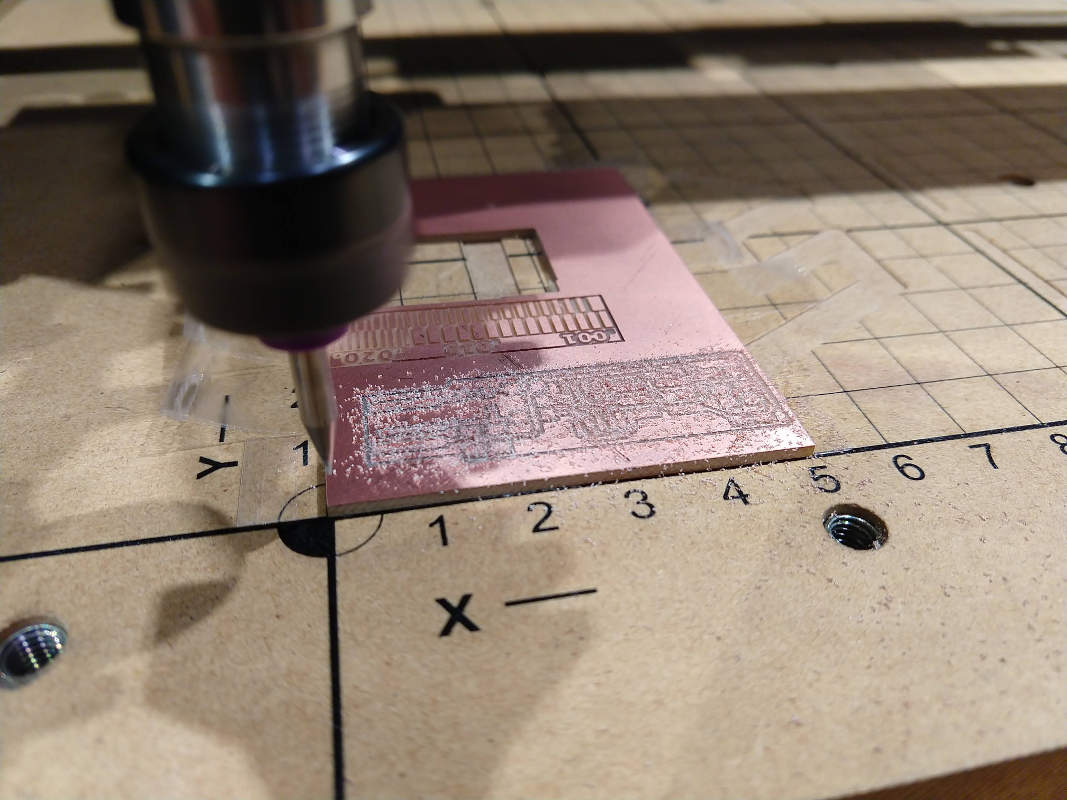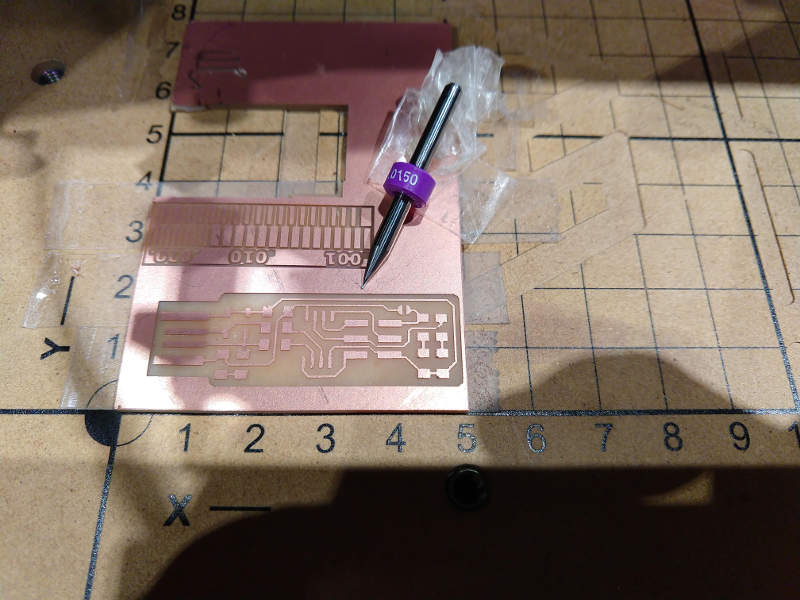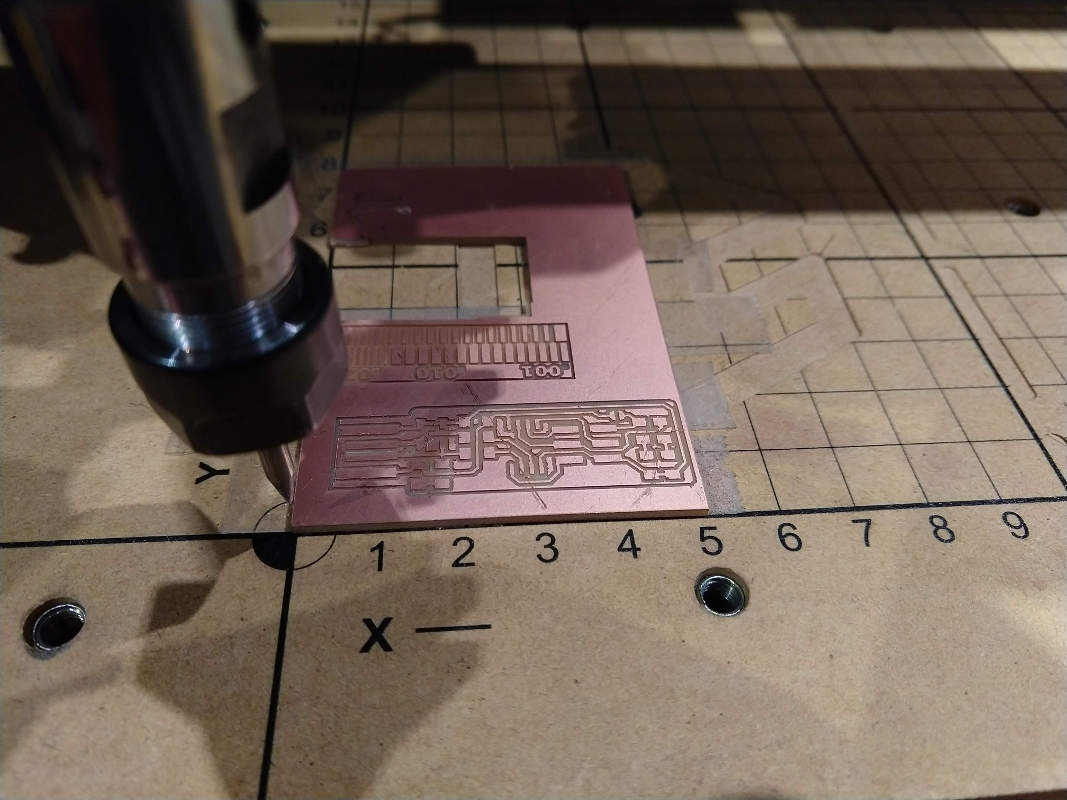 Establishing Feed Rate¶
Calculations for a PreciseBits EM3E8-0150-15V Tapered Stub End Mill were completed using:
https://www.precisebits.com/products/carbidebits/tapered_stub_125.asp under the Feeds / Speeds Tab
For a 0.0150" (0.38mm) dia - multiply your peak spindle RPM by 0.00381 (dry) or 0.00492 (with ME Lube ) with 20 IPM z-axis plunge rate
Mods suggest 4 mm/s feed, which is 9.5 ips. I'm guessing that this is a recommended starting speed?
The calculated feed rate for my 0.0150" (0.38mm) dia Tapered Stub End Mill is:
Multiply your peak spindle RPM by 0.00381 (dry) or 0.00492 (with ME Lube ) with 20 IPM z-axis plunge rate.
Dry: 12000 * 0.00381 = 46 IPM (19.5 mm/s) Lubed: 12000 * 0.00492 = 60 IPM
I will try dry machining first: 46 IPM (19.5 mm/s)
19.5/4 mm/s= 4.875 IPM
So a feed rate of 46 IPM (19.5 mm/s) is ~4.875 times the feed rate of 4mm/s I was using originally on mods. TIR checks and using the feed calculations to obtain the correct chip load for my 0.0150" (0.38mm) dia 3 flute Tapered Stub End Mill Part Number EM3E8-0150-15V really paid off. Circuit boards will be much faster to make on my x-carve 500x500 mill going forward. The x-carve costs around $1,900 with all the parts needed to get started. The PreciseBits EM3E8-0150-15V mill I used costs $16.15 It is very durable due to its 15deg taper geometry. I thin this new setup will be better for beginners and will prevent bit breakage. It is also faster than our previous process.
Machining at 46 IPM (19.5 mm/s)¶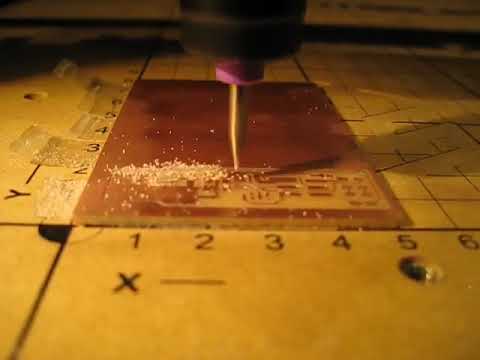 Stuffing¶
Now time to pick out the parts needed to populate the board!
FabTinyISP BOM:¶
| Item | Qty |
| --- | --- |
| ATtiny 45 | 1 |
| 1kΩ resistors | 2 |
| 499Ω resistors | 2 |
| 49Ω resistors | 2 |
| 3.3v zener diodes | 2 |
| red LED | 1 |
| green LED | 1 |
| 100nF capacitor | 1 |
| 2x3 pin header | 1 |
Soldering¶
I used my plugable USB microscope to document stuffing soldering.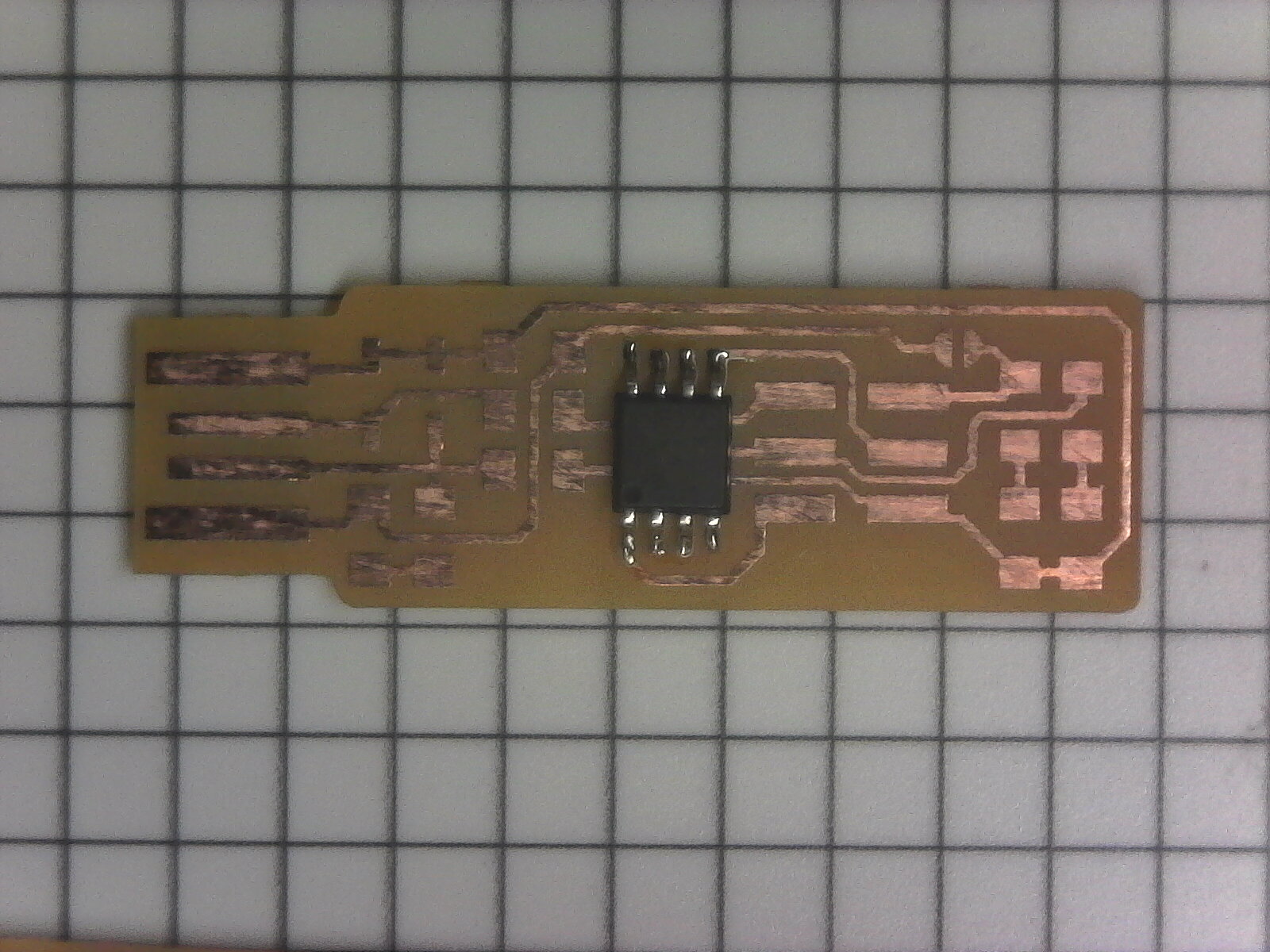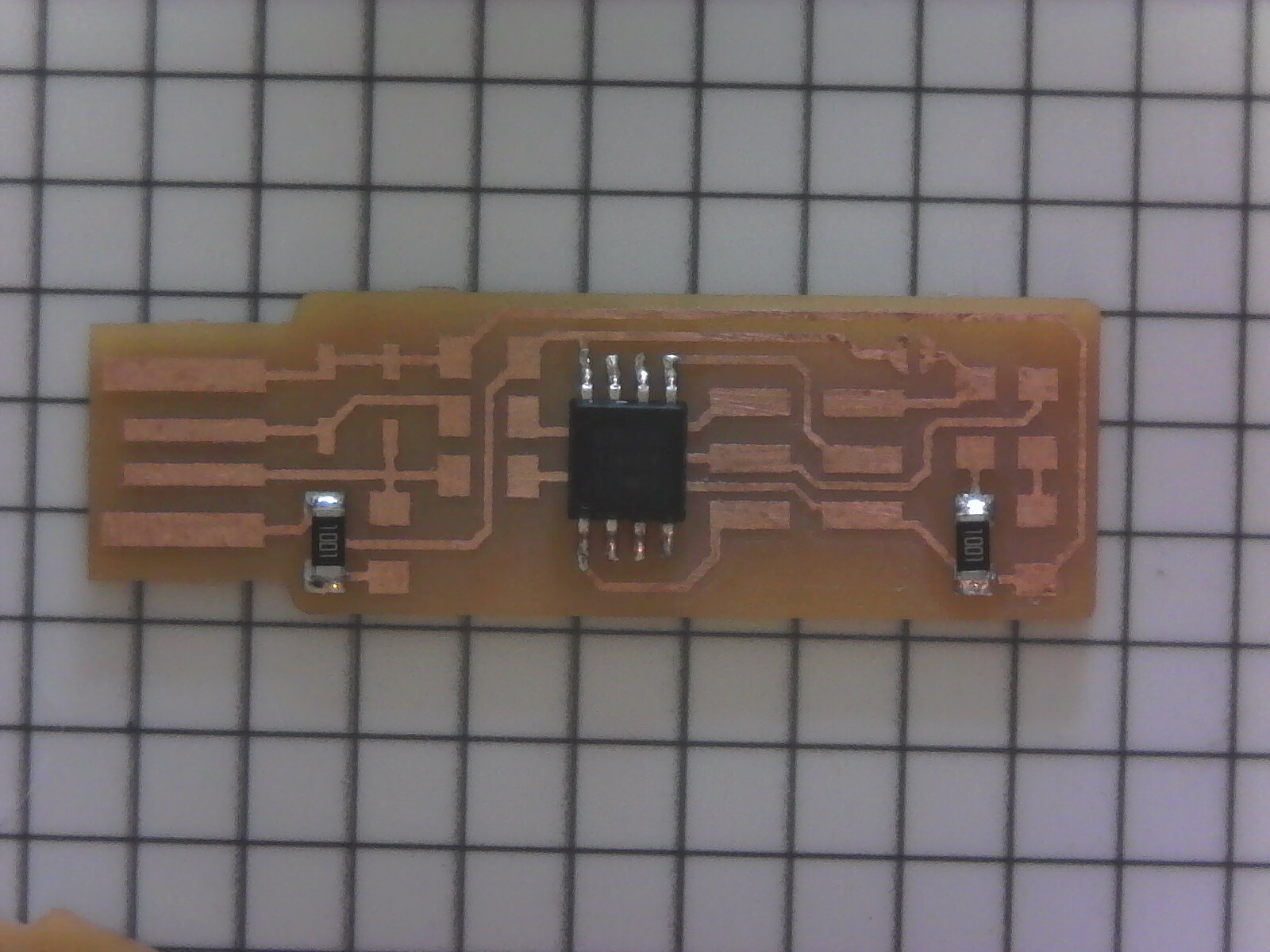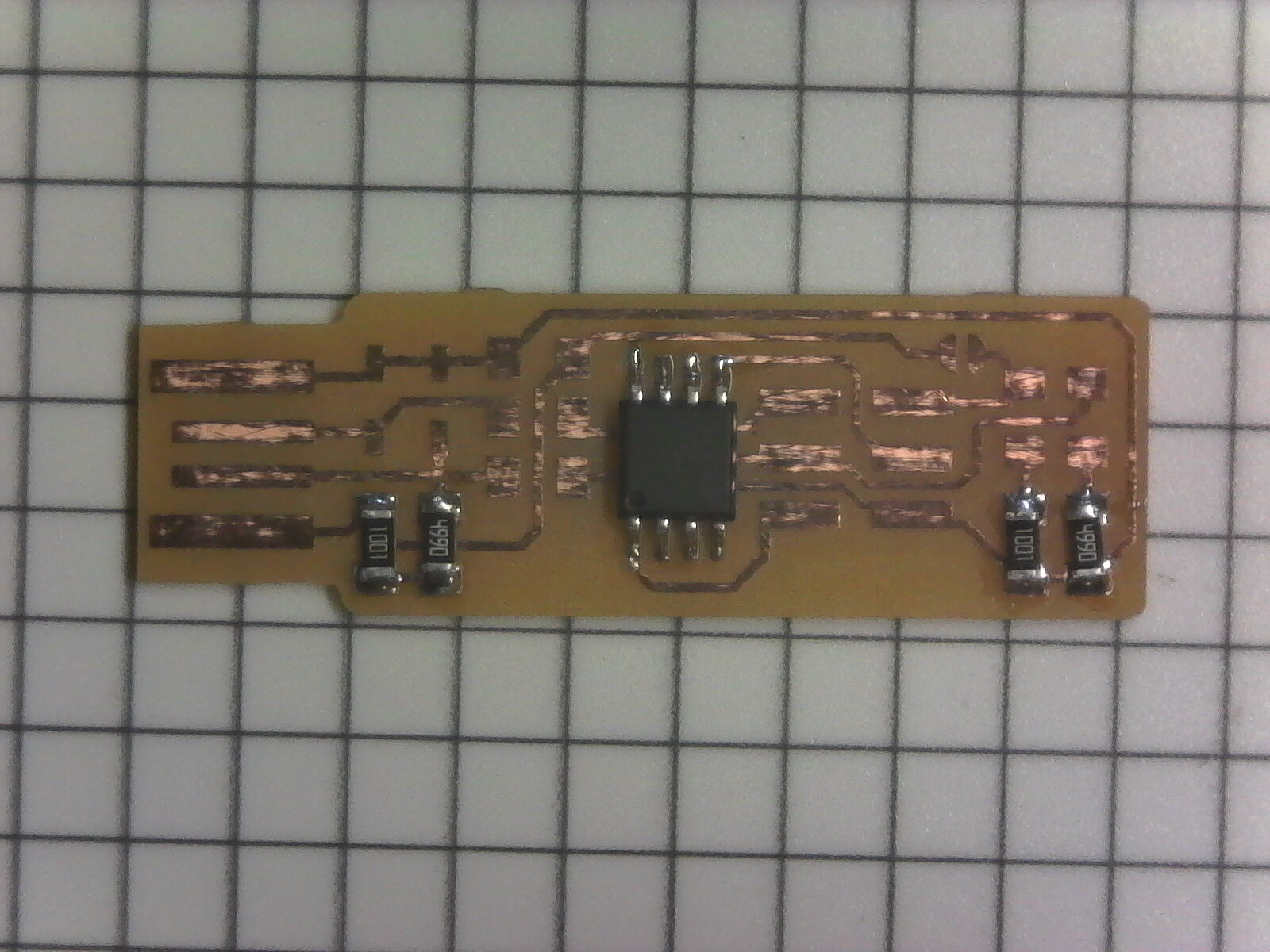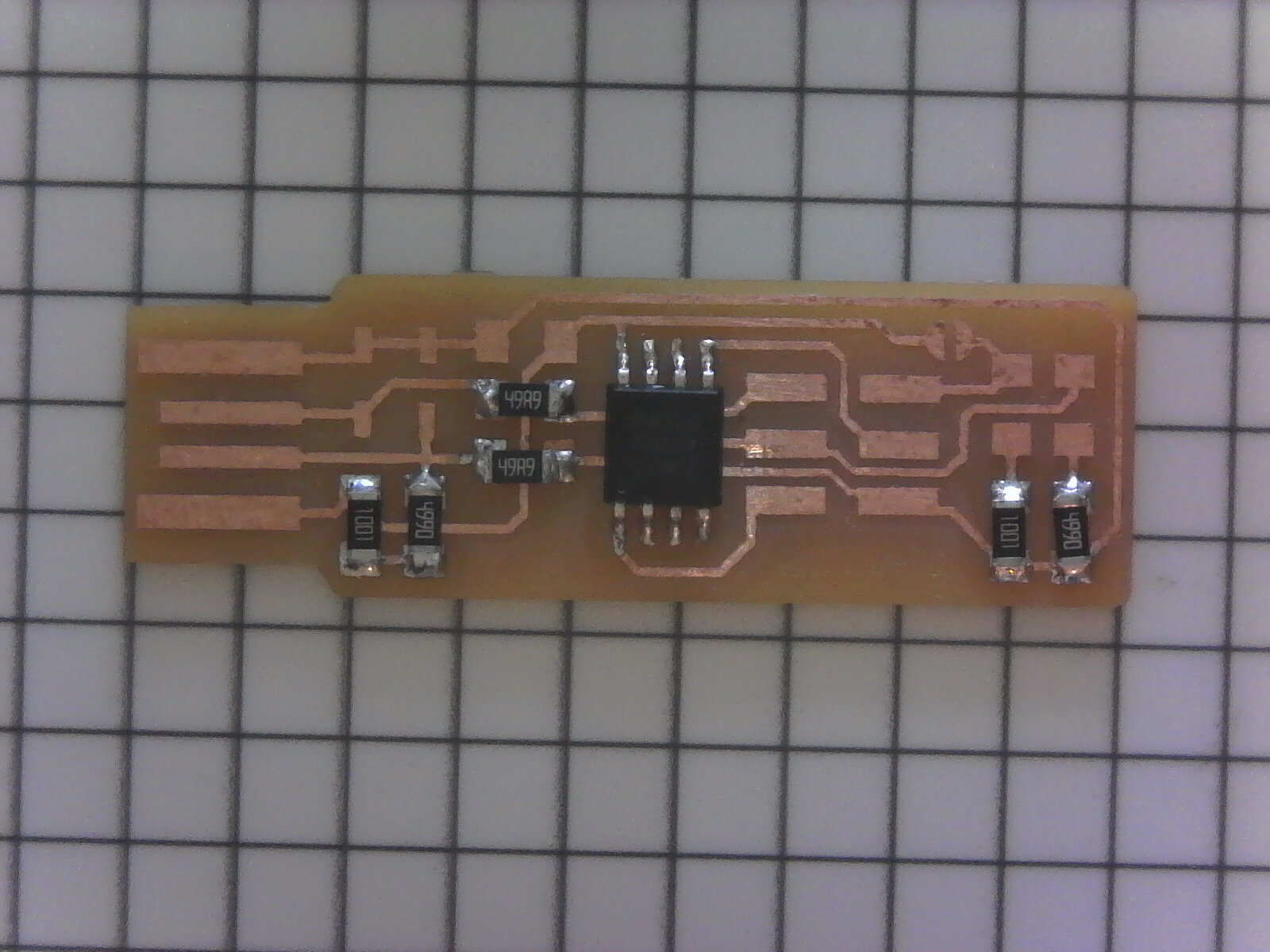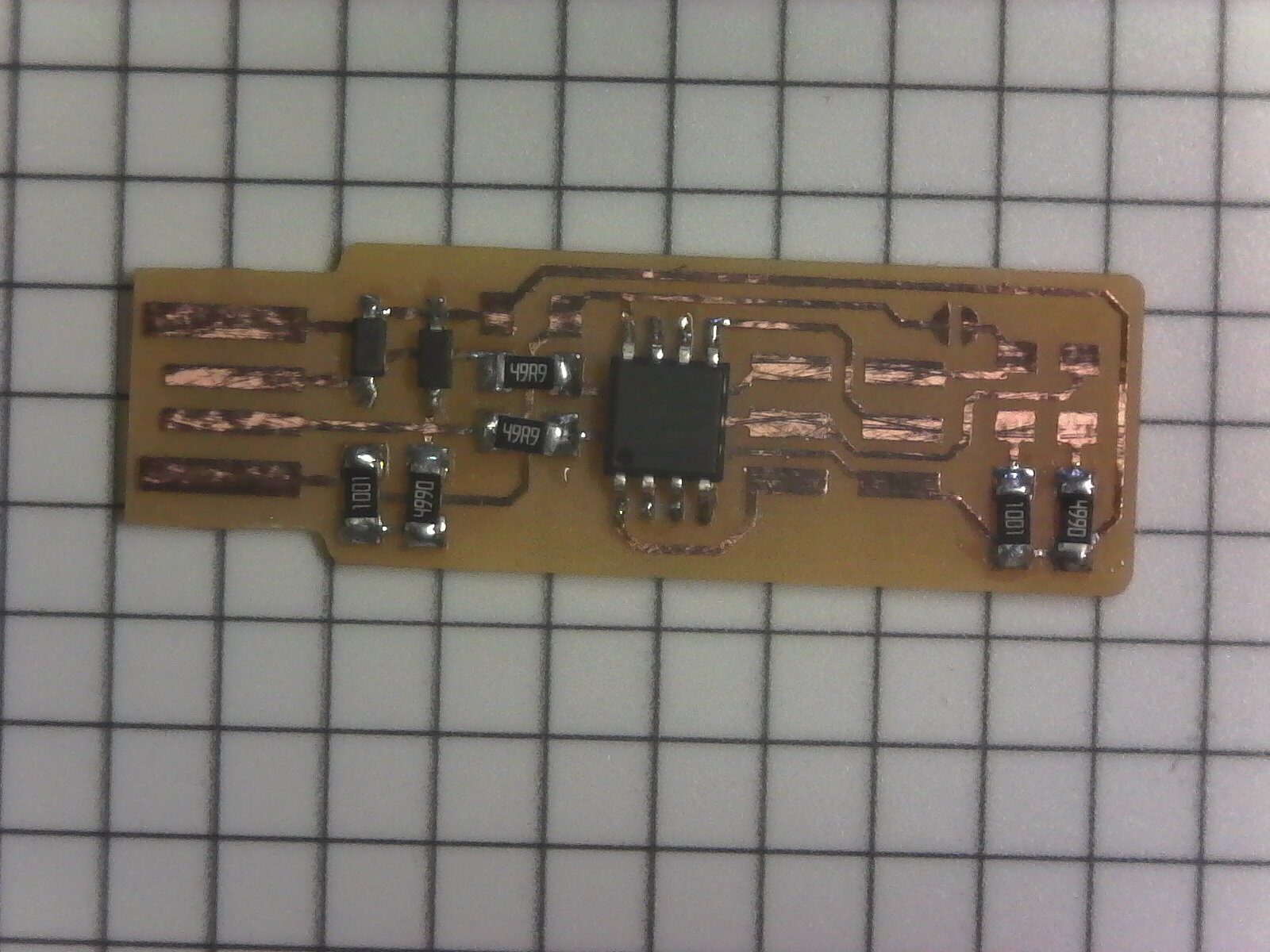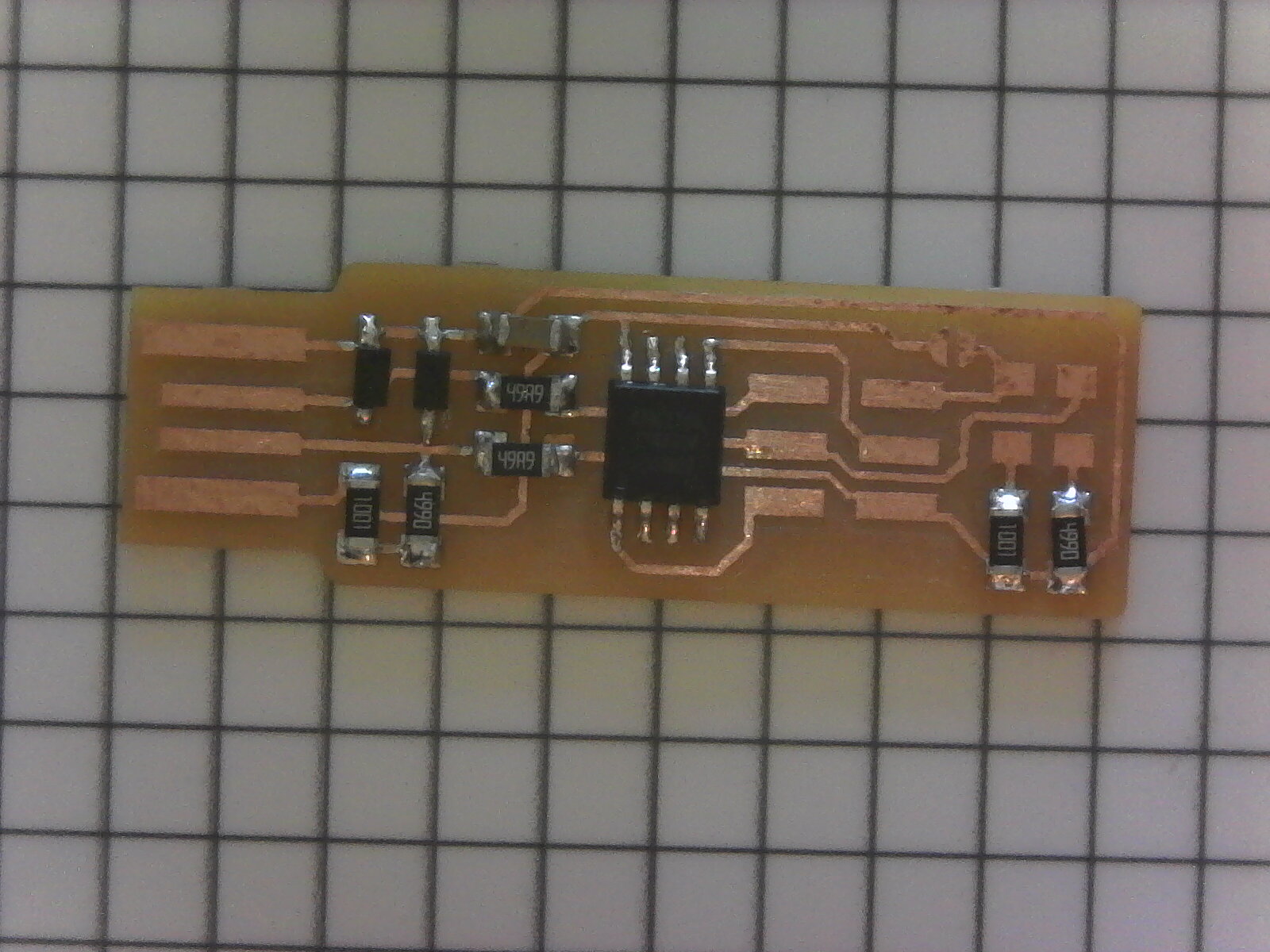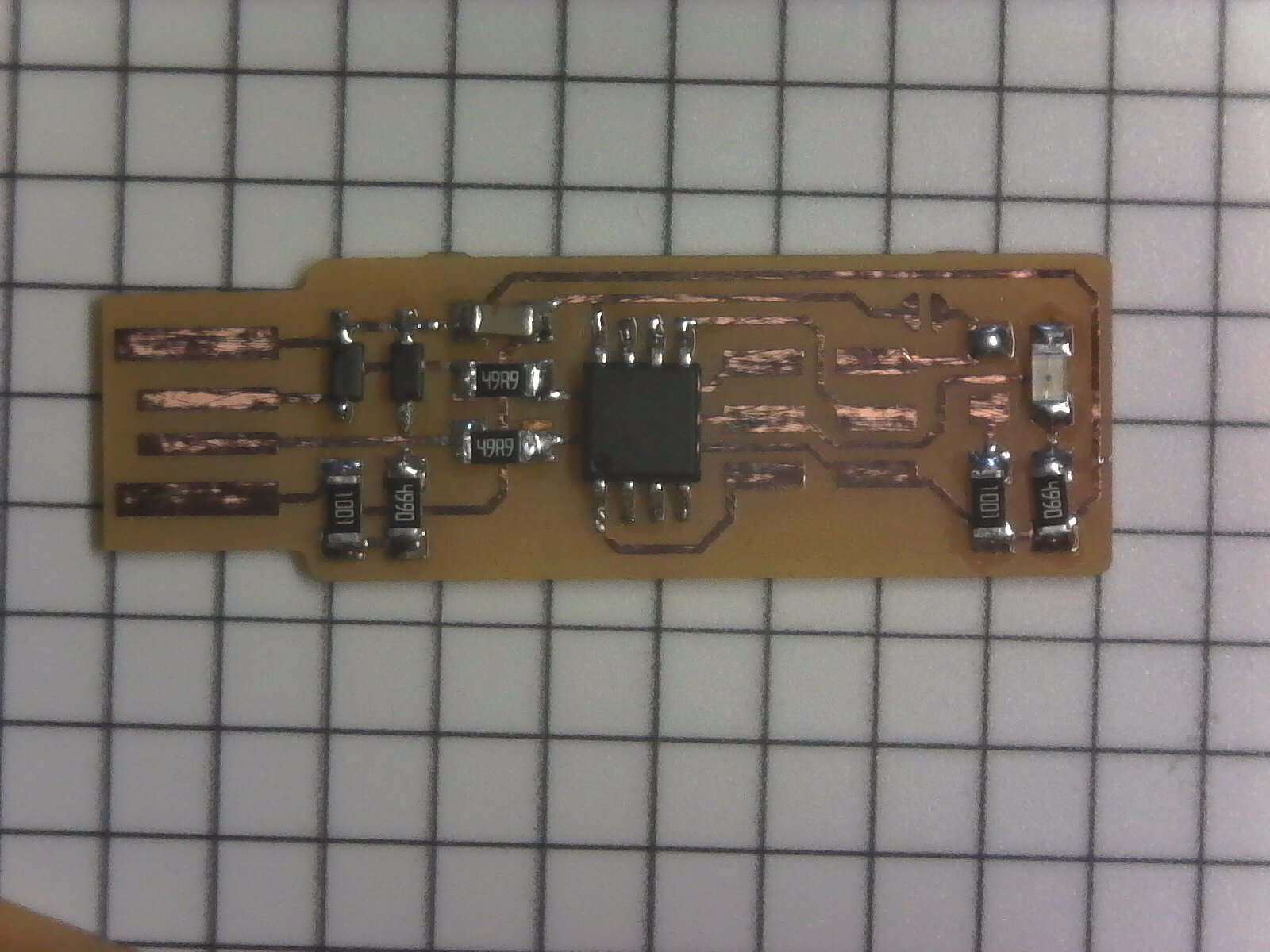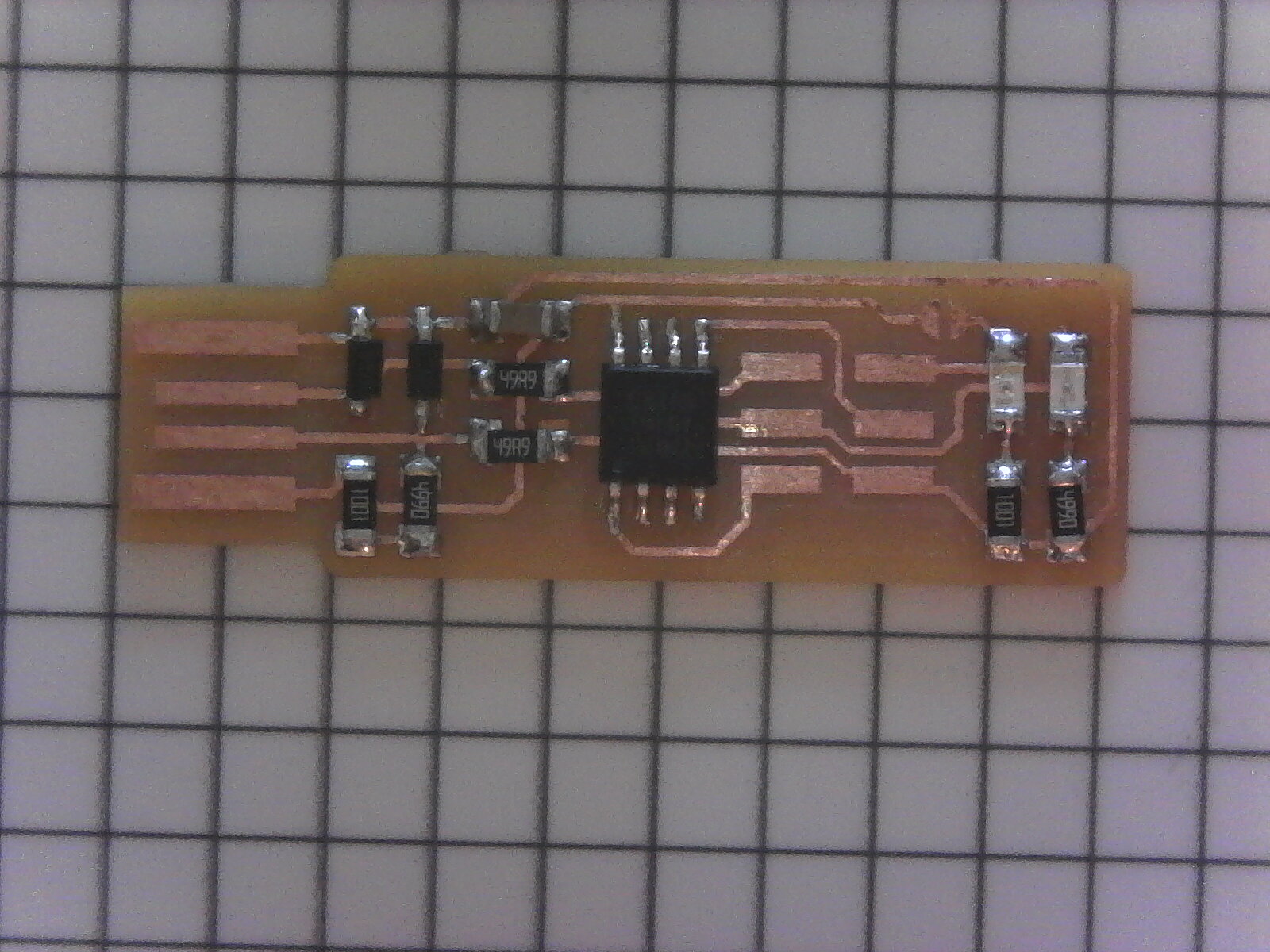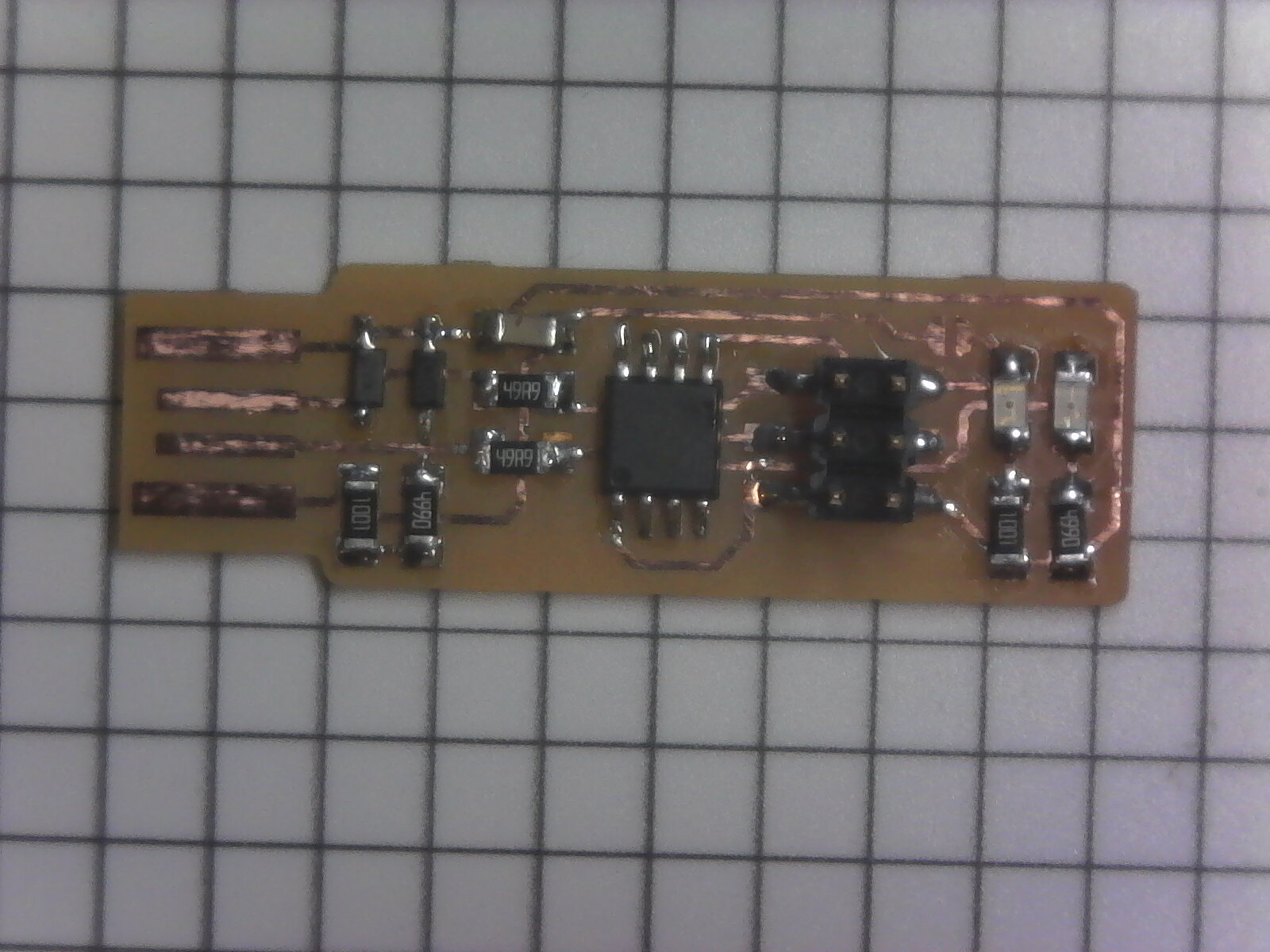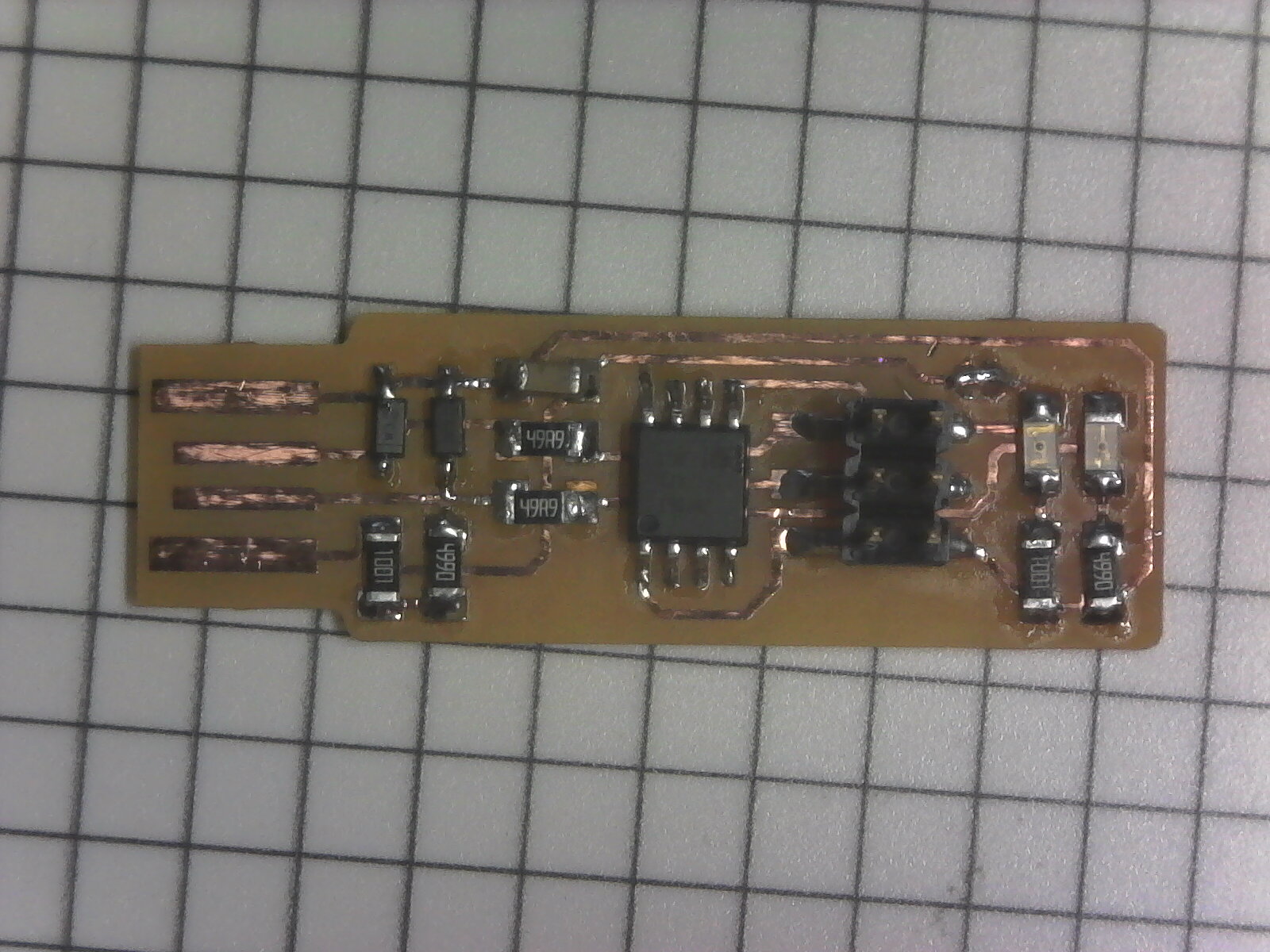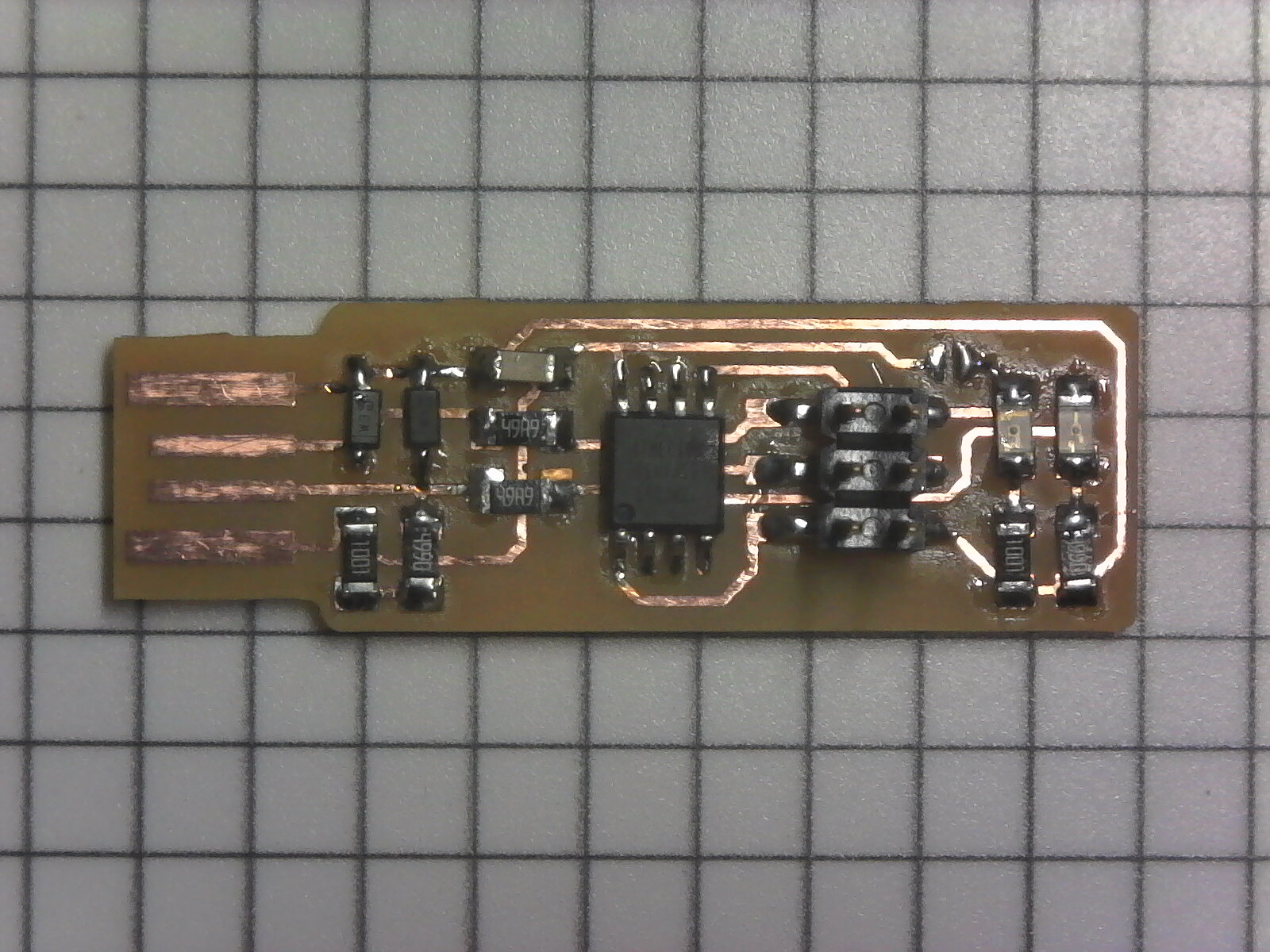 Adding a USB plug¶
I was having frequent communications issues with the as designed USB inerface. I decided to add an off the shelf surface mount USB A Connector. After this my boards no longer had any communication issues.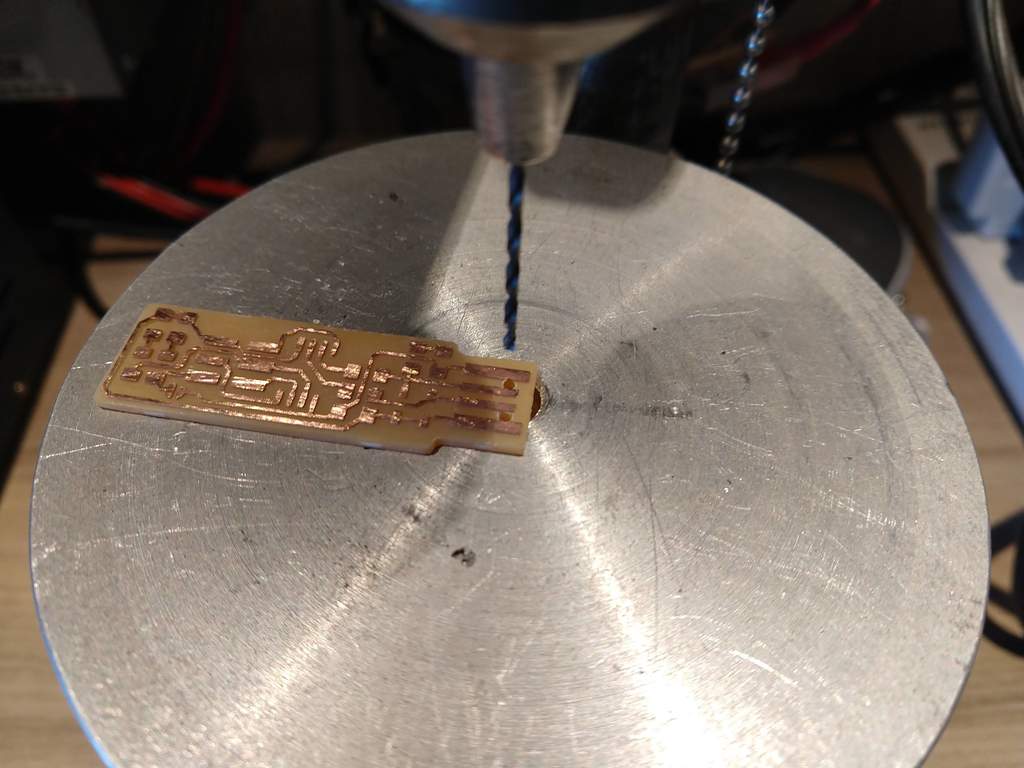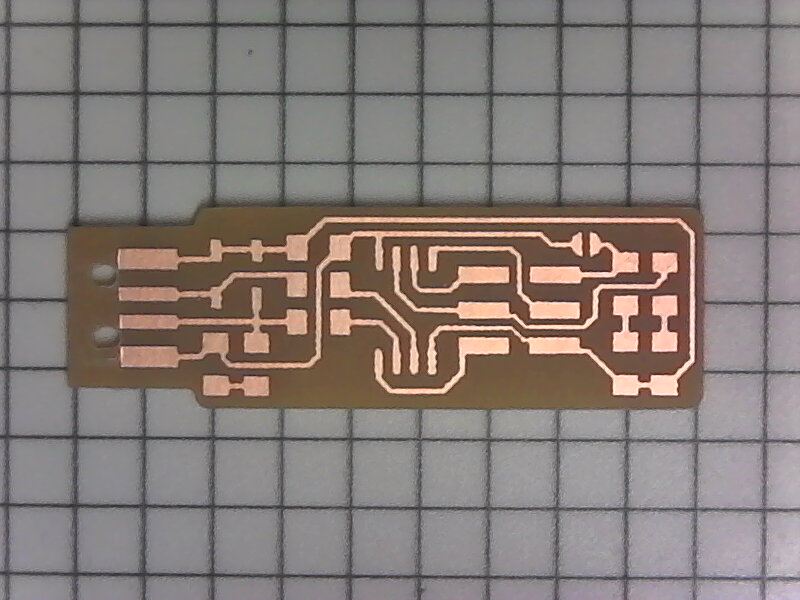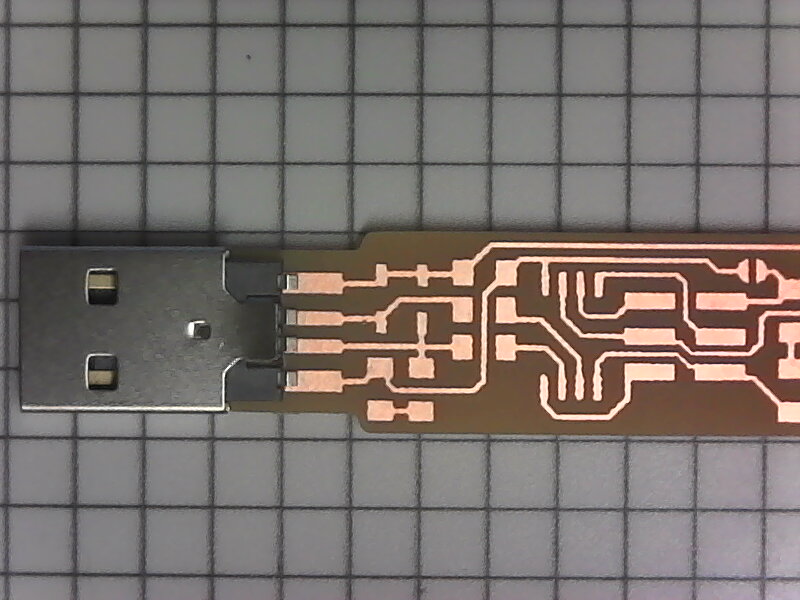 Functioning: Circuit Board¶
I programmed my first FabtinyISP board the Atmel ICE programmer.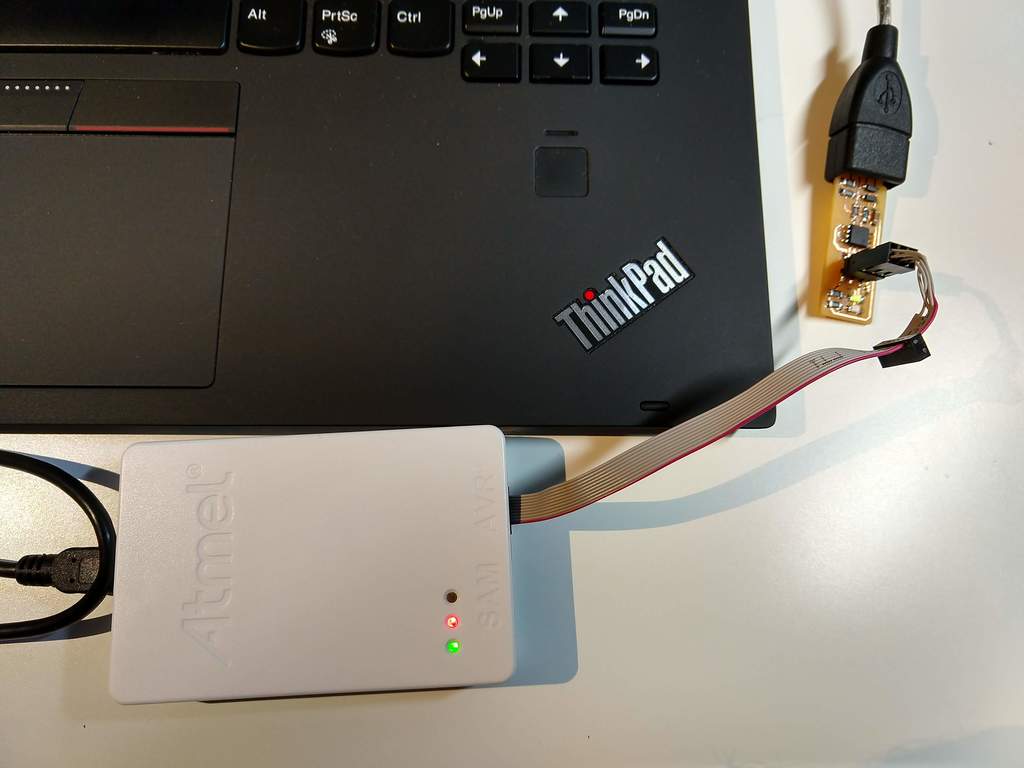 I then used my new FabtinyISP to program my other three FabtinyISP boards I had milled and stuffed.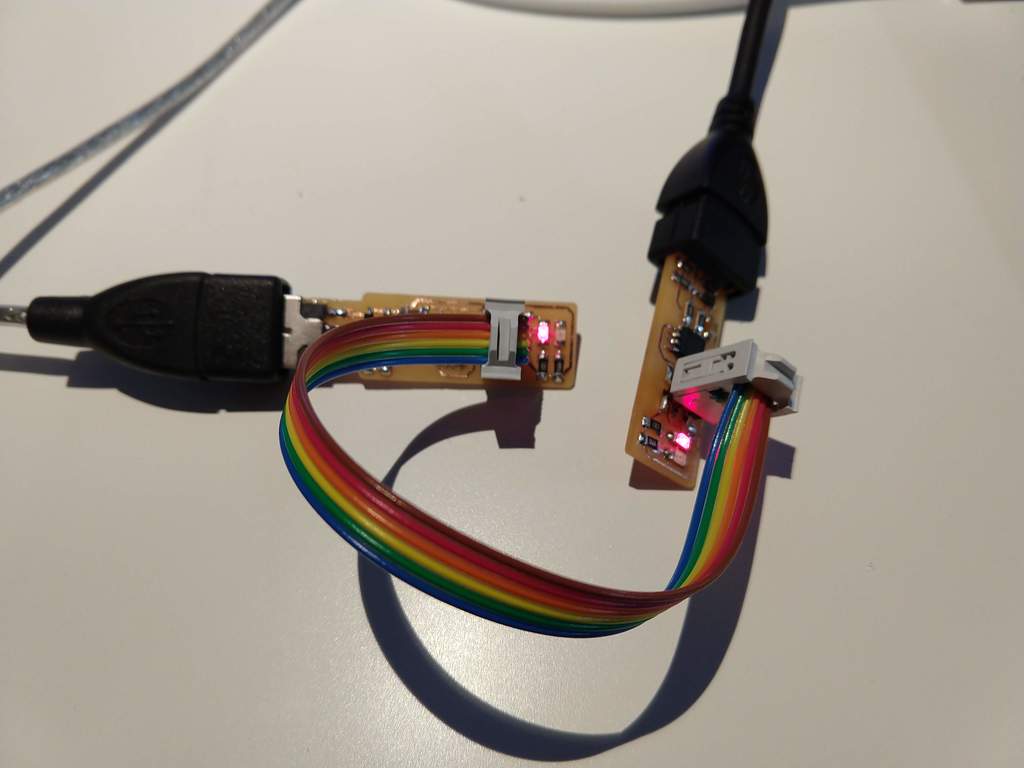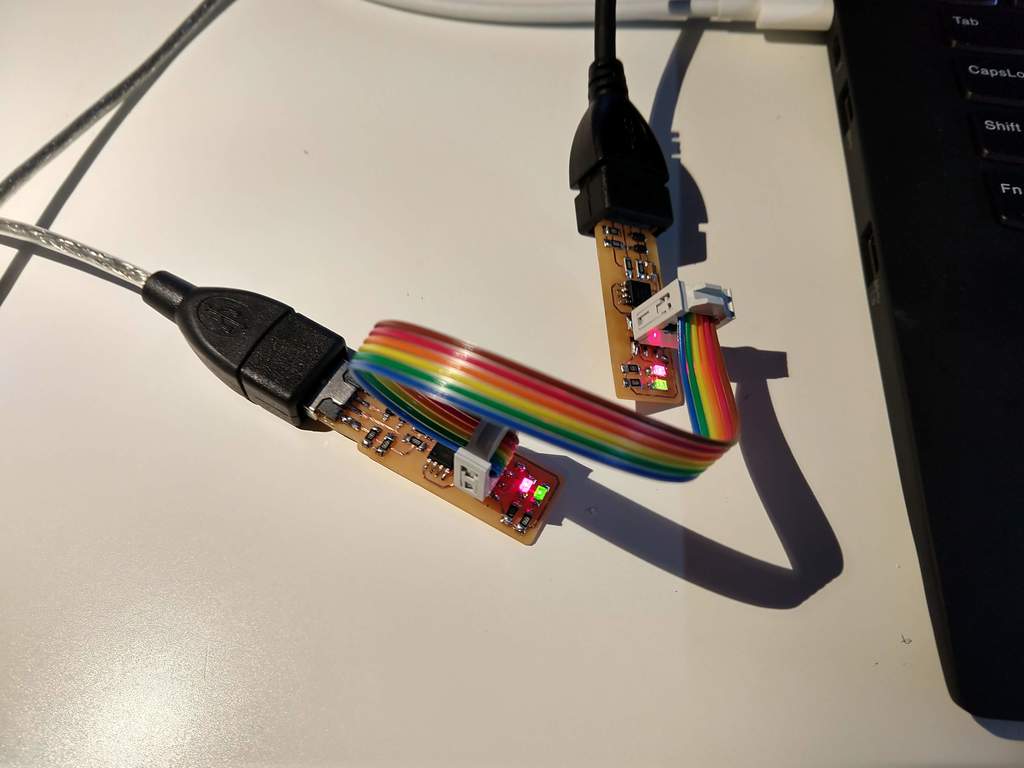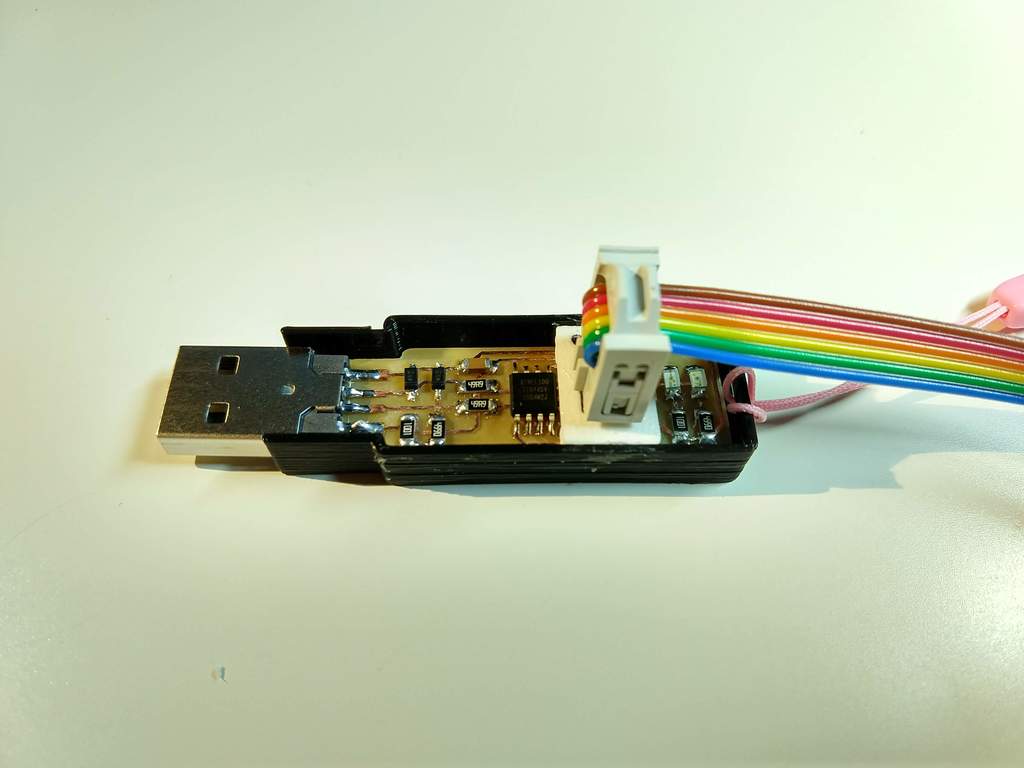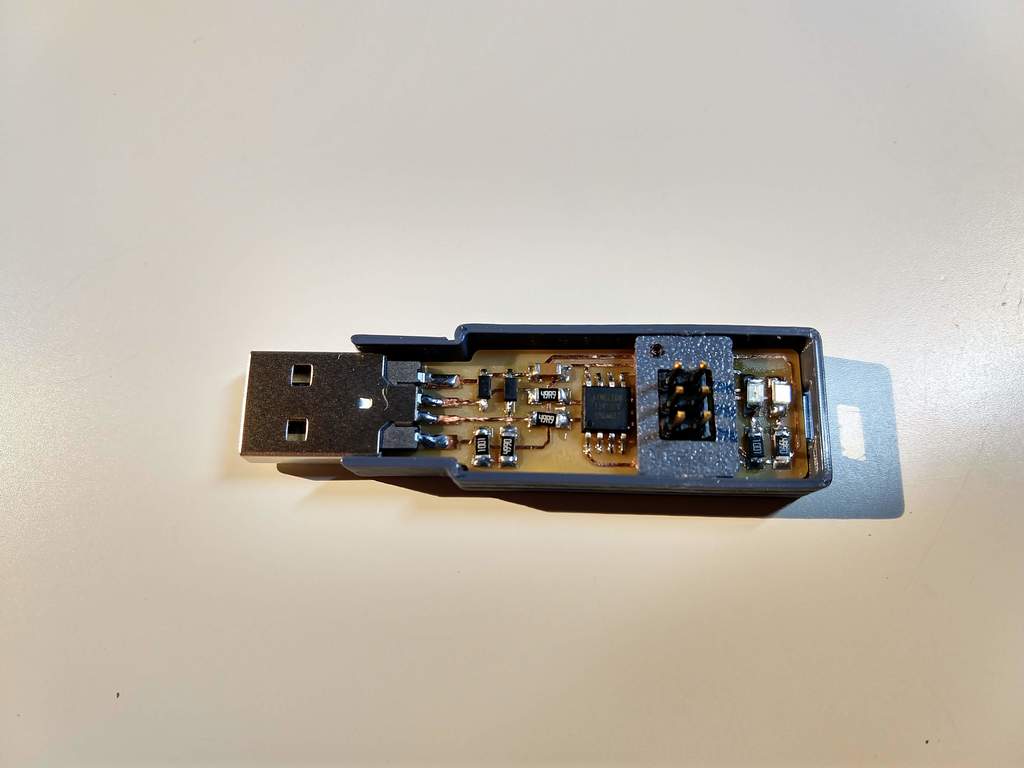 Three of my FabtinyISP boards worked, on did not, i put that board aside for trouble shooting later. On two of my boards I mixed up the 499Ω and 49Ω resistors. This prevented programming of the fuses, but seemed to not impact flashing. After removing and replacing the resistors I re-flashed all the boards and everything worked. I used the steps at FabTinyISP Site to program, set fuses and test my boards. The steps taken were:
Linux Command: make flash
Linux Command: make fuses
Unplug both programmer and my board
Plug in my board
Linux Command: lsusb outputs Multiple Vendor USBTiny
Plug in both programmer and my board
Linux Command: make rstdisbl
Remove solder bridge
Hero Shot: Working Board¶
Here is a photo of my working boards: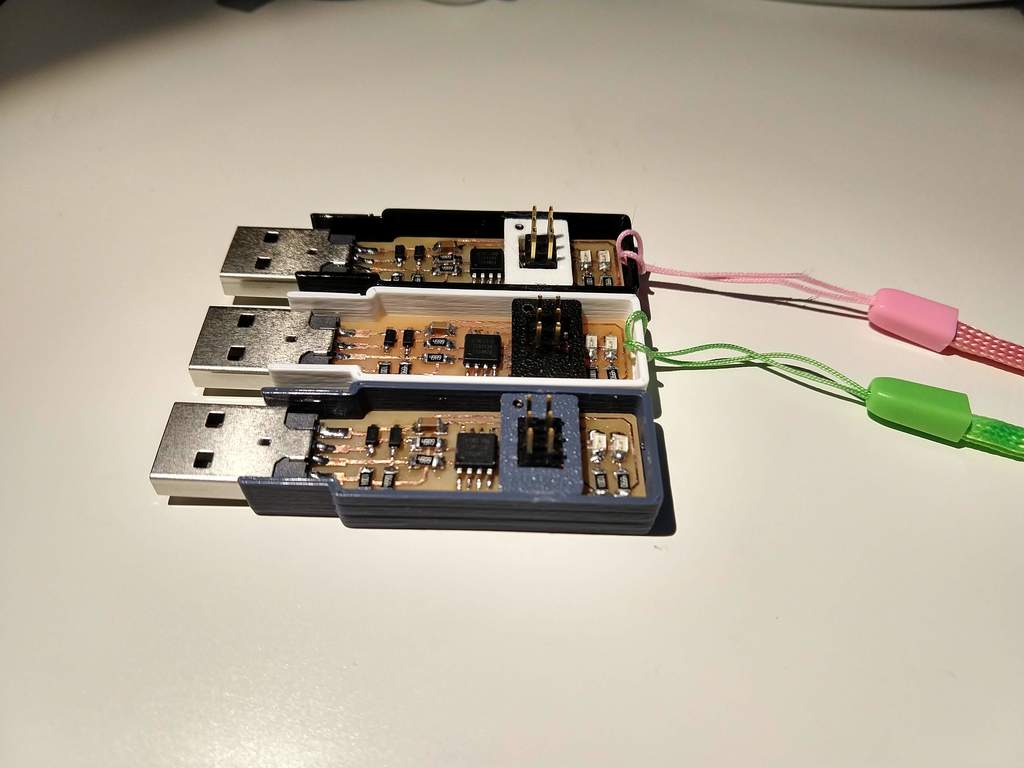 Here is the output of the lsusb command, you can see all three of my working FabTinyISP boards listed and highlighted in white: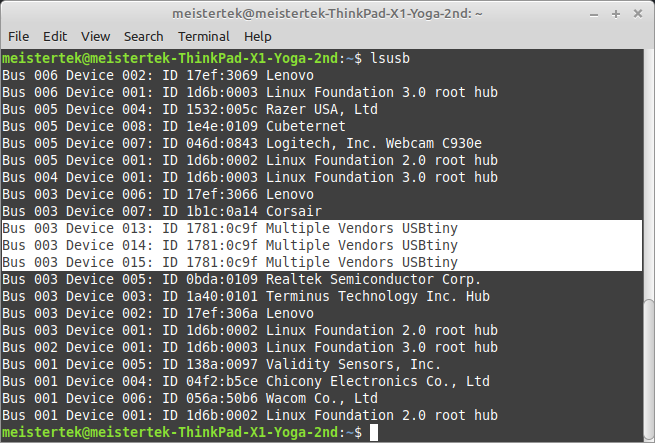 Case for FabTinyISP¶
I designed and 3D printed case for my new FabTinyISP's. I hot glued my boards into the case. Then I hot glued a header reinforcement frame around the isp header. I marked the frame with a black dot indicating pin one.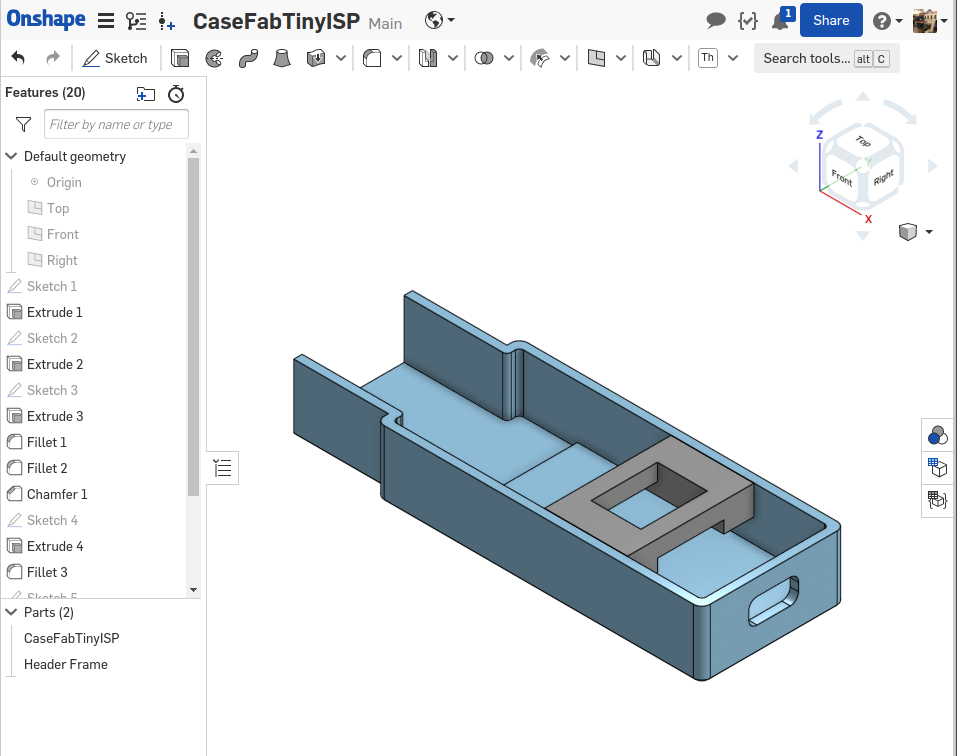 Onshape CAD for Case
Assessment self check¶
| Have you? | Done |
| --- | --- |
| Group assignment | Yes |
| Individual Assignment | Yes |
| Documented how you made the board | Yes |
| _Mill | Yes |
| _Stuff | Yes |
| _Solder | Yes |
| Functional Board | Yes |
| Problems fixed documented | Yes |
| Hero Shot | Yes |