12. Molding and casting¶
Safety data sheets¶
Contact with the skin should be avoided. Gloves and protective clothing should be worn.
Goggles should be worn to prevent resin, hardener, solvent or dust from entering the eyes. o If this happens, flush the eye with water for 15 minutes, keeping the eyelid open, and seek medical attention.
Ensure adequate ventilation of work areas.
Technical details :
| Datasheet |  1070 clear/1077 |
| --- | --- |
| Mixing ratio by weight | 100/45 |
| Mixing ratio by volume | 2/1 |
| Visual aspect | Clear purple liquid |
| Mixed density at 23°C | 1.11 |
| Mixed viscosity at 23°C (mPa.s) | 940 |
| Gel time on 70mL at 23°C (4cm high mix) | 15 min |
| Time at exothermic peak on 70 mL at 23°C | 18min |
| Temperature at exothermic peak on 70mL at 23°C | 183°C |
| Gel time on 2mm thick film at 23°C | 50 min |
|  Touch dry on 2mm film at 23°C | 4h |
| Hard and sandable on 2mm film at 23°C | 8h |
TRANSPORT & STORAGE
Keep containers sealed and away from heat and cold preferably between 10°C and 30°C in a well ventilated area. Our products are guaranteed in their original pac- kaging (check expiry date on the label).
Inhalation : Respiratory protection is not normally required when using this product in open environments with adequate ventilation. Remove source(s) of contamination and move victim to fresh air. If breathing has stopped, give artificial respiration, then oxygen if needed. Contact physician immediately.
Eye Contact : Flush eyes with plenty of water. If irritation persists, seek medical attention.
Skin Contact : Wear any liquid-tight gloves such as butyl rubber, neoprene or PVC. In case of skin contact, wash thoroughly with soap and water.
Ingestion : Do not induce vomiting unless instructed by a physician. Never give anything by mouth to an unconscious person.
Extinguishing Media : Water Fog, Dry Chemical, and Carbon Dioxide Foam
Advice for firefighters : Use water spray to cool fire-exposed surfaces and to protect personnel. Shut off "fuel" to fire. If a leak or spill has not ignited, use water spray to disperse the vapors. Either allow fire to burn under controlled conditions or extinguish with foam or dry chemical. Try to cover liquid spills with foam. Because fire may produce toxic thermal decomposition products, wear a self-contained breathing apparatus (SCBA) with a full-face piece operated in pressure demand or positive-pressure mode.
Personal precautions, protective equipment and emergency procedures : Only properly protected personnel should remain in the spill area; dike and contain spill. Stop or reduce discharge if it can be done safely.
Environmental precautions : Stop spill/release if it can be done safely. Prevent spilled material from entering sewers, storm drains or unauthorized drainage systems and natural waterways by using sand, earth, or other appropriate barriers. No special environmental precautions required.
Precautions for safe handling : Use good general housekeeping procedures. Wash hands after use. Do not get in eyes, on skin or on clothing. Do not breathe vapors or mists. Use good personal hygiene practices.
Conditions for safe storage, including any incompatibilities : Keep container(s) tightly closed and properly labeled. Store in cool, dry, well ventilated place away from heat, direct sunlight, strong oxidizers and any incompatibles. Store in approved containers and protect against physical damage. Keep containers securely sealed when not in use. Indoor storage should meet local standards and appropriate fire codes. Containers that have been opened must be carefully resealed to prevent leakage. Empty containers retain residue and may be dangerous. Avoid water contamination.
Reactivity : No hazardous reactions if stored and handled as prescribed/indicated., No corrosive effect on metal. Not fire propagating.
Chemical stability : These products are stable at room temperature in closed containers under normal storage and handling conditions.
Carcinogenicity : No component of these products present at levels greater than or equal to 0.1% is identified as a carcinogen or potential carcinogen by IARC, ACGIH or NTP.
Technical details :
| Datasheet |  Oosmoo 25 |
| --- | --- |
| Mixing ratio by weight | 100A:130B |
| Mixing ratio by volume | 1A/1B |
| Mixed viscosity | 4250 |
|  Specific volume | 20,6 |
|  Pot life | 15 min L |
| Cure time |  75 min |
|  Useful Temperature Range | -65°F to 400°F (-53°C to 205°C) |
| Appearance | Viscous liquid |
| Odor | Mild to sweet odor |
|  Flach point | >300°F (148,9°C) |
| Solubility in water |  Insoluble |
|  Specific gravity (H20=1, at 4°C) | 1,05 - 1,15 |
Foodsafe silicon RTV 3428¶
Here is the datasheet of foodsafe silicon RTV3428. For the group assignment, I read this datasheet, which is in French.
The silicon is foodsafe. For the mix of the two products, it is a ratio in weight, 100g of A for 10g of B. A is the base, B is the catalyzer.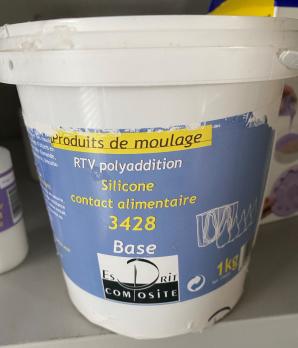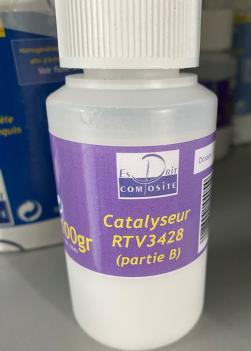 It is pretty easy to use because of the viscosity of the components. We can use it under vacuum to do the degassing. It is no irritants or sensitizers to the skin.
The instructions are written on the pot. The proportion are 100g of A, the base, for 10g of B, the catalyzer. I have to wait at least 16 hours to unmold, and the mold made of silicon will handle until 150°C.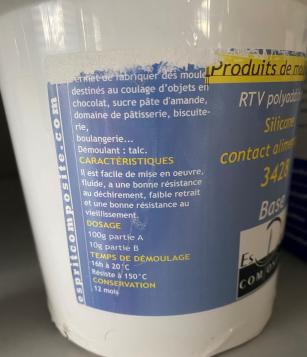 Technical details :
| Datasheet |  Silicon RTV 3428 A&B |
| --- | --- |
| Mixing ratio by weight | 100A:10B |
| Viscosity | A: 25 000 / B: 1 000 |
|  Time to use the mix | 90 minutes, at 23°C |
| Cure time |  16 hours |
|  Useful Temperature Range | up to 150°C |
| Appearance | Viscous liquid, translucid for A, white for B |
| Time for storage | up to 12 months, between -5°C and 30°C, not open |
Testing the different moulding materials¶
Together with my colleagues Antonio and Elina we have been testing the different materials we have at AgriLab. We tested food-safe silicone, oomoo 25 and epoxy 1070.
Here are the results of the different tests: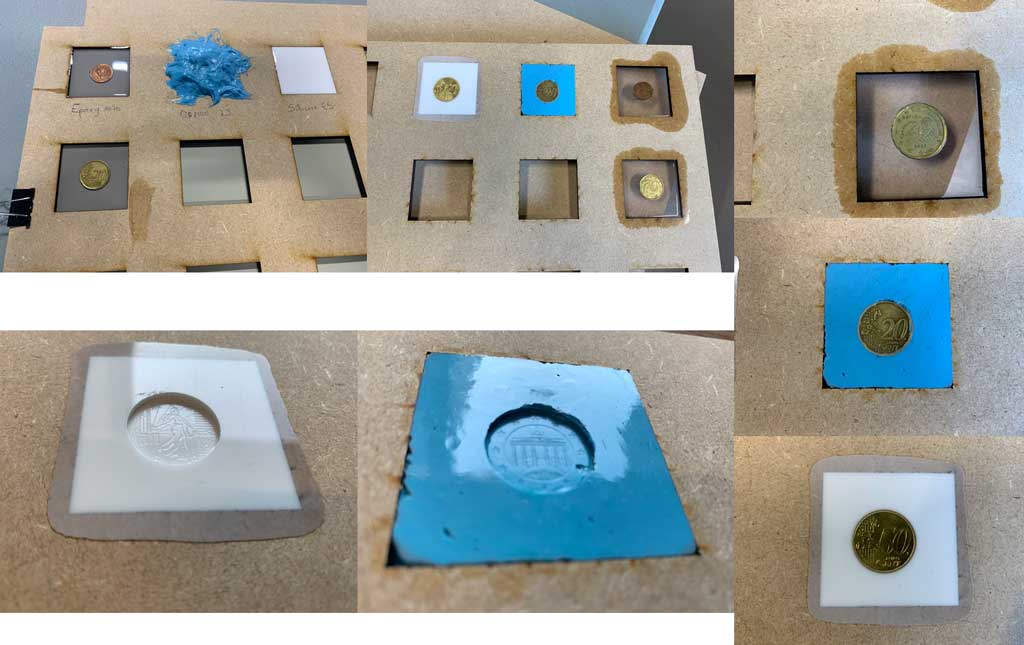 The results of this test :
The food-safe silicone (white) is very precise, you can see all the details of the coin. Moreover, this product has a very smooth finish and is easy to handle.
The oomoo 25 is more or less precise, you can see some details of the coin but not all details. Also this material is not very easy to handle and gives a very ugly finish.
The epoxy 1070 is very nice, smooth and transparent but we didn't succeed in removing our parts inside.