Assignments: design a 3D mold, machine it, and cast parts from it
Mustache
I met one of our users making mustache of clay.
After handwork, she asked me to make mold of that for chocolate so she can make same shape with chocolate.
Fortunatelly this week was good time to do that and food project sounds fun.
These are enough reasons to start making mustace mold.
3D Scan

To bring the physical design into digital world, I used 3D scanning of Modela.
Since It scans object by touching with needle, I thought clay would get many small holes on surface after scanning. But touch of Modela is very soft so I couldn't recognize any holes on the clay model.

I used meshlab and Rhino to make 3D model ready to be milled with wax. It was one-side milling so I didn't have to complicated modification. I just cut bottom part of the model to make it flat surface.
Milling wax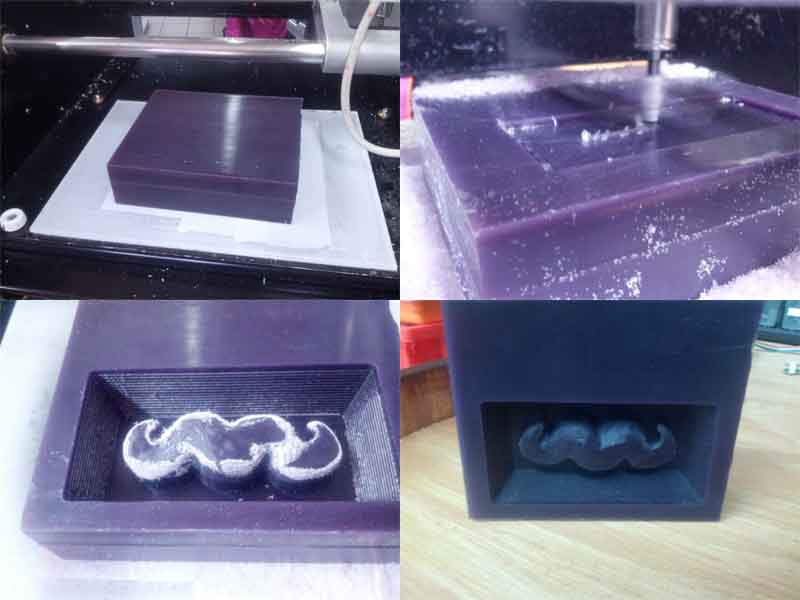 I fixed machinable wax on the bed of Modela with double-side tape and set 1/8inch end mill for milling. I used "Modela player 4", bundled software of Modela, for 3D milling based on STL model. In this software, there is useful option named "slope", which changes angle of 4 side walls surrunding the object like 0˚(vertical wall) to 10˚(tip wall 10˚ to outside). This function helps to expand range bit can reach and take model off from mold after silicone cure.
Casting silicone rubber

We used Smooth-Sil 940 from Smooth-On which is availavle for food applications. It's very sticky so it's hard to mix and pull into mold without containing bubbles. Demold time is 24 hrs so I did casting in morning and left it one day and night. Result is good enogh for first trial. Mold doesn't contain so many bubble as I thought. After washing, I bake it in oven for 4 hours, 100 degees as mentioned in instruction from Smooth-On.
Casting Chocolate

Finally I pull melted chocolate into silicone mold.
Next morning I took it from mold but looks not yammy.
It got white texture on surface because I didn't tempering which is the technique to melt chocolate smooth with proper tempature.
For next chocolate casting, I will do that with a thermometer...