Assignments: Make something big
Work bench for Heimaey
Heimaey is name of island, fablab Vestmannaeyjar is located, and means "home island".
When I came to the lab electronics section looks like the photo below...

So...I decided to make work bench which is wide enough to solder and assemble electoronics and have some space to place boxes of components and tools inside for electronics section.
Requirements & Materials
As starting point, I listed up requirements the workbench should be and materials I can use.
Requirements
Space for tools(Oscilloscope, Function generator, DC power supply, etc...)
Space for Boxes
Enough width of table plate for soldering and assembling
Emblem of Innovation center of Iceland (from Frosti)
Materials
Plywood, 1220x2440mm, 15mm thickness x 4
Hexagon head bolt, 8mm diameter, 70mm length x 30
Hexagon nut, 8mm internal diameter - 30
Washer, 8.5mm internal diameter, 16mm external diameter x 60
Drawing

I did 3D modeling with Rhino based on rough sketch drawn in my notebook.
Then I used "make2d" command of Rhino to convert 3D model to 2D cut sheet like photo below.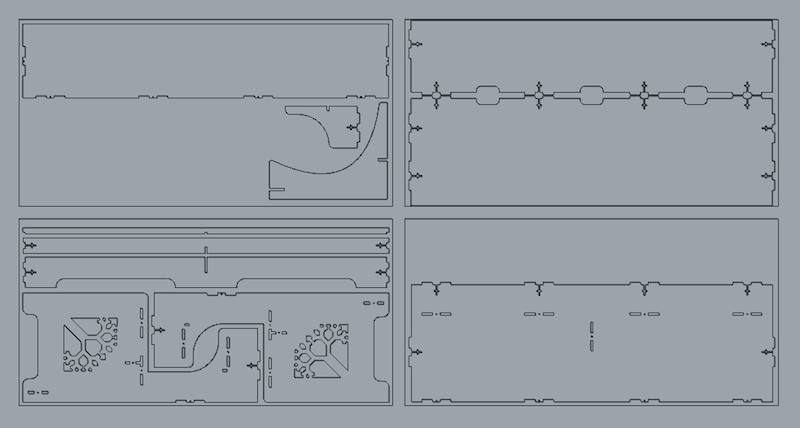 If you want to check my cut sheet on your PC, you can download from HERE
Milling with ShopBot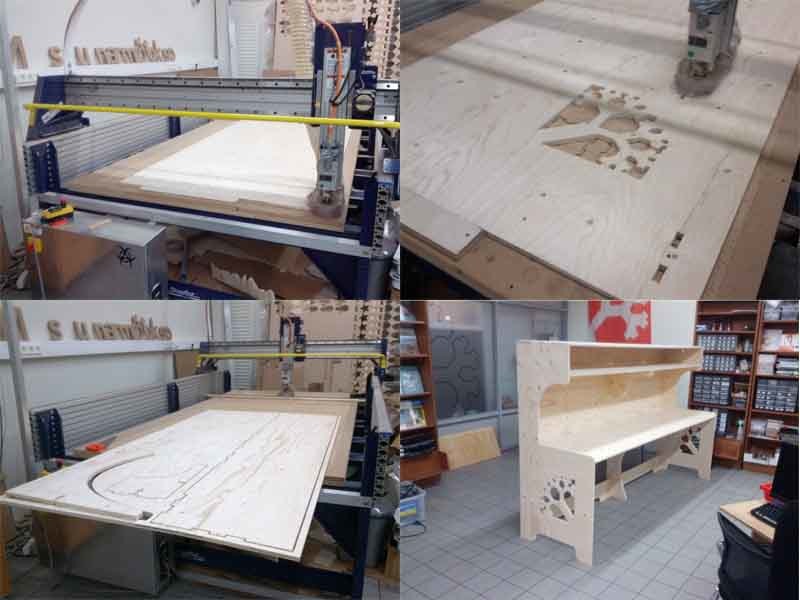 I milled parts from 4 plywood plates(1220mm x 2440mm) with ShopBot by using PartWorks and shopbot3.
It was going well even though I had to sand off edge since it's not perfectly sharp. After milling and sanding, I did pre-assembling to check how all pieces fit together and it nicely combined together.
Painting

For painting, I used two type of varnish. Basically difference between them is just color. Big can is trasparent varnish and small one is "walnut"-colored varnish. Only one DIY shop we have in this island has only these varnish but walnut color is too dark so I mixed with trasparent one to make color more weak. And mixing color makes it possible to changing colors of plates, I painted side boards more daker than other plates.
Joints
I used L joints like poto above for every connections between plates. Since bolt bought for joint shiny metallic silver, I painted it black with normal permanent maker.

Emblem

This fractal tree is logo of the innovation center of Iceland runnning most of Icelandic fablabs. Because This work bench will remain after I leave here, I put the logo to design.
Assembling
with rubber hammer...
Result
Finally it stands in lab, I put boxes of components, tools for soldering, DC power supply, and Oscilloscope, etc...
One thing I should have done is lighting. I'll put LED strips on beneath the box contains tools.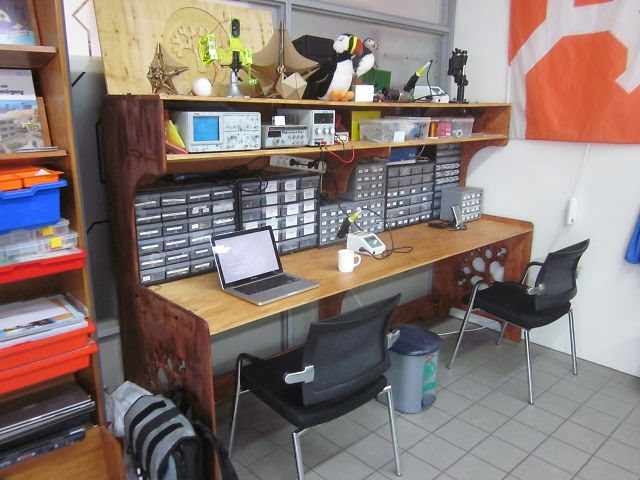 Resource
work bence: This ZIP contains Rhino file of work bence. Cutsheet's link is mentiond above.