This January 27th we started our Fab Academy 2021 programme, I think this first class was very interesting because we could learn about what is digital fabrication and what is a fab lab. When I discovered fab labs at 2019 I remember that I didn't understand what I could do in this place, first of all I didn't know how to operate the machines because I'd never seen that kind of machines before, except the laser cutting because I used it to cut my pieces to build academic models at my university but I'd never operated the machine by myself. I really like the phylosophy about "do it yourself" and "do it together".

This wednesday I learned many new things, one of the ways to know how much do you learn is practicing so I was exploring about all the concepts since the first class.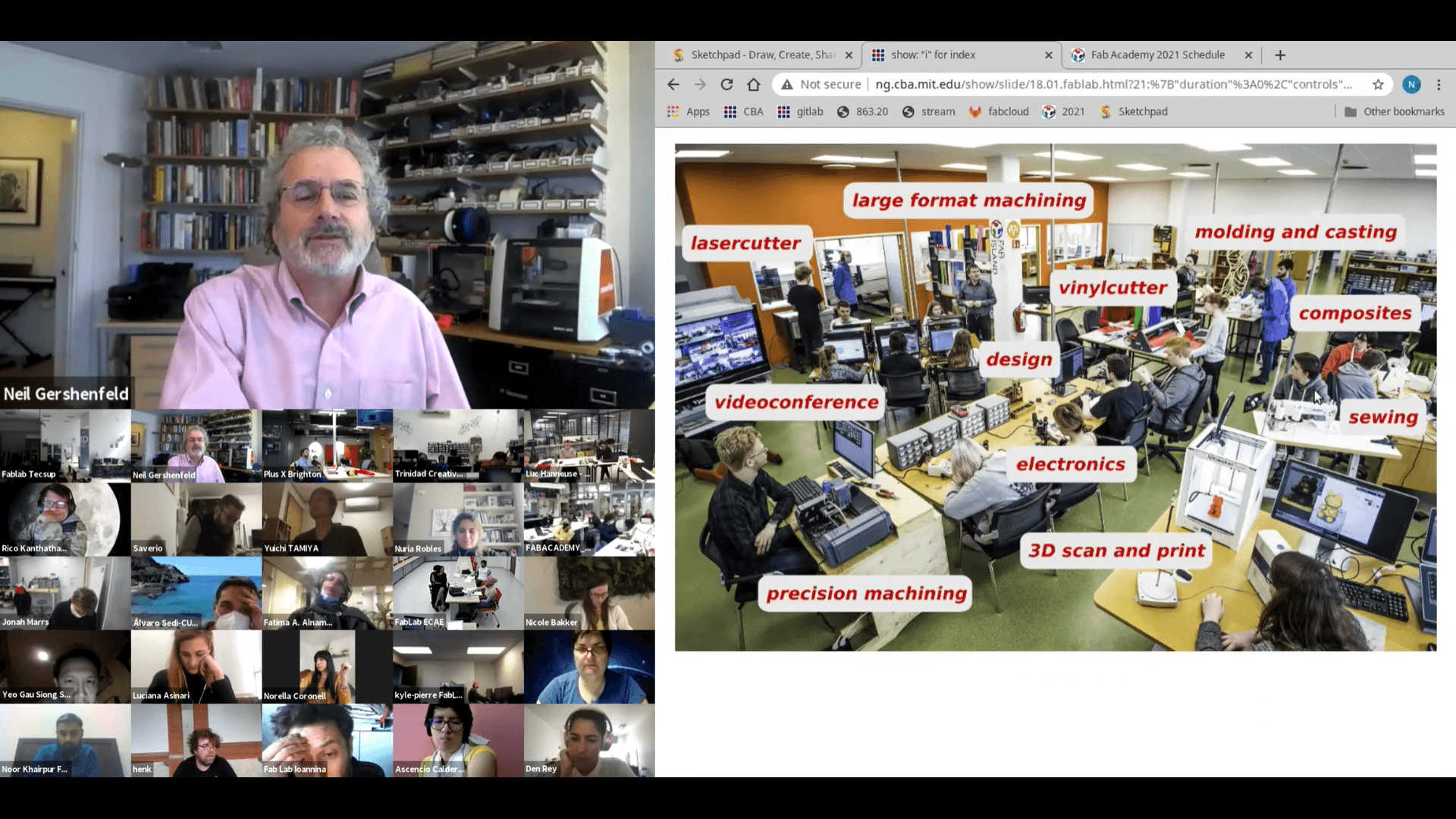 Our first class
General concepts
-
Fab Labs:
A space where you can make almost anything.
-
Digital fabrication:
A set of integrated processes through which a product is made from the design and modeling of the object in CAD software. Its analysis in a CAE program, the simulation of the manufacturing process in CAM packages and the manufacture of the product by a team.
-
What is in a fab lab?:
Laser cutter, 3D printing, vinil cutter, composites, electronics, precision machines, molding and casting and the most important thing, there are people with many ideas and desires to do something.
-
3D Design Software:
Program where you can design your products or any idea that you want to do, you need to use a computer and internet, some of them are online.
-
Digital revolution:
It is defined by advancements in technology that made it possible to move from mechanical and analog platforms to digital platforms for distributing information.
My final project
I'm still working on my final idea but I want to introduce you my
first porposal.
Today one of the challenges is balancing the use of screens in excess, children need to develop their
imagination
giving greater importance to creativity and time with themselves. In order to develop autonomy, encourage long-term attention, have expert storytelling and rich vocabulary to reinforce language and expression and help bring them organically closer to the world of stories, I will create
QUENTINO.
Why is this a good option?
One of the most important things that I prefer to do is work to help
education
and take the time researching about kids. I met whit a great team who work about development of the imagination, I know that there are many options to do that but when I met them I feel that we would work together. I want to introduce all of you the work that they make on their platform.
It is awesome!
🥰