11. Molding and casting¶
In this week we need to design a mold around the stock and tooling, mill it (rough cut + (at least) three-axis finish cut) and use it to cast parts. For the group assignment we need to review the safety data sheets for each of your molding and casting materials.
Design a mold¶
I first started design a mold in Fusion, a simple 3D puzzle. I decided to make one part mold. Started with a sketch of 100x60mm.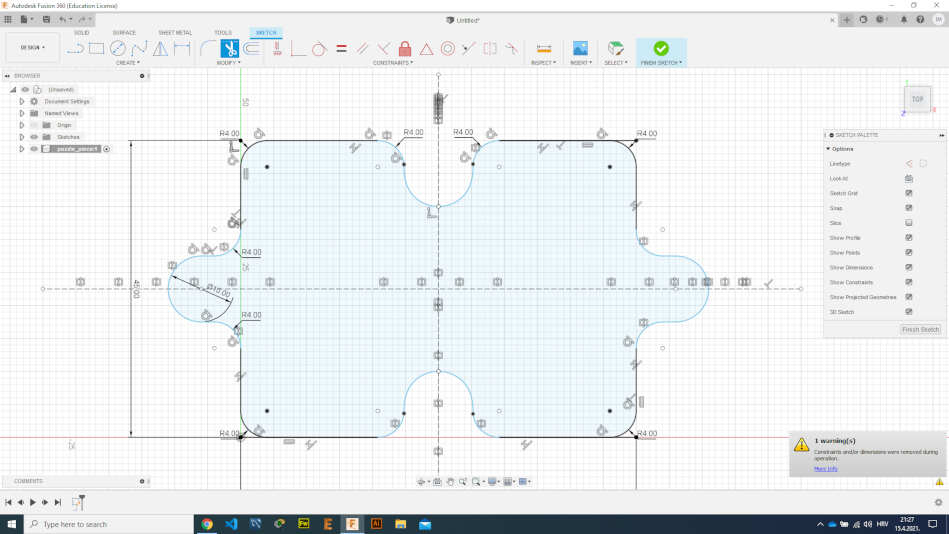 I extrued the puzzle piece 15mm. Since the puzzle piece needs to be in 3D I added a fillet around top edges.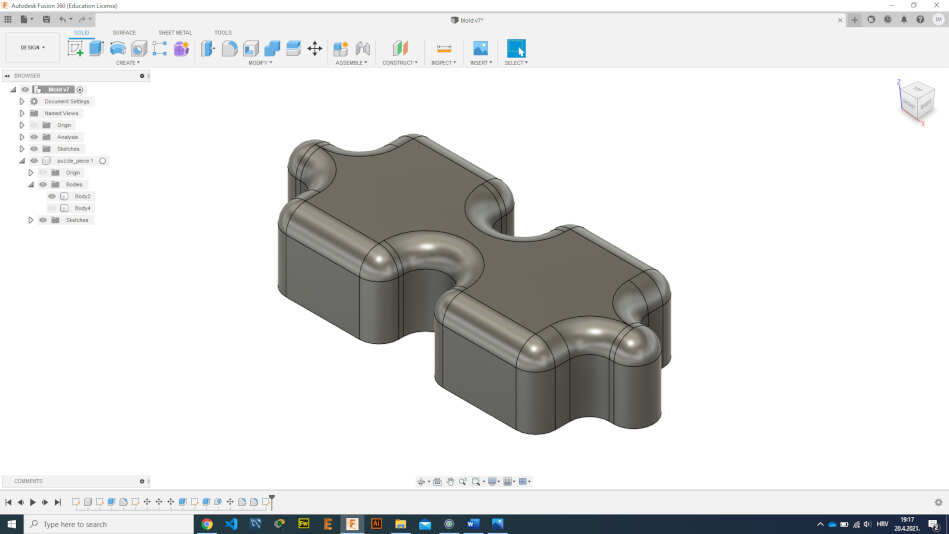 Around the puzzle piece I added a outer walls to hold the silicone. The width of outer walls is 10mm.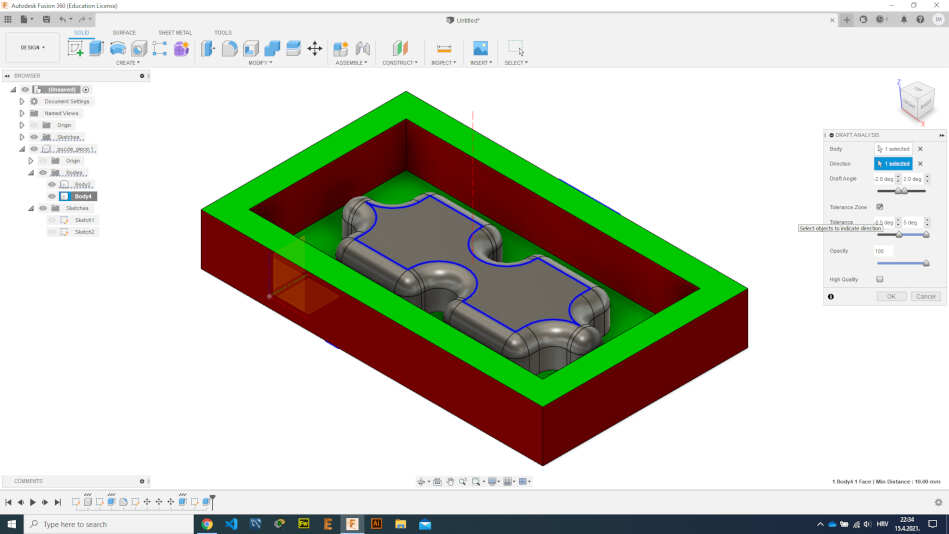 After that I made a draft analysis. The Draft Analysis tool evaluates whether a model has adequate draft between a part and mold (based on the pull direction). If so, the model is suitable for casting or molding. You specify a range of draft angles, and Fusion 360 colors the body to indicate draft angle changes relative to that range. You can see in a picture above. Top surface is green and that is good, but inner surface is red. So solve that I added a slope of 5 degrees. I performed draft analysis again and got the following results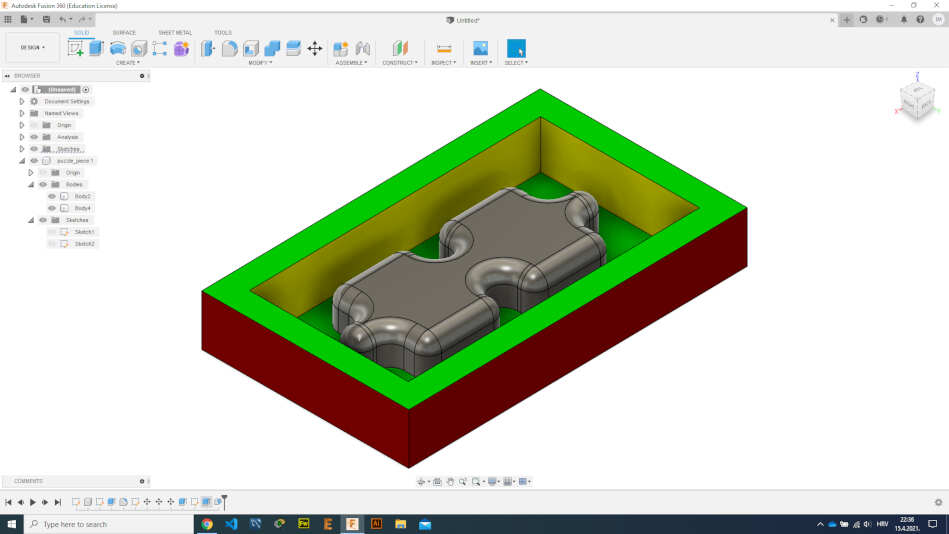 You can also see cross section analysis.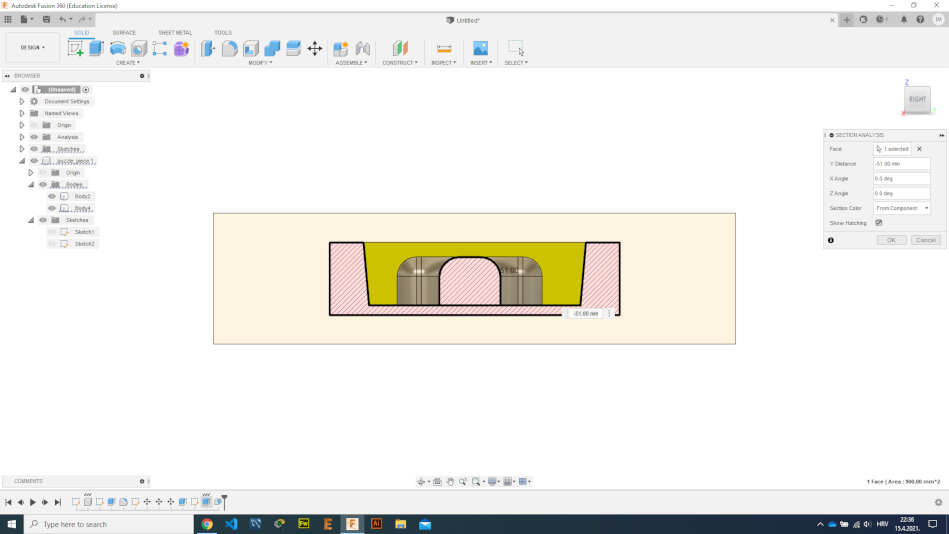 For this puzzle I decided to use fir wood because I did not have a machinable wax. I also found aluminium piece 20mm thick. I wanted to try to make a mold from aluminium on some older CNC milling machine Sinumerik. I designed a star in Catia. I started with a sketch of a star geometry.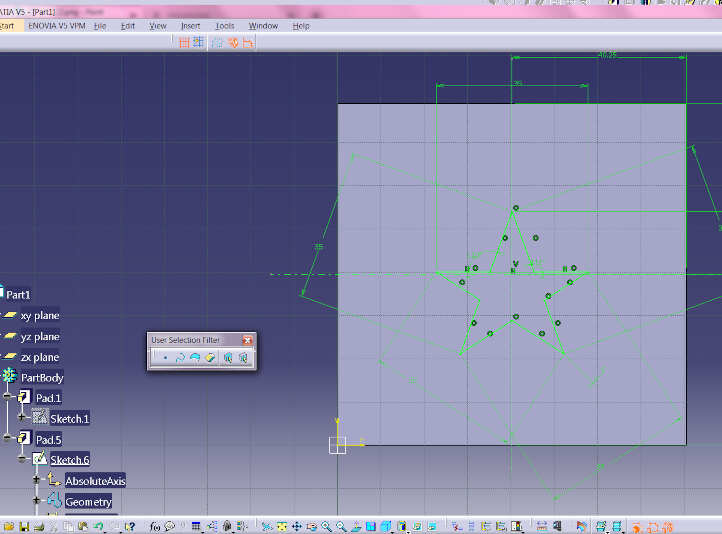 Then I extruded the star and put a fillet around top surface.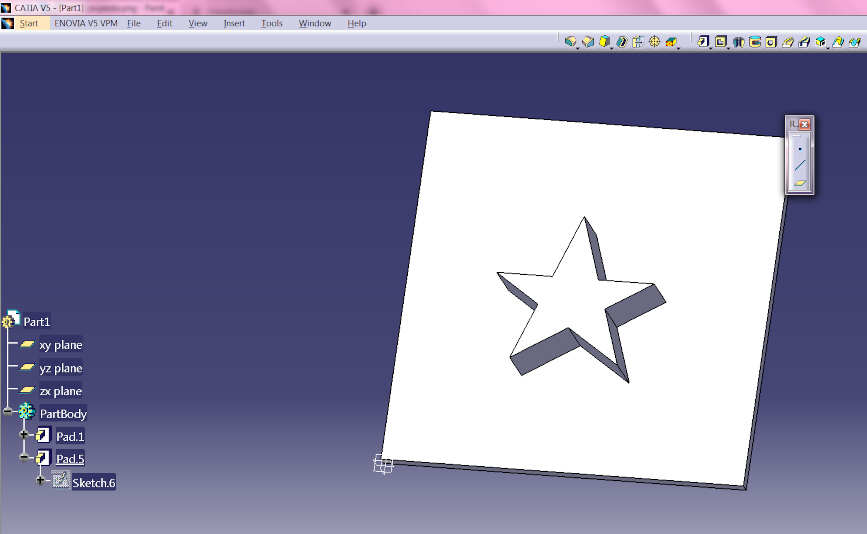 I added a outer walls to hols the silicone.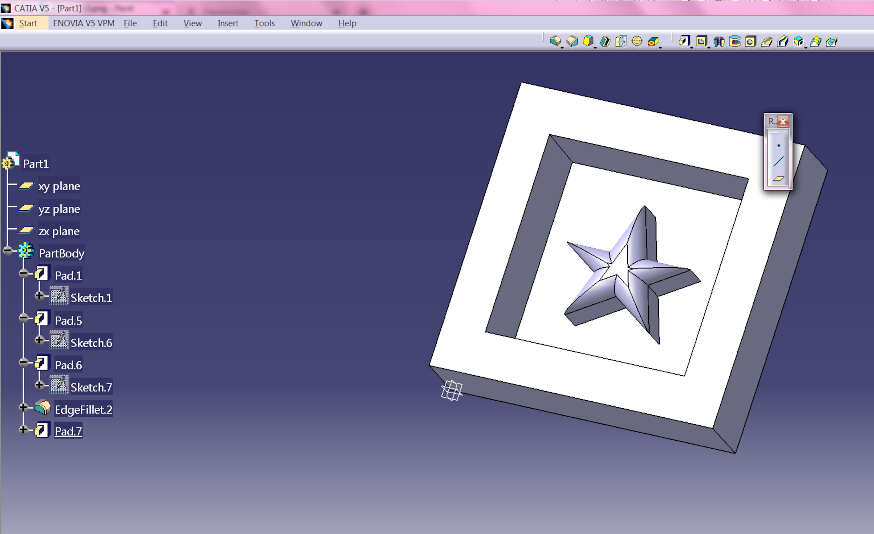 I used Catia because it has post-processor for Sinumerik milling machine 840D and it can output mpf file. Mpf file is needed to work with Sinumerik milling machine. UPDATE: I later found that Fusion has post-processor for Sinumerik also. For controlling Sinumerik milling machine Emco WinNC software is used. I used following mills for this:
4mm end mill for roughing
8mm ball mill for sweeping (we only have this size)
I set the CAM parameters for roughing and sweeping. For roughing I set helical tool path, climb cutting mode and 1mm cutting depth.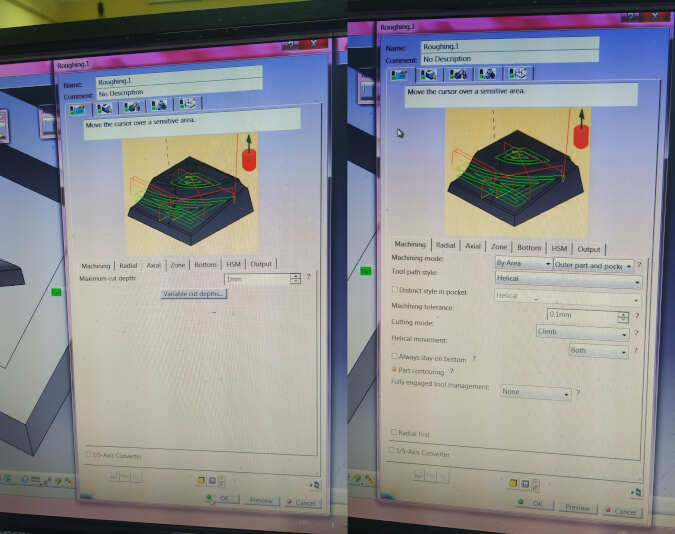 For sweeeping I set the tool and feedrate. You can see it in a picture bellow.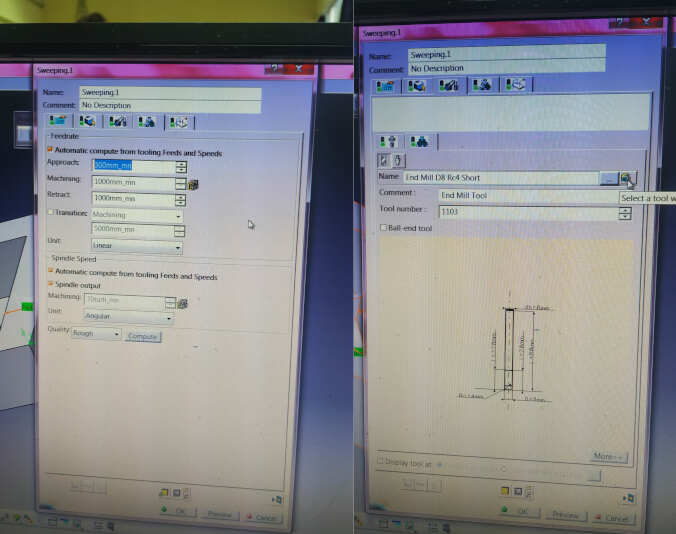 In Emco WinNC we open a mpf file and set the workpiece parameterers. In the first picture you can see mpf file with the gcode included. We manually needed to put in gcode some custom code, like M0 for tool change. (when we need to change the tool).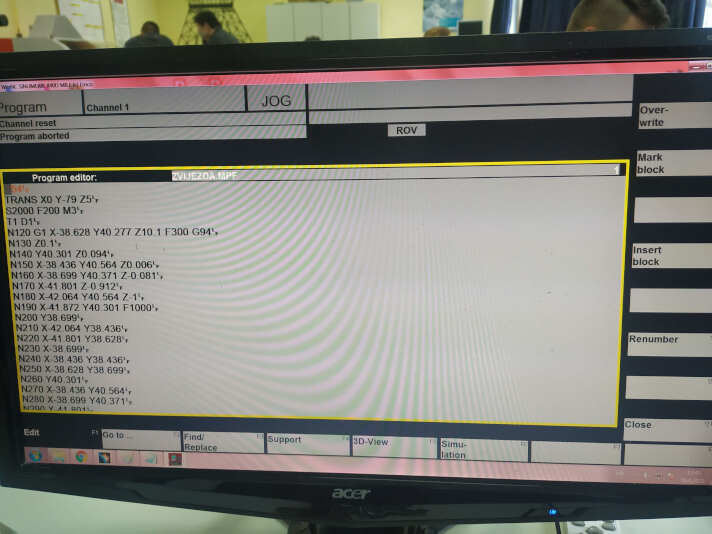 We needed to set work offset. All that things we need to set manually.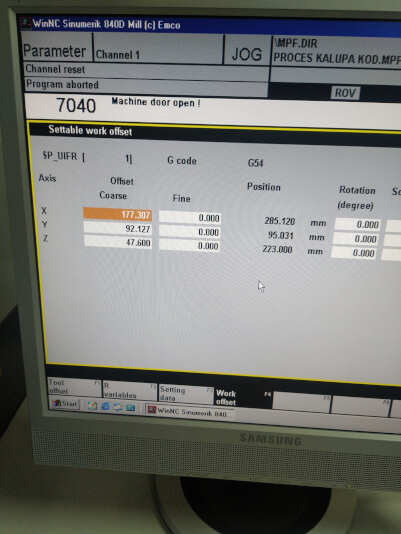 I would like to thank my colleagues Danijela and Zoran from Machining Department for helping me set the parameters in WinNC. I used this small aluminium block to mill a star.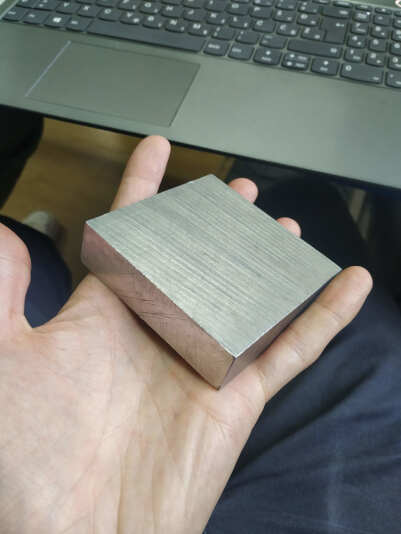 Here you can see a milling process. Left is with 4mm end mill and right picture is with 8mm ball mill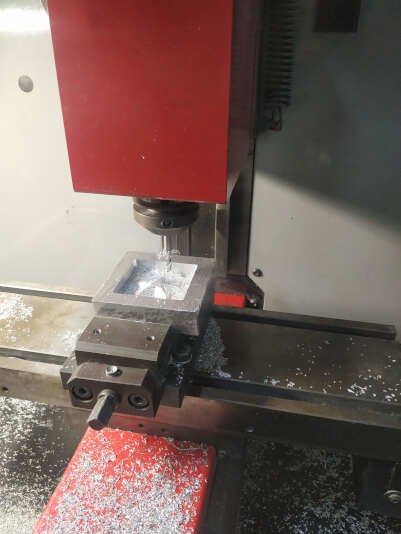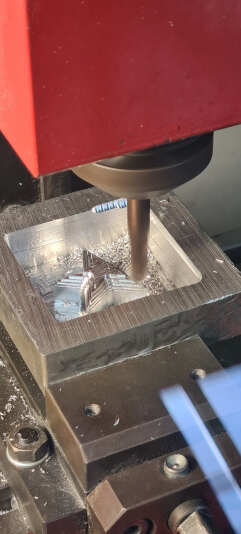 You can see finished results with 4mm end mill and 8mm ball mill.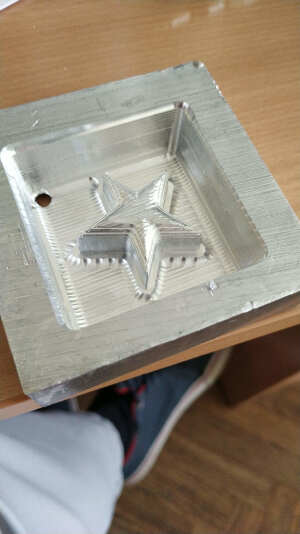 As you can see it is not the best surface finish and the mill made a hole because some parameters were wrong so I decided to make another one from wood.
Milling a mold¶
For 3D milling the puzzle I used Roland MDX-15 and for milling aluminium I used Sinumerik CNC machine. For Roland machine I used Modela Player 4 and Virtual Modela software. In Modela Player 4 I open a stl file of the puzzle.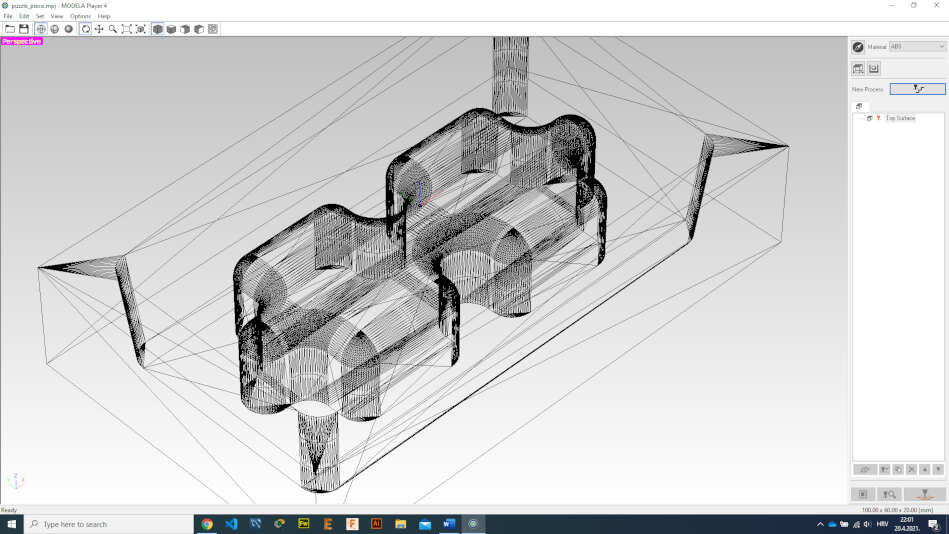 First thing I needed to set the origin. I clicked on model icon and under origin I set lower left position. I also set the material type to wood(soft. )For the process type we have surfacing, roughing, finishing and drilling.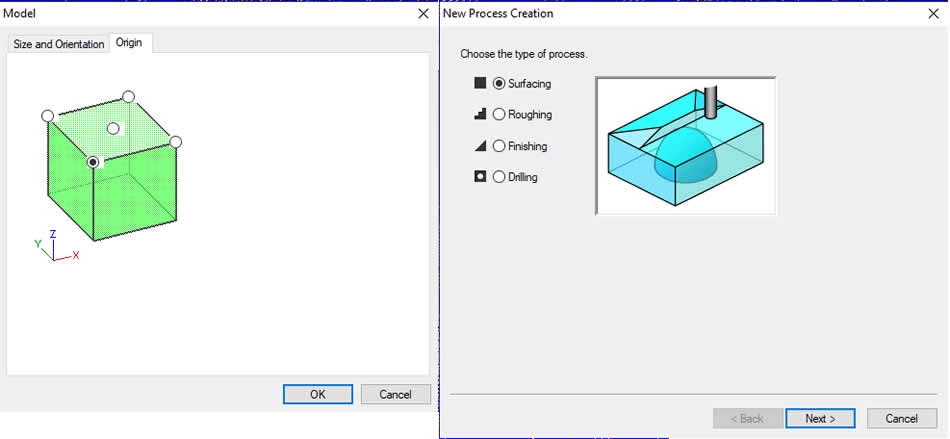 I did not use surfacing. I was thinking that fir wood was flat. I set the following parameters for roughing:
Cutting surface: Top (+Z)
Tool: 3.1mm end mill (that I previous created under options->add/remove tool)
Path type: Contour lines and set UpCut
Partial cutting area
I got the following toolpath. In Virtual Modela we can preview cutting. You can see in a picture bellow.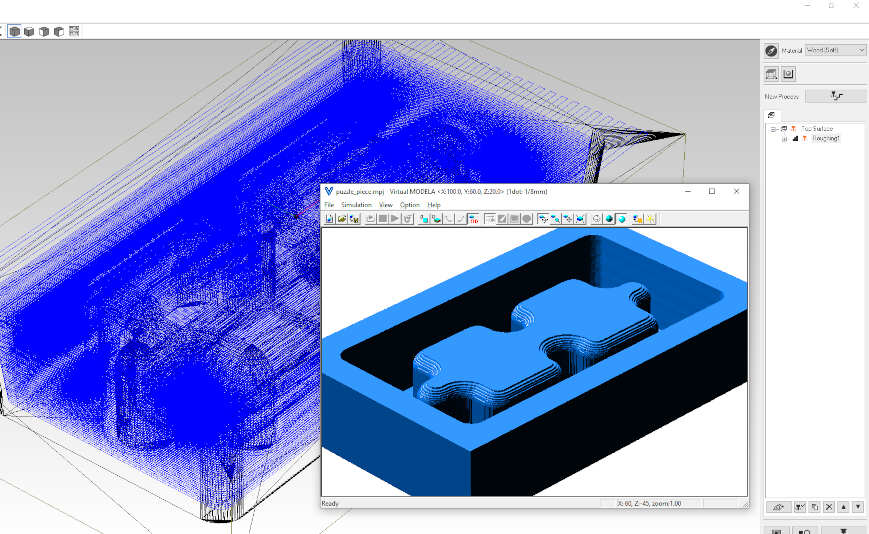 You can see steps in a puzzle. To remove steps I used 3mm ball mill. I set the following parameters for finishing:
Cutting surface: Top (+Z)
Tool: 3mm ball mill (that I previous created under options->add/remove tool)
Path type: Contour lines and set UpCut with optimized pitch
Partial cutting area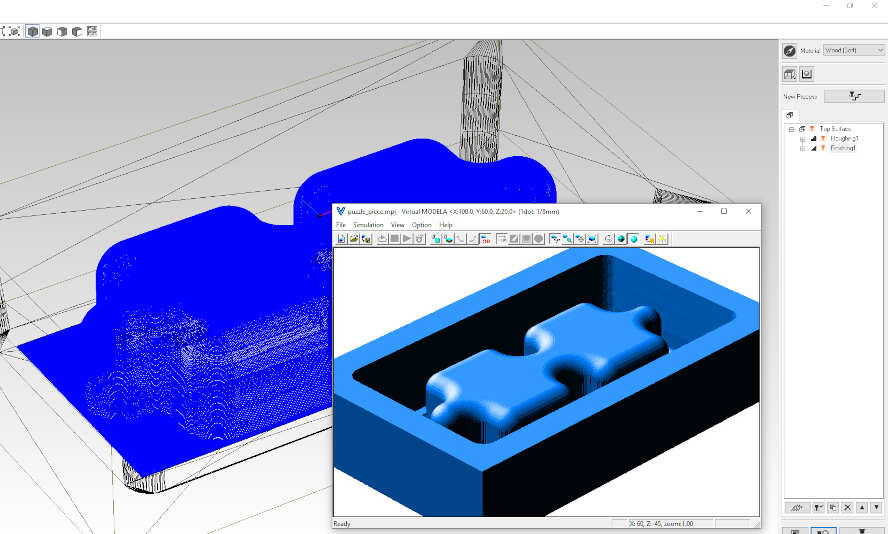 Then I clicked Cut and select output to file to save rlm file.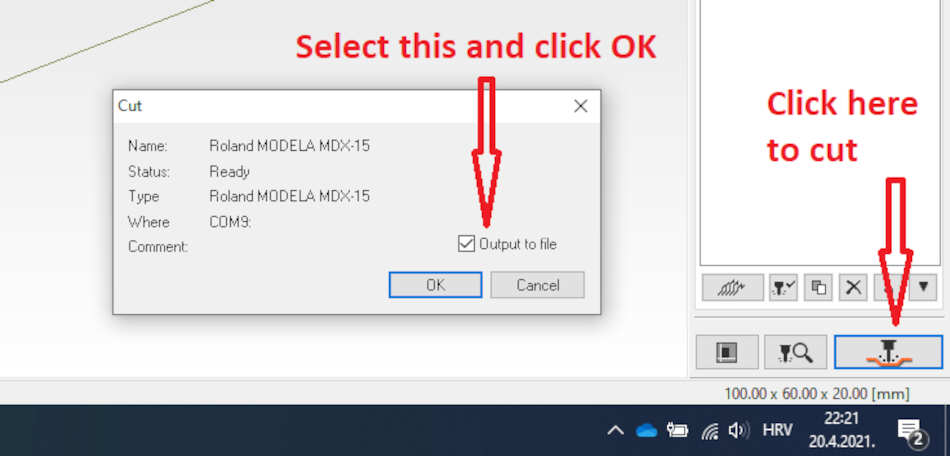 I used DropOut to send files to Roland MDX-15 machine. I set the piece of fir wood and started milling.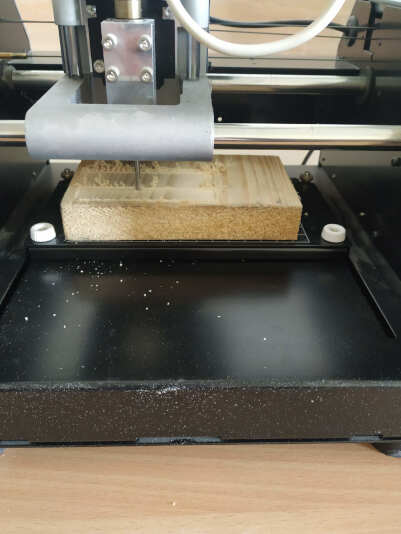 This is the finished part with 3.1mm end mill.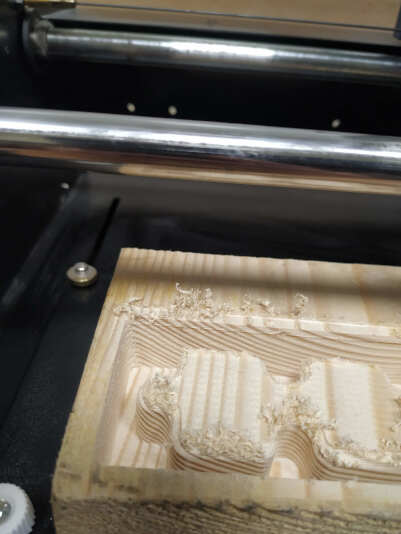 After that I run finishing with 3mm ball mill and this is results. All the chips are removed.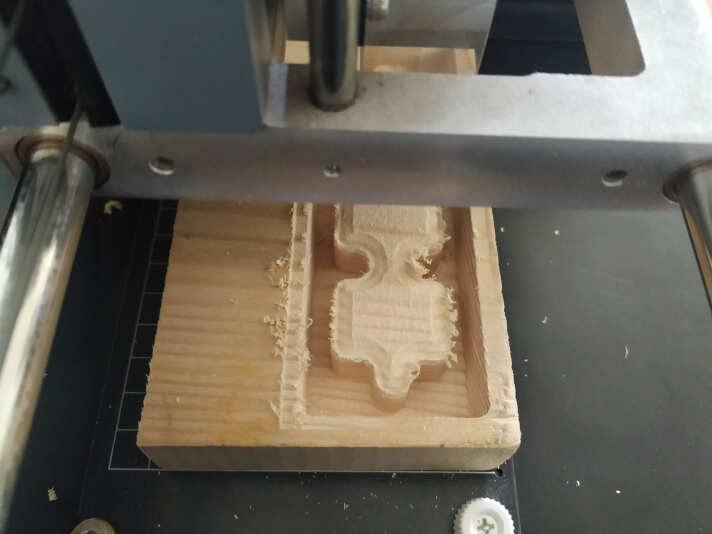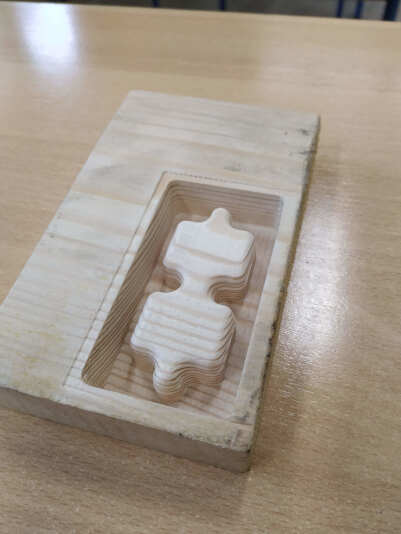 Silicone mold¶
For the silicone we used MoldMax 30 from Smooth-On 1kg. It comes with part A and part B. First we need to prepare all the stuff. We used safety equipment, protective glasses and gloves. As a mold relase we used baby powder and vaseline. Gram scale is used for proper mixing ratio.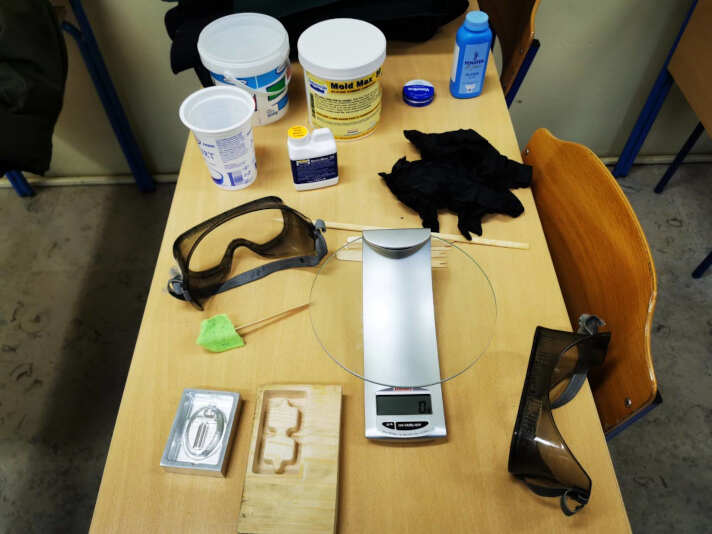 Mold Max™ Silicones are tin-cured silicone rubber compounds that have exceptional working properties and library life. Pot life for the pourable silicones is 45 minutes and they cure overnight at room temperature. We read instruction sheet for measuring & mixing the silicone. We needed to use a gram-scale for measurement. The proper ratio is 10:1. We measured 200g of part A and 20g of part B.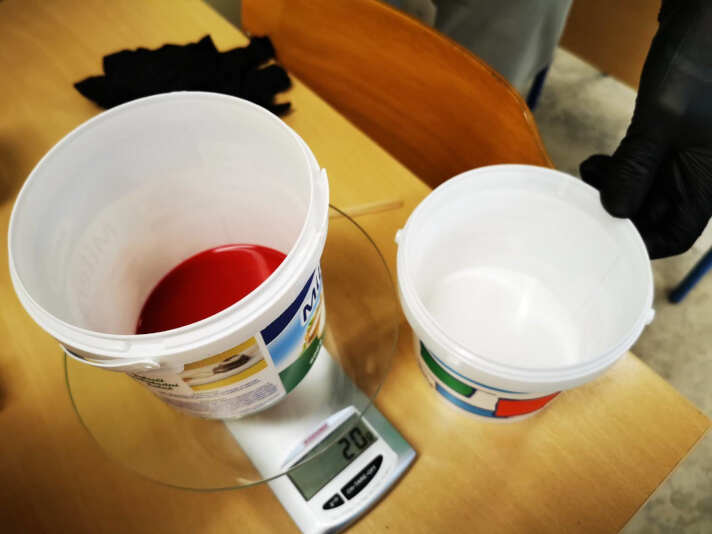 We then mixed all together for 3-4 minutes until the silicone turns pink.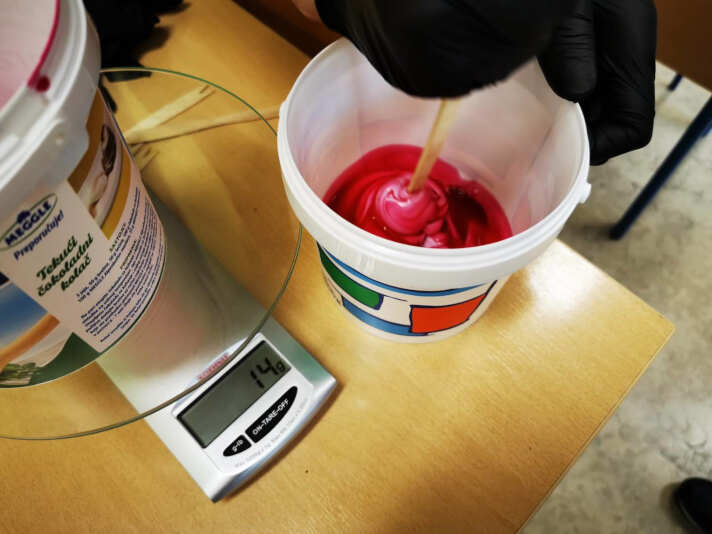 Before pouring the silicone we apply mold relase(vaseline) on pieces. Then we pour the silicone. For best results, we pour the mixture in a single spot at the lowest point of the containment field. We let the rubber seek its level up and over the model. A uniform flow will help minimize entrapped air.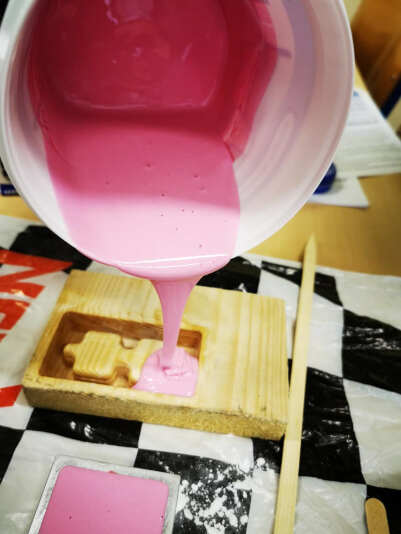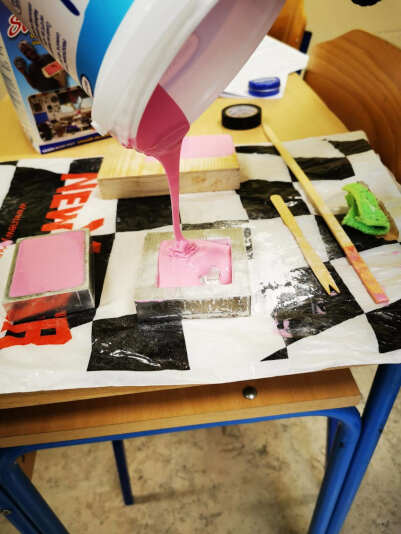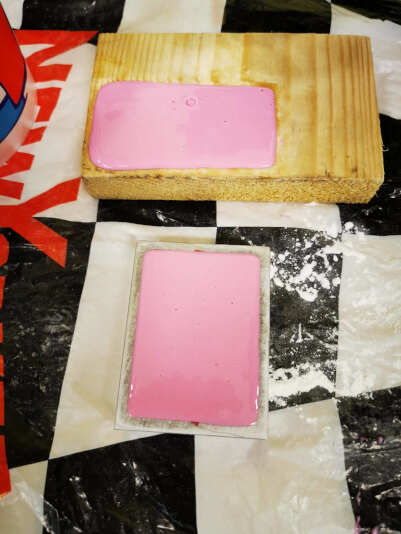 Casting¶
After 24h silicone mold is cured. There was no problem separating silicone from wood and aluminuim because we applied baby powder and vaseline before. For casting material I choosed glycerin. Glycerin is a simple polyol compound. It is a colorless, odorless, viscous liquid that is sweet-tasting and non-toxic. Due to having antimicrobial and antiviral properties it is widely used in FDA approved wound and burn treatments. The simplest use of glycerin is to make a soap. I sliced glycerin in a small pieces and put it in a microwave for 15 secondes.
After 15-20 secondes in microwave, glycerin becomes liquid.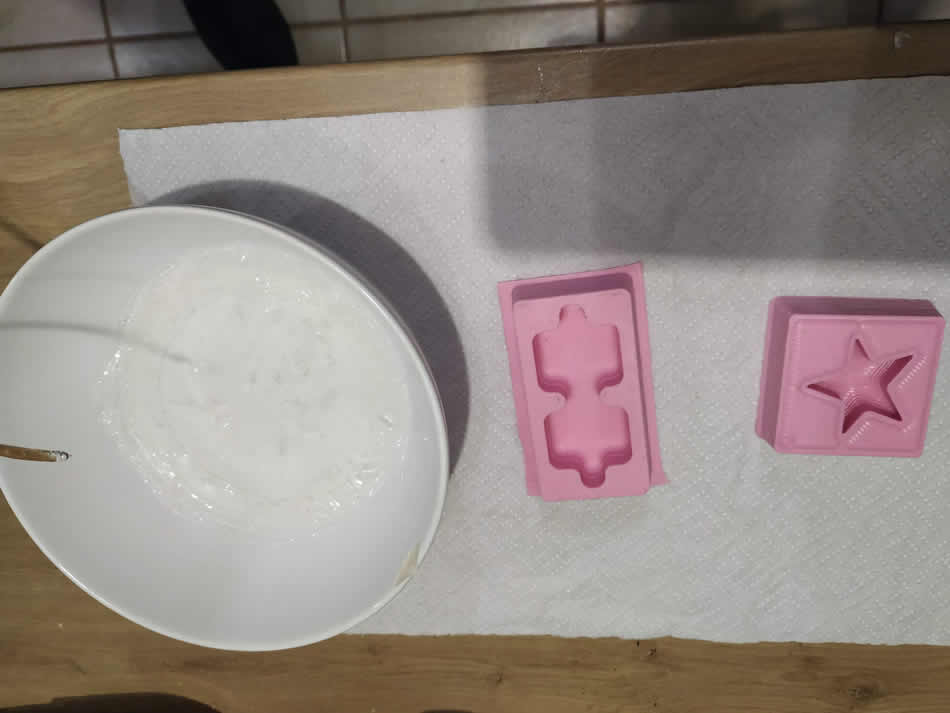 I poured glycerin in silicone molds. You can see in a pictue bellow.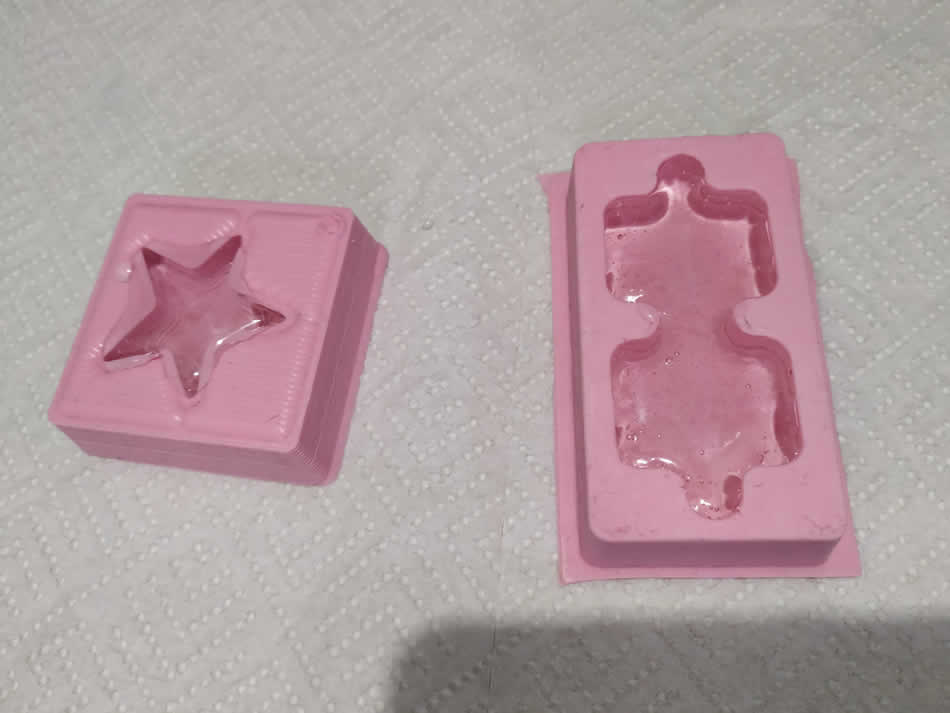 I left glycerin for 2 hours to cool down. This is the results I got.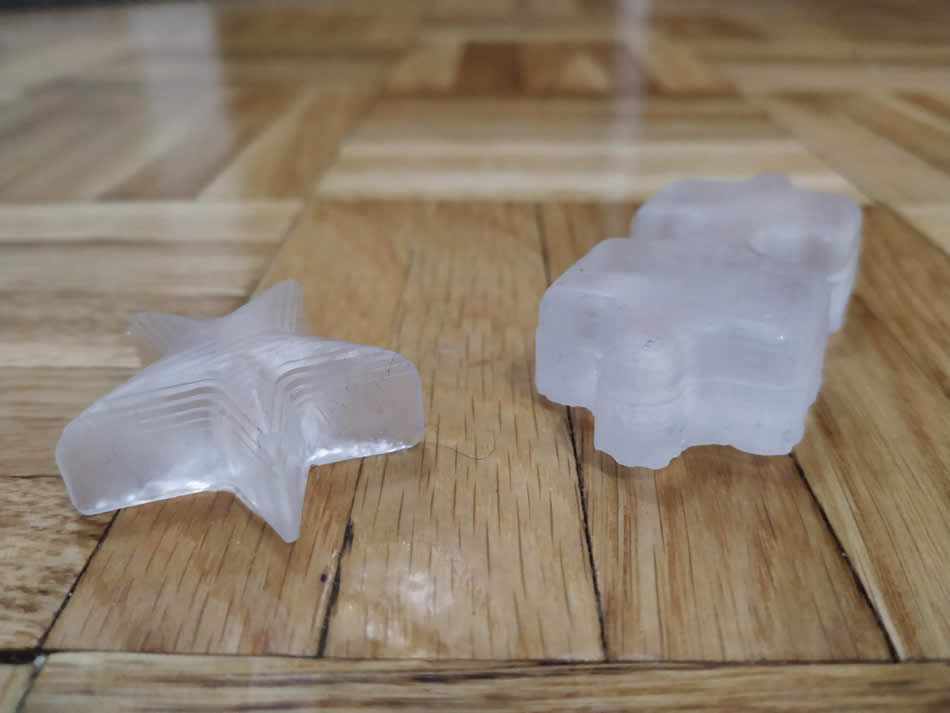 Here you can see all the parts (positive-negative-positive).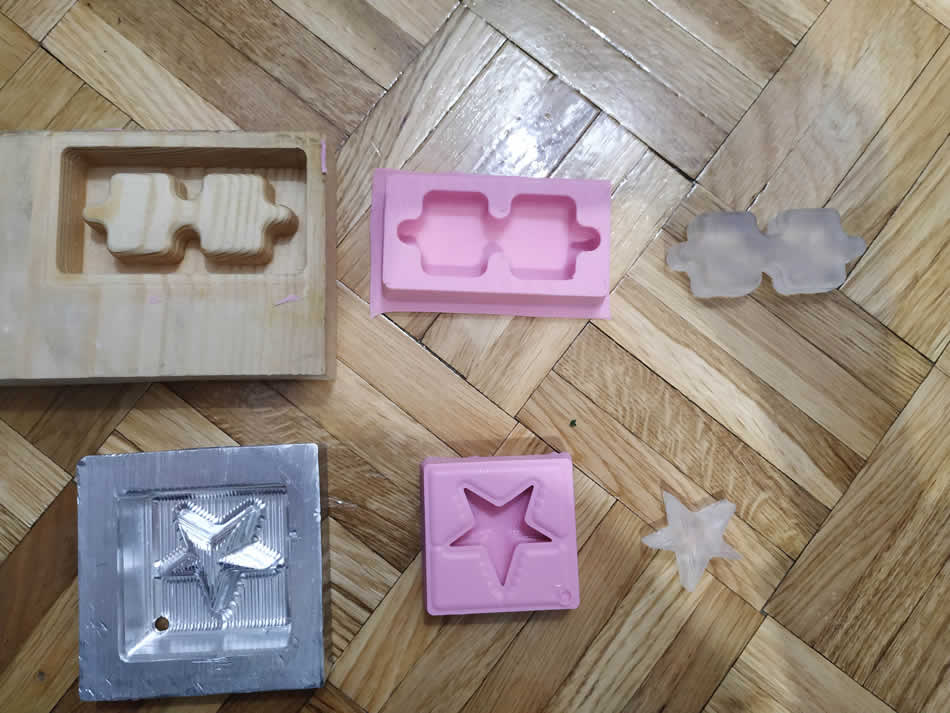 Group Assignment¶
For the group assignment we need to review the safety data sheets for each of your molding and casting materials.
There are two different sheets for part A and part B. Here is a link to safety datasheet. Both of these sheets covers a large selection of the product line. I'm assuming that the core ingredients are the same across many different products.
For Mold Max series part A there are no listed hazards. It does give treatment options for skin and eye contact and ingestion. For Mold Max Series part B it's a lot more dangerous! The safety data sheets lists hazards for skin, eye and inhalation. Importantly, it recommends to mix outside or in a well ventilated area while wearing appropriate protective equipment.
Glycerin is used for casting and it is non-toxic material.
Conclusion¶
So, this was very interesting week. I have never before work with this type of silicone. We must follow the manufacturer's exact instructions when working with silicone. The most important step here is that milling process. You can see that my star does not have the best surface finish. It is better on wood. I noticed that silicone is shinier on aluminium than wood. On wood is more matte. I definitely want to experiment with other materials. I will continue to do so in a future.
---
Last update:
April 23, 2021