Home
Hey welcome to my website for the FabAcademy 2021¶
Don't lose time click here to see how to make a person-following robot that can move a heavy load
I'm a Frenchman who doesn't speak and write English very well, but if you still want to know who I am you can click here !
My final project is to build a follower wagon. For more information click here
Here is a rendering made during week 3 (CAD) with Fusion360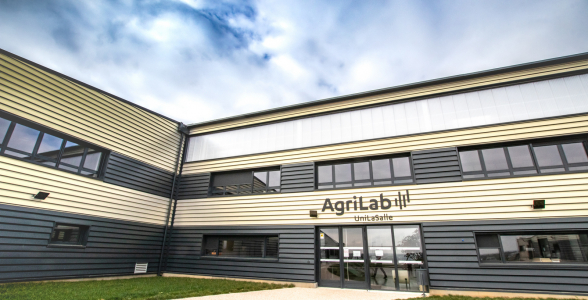 Welcome in AgriLab in Beauvais¶
AgriLab is a 1,500 m² collaborative innovation centre for agriculture located in the heart of a mixed crop-livestock farm and close to the UniLaSalle higher education and research centre.
UniLaSalle is one of the 205 French engineering schools accredited as of September 1, 2019 to deliver an engineering degree. It is a state-recognised private higher education institution that provides education in the fields of agriculture, agri-food, food and health, the environment and geology. It has four campuses: Beauvais (Oise), Rouen (Seine Maritime), Rennes (Ille-et-Vilaine) and Amiens (Somme).
Inspired by the Fablabs movement, AgriLab promotes open innovation and the sharing of knowledge and know-how. In the same place, it is possible to "manufacture (almost) everything" with the minimum of machines… from digital design to mechanical machining.
The innovation centre also offers services (privatisation of machines, engineering services, customised advanced training, services, etc.).
My internship tutors will be Luc HANNEUSE and Florent LEMAIRE, FabManagers at the AgriLab in Beauvais.
---
Last update:
June 14, 2021