Initial project proposal
intial final project proposal¶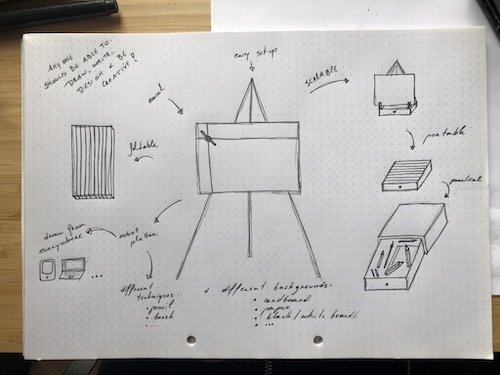 Isabel.Allaert and me will work together for the final project. Our project will be a cnc drawing/writing/painting machine mounted on an easel. We want to give everyone the ability to draw and express themself.
While making the machine we want to think about the following options and choose what is most feasible. We want to start with a basic version and hope to add features or options along the way
The machine will be internet connected an remotely controllable.
It should be easy to set up and portable to install it where we want.
We need to give the machine a name!
First idea was to make a hanging polar plotter style machine? –> able to go big in size, mount on window <–> Fixed x-y gantry? –> more sturdy –> more options for drawing media: marker, pencil, crayons, paint, coffee,….
Use whiteboard as surface?
It should have a roll of paper!

People can get final drawing
Automatic roll off??
Automatic cutting the paper??

Spring loaded pencil holder?
1st version connected to laptop with USB or bluetooth –> next machine is WiFi connected on its own?? –> integrated web server??
android/iOS app to draw <–> browser or webbased interface?
Integrated webcam to be able to watch remotely also
Single color <–> multi color –> revolver style system
cast custom crayons? –> melt rainbow colored crayons by melting leftovers?
foldable easel design? –> flatpack? –> put in box? –> roll-up?
Choose different materials
Use nice joints
Draw live < – > send svg or gcode??
---
Last update:
June 8, 2021