Assignment 17: Planning the final project.
What is the final project?
The final project will be an interactive fablab inspiration book. It shows three samples of things you can make in a fablab, and links via QR codes to a website with tutorials at entry level. The book will contain 3 double pages and a cover, and more pages can be added later on.
What will it be used for?
The book can be placed in the fablab, so people who are new can flip through it to get an idea of what they can do in the lab. I want to encourage people to do something new, and lower the threshold to experiment with the more 'difficult' machines and techniques. After the Fab Academy course I plan to use the book in workshops.
What questions need to be answered?
With the project I would like to get insight in which 'ingredients' are needed to make an open design which encourages other people to improve and which is feasible to reproduce.
What materials and components will be required?
The materials and components are listed in the table below.

What parts and systems will be made?
> At least one charlieplexing array with a light sensor or a transmitter/receiver sensor has to be designed.
> For the book, a system has to be made to assemble 3 mm thick pages
> If there is time left, I will also make a wooden box to store the book.
What processes will be used?
Lasercutting, vinylcutting, painting with the shopbot, designing/milling/stuffing/flashing a printboard.
What is the schedule?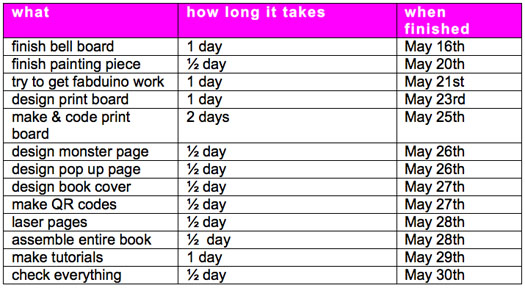 How will it be evaluated?
Are the lasercutter, vinylcutter, shopbot and modela used to make the book?
Are at least 3 tutorials online?
Are there 3 pages of which at least one is interactive?