2. Computer Aided design¶
This week I worked on getting used to Computer Aided 2D and 3D design.
Assignment for this week:
Model (raster, vector, 2D, 3D, render, animate, simulate, …) a possible final project, compress your images and videos, and post it on your class page.
Softwares¶
- For all of the 2D design practice I used Inkscape and GIMP.
- For 3D design I used Fusion 360.
2D practice | Animated Pac-man¶
Since it's my first approach to Inkscape (for something more than just "Trace bitmap") I decided to try making something rather funny, then I made this short Pac-man animation: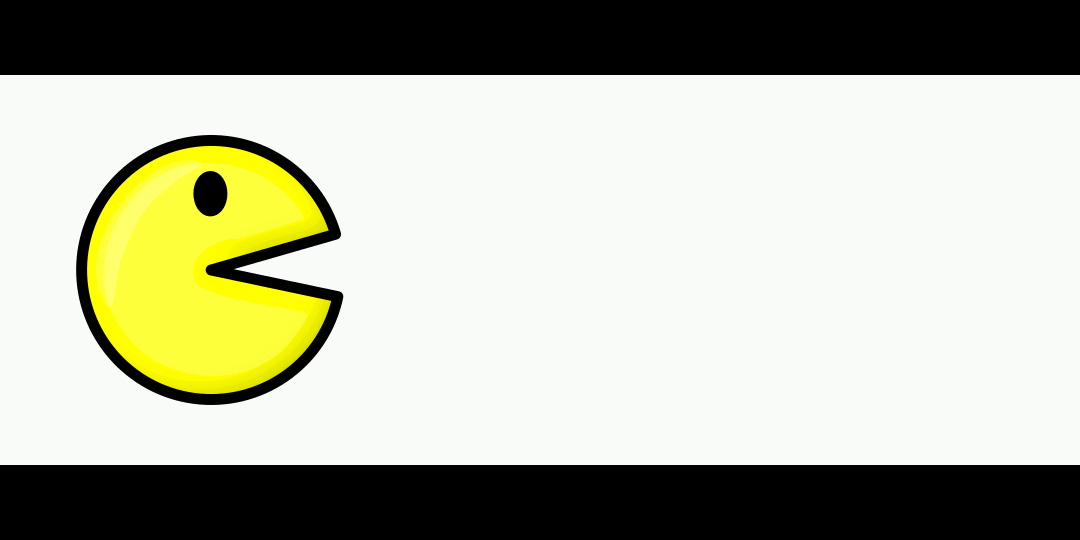 Drawing¶
I drew it mainly with the basic figures: Squares, Circles and Lines which by default are on the left site.

For some details on the shape of the ghost after drawing it, I used Path > Object to path, then from "Edit path by nodes I used "Insert new nodes into selected segments" and "Make selected nodes auto-smooth".

For some details on the color, so they don't look completely "plain", I used Path > Inset, set the inset in white and played with its opacity; I also created some shadow with Filters > Shadows and Glows > Drop shadow > shadow type = Inner.

To align the drawing I used Object > Align and Distribute… > Select objects to align > Align = Center on horizontal axis > Distribute > Make horizontal gaps between objects equal.

This is how the drawing process was (and yes, I changed my mind to the color red for the ghost):

Animation¶
For the animation task (the most tedious) I moved the drawings and capture every position of them (37 in total); I did it saving them as *.svg files.

As you possibly imagined, I used different faces different positions, but only had to edit the vector from the first one:


To make the GIF I used GIMP:

File > Open as Layers… > Select the images for the the GIF > Open.
In the Layers tab sort the images (The GIF sequence will run through each layer bottom to top).
Optimize the final file size: Filters > Animation > Optimize (for GIF).
To preview GIF: Filter > Animation > Playback.
To save GIF: File > Export as… > write the name for the file with .gif > Export > Check the boxes "As animation" and "Loop forever" > Set delay between captures/images > Export.
One week later update: I found EZGIF - an online tool, easier, faster and with an output file size more than 50% smaller than GIMP.
3D practice | Omnidirectional robot¶
For 3D practice I made a model draft for my final project (it also contains some 2D design in the making process)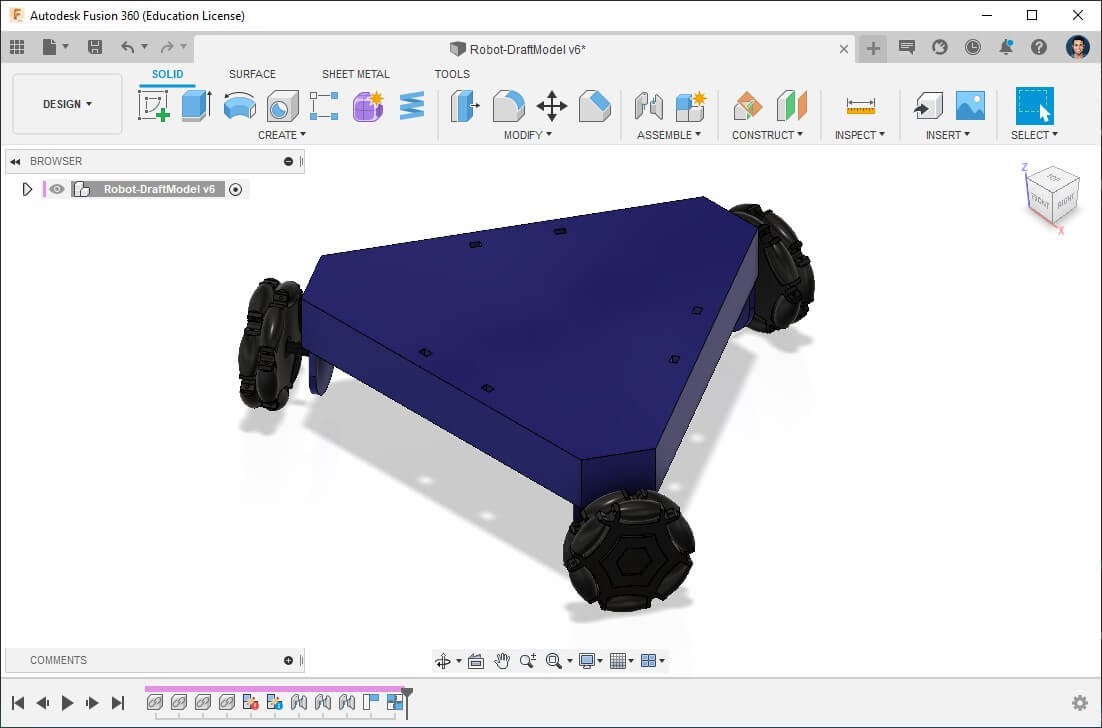 3D design¶
The robot is made into two main parts:
Frame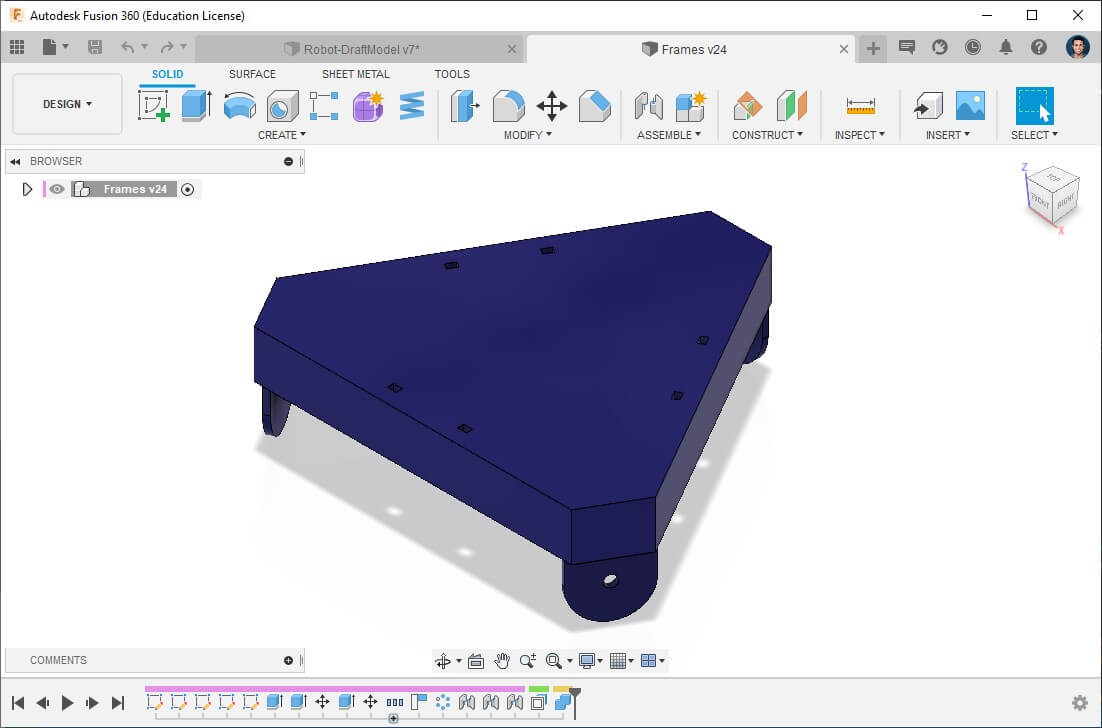 Process: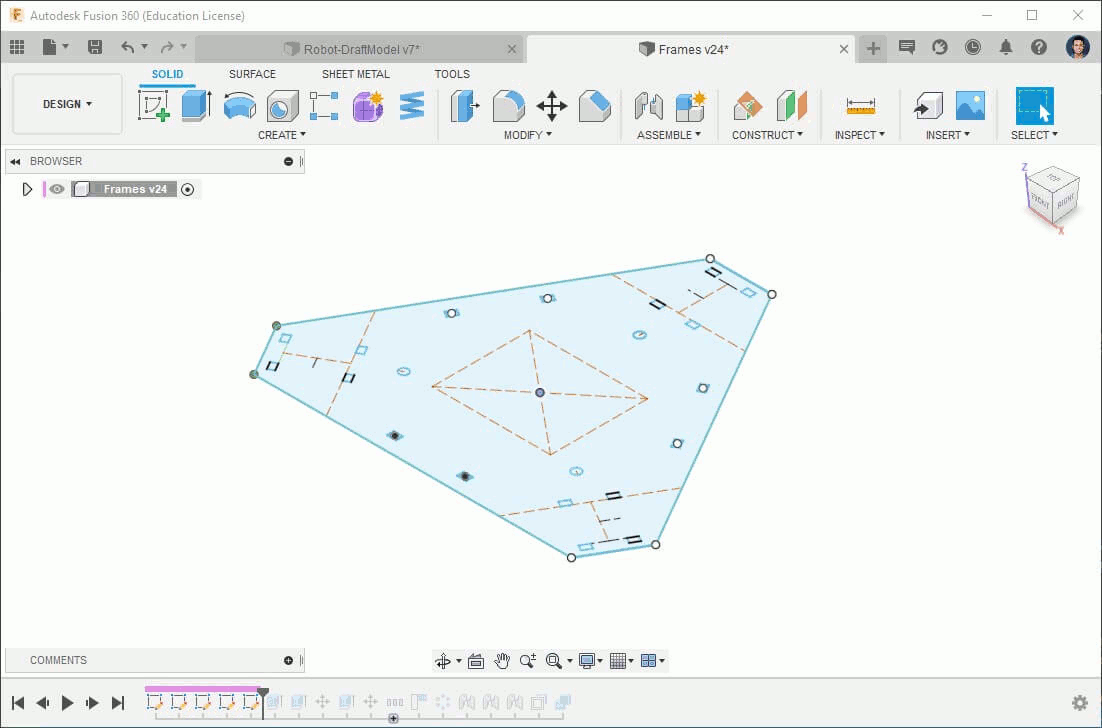 Omniwheels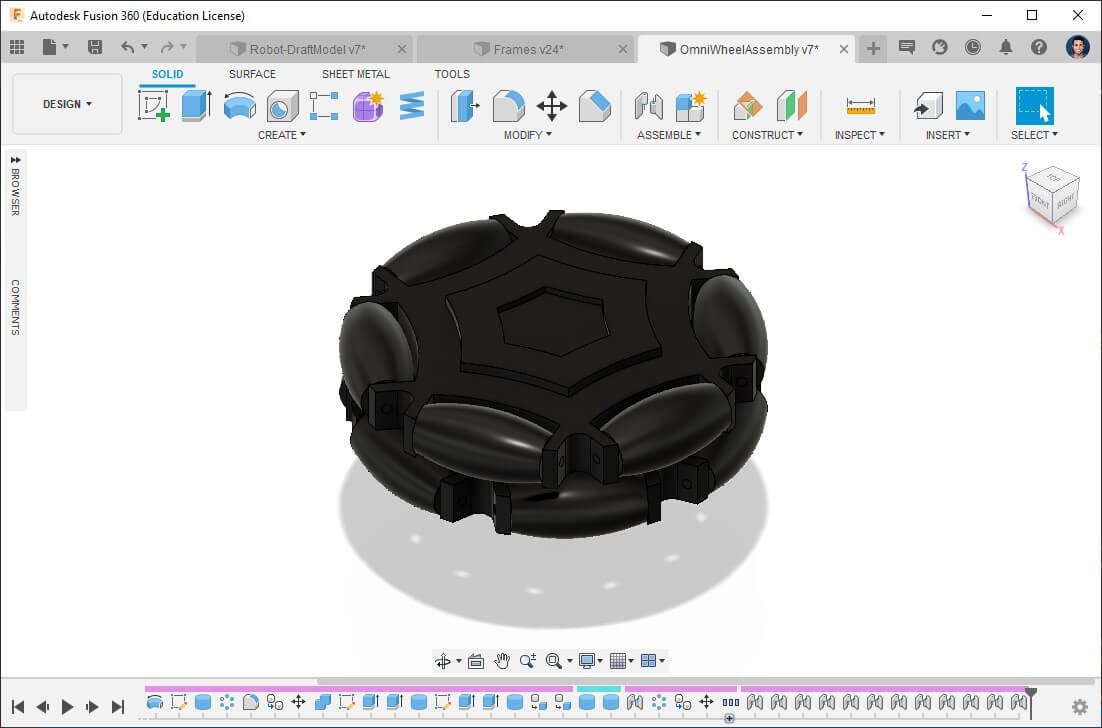 Process: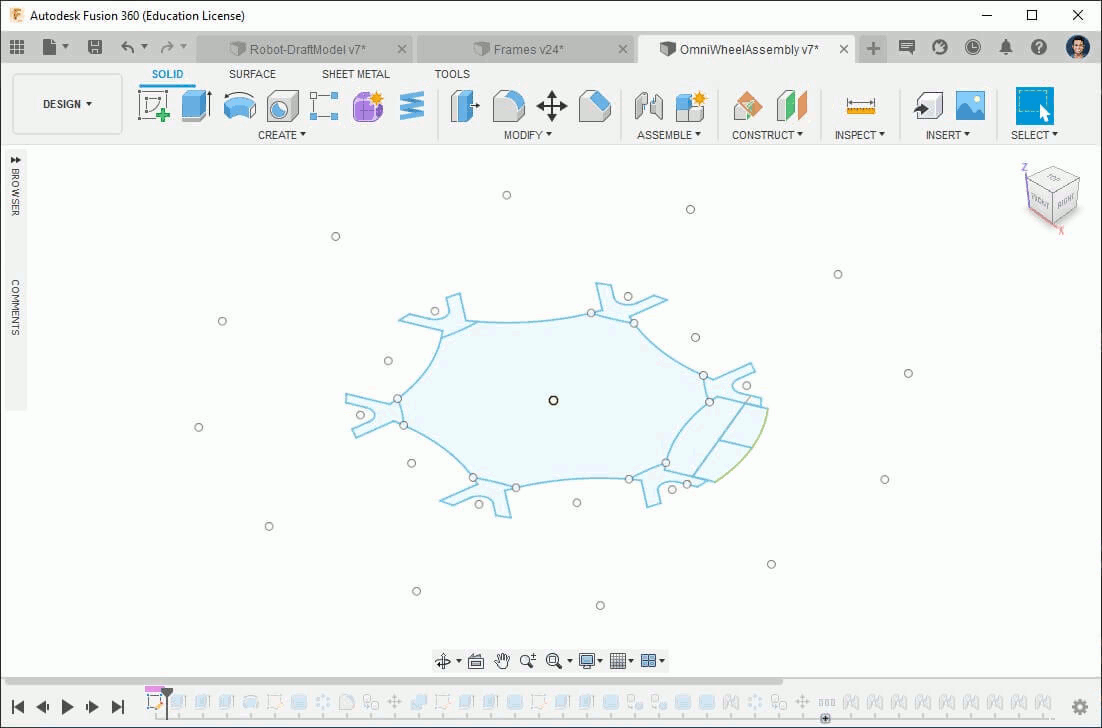 Embedded 3D view¶
I also tried two ways to embed 3D models so we can select the one that meets our needs.
Fusion 360 - 3D viewer¶
To do so I gave right click on the project on Fusion 360 and then Open on the web.
Sketchfab¶
3W Omnidirectional Robot - Draft model by Jeff Josue on Sketchfab
To do so I exported my 3D model as *.fbx (which maintains the configured materials and appearance) and uploaded it to my Sketchfab account.
Render¶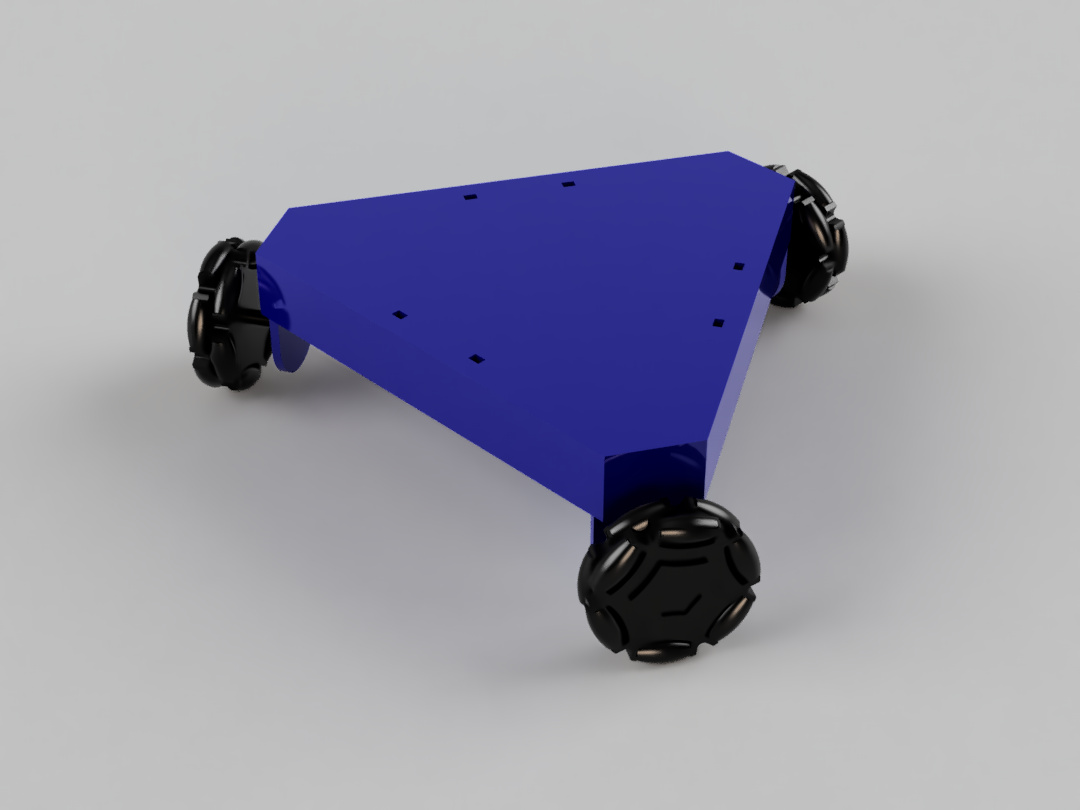 Made on the Render Workspace of Fusion 360, exported as *.jpg
Files¶
- 2D practice:
Pac-man_Drawing.svg
- 3D practice:
Frame.f3d
Omniwheel.f3d
---
Last update:
April 18, 2021