1. Principles and practices¶
This week I worked on defining my final project idea and started to getting used to the documentation process.
My first idea¶
As I said in my presentation, I come from the agricultural world. Regularly we have to carry heavy things. In order to relieve our health I would like to make for my final project a trolley that follows the user. Here is the first picture of my project: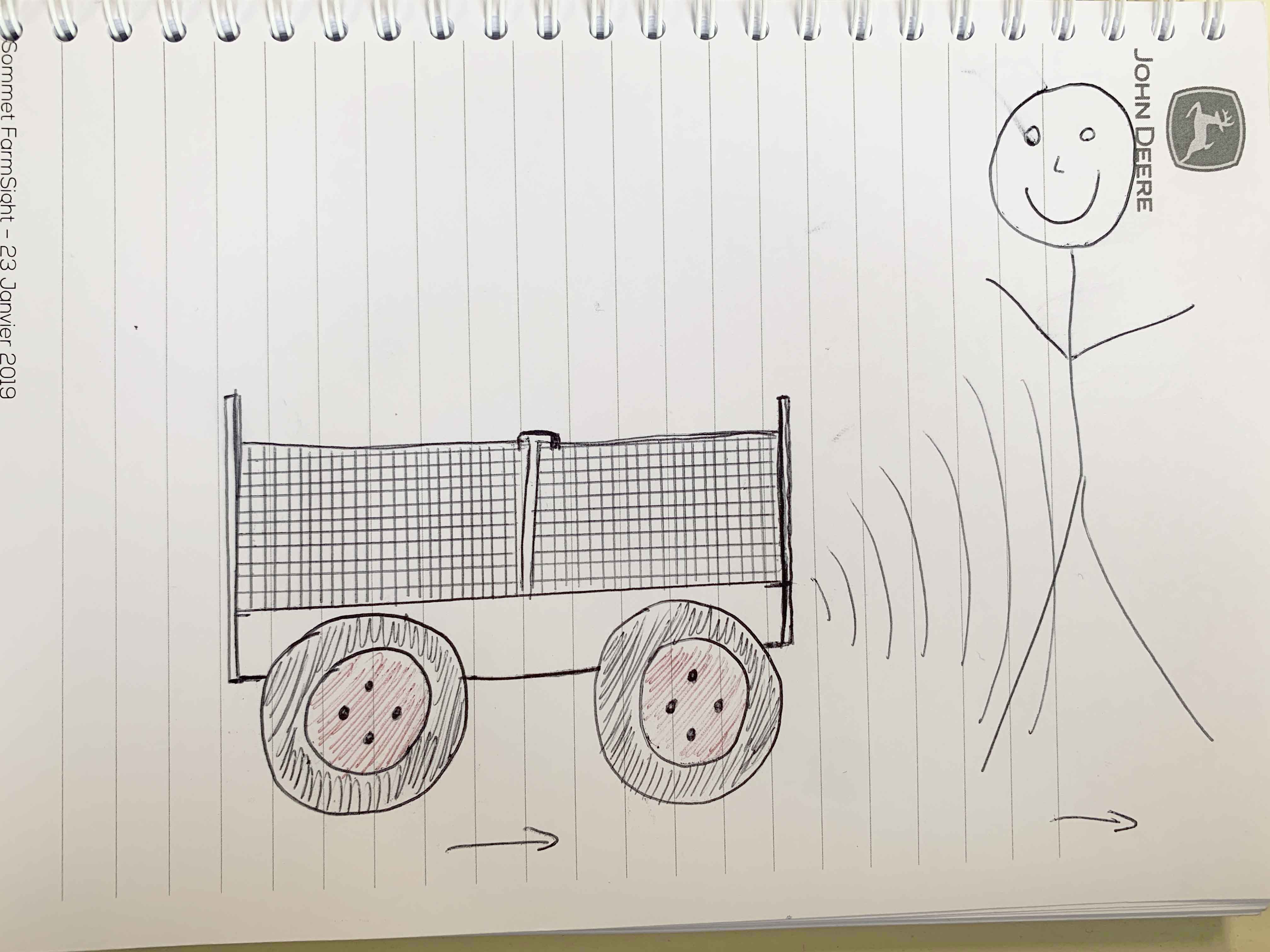 The aim is to have a box big enough to put several things on it and that without effort the user moves them from one place to another. Moreover I wanted this small robot to be able to move over several types of terrain and be able to climb a small obstacle, so one of the reflections of this project will be to dimension the size of the wheels and motors. As for the electronics, they will be hidden between the floor of the body and the axles of the trolley. The whole assembly will be made of metal.
Why do I want to make this kind of robot?¶
As I said before, in the agricultural world it is common to carry and move heavy things. Today we are already facing huge back pain in the agricultural workforce. These pains are often caused by the hard and physical working conditions. In order to relieve the organism of all these very deserving workers I would like to make this kind of robot to avoid them health problems. To be able to place all these heavy and cumbersome objects and then move them without effort would be a real advantage in our profession.
I would also like to equip this robot with several platforms. It could be equipped with a basket to store a lot of small things or it could be removed and then be able to move larger objects. This kind of robot could be versatile and could be used in many different industries (construction, post office, delivery, etc.).
Where did I get this idea?¶
The idea came when I was working with my brother. My brother was building his gate and we had to keep going back and forth to get tools from the workshop. At first we used a wheelbarrow but it was too small, so we couldn't fit much inside it, so we had to make several trips. Moreover we loaded the wheelbarrow and it was heavy. So that day I thought it would be interesting to create a wagon big enough to store and transport tools. Then the idea that this trolley would be a follower came up in order to have my hands free.
Does this kind of robot already exist? What would be my improvement?¶
Of course this kind of robot that makes everyone dream already exists, but it is not very democratic because its price is very expensive. The company EFFIDENCE already makes this robot. Although it exists, it is very difficult to find documentation on the subject. My wish is to make this robot as simple as possible with materials that are not too expensive. The goal is to allow everyone to build this very useful robot. Finally I wish to realize a very detailed documentation to allow anyone to remake my robot everywhere in the world
---
Last update:
March 24, 2021