18. Project Development¶
Complete your final project, tracking your progress:
what tasks have been completed, and what tasks remain?¶
Completed Tasks¶
Nozzle and Pump system
Checked to drive the motor and its driver module.

CoreXY
Complete the 3D design of overview
Supplied the parts to make CoreXY

Programming
No progress…

Table
Cut almost parts
Not assemble them yet

Circuit Integration
Drew the overview of the integration of PCBs
Made some of the PCBs that I use

Mechanical Integration
No progress…
Remained Tasks¶
I summarized the remained tasks at spread sheet to see the picture of my tasks and am going to manage them.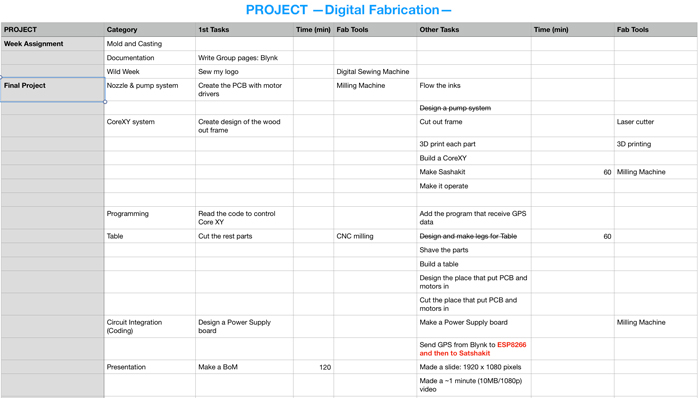 See image: jpg
what's working? what's not?¶
Worked
Got GPS data from my smartphone using Blynk app., Arduino UNO and my PC

Drove a DC pump motor and a stepper motor using Arduino UNO and the motor module in class kit
Not Worked
Operate motors with PCB that I made

Operate GPS data receiver module that I made

Operate CoreXY

Incorporate the function to receive GPS data and convert it to the coordinate data on CoreXY to the code
what questions need to be resolved?¶
How do I incorporate to operate CoreXY based on the GPS data into the code.
I don't understand even the structure of the code yet.

Where should I add the storage space of PCBs and Ink cartridge?
what will happen when?¶
June 13: 3D print the parts for CoreXY, Mill the motor module board x 2 (and if possible, also power supply module)

June 14: Cut the outframe of CoreXY by laser cutting

June 20: Cut the rest parts using CNC router and build a table

June 27 or 28: Mill the main board (Satsha-kit)

July 12: Check the whole operation( Receiving GSP data, Converting them to coordinate data on CoreXY, operate CoreXY based on the GPS data)

July 15: Complete the integration, and the presentation
what have you learned?¶
I learned a lot from Fab Academy2020; what material should I choose to make parts, what PCB does it needed to realize my final project. How to integrate them.
but most difficult thing for me is programming. I couldn't understand the code to control coreXY using two of stepper motor.
And I believe that learning the way of manage the large scale of project supports for me to proceed the lecture and making my final project though the whole weeks.