Group Assignment: Molding and casting
Review the safety data sheets for each of your molding and casting materials.

Make and compare test casts with each of them.
---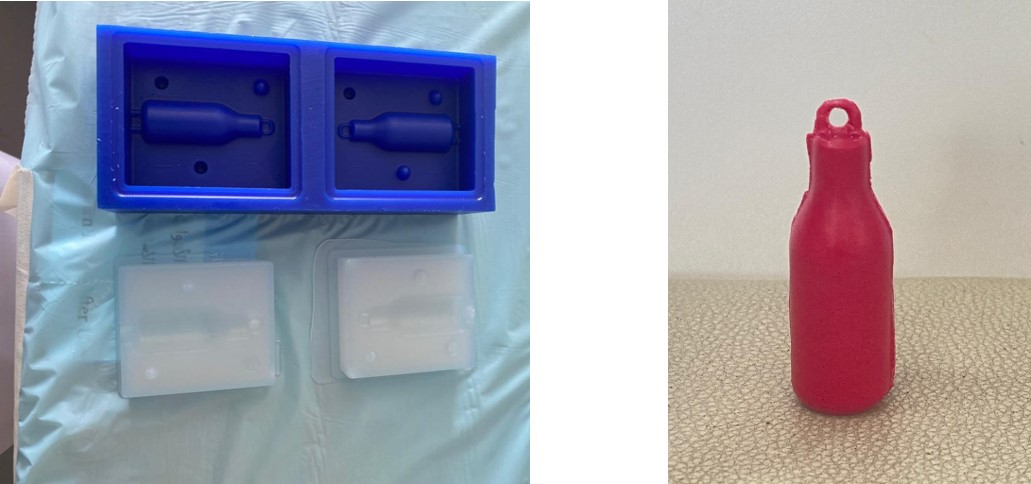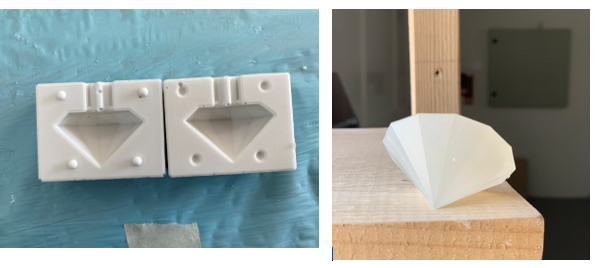 Safety:
Since all of us were sharing the same working table (large decent one for safety!), while working on different materials, we took the same safety precautions even if some of the martials were safer than others, to reduce the risk of accidental contamination.
We read the safety precautions in the datasheet and followed it to ensure everyone is safe while working and handling the material. We wore two sets of vinyl gloves on top of each other, tied any loose clothing with tape, wore plastic aprons, a set of goggles, and an industrial mask on top of our existing masks.
---
Molding:
The following table is comparison between the types of material used to create the molds in this assignment:
| | | | | | | |
| --- | --- | --- | --- | --- | --- | --- |
| Waleed | Key-chain | Dragon Skin 30 | 1:1 | Part A:18.8 g ,Part B: 18.8 g | 16, but left for 24 hours to dry | The mold was pure and perfect, showing all the tiny small details of the model. |
| Fatima | Dragon Ball | Mold Max™ 14NV | 10:1 | part A:162.6g, part B:16.26g | 4 but left for 24 hours to dry | The mold came out perfect, there were no bubbles. I used a lot of the material as my design is big. |
| Maha | Diamond | Mold Max™ 14NV | 10:1 | Part A: 218g ,Part B: 21.8g | 4 hours but left for 24 | The mold came out easily due to the step and the draft in wax. It also had no bubbles, and it showed all the details on the diamond. |
| Shaikha | Apple | Dragon Skin 30 | 1:1 | Part A:1 cup, Part B:1 cup | 16 hours | The process was straightforward, easy and fast but curing took so long, the result was very good |
| Ali | Drone Motor mount | Dragon Skin 30 | 1:1 | Part A : 87.5g, Part B :173.5g | 16 hours | The mold was perfect, and it was ready to use |
| Shamma | Diamond | Mold Max™ 14NV | 10:1 | Part A: 218.9g Part B: 19.5g | 4 hours but left for 24 | There were few bubbles because I didn't dry the mold well. But overall the result is very good |
Dragon Skin 30
| | | |
| --- | --- | --- |
| Used for variety of applications such as skin effects, medical prosthetics and variety of industrial applications | Curing time is 16 hours, Pot time is 45 minutes which won't be sufficient for larger projects | Safe to use on skin Safety Datasheet |
| Ratio: 1A:1B by volume or weight | limited shelf life and should be used as soon as possible. | |
| Bubbles formed but barely noticeable | Vacuum Degassing is recommended to eliminate bubbles, but we skipped this step | |
Mold Max 14NV
| | | |
| --- | --- | --- |
| Fast cure time (4 hours) | Has to be measured by weight not volume | requires a lot of safety measures as it is dangerous to touch the skin and to inhale. Safety datasheet |
| Doesn't require vacuum degassing | Not safe to touch skin | |
| Has low viscosity for easy mixing and pouring | Has limited shelf life | |
---
Casting:
| | | | | | |
| --- | --- | --- | --- | --- | --- |
| Waleed | TASK™ 4 | 1:1 | Part A: 1/4 cup ,Part B: 1/4 cup | I left it for 16 hour to dry | The casted part was not as I expected, There were a lot of bubbles spread around the model, also the writing was not visible. |
| Fatima | EpoxAcast™ 690 | 10A:3B | part A: 50g , part B15.6g | 24 hours, but I waited for 28 hours | I did the casting process twice. The second attempt was better, but the ball needs some sanding to have a smooth and crystal ball. Working time was too long for 5 hours, so I could not add the stars in the middle of the ball. |
| Maha | EpoxAcast™ 690 | 10:3 | - | 24 hours | The resin was still soft even after curing for over 24 hours. That might have happened due to several reasons, like the ratio of the color I added, the glitter or perhaps the size of the cylinders used to vent out air was too small to cure the epoxy properly. |
| Shaikha | EpoxAcast™690 | 10:3 | Part A: 51.2g, Part B: 15.4g | 24 hours at room temperature | I removed the cast after 4hrs,the part looked good, few bubbles were showing, and the Part where the injection tube was attached to was a bit deformed but it can be solved by sanding |
| Ali | Task 4 Resin | 1:1 | Part A 15ml, Part B 15ml | 16 hours | The part is little heavy but is nice and very strong for a part of drone |
| Shamma | EpoxAcast™ 690 | 10:3 | - | 24 hours | The result was perfect. It worked from the first time. But I had to sand the diamond a little bit to remove the extra material on the top. |
TASK™ 4
| | | |
| --- | --- | --- |
| Easy to use, and it has long life | The cast came out with a lot of bubbles | Safety Datasheet |
| | Materials should be stored and used in a warm environment | |
| | must use an accurate scale for mixing ratio | |
EpoxAcast™ 690
| | | |
| --- | --- | --- |
| Nice finishing | Curing Time 24 hours, Pot time is 5 hours which won't be practical if we need to add colors or other items to the cast since we have to wait until we start the next step | requires a lot of safety measures as it is dangerous to touch the skin and to inhale. Safety datasheet |
| Rigid if done properly | Ratio 100:30 by weight which means that we need to be careful while taking the measurements | |
| Pure and crystal look | Result is full of bubbles if heat/vacuum is not used | |