10. Moulding and casting¶
Abstract¶
This week is moulding and casting week. The individual assignment is to design a casting mould and fabricate it using the milling machine using wax material. Cast the selected mould material for the fabrication of mould and cast plastic or metal on it to make a complete structure designed. The group assignment, using the existing mould material designed and fabricated by previous year Fab students, cast different casting materials to see the difference and casting cycle to optimize compositional variation, preparation time, curing time, safety features, etc. We decided to start group work first to know about the material workflow and getting experience with the various chemical before trying with individual assignment. This week we decided to do our group assignment on Monday. So that weekend starts documentation of materials available in Oulu Fab lab.
Group Assignment¶
Materials¶
OOMOO
Smooth-Sil 940
Smooth-Cast® 300
Cement
Plaster
VytaFlex™ 20
Review all the safety data sheets for each of your moulding and casting materials, then make and compare test casts with each of them. Cast different mould using existing material in our lab using different mould materials and casting resins. So that we prepare a chart of materials and its preparation conditions and its end users and applications. The detailed list of materials for mould fabrications are shown below,
See the table below which contains mould materials, weight or volume ration, mixing or preparation time, curing time and applications.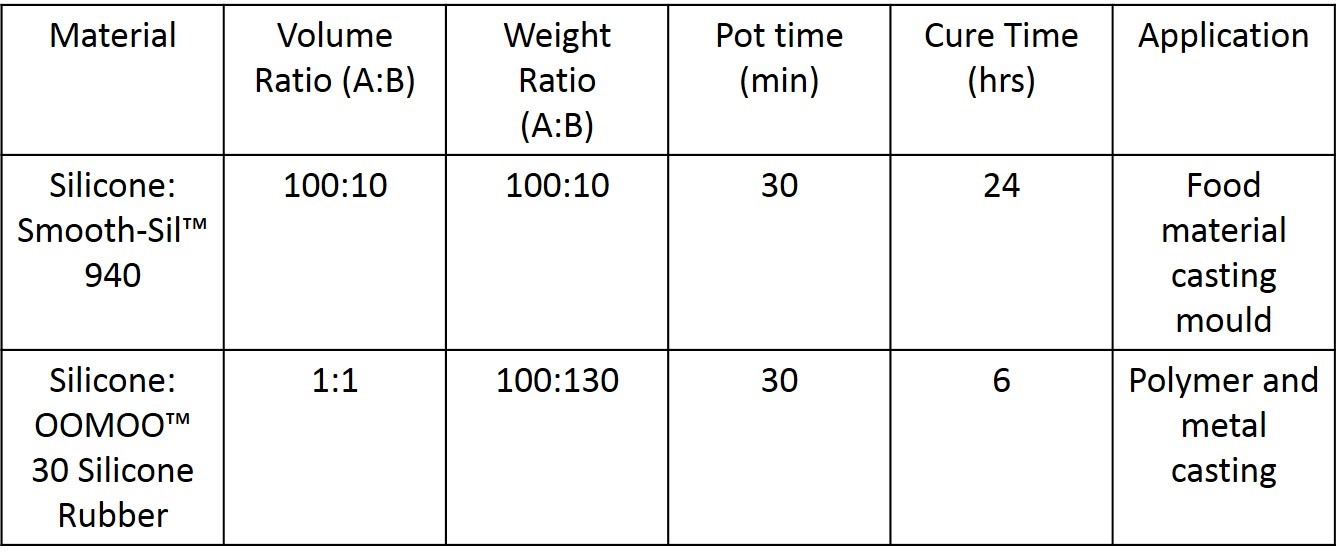 The table below presents the cast materials and its process time and applications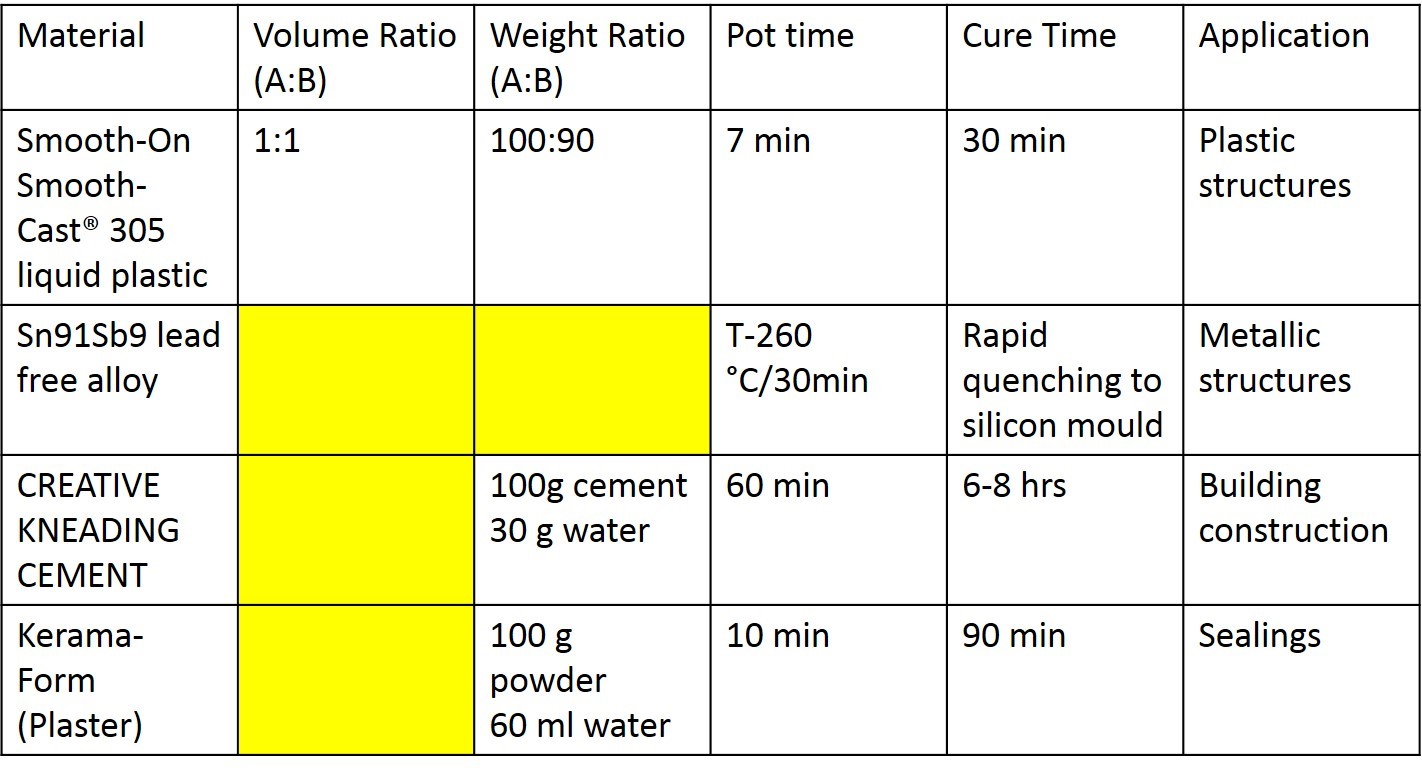 The materials and its processing conditions are described in the above tables. The methods and equipment described for the mould, and cast material processing are nitril glows for chemical handling, weighing machine for accurately weigh the raw materials for the preparations. Vacuum desiccator for de-airing the mixed slurry to avoid bubbles during or after curing. Wooden sticks for mixing the slurry, plastic cups used as mixing container, Syringes used to fill the cast materials. All instruments are shown in the below figure,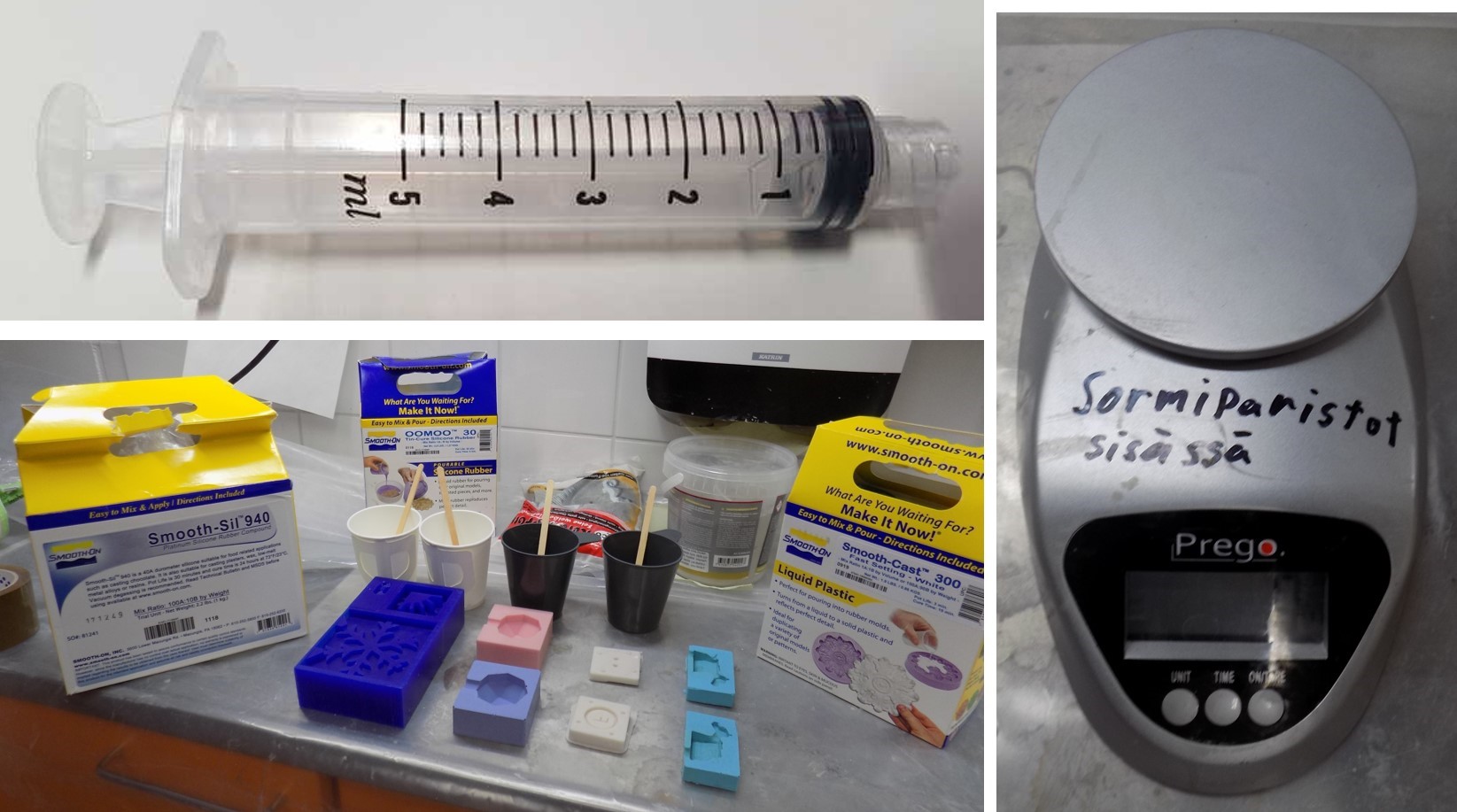 We are planned to make materials for mould Silicone: Smooth-Sil™ 940 and Silicone: OOMOO™ 30 Silicone Rubber first using an existing model designed and fabricated by last year Fablab students. All materials preparations conditions are explained in the above tables. For mould casting, we used vacuum desiccator for de-air the slurry after thorough mixing of A and B. See figure below materials and mould used for the group work.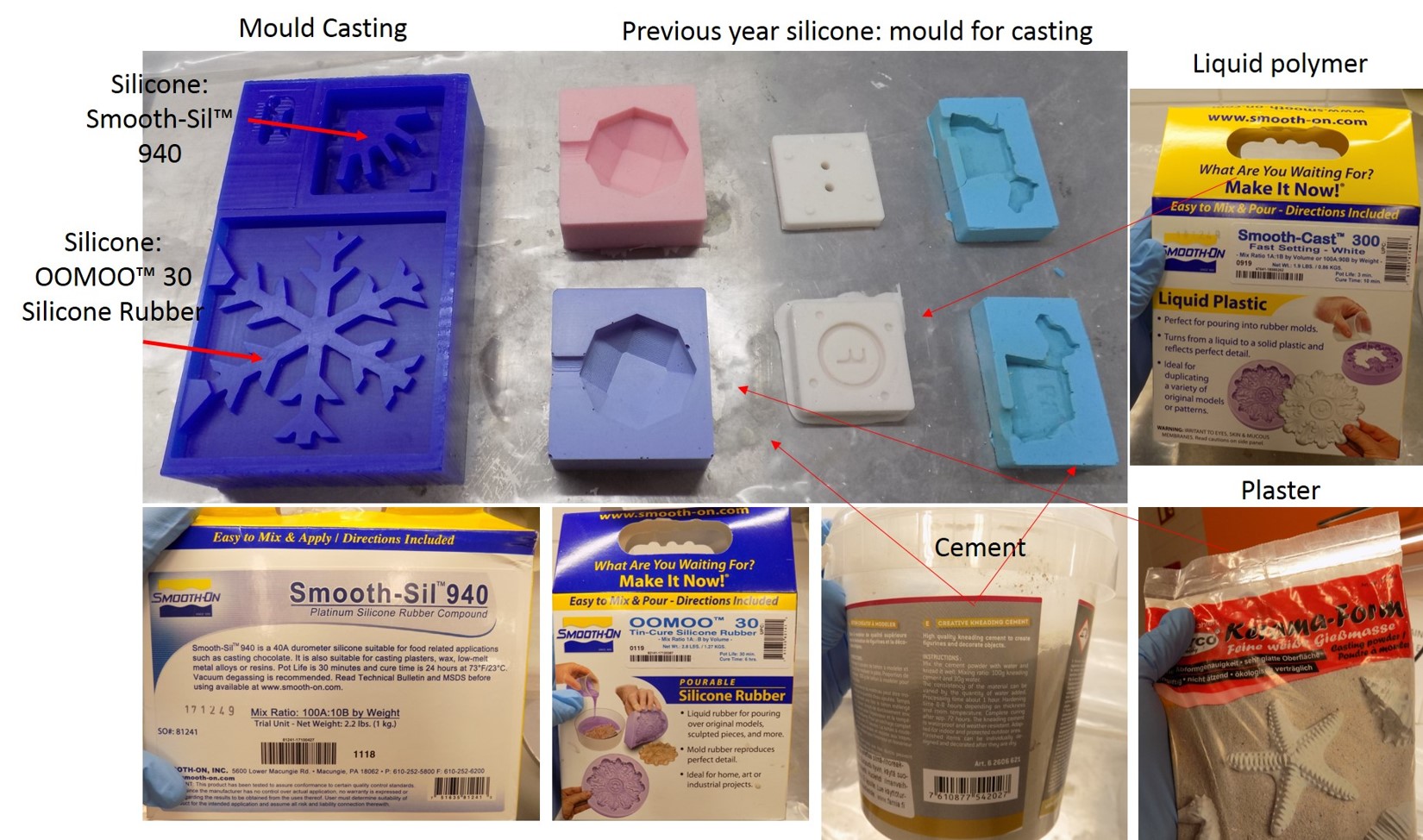 All the raw materials contain two parts except cement and plaster. See the weight ratio and pot time and curing time of the above tables. Based on our wax fabrication, we calculate approximately total weight around 70 g for silicon: Sill 940 and for OOMOO30 approximately total 100 g used for casting. Both materials have pot time 30 minute but curing time is Still 940 has 24 hr, and OOMOO 30 has 6 hr. See the process steps before and after casting to the wax mould.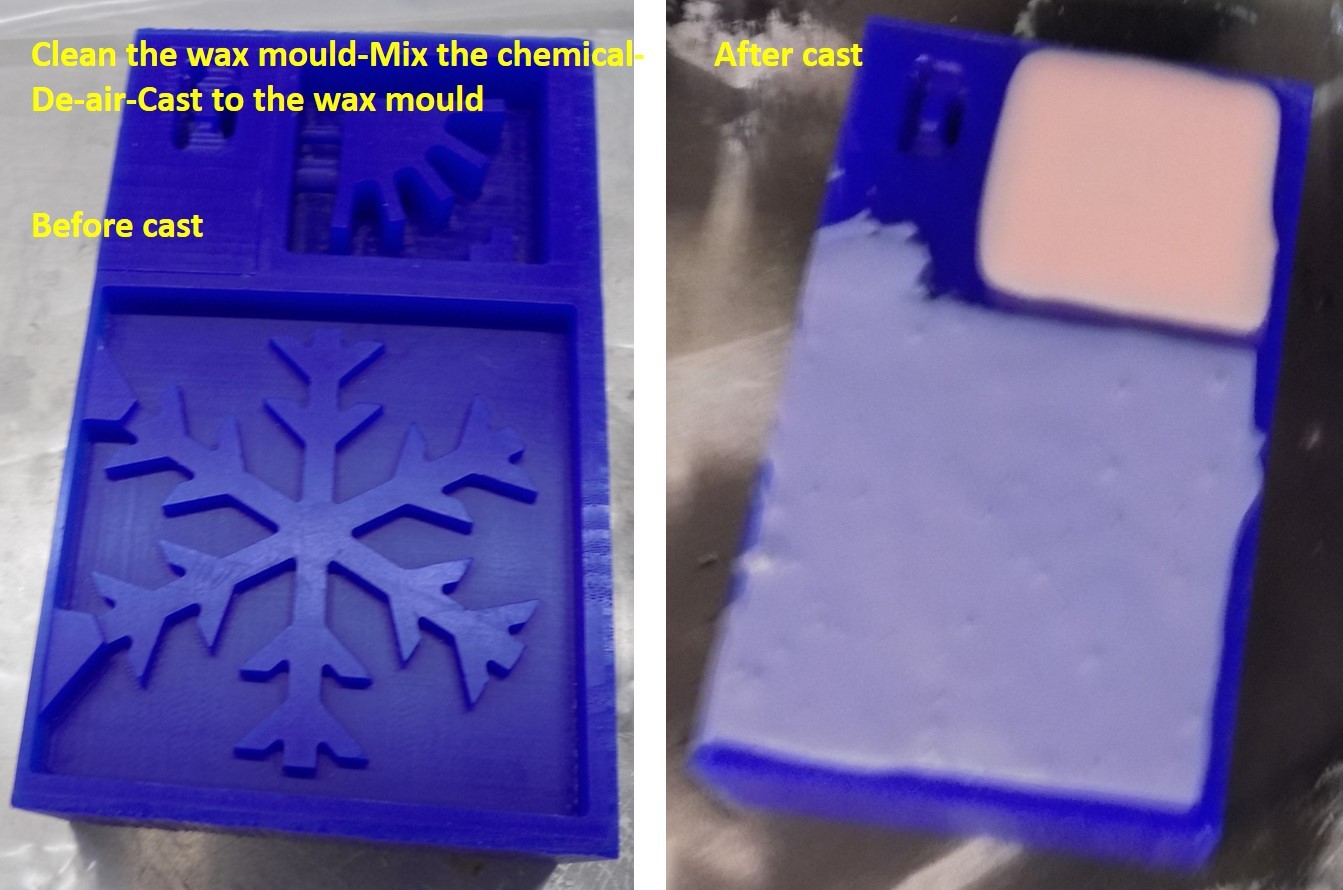 In the same time, other members start to take the weight of cement and water, Plaster and water, liquid polymer (A & B) Smooth-Cast 300 for mixing and casting to the previous year's rubber mould. Similarly, the exact weight of composition you can find in the table explained at the beginning of documentation. In the case of plaster, we did de-airing to reduce the air bubbles. All other cast materials used are free from air bubbles. We kept all the cast for overnight curing; all material will cure if we take the next day. One cement cast was broken due to the broken mould used for the cast. All the remaining cast was successful. All the other cast was perfect. See the figure below,
Figures of cement, plaster and polymer cast before and after curing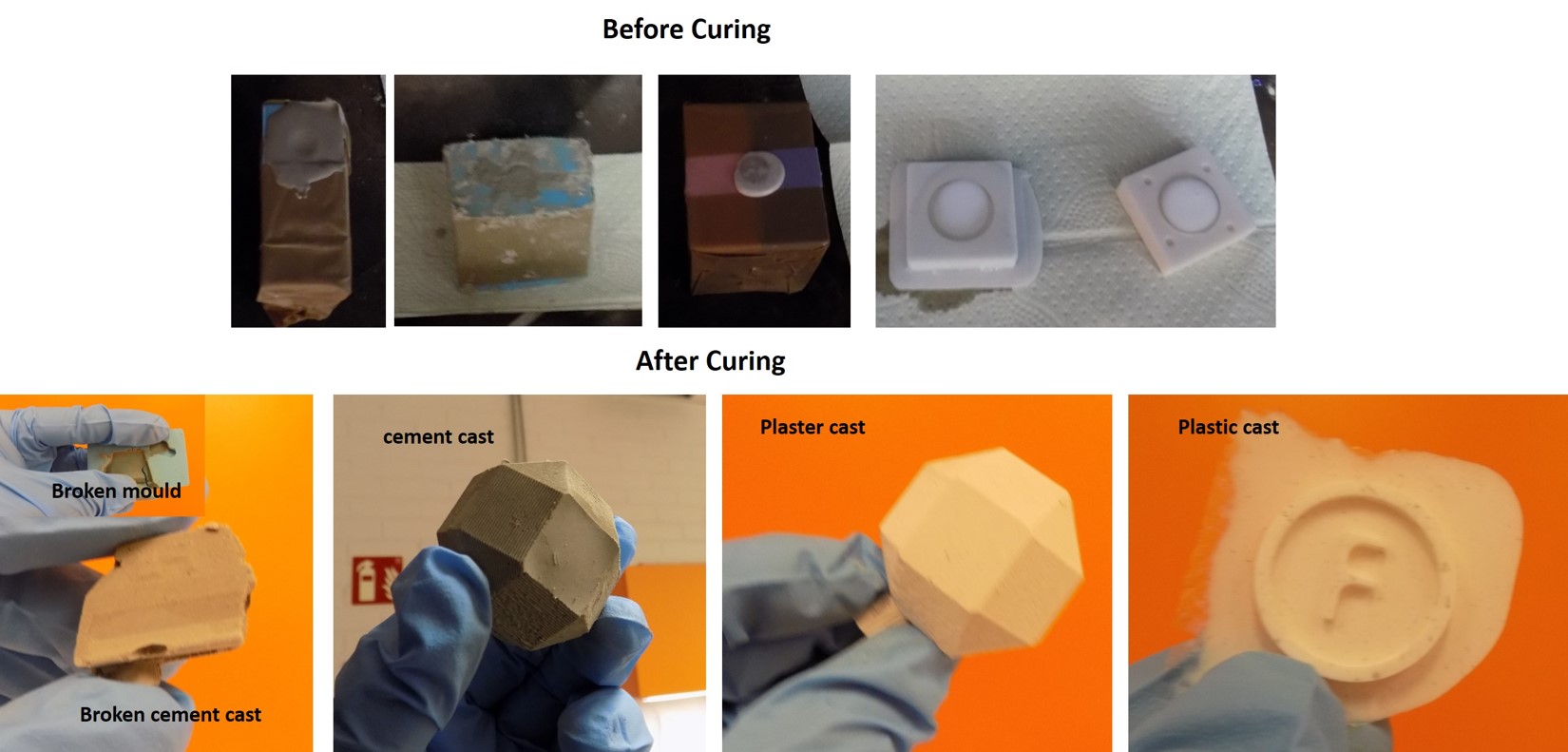 Figures of Rubber cast mould after curing,

OOMOO 30 rubber mould is not suitable for sharp edges design we observed some defects in the mould. OOMOO 30 slurry was very difficult to de-air fully with our limited setup. Silicon still 940 is good casting materials, the limitation is, 24 hr curing time. Another cast material tested such as liquid plastic is a clear suspension, dust particle will lose the finishing. To properly clean the mould before cast. Cement and plaster-work well with rubber mould. I decided to choose, OOMOO 30 mould for my individual work, if I have enough time I will use Silicone: still 940 as well. For cast material, I am planning to choose, liquid plastic, and it takes less time to cure.
Individual Assignment¶
Design a 3D mould around the stock and tooling that you'll be using, mill it, and use it to cast parts. Design considerations are the length of the milling tool and the type of milling bit based on the design. I am started to make a simple 3-dimensional mould design using Fusion 360. the I planned to make a simple cylindrical key chain or chain locket with my favourite letter D, D for DANN. First, I concentrated on drawing a circle with diameter 30 mm followed by extruded to 5 mm. Then, I draw capital letter D using line command and 3 point arc from the Sketch. menu. After, I extruded the letter D by selected the outer area with a thickness of 3 mm. Followed by cylinder keyhole make with 5 mm. Then, I place the letter on top of the cylinder that I am already created. See the figure below,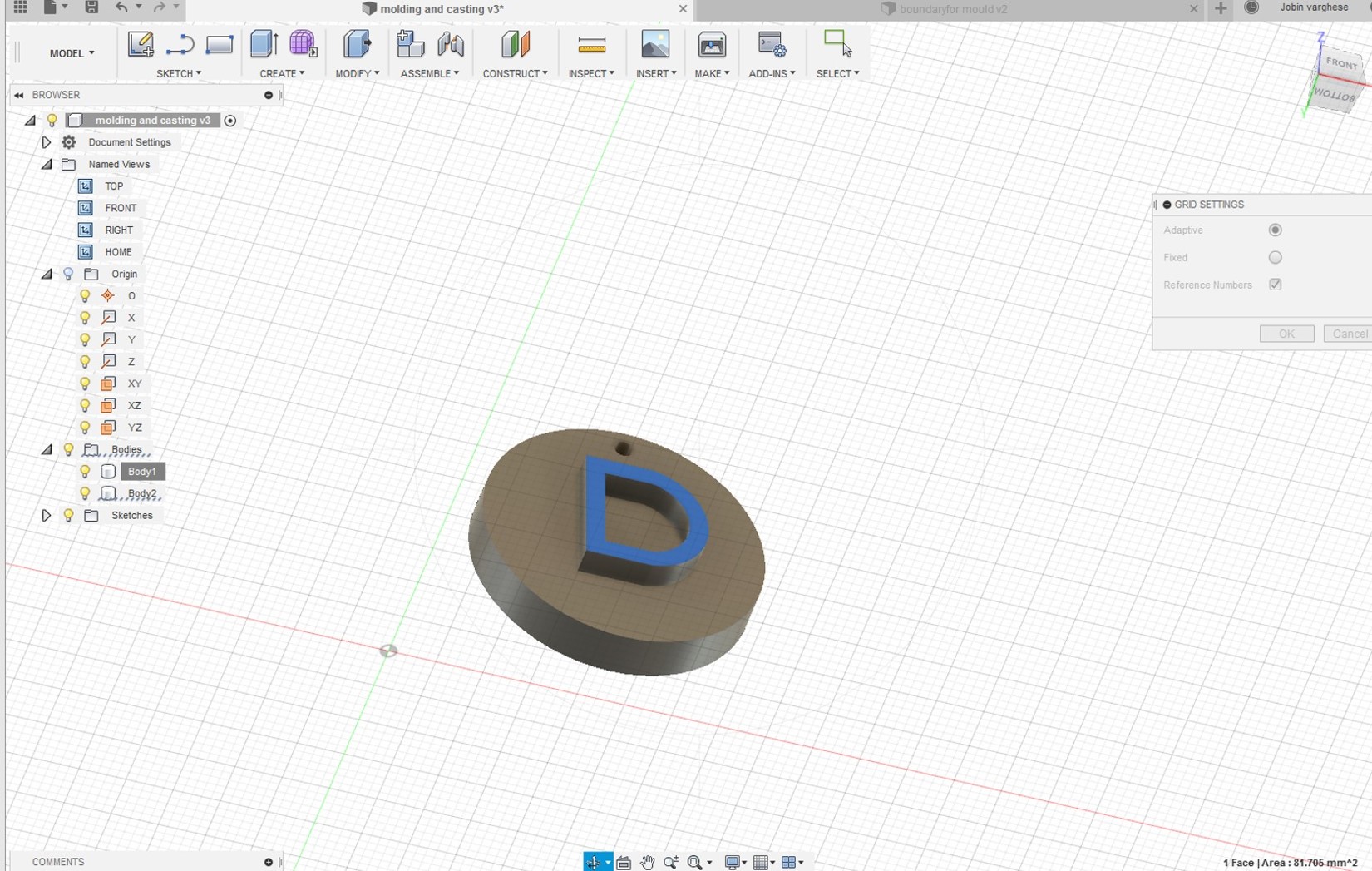 Then, I planned to make 50 x 50 mm boundary in a new drawing and extruded with 25 mm. Followed by making a shell with 5 mm. Then, I extrude one plane to 8 mm inside the shell created for fitting the locket and Letter inside the boundary created. Then, I dragged locket from the left side window to the boundary and carefully placed inside the boundary created by adjusting the x, y, and z-direction. See the final locket mould with Letter D.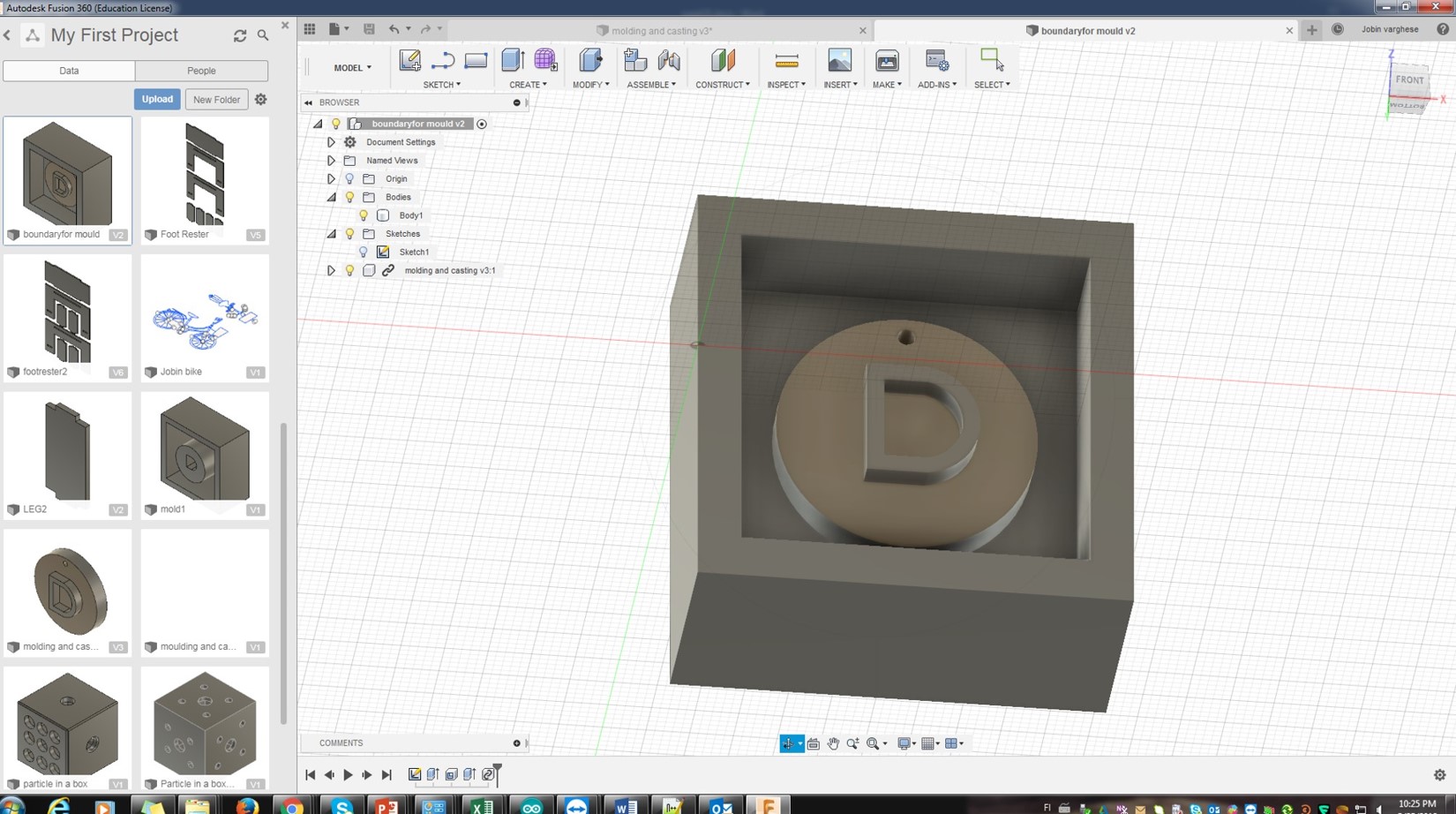 Finally, I need to convert my design file to STL file which supports Roland SRM-20 Desktop Milling Machine for milling the wax mould.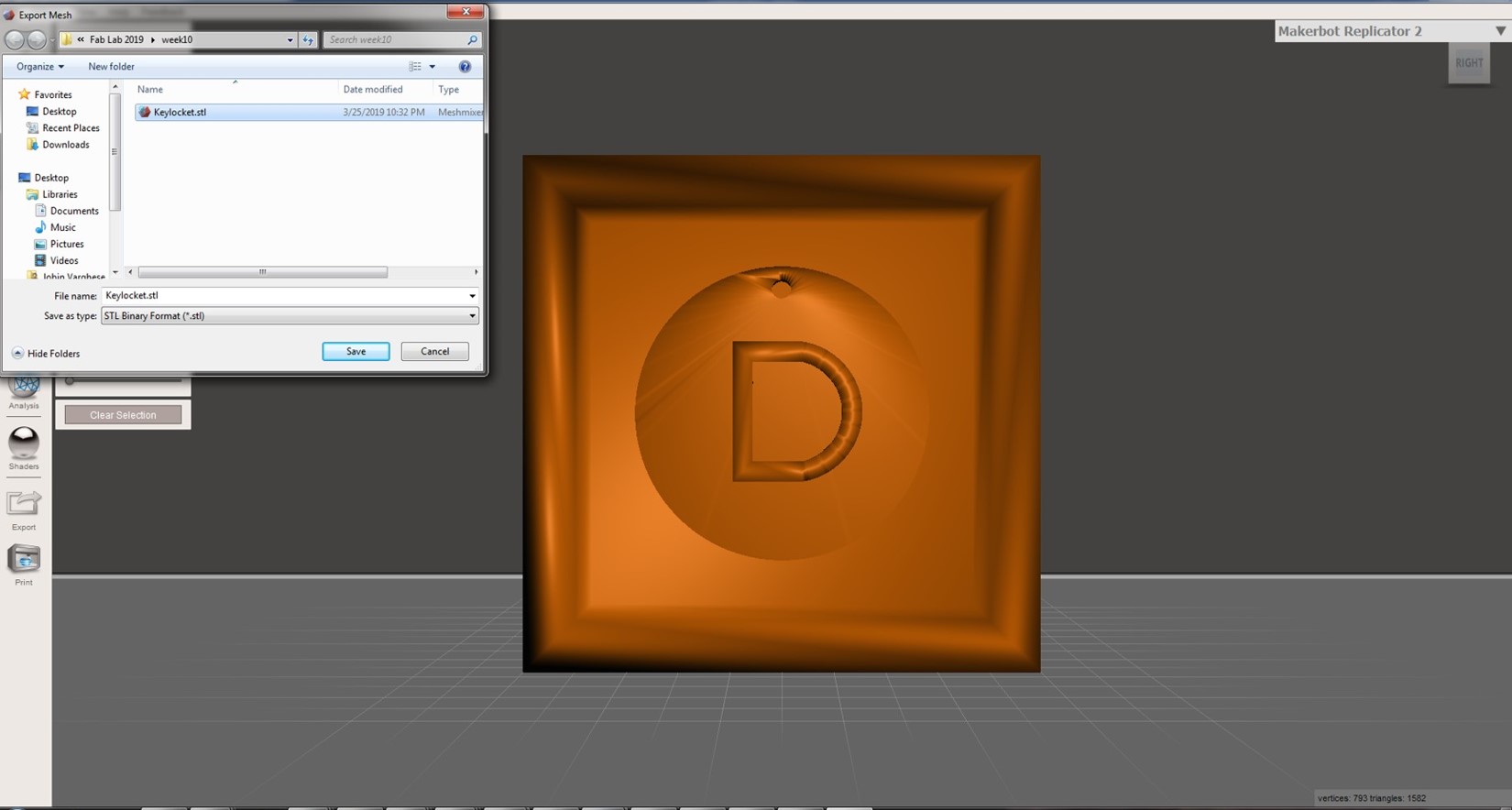 I used 3.18 mm flat milling bit for doing both roughing and finishing. Generate the tool path in MODELA Player 4. Generate the toolpath for roughening and finishing. I started to generate roughening parameters for the design as shown in the figure. Set_Medel (size and Orientations; Origin), I have selected bottom right surface for orientation and front left top corner selected for origin. Roughnening parameters are XY Speed: 30 mm/sec, Z Speed: 10 mm/sec, Spindle: 7000 rpm, Cutting-in Amount: 1 mm, Path Interval: 1.5 mm, Finish Margin: 0,2 mm. similarly finishing paramters used are XY Speed: 19,49 mm/sec, Z Speed: 19,49 mm/sec, Spindle: 7000 rpm, Cutting-in Amount: 0,2 mm, Path Interval: 0,2 mm, Finish Margin: 0 mm

Steps for generating a tool path for roughening
Type of process // Roughing

Select the cutting surface // default setting 'Top (+Z)

Tool // Flat 3.18 mm

Cutting area and depth 

Type of toolpath to generate 

Cutting Parameters 

Z Speed 

Cutting-in Amount 

Path Interval 

Finish Margin 

Simulation using Virtual MODELA (maximum time for roughening time is 33 minute)

See the below figures of steps specified above,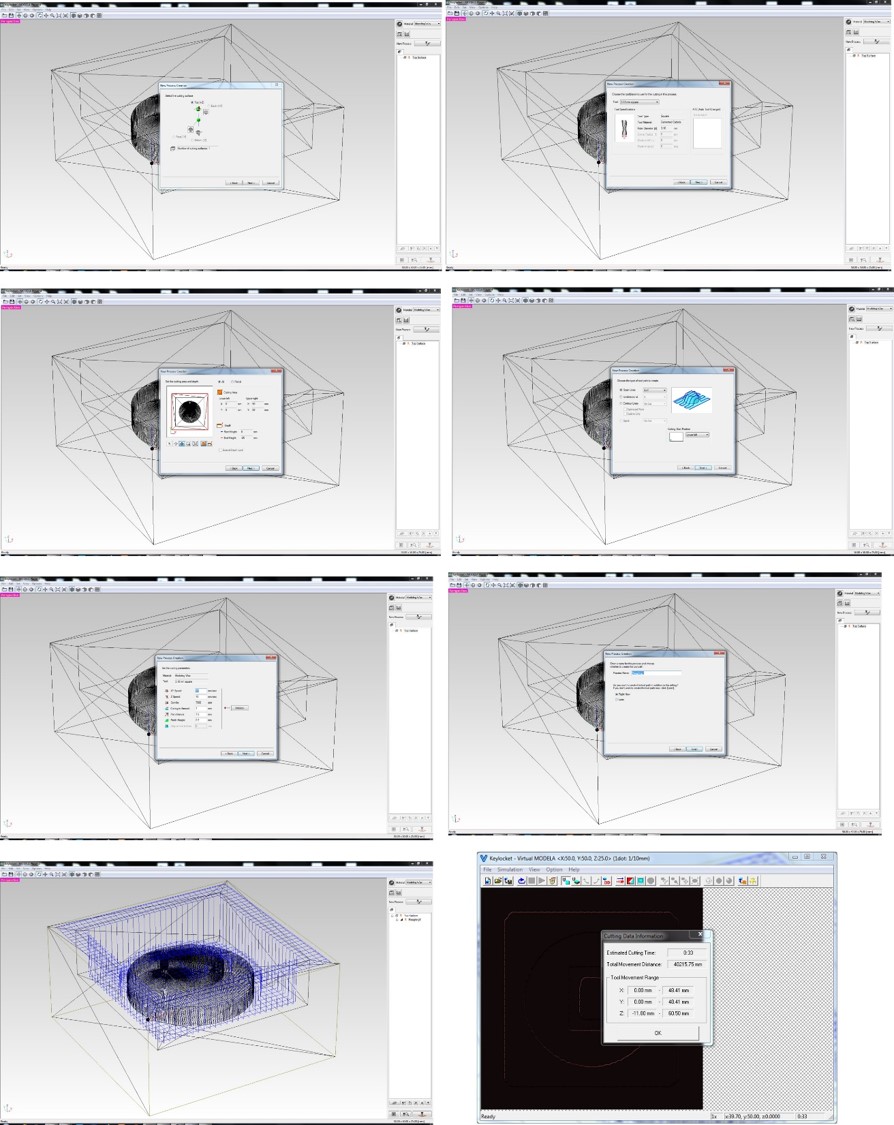 Similarly, generate a tool path for finishing in the MODELA Player-4. Both cases only thing to remind is select the milling tool bit which used as 3.18 mm and materials used is WAX. All the steps specified above is done and finally simulated, the finishing time is 50 minute. See the screenshot of the generated tool path for roughening and finishing. Save the file as mpj format for Roland SRM-20.
Next step is to attach the wax board on wooden base of Roland mill; In order to get better adhesion, We are recommended to use paper tape both on wax and wood, followed by use silicone melted glue for fixing the wax on a wood base. Tool bit 3.18 is connected. V panel window used to define XY and Z origin setting. Finally, start roughening on MODELA Player-4, in between pause for clean the wax and continue the milling. After roughening, final finishing mill started and finished. I clean the final wax mould. See all steps and final wax mould of my design in the below figure,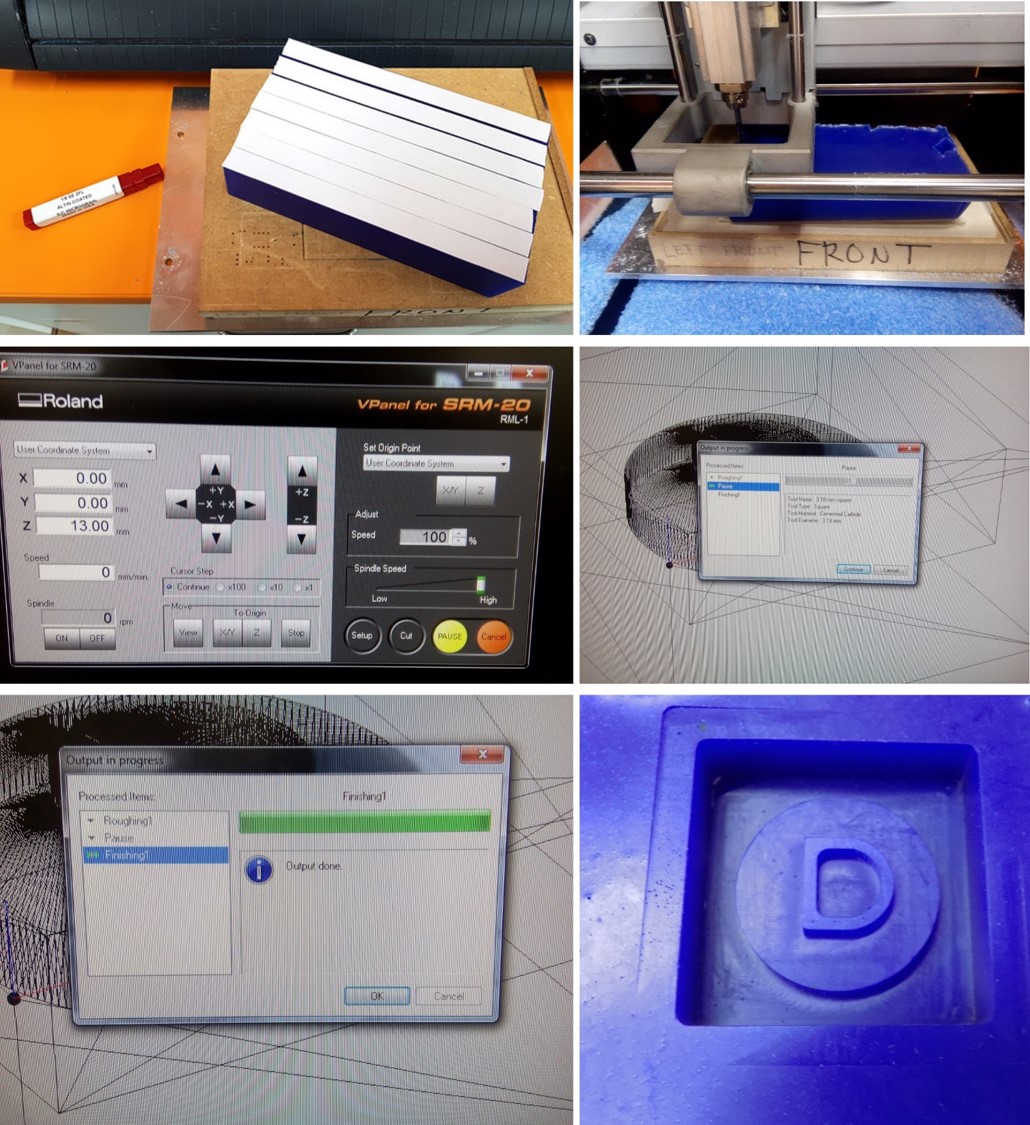 I noticed one problem in my design, and I have created a keyhole in my design with 3 mm. Due to the 3.18 milling bit, it doesn't create a tool path for the keyhole; then I decided to mill without a keyhole. Milling is done successfully. Now the wax mould is ready for OOMOO 30 casting. Below, a figure presents the detailed material preparation and casting of OOMOO 30 mould using my design. All materials process parameters are already discussed in group work. I am a materials researcher for the last 10 years. I am just learning the designs for various models first time. Due to the short time of assignment and my commitment towards other research activity during the Fablab courses, I have used my design is a 3 axis milling. However, I know the importance of 2.5 axis design, which reduces the post molding difficulties. In my present documentation, I am used commercial mould releaser spray Ease Release 200 to the mold before filling the slurry of silicon. The mould releaser help to delaminate the silicon from the mould after curing time.
A- Raw materials
B- Weighing
C- Mixing
D- De-airing
E- Mould Casting
F- Curing
G- Material Casting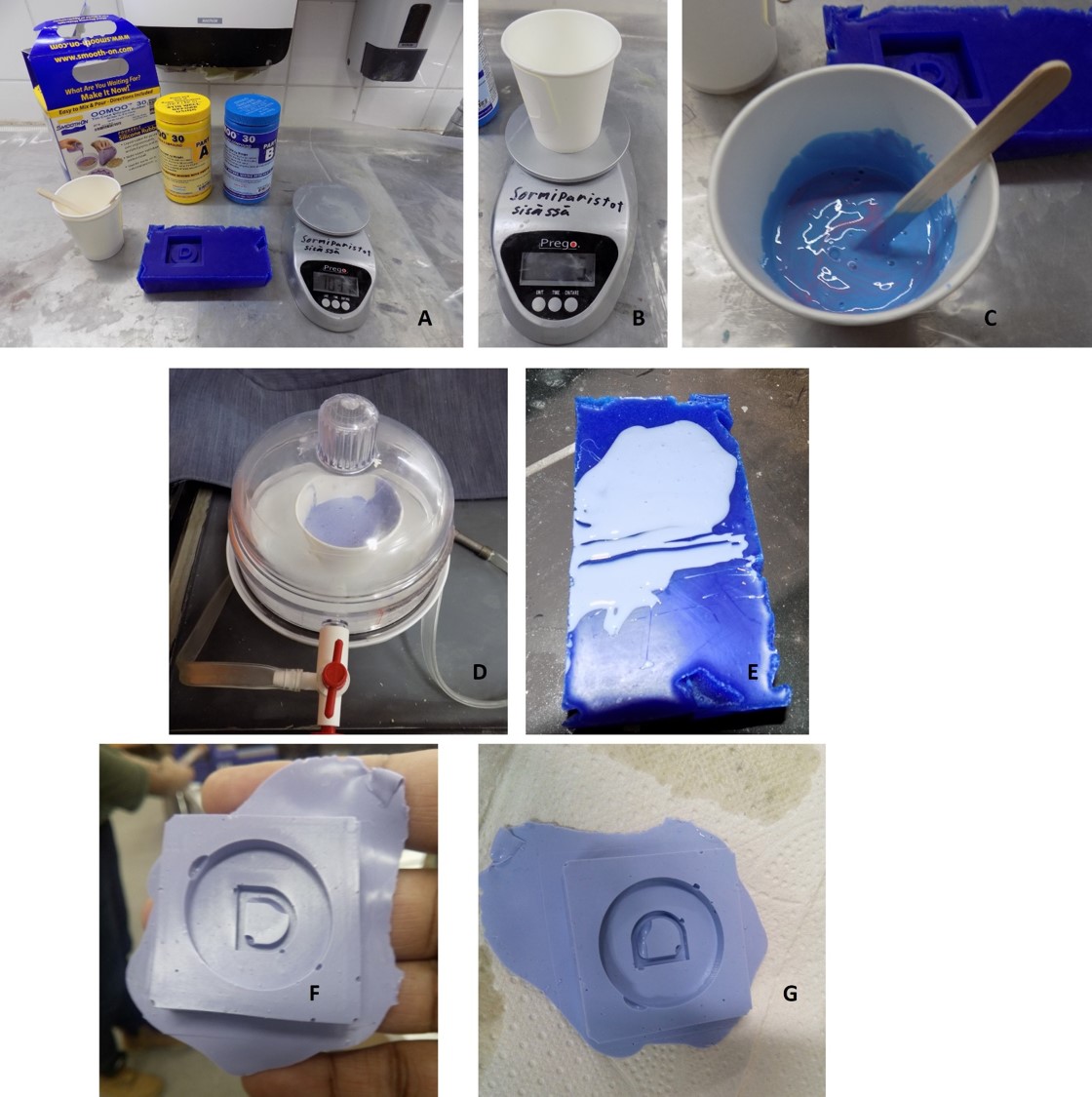 It is clear that the trapped air in the OOMOO 30 mould, I decided to use Silicon smooth sill 940 used for my mould to get good cast mould. Cast material, I used is clear epoxy and hardener with weight ratio 25:5, pot time is 30 minute and curing time is 8 hrs. When the good mould ready, I have the plan to use metal casting, liquid polymer casting and food material casting using my designed mould. My clear epoxy mould is not good because of the air bubble in the OOMOO 30 mould. See the figure below, I decided to make a new mould with Vytaflex 20 which is from my lab. Preparations are same as that of other rubber explained. See the casted mould after curing 16 hrs. Which is ready for the next polymer cast.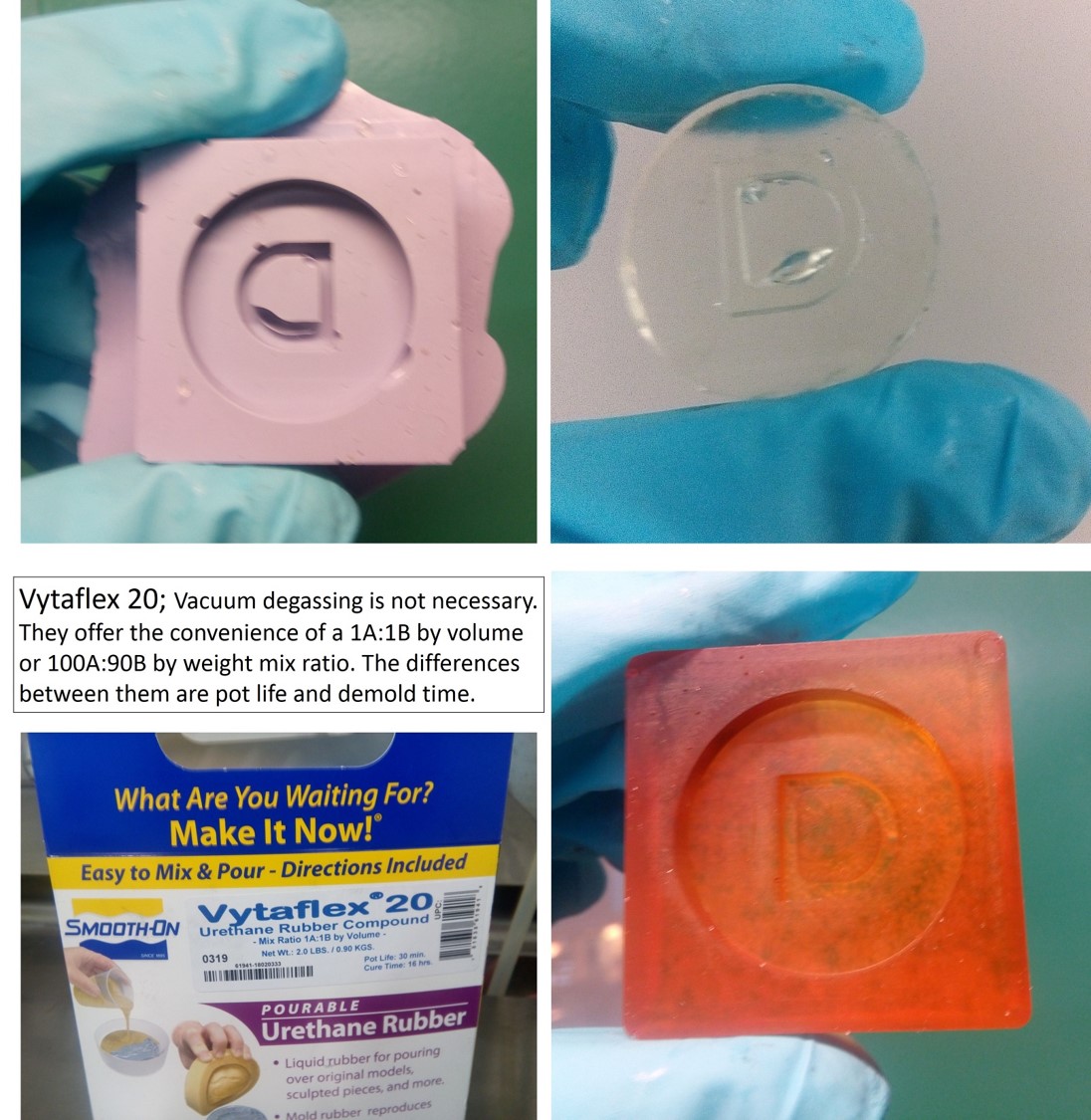 The improvement of end results can be made by using sophisticated mixing in glovebox and casting, which reduce the air bubble issues some extent to produce bubble free casting. Also, toothpick along with all the nooks and corners and all the surfaces would have been wetted with silicone, and there would have been no bubbles at all
Additional Information¶
why your design is a 3 Axis Milling and not 2.5¶
I have found a mistake, in my current design that is an example of 2.5 axis milling. It has only 3 separate levels of milling. In order to understand 3 axis milling more clearly I have made a designed (Fusion 360) and fabricate (Roland SRM20) a curved sphere which has 2.5 axis milling during roughing stages while it mill 3 axis during finishing stages.
I am sharing the design screenshot of a simple semi sphere mould with diameter of 20 mm and 40x 46 mm box enclosed.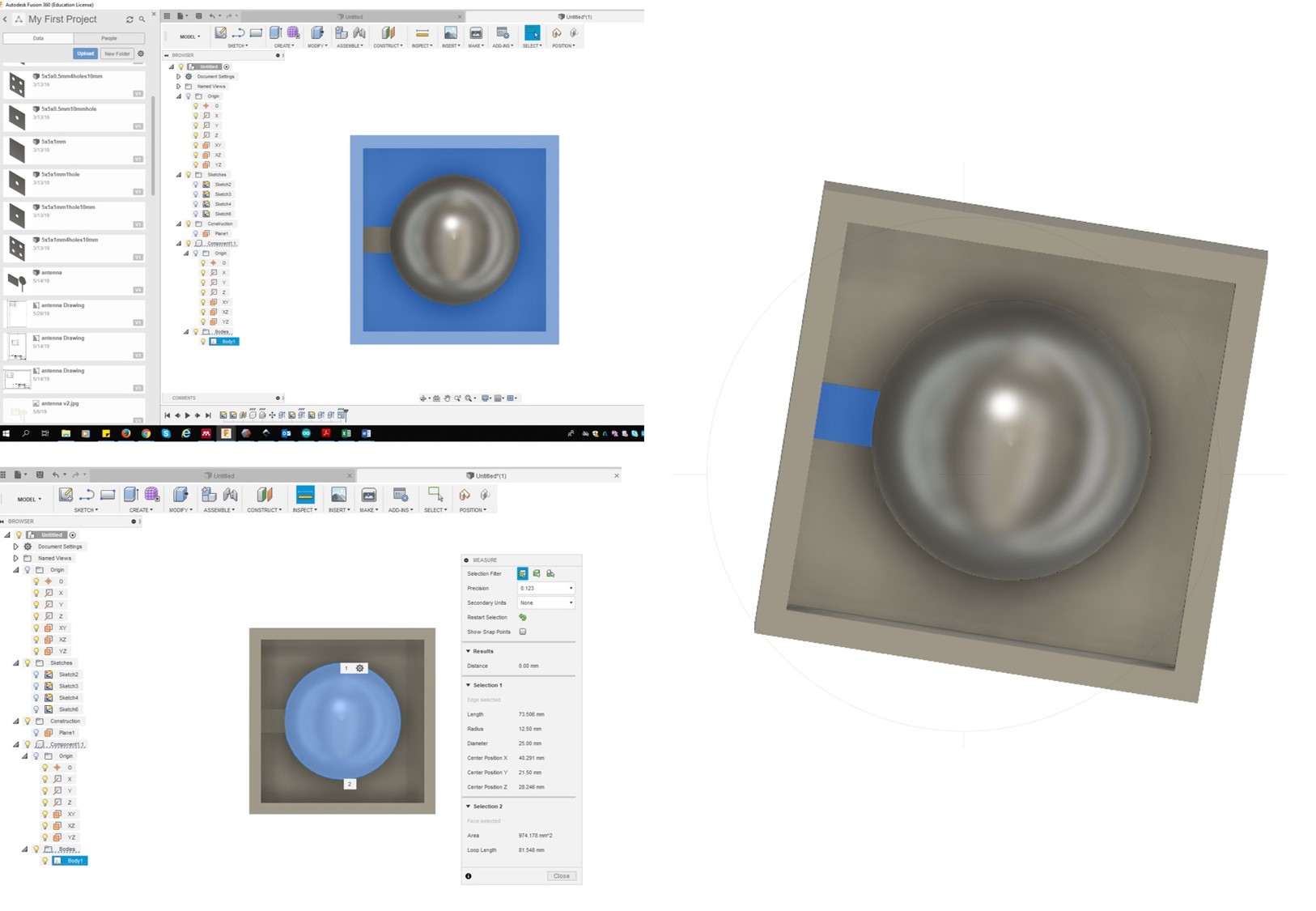 I have used 3.18 milling bit for both roughening and finishing process of mill. I have follow the above documentation for roughening and finishing using MODELA Player 4. See the design in MODELA Paler 4, before and after roughening and finishing tool path assigning.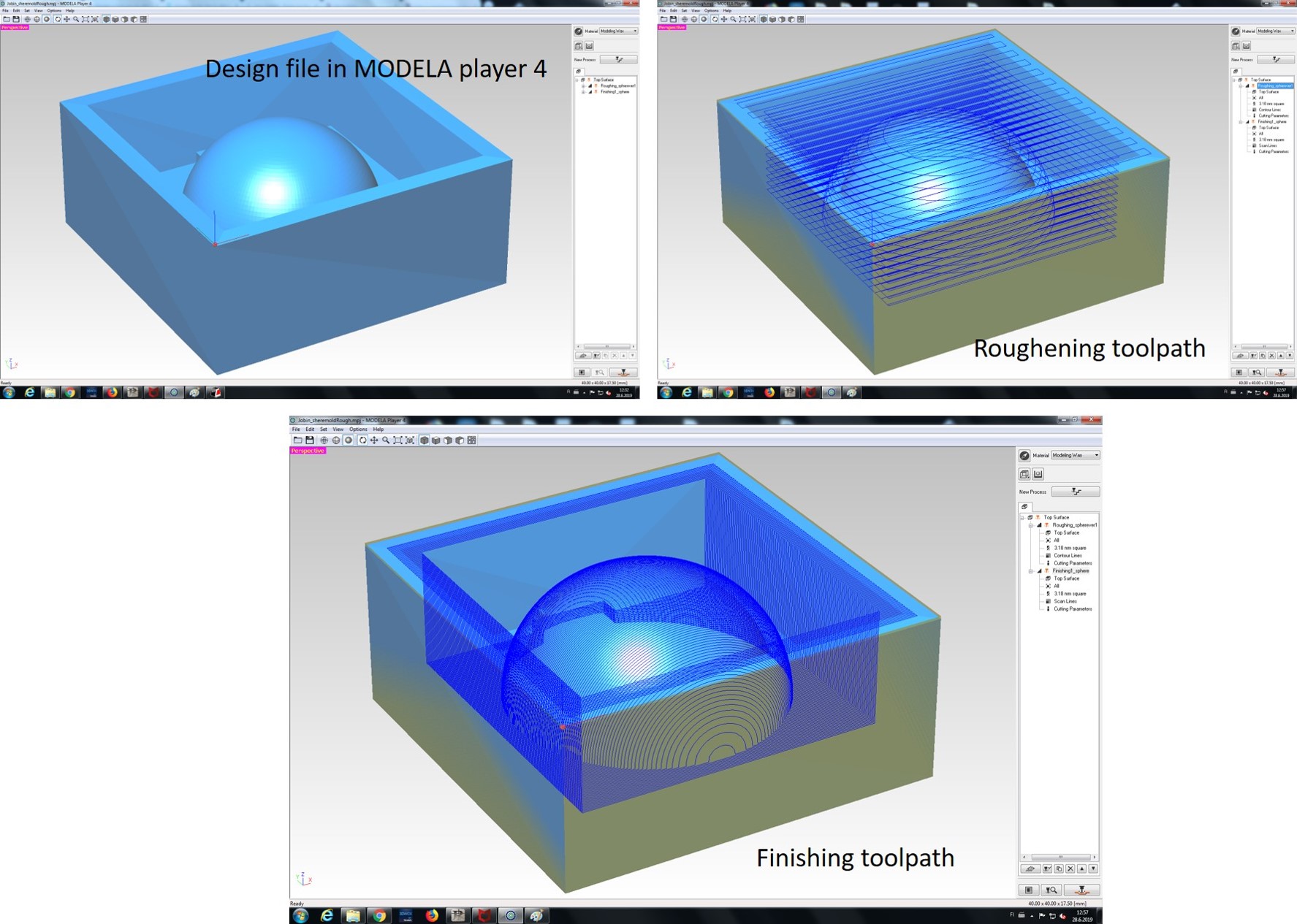 Followed by set the origin and start roughing first, See the image after roughening using Roland SRM20 mill.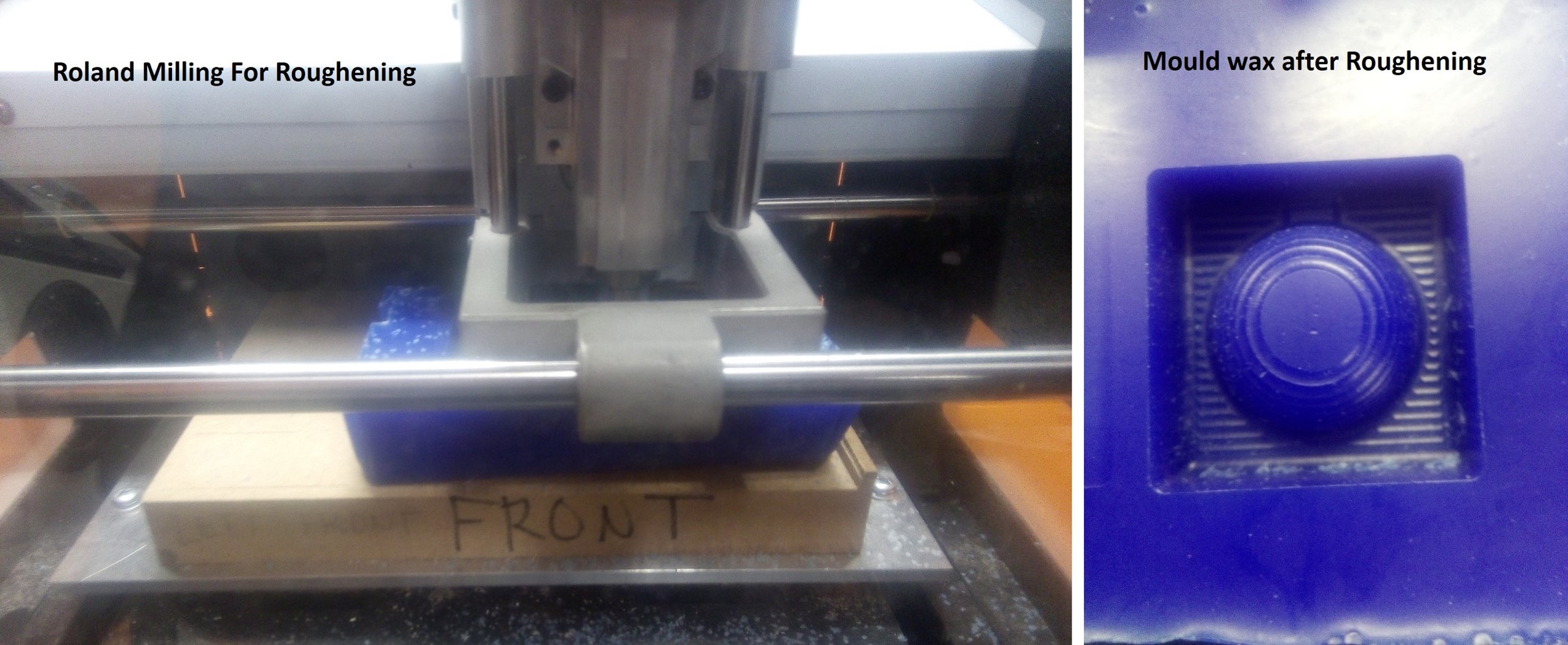 After completing the roughening, I clean the mold residue and follow the finishing task, see the image of semi sphere mold after finishing step. It is an example of 3 axis milling.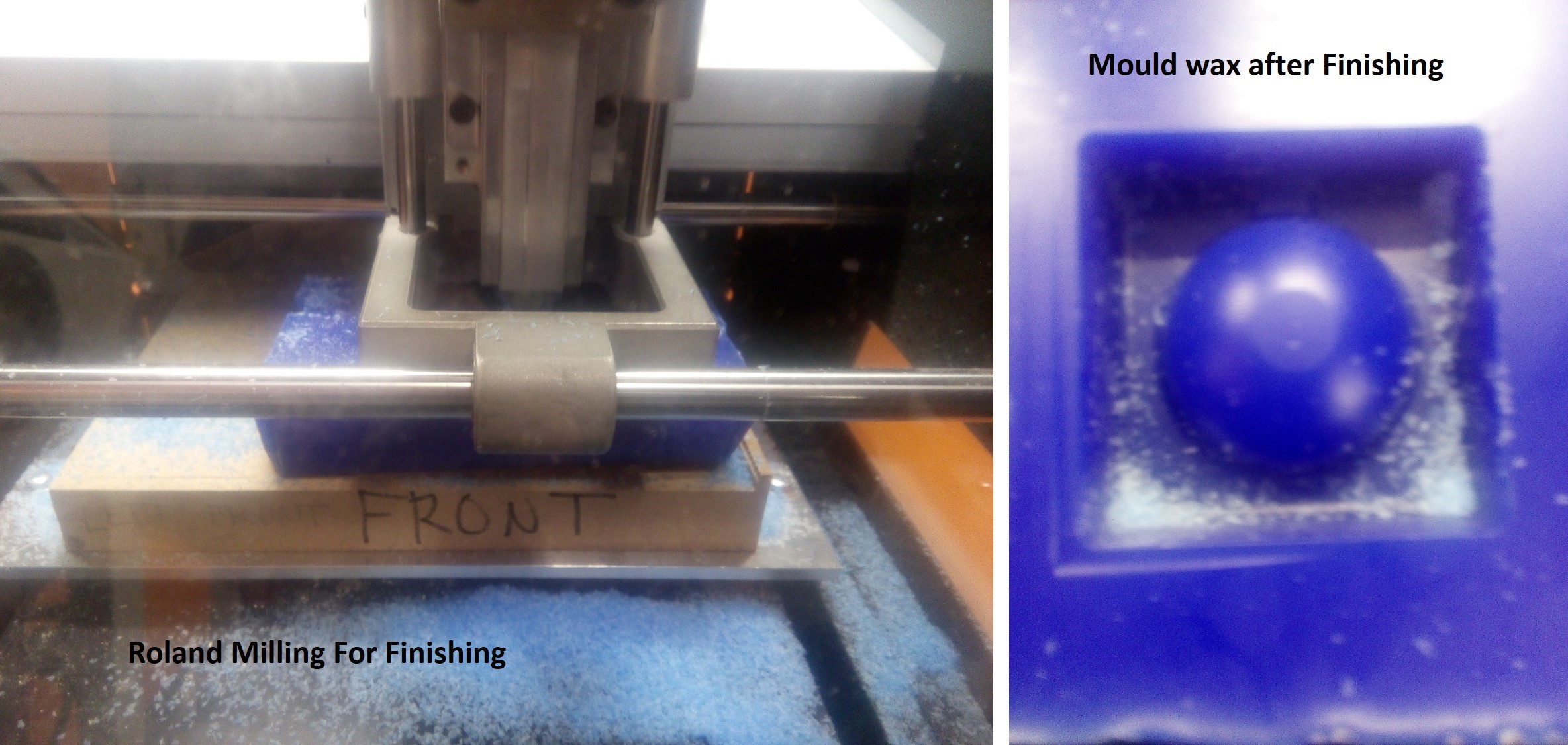 This is an example for 3 axis milling. Molding and casting steps are similar which already discussed earlier.
Summary¶
This week, I learned about various casting materials, mould making, designing, tool path generation and milling. I go through all the datasheets of chemicals to know about its usage and toxicity. Have noticed that my design part is poor and I need to concentrate more on design to create a good electronic packaging for my final project. Silicon rubber based packages are good for electronics, but its low thermal conductivity eventually degrades the electronic circuit. I am looking for high thermal conducting flexible packages for my energy generator project. It can easily be attached to the bicycle project.
Design Files¶
References¶
Roland SRM-20 Desktop Milling Machine
Silicone: OOMOO™ 30 Silicone Rubber