6. 3D Scanning and printing¶
Group assignment
Test the design rules for your printer(s)

3D printer¶
| Ultimaker 2 extended+ | Value |
| --- | --- |
| Dimensions | 342mm x 493mm x 688mm |
| Print volume | 223mm x 223mm x 305mm |
| Layer Resolution 0.4 nozzle | 200 to 20 micron |
| Print technology | Fused filament fabrication (FFF) |
| Build speed | 0.4 nozzle: up to 16 mm³/s |
| Nozzle temperature | 180 °C to 260 °C |
| Weight | 12.3 kg |
| Filament diameter | 2.85 mm |
| Supported materials | PLA, ABS, CPE, CPE+, PC, Nylon, TPU 95A, and PP |
| Supported file types | STL, OBJ, X3D, 3MF, BMP, GIF, JPG, PNG |
| Software | Ultimaker Cura |
| File transfer | Standalone 3D printing from SD card (included) |
First test¶
To characterize our printer we re-used the test part of our instructor. The file can be accessed here.
This part has:
Walls of different thicknesses (from 0,5 mm to 4 mm)
Round holes with different diameters (from 1 mm to 3 mm)
Holes separated by different length spaces (0,1 mm to 2 mm).
Inclined and overhanging parts to test possible angles.
Pointy structure to test material bonding and resolution.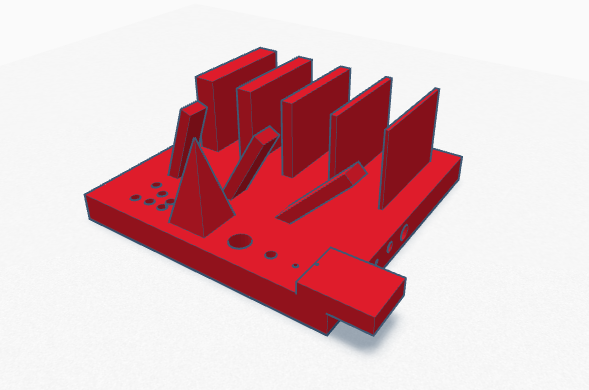 Printing the object
To get the printer ready, insert the material and check if the plate is flat thanks to the callibration process.
Once this is done, copy the gcode file on the SD card and launch the print. The printing and the result are shown on the picture below.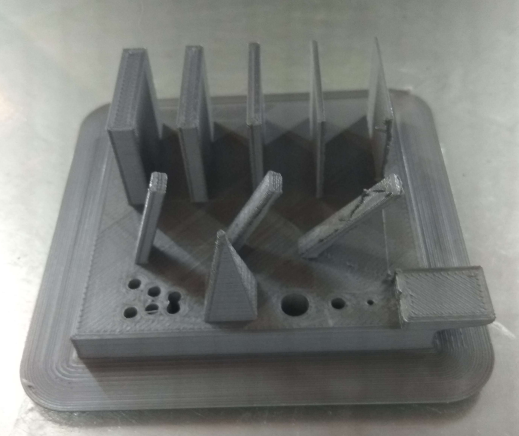 The object is very well finished every details have been printed. The only defect is on the overhanging structure which shows some not straight filament.