8. Computer controlled machining#
group assignment: test runout, alignment, speeds, feeds, and toolpaths for your machine
CNC and material#
We did the group assignment using SHOPBOT of TechShop Tokyo.
CNC machine#
Model Name: SHOPBOT Full-Size 10151
Cutting Platform Size: X 1300mm / Y 1200mm / Z 150mm (Z depends on the length of end mill)
Material Capability: Plywood, MDF, Soft & Hardwood…seemingly every milling material except metal or anything that requires cutting lubrication
Data Format: gcode
An English language Shopbot User's Guide PDF is here
Gcode (tool path) Generation Software:3D-CAM, VCarve, Fusion360 (we used Vcarve)
Data Format(2D): svg, dxf, dwg, eps, ai, pdf, skp
Data Format(3D): stl, obj
Key Components of Shopbot
Milling Head: High speed rotating spindle witha collette to hold various types of end mill bits…we used a 1/4" down cut endmill for all our cutting
Hand Controller: 3 button physical control box for the Shopbot… - Emergency Stop Button - Reset Button - Start Button
Dust Collector: Removes the majority of milled material via a vacuum system. This dust collector collar is attached to the Milling head area after the z-origin is set. (the vacuum system is loud and usually turned off…and must be turned on prior to milling start)
Machine Control Switches: 3 key switches…Emergency Stop button, Machine On/Off Switch, Spindle Lock/Unlock key switch (disallows/allows milling head spindle rotation)
Material
Lumber core plywood
Sheet Size: 1220mm x 1210mm x 15mm
Design test parts#
To complete the group assignment for the week, we created models of joint parts that will be used for some pf the individual project for tests.
1. Press-fit Kit Type

2. Pocket Type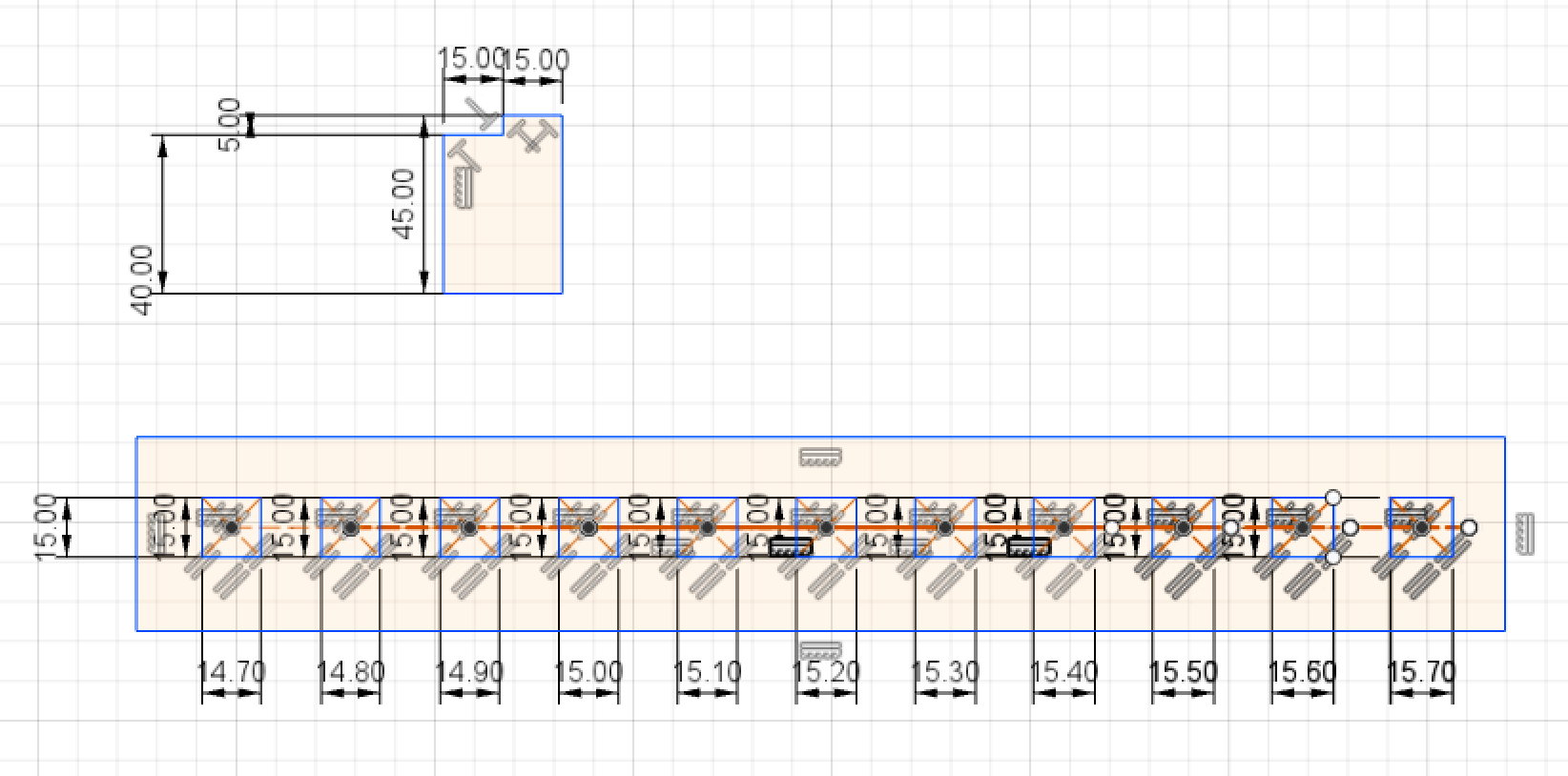 3. 3D joint type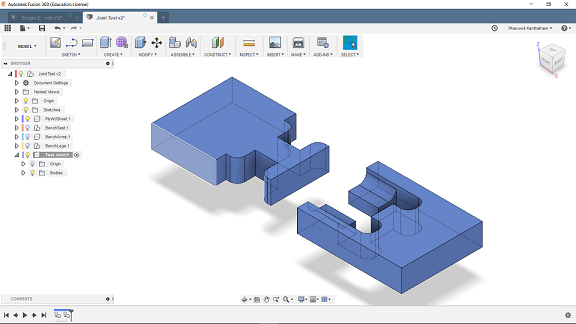 Create data file#
We created the data file for the Shopbot using VCarve software. The VCarve was available for use on TechShop PCs, so we did have install it to our PCs.
Job Setup#
Set the parameters of the job first in the "Job Setup" screen.
Job Type: Single Sided / Double Sided
Job size, thickness
Z Zero Position: Both Material Surface Location and Machine Bed location
XY Datum Position
Units: inch/mm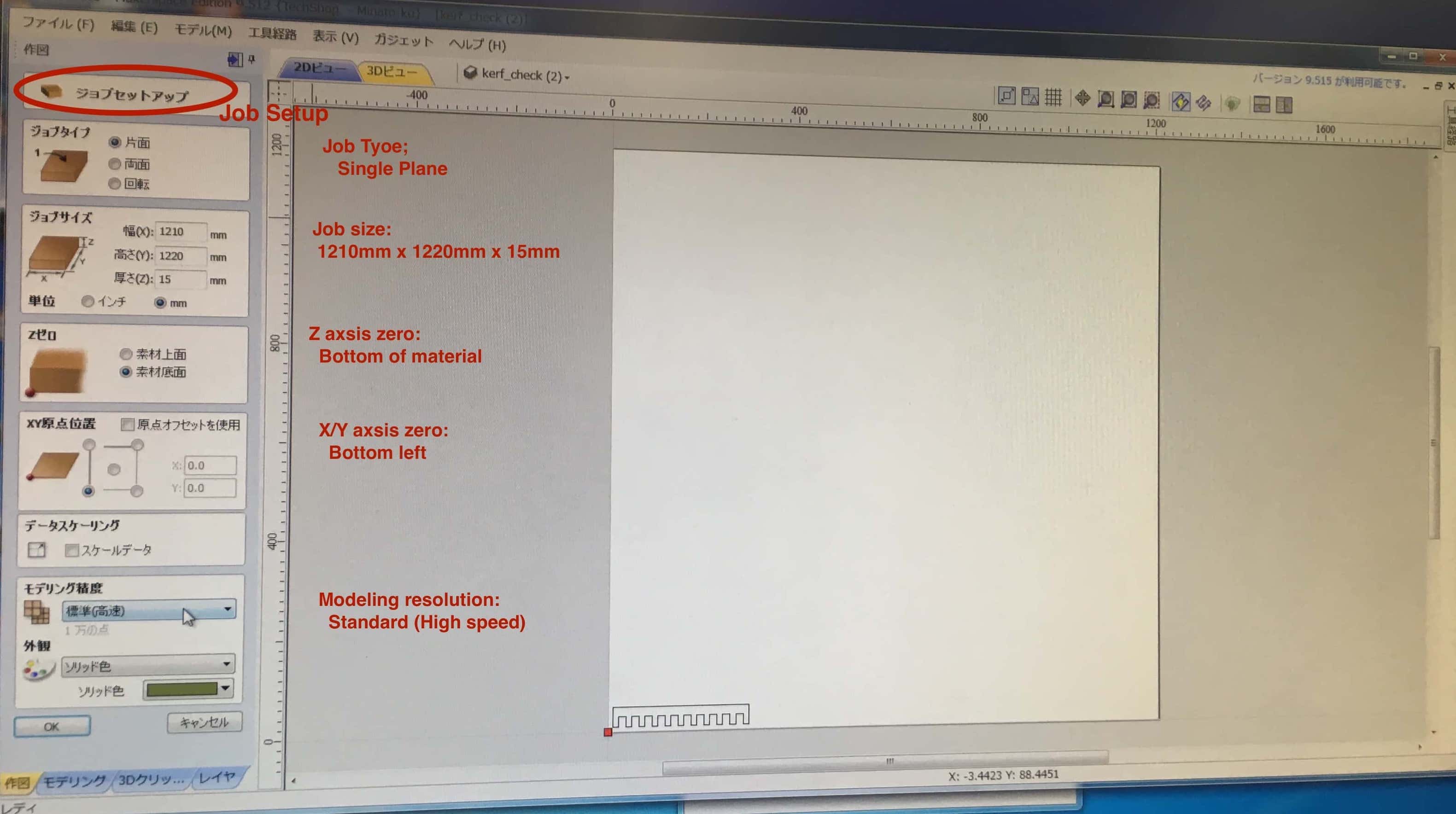 Arrange image files#
We imported 2D and 3D images together to the same file.
Import 2D files (svg and dxf) to the window and move them to the proper position.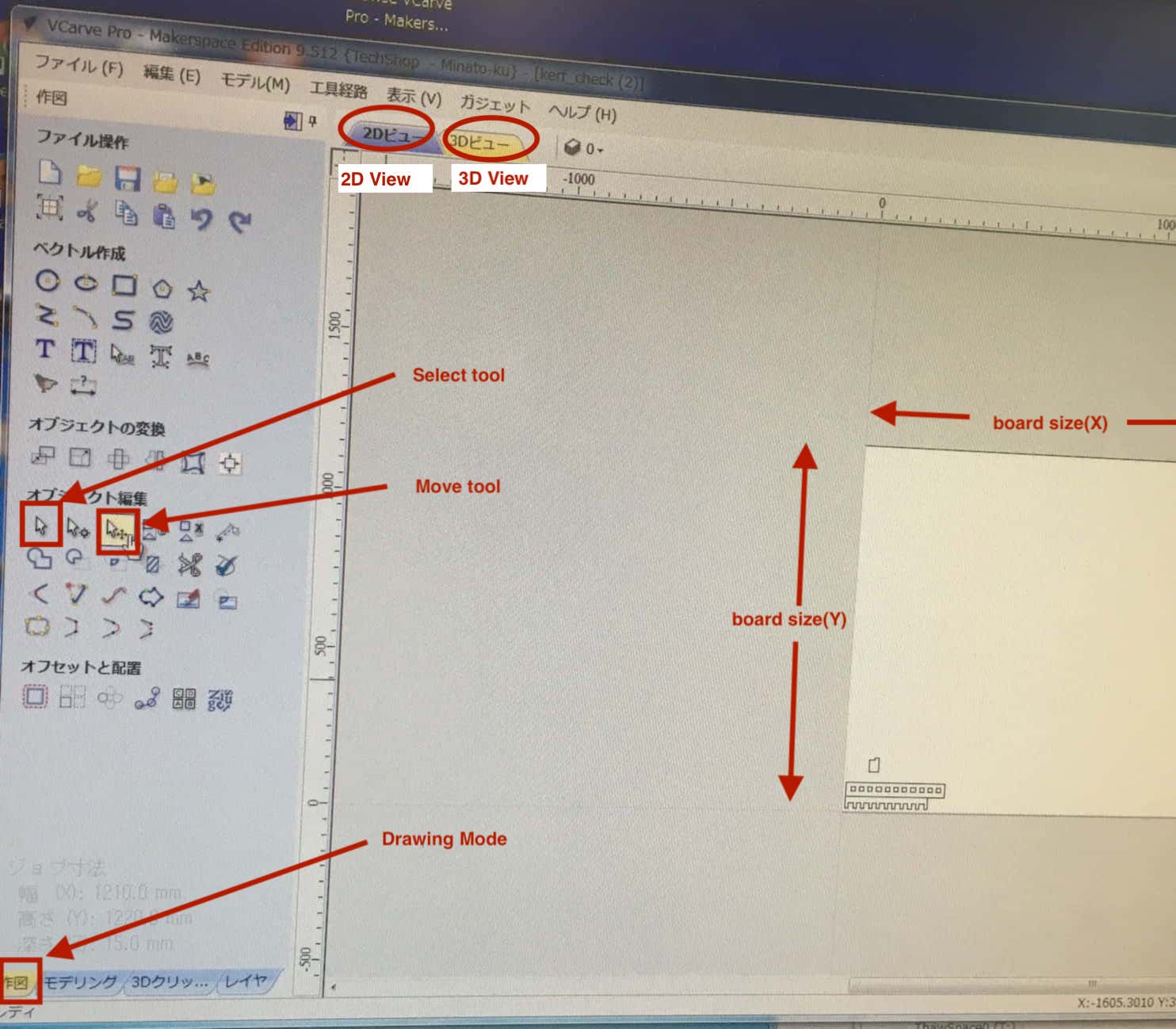 Add Dog bone to corners of 2D image using the Vcarve software
Import 3D file(STL) to 3D view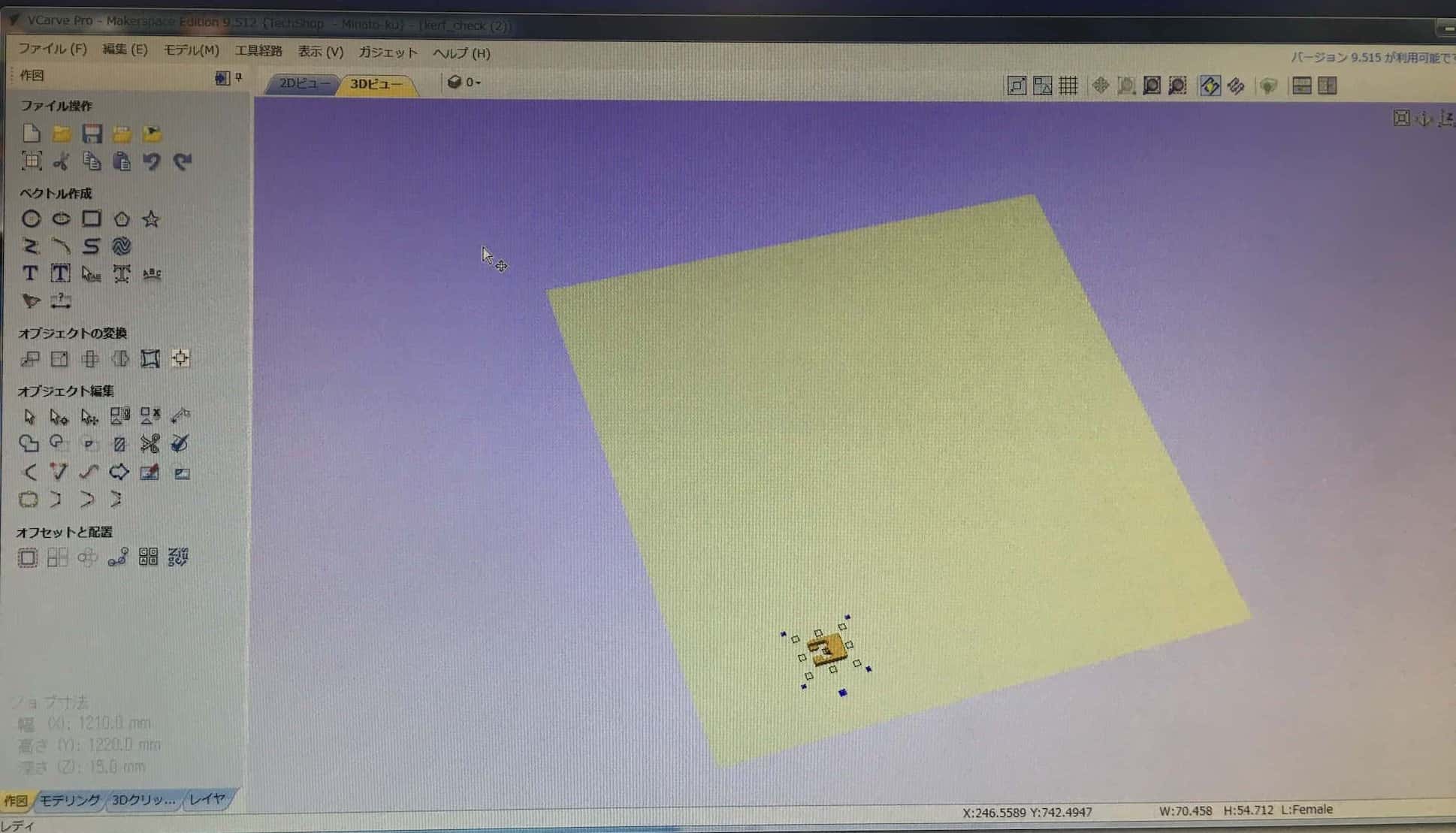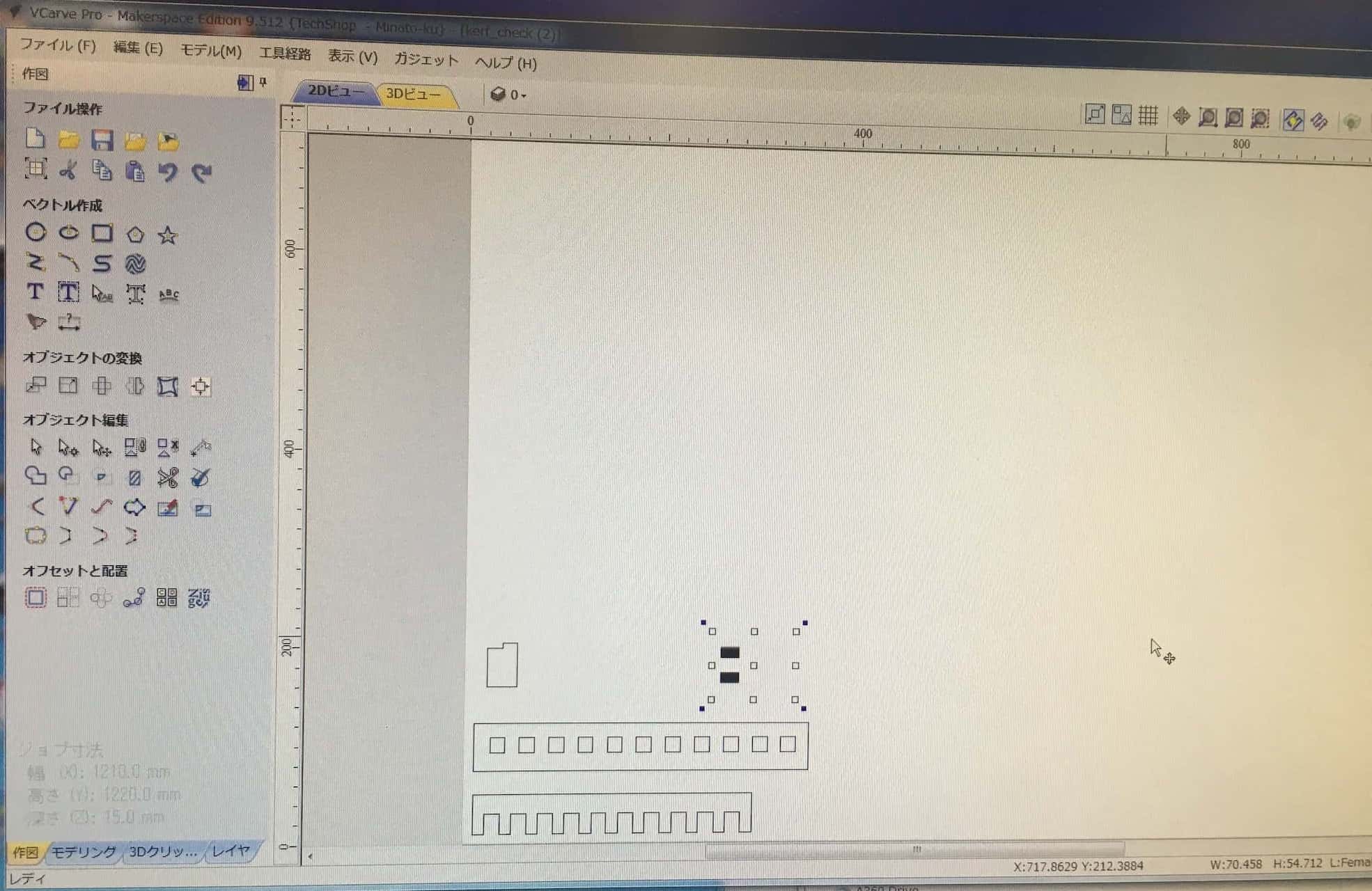 …learned that we needed to created a vector outline for the 3D object via different tools than for 2D
2D Profile Tool path#
2D profile machining is used to cut along a vector.
Parameters
- Cut Depth: board thickness (15mm in our case) + 0.5mm = 15.5mm - Tool: Down-cut(57-910) Endmill, Speed 12,000 RPM (Spindle Rotation Speed), Feed 3.0inch/second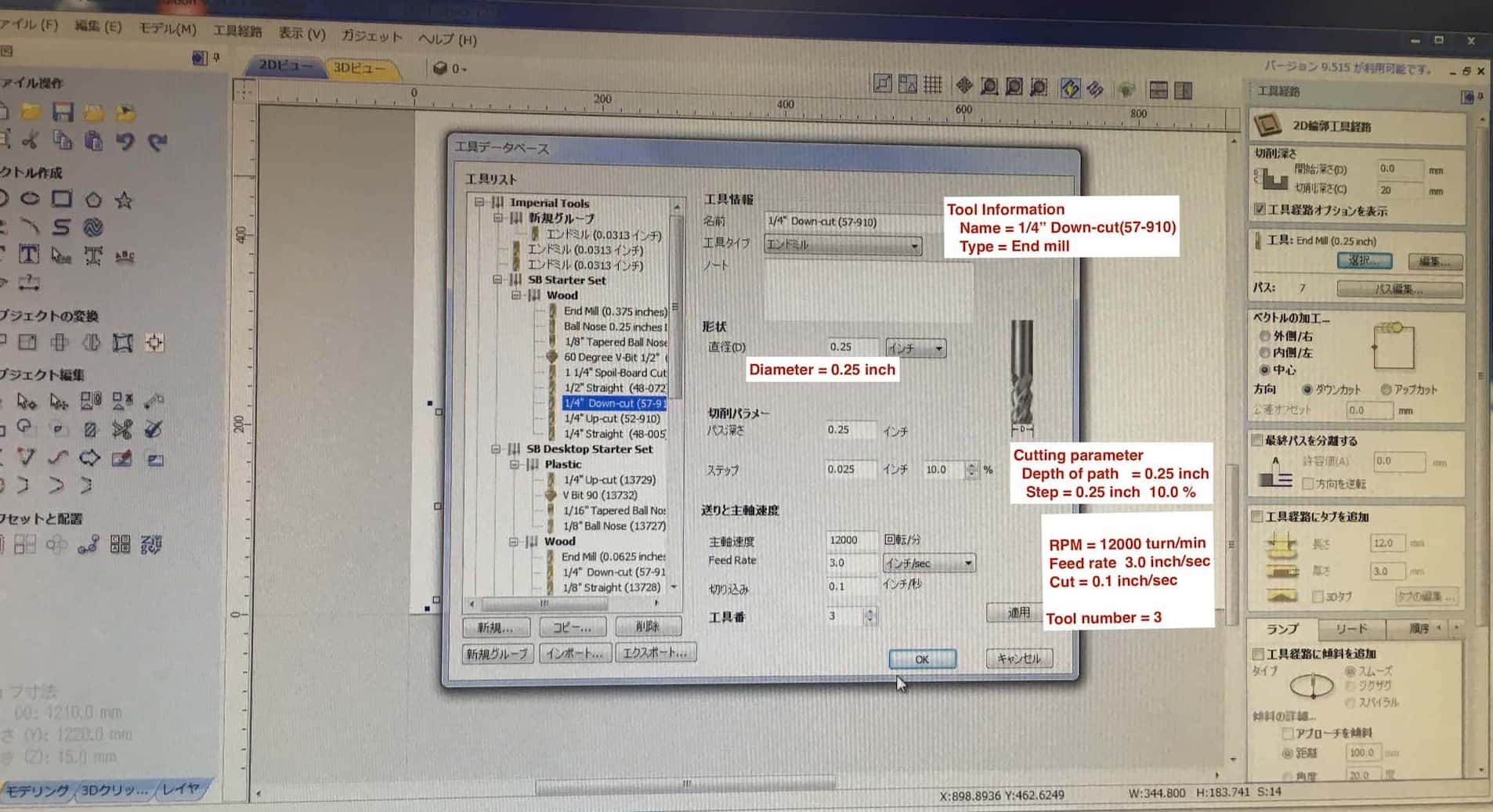 Vector Processing: outer/inner / center
Direction: Down cut / Up cut
Add Tabs to toolpath (can be manual or automatic)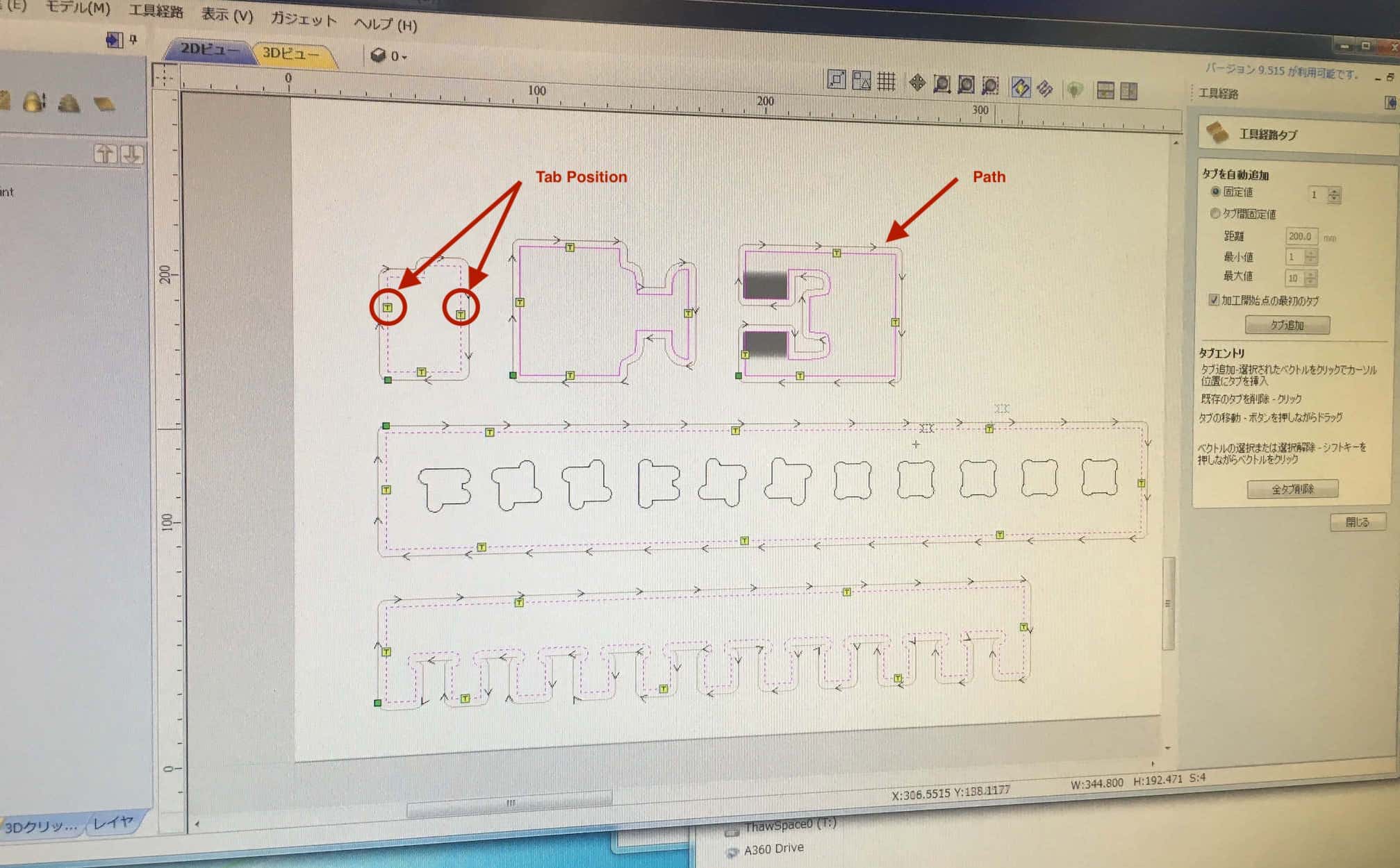 2D Tool path#
Outline Milling:
Select Outline Milling
Input cut depth 15.5mm
Input number of passes to cut outline…3
Check box to add tabs
Interior Depression Milling:
Select Interior "Pocket" milling
Input pocket depth (this image shows 7.5mm but we changed to 4.0mm for the 2D test part)
Select the Endmill
Select the number of passes to cut the Pocket
Select cut path for pocket…work from inside to outside of pocket hole
3D Tool path#
Path generation looked good
We did not understand that the blue color over the 3D parts would mean that a layer of the top surface would be milled away (error in generating gcode?)
Preview#
virtual 3D preview of the cut file can be viewed as a video. Even though we adjusted the speed of the video to slowest…the virtual cut action was too fast to observe with any usefulness.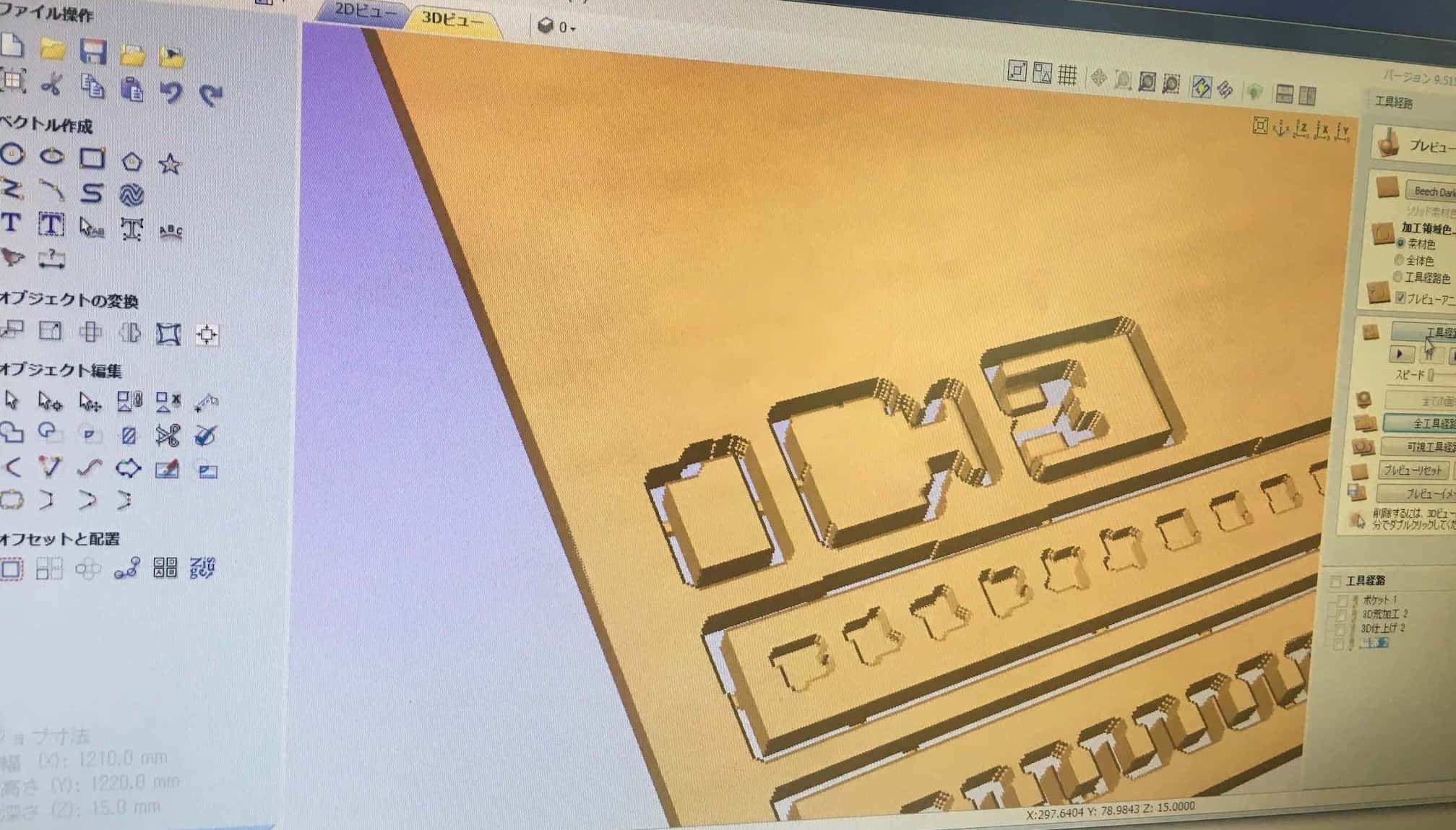 Save files#
Estimate of machining times for all tool paths shown…
Mistake made…wrong endmill (ball head) selected that increased cut time significantly!!!
New estimated time after endmill selection corrected…
It is possible to change the order of the parts cut

Save files
Milling#
Multi-step procedure to actually mill.
Set Milling machine XY origin…automatically by pushing the set XY Button
Set Z origin…requires the use of a conductivity plate (and two people…one to hold the plate the other to work the PC controls)…the end mill slow moves down and touches a metal place put flat on top of the sacrificial layer (conductivity must be tested before running z origin set by touching the metal plate to the end mill tip)
Fix the material to the sacrificial layer using air gun driven plastic fixing pins(?)
Change z-origin temporary to a location at least 50mm above the material and setting this to Zero
Run an "Air Pass" of the tool path file to observe any strange milling behavior, when satisfied…move on to actual Milling
Reset z-origin back to actual Zero
Start the milling process…
Turn on Dust collector
Dis-engage spindle lock by turning the Key
Run the cut file, spin up the Spindle
Click OK to mill
Observe the milling process attentively from beginning to end…be ready to hit the emergency stop button if any issues arises
Test results#
Tool Path & Alignment Visually examining the milling results, we observed…
Tool paths were accurate to that displayed in Vcarve software, without significant visible deviations…rectilinear angles look good
The cut depth of the 2D parts slots appeared deeper than specified 4mm (runout issue?)
The 1/4" endmill may not have been ideal for the tight spaces in the 3D parts…leaving rough edges every where
Also a weird issue with the top surface of the 3D part being milled off by approximately 1mm
Speed & Feed Consulted Shopbot Manual for recommended Speed & Feed…links to the PDF file here. The TechShop settings for RPM and Chip Load for their Shopbot was within the recommended range for Plywood.
Results were reasonably good…with ugly bottom edges to cut pieces that resulted the use of a down cut endmill.
We noted that the 1/4" downcut endmill had some trouble with tight corners and radiused down sloping shapes in the 3D joint…perhaps a smaller diameter endmill would be better for the narrow spaces and a ball-end endmill for the radius cuts. Lack of time meant that we were not able to explore these options this time.
We also observed some error in the way we produced the 3D cut file (z-setting error?) as those shapes had about 1mm of its top surfaced milled away.
Runout
2D Part Tests: We assembled milled 2D parts, the results as follows…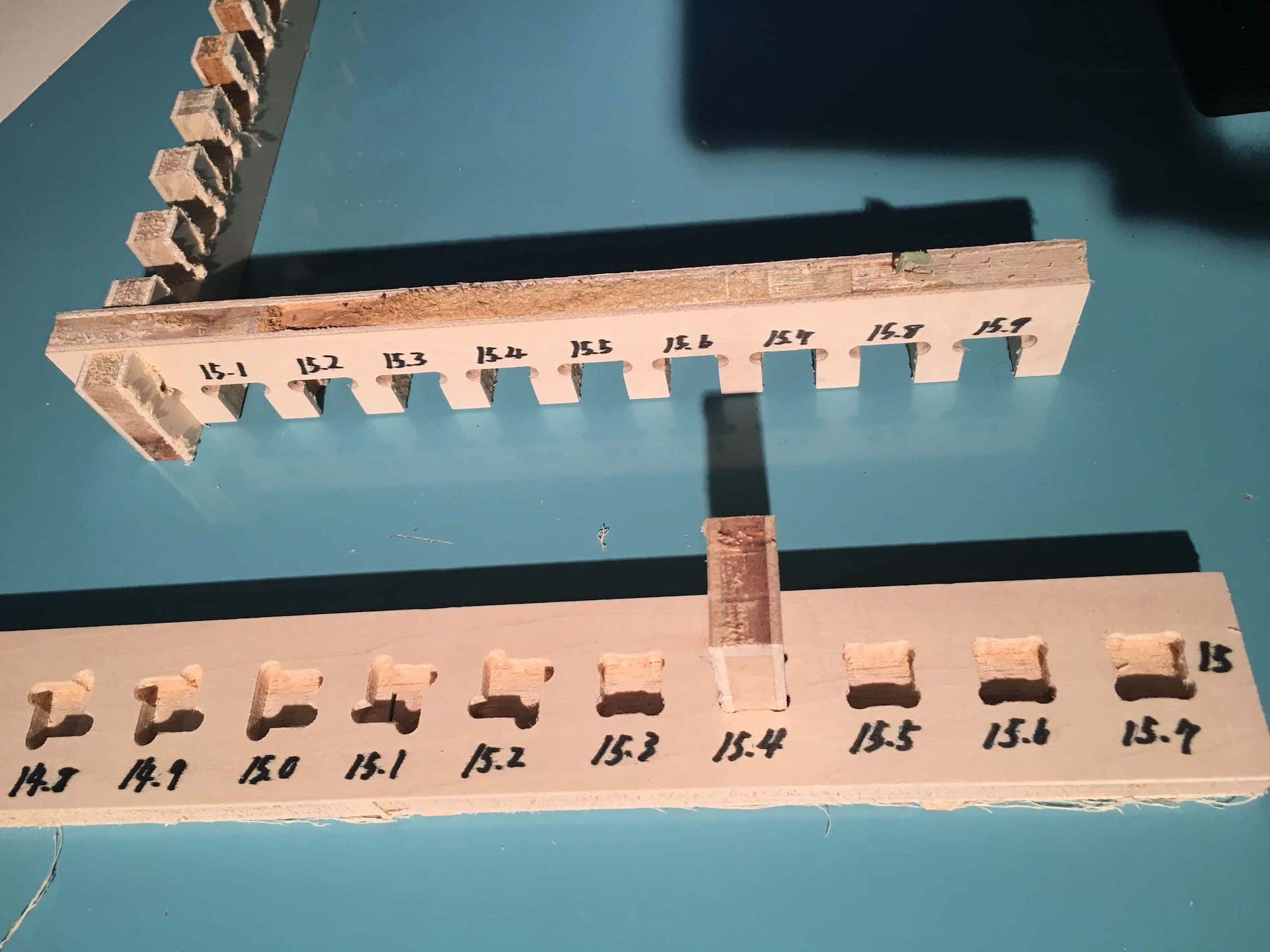 Negative to Negative Fit Test:

15.0mm into 15.0mm…same runout for both cut gap…inconclusive results

Positive to Negative Fit Test:

15mm square positive part fits best into 15.4mm square negative hole…implying runout of 4.0mm
3D Part Test:
We measured the actual cut sizes of the 3D joint versus the CAD model, the results as follows…
Positive Material Width: - CAD Dimension: 15.0mm - Milled Dimension: 16.4mm - Runout: 1.4mm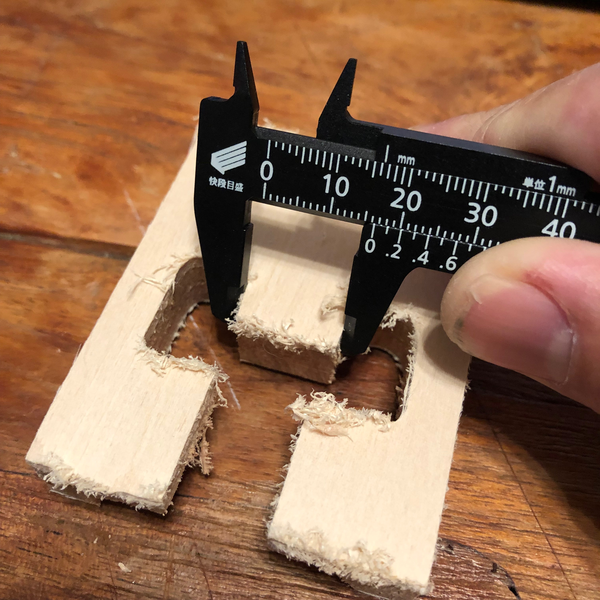 Negative material width: - CAD Dimension: 15mm - Milled Dimension: 14.0mm - Runout: 1.0mm