Option 1: BIG idea for Final Projects ☐
I have always want to make my cardboard sculptures come alive. In coming weeks, I would like to mimic life form through different sensors and actuators and present them through mechanical movements, with sound and light. To add on the challenge, the final build-up must be taller than myself and stands out in front of a crowd as edutainment for at least 1000 participants.
Research
Many years ago I followed an article by Prof. Joseph DeLappe on building larger-than-life sculpture out of cardboard material. I have never stopped looking back since then.
"My Gandhi sculpture was designed to be the same height as Michelangelo's David (the biblical boy who slayed Goliath)" ~Joseph DeLappe, year 2008.
3D Modeling
I used Blender 3D to create the digital model. 3D printing the model during Week 5.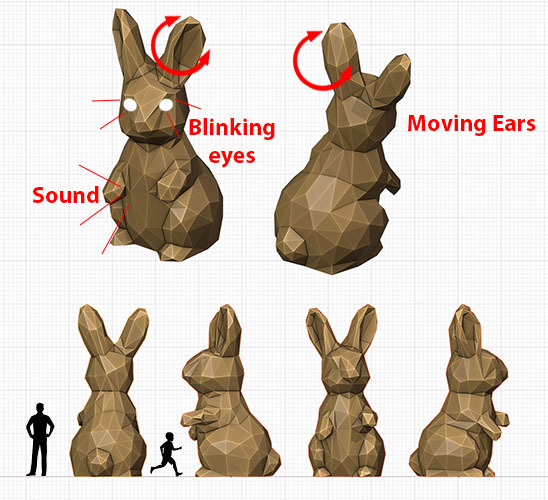 Option 2: An unconventional library push-cart ☐
About a year ago someone came up with an idea of the project and start working on it. While this may not be the most exciting idea, it's going to help me with the spiral development concept and many other skills that I dream of acquiring.
What I could further value-add to the project is to give it an unconventional exterior design as a conversational starter (maybe). At the same time I will be covering all the necessary skills needed to start from scratch literally for myself.
Option 3: Building Cardboard Fabcity with community ☐
An associate mentioned about taking part in local design week to promote Fabcity around week 7 and I thought this could be another brilliant idea.
Community Element ☑
All the options mentioned above should have a common factor that it could bring joy to the community by large.
---
Materials (T.B.A.)
| Qty | Description | Price | Link |
| --- | --- | --- | --- |
| Material one | 2.00 $ | https://amazon.com/testoe | Order many |
| Material two | 2.00 $ | https://amazon.com/testoe | |
| Material three | 2.00 $ | https://amazon.com/testoe | |
| Material four | 2.00 $ | https://amazon.com/testoe | |