Week 3: Computer-Controlled Cutting
Checklist for this week:
☑Linked to the group assignment page
☑ Explained how you created your parametric design
☐ Documented how you made your press-fit kit
☑ Documented how you made something with the vinyl cutter
☑ Included your original design files
☑ Included hero shots of your results
Group Assignment
Characterization of laser-cutter's focus, power, speed, rate, kerf and joint clearance.
Document your work to the group work page and reflect on your individual page what you learned
Individual Assignments
Design, laser cut, and document a parametric press-fit construction kit, which can be assembled in multiple ways. Account for the laser-cutting kerf.
Cut something on the vinyl cutter (Silhouette Cameo).
Bonus: using Jwei cutting machine for large format cutting (1.8m x 1.6m)
Characterization of Laser Cutter on Epilog Fusion PRO (80W)
This is the biggest and most powerful laser cutter available in the Fablab. The maximum cutting size is 1219mm x 914mm (48" x 36"). The other laser cutter available is Epilog M2 with maximum cutting size 1016mm x 711mm (40" x 28"). For Epilog pro, it comes with an in-build camera for alignment of material so we don't have to manually gauge the material boundaries before cutting. This is a nice feature for beginner when dealing with off-cut (irregular sized) materials.
Accounting for Kerf
Vinyl stickers
Testing cut depth
Testing the limitation of sticker
Free version of Silhouette Studio- Tracing png files
Press-fit Construction Kit
Using Fusion 360 Parameters to design the "Blokies" system. The key idea is the height of the material, with a ratio of 1:2:4 (height: width: length). I measure the single wall cardboard of 5.6mm using a digital caliper. With that, I draw the sketch in Fusion 360 with assigned parameters. Then extrude the sketch with the material thickness. The next step is supposed to convert the "body" into components to do assembly.
Going back to the sketch, I export the H-shape as dxf to layout multiple templates in Adobe Illustrator. I use the calculated kerf (0.13mm) to off-set the cutting path before sending to laser-cutting.
Some of the criteria for the press-fit kit is to use laser cutting and no adhesive (self-locking) and pass the shaking test (tight fit).
The laser-cut single wall cardboard is too small to my liking. The recommended thickness for laser cutting is not more than 5mm (Although there are techniques for cutting thicker materials, e.g. double pass). Moving on to use the Jwei machine, I cut a bigger version of the press-fit kit (Blokies) using double wall AA-flute with thickness of 10.5mm. The final size of the "Blokies" is 42mm x 21mm x 10.5mm per piece. Below is a time-lapse video of past project using the Jwei machine.
Here are the actual setup for the Cardboard Blokies and variations and the shaking test. Link to more Blokies (Google Photos) in action.
Roland VersaCamm (Print & Cut: VS-540i) at Building T1442
We use two softwares to operate the print and cut machine: CorelDraw and VersaWorks (printer driver).
First import artwork into CorelDraw. Set the cutting line to hairline (VersaWorks colour profile Magenta). Group the Artworks and export (check "selected only") as EPS format (CMYK colour mode).
Import the EPS file into VersaWorks (multiple times if needed) and use the tool "Rearrange Tiles" to maximize the print/cut area (photo below).
In VersaWorks, double-click on the "Printer Controls" and check on "Cut Sheet after Output"
Maximum cutting width is approximate 1183mm. Printing length is unlimited. But the cutting tolerance for length is approximately 50cm only (longer cutting profile may need to check on alignment issue)
Printing resolution 300 dpi is advisable.
Thought: could I try export EPS from other software like Adobe Illustrator with similar setting? Will VersaWorks read the same EPS file format?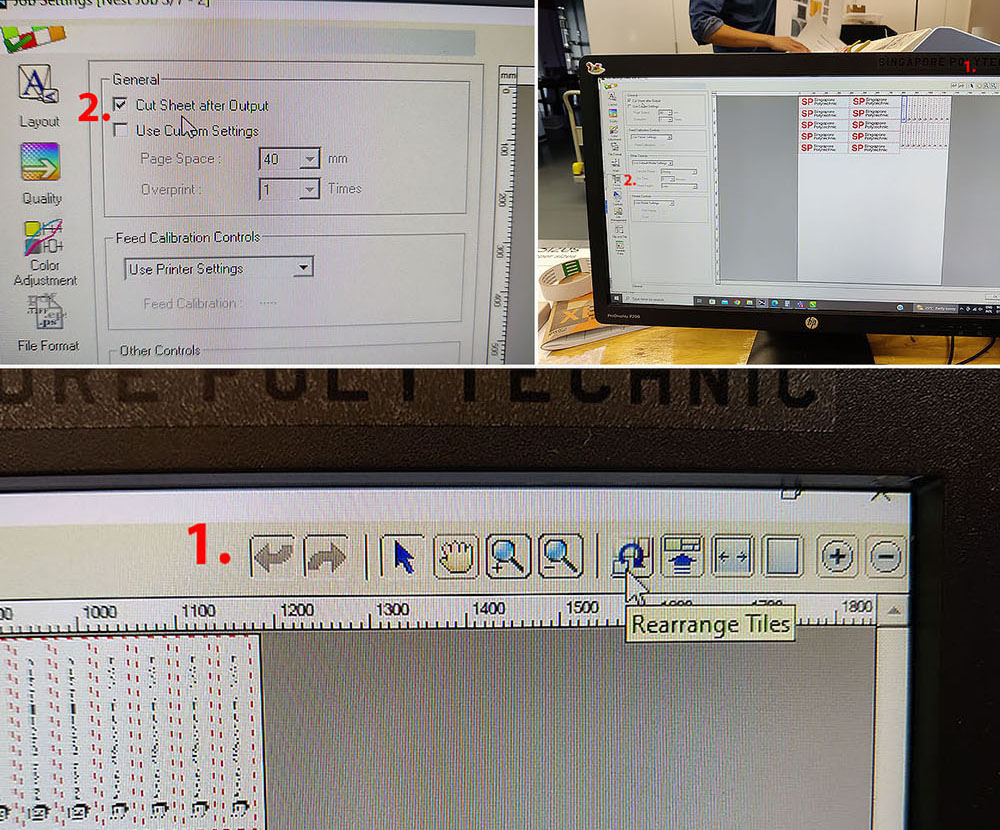 Links to working files