Hello, world!¶
Welcome to the 2021 Fab Academy website of the Dilijan Fab Lab Team!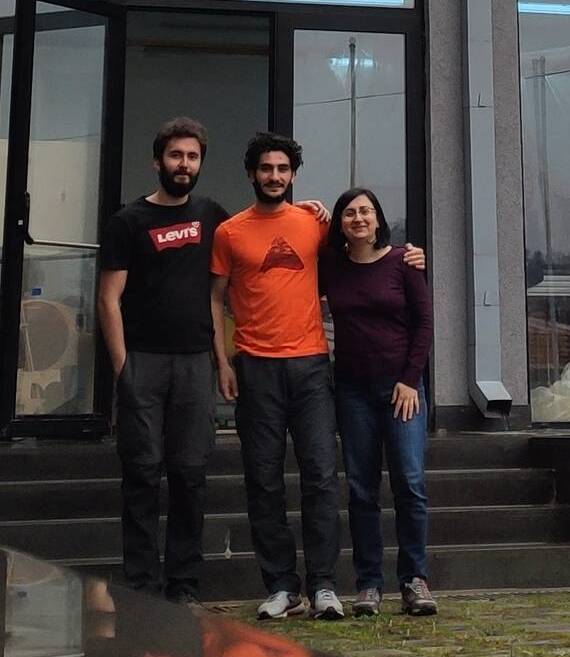 Who we are¶
Hi! We are Maro, Vachik, and Narek, and we comprise the Fab Academy 2021 Fab Lab Dilijan Team.
The website showcases the group assignment projects that we have done together; so dig in, and enjoy!
Where is Fab Lab Dilijan?¶
Fab Lab Dilijan is located in the mountainous spa-town of Dilijan, in the northern part of Armenia. It is a gorgeous, gorgeous town that you should visit whenever you get the chance. It is surrounded by beautiful forests and many ancient monestaries (the latter being typical of Armenia and Artsakh), and close to the beautiful Parz Lake (its name meaning 'clear').
Fab Lab Dilijan was established in 2015 thank to support from the Central Bank of Armenia, and has been part of the Fab Academy network since 2019.
Projects¶
Week 3: Computer-controlled cutting¶
Characterizing our lasercutter's focus, power, speed, rate, kerf, joint clearance and types
Week 4: Electronics production¶
Characterizing the design rules for our PCB production process
Week 5: 3D scanning and printing¶
Testing the design rules for our 3D printers
Week 6: Electronics design¶
Using the test equipment in our lab to observe the operation of a microcontroller circuit board
Week 7: Computer-controlled machining¶
Doing our lab's safety training; testing runout, alignment, speeds, feeds, materials, and toolpaths for our machine
Week 8: Embedded programming¶
Comparing the performance and development workflows for other architectures
Week 9: Mechanical design, machine design¶
Designing a machine that includes mechanism+actuation+automation; building the mechanical parts and operating it manually; actuating and automating the machine; documenting the group project
Probing an input device's analog levels and digital signals
Week 11: Molding and casting¶
Reviewing the safety data sheets for each of our molding and casting materials, then making and comparing test casts with each of them
Measuring the power consumption of an output device
Week 13: Networking and communications¶
Sending a message between two projects
Week 14: Interface and application programming¶
Comparing as many tool options as possible
Here's a page with the images of the SMD's (Surface-mount device's) we have available at the lab for reference:
---
Last update:
April 20, 2021