Week 1: Final Project - Automate, standardize, and streamline cutting of rubber tubing
Purpose
To develop a system whereby I can cut varying sizes of rubber tubing quickly and consistently into the shapes used to make
Zoa Chimerum jewelry.
This would allow me to produce more quickly and consistently, as well as to design new products more quickly and with greater precision. It would also simplify the construction process to such a degree that I could hire assistants to make the jewelry, without having to find highly skilled specialists.
Guiding Principles:
Each section of tubing has four variables:
•
size
(diameter) of the tubing
•
length
of the segment to be cut
• angle of the
front cut
• angle of the
back cut.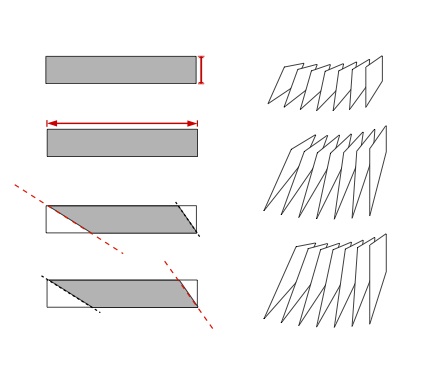 Goal:
I need to be able to quickly change any of these variables, and cut a series of identical pieces with one set of variables, then change the variables and produce another set of identical pieces with the new variables. Width of tubing is obviously just a matter of buying different sized tubing, but the rest has been a finicky and slow process involving an x-acto knife and ruler. Some kind of cutting jig, with a guide that locks into place and holds down the tubing, might be a solution. The easier and faster it is to set up the jig in one configuration, then set it up in another, and then set it up to the previous configuration, the better. Having marked increments or some other method of calibrating and re-calibrating the jig would also be great.
Considerations:
• The rubber tubing must be compressed from above to ensure that it lies flat. (When I do this by hand I have to force the ruler down to keep the tubing flat.)
• The rubber tubing must not be allowed to slide around or shift while it is being cut. (When I do this by hand I sometimes have to do some tricky finger-work to ensure that the tubing does not shift position, especially as I am getting to the end of a long, steep cut where there is very little tubing attached to the compressed part under the ruler.
• The cutting blade must be very sharp to avoid tearing the rubber or creating ragged edges. (I use surgical blades and discard them frequently.)
- Any automated system will need a blade that can be resharpened or replaced at low expense, or else never dulls.
Solution:
At this point, the final shape that the project will take is unclear, and I expect it will evolve as I learn more about the tools and technologies covered in this course.
My initial impulse is to construct something like a tracing template or stencil with narrow, xacto-knife-width grooves which correspond to the angles of the cuts that I normally have to make. Then I could use this stencil to guide my cuts. It wouldn't be a fully automated system, nor would it be adjustable, but it would at least enable me to cut the exact same shapes every time, and to do so quickly and easily. With that hurdle overcome, I am hoping I can build additional layers of complexity onto this system, or, failing that, use what I have learned from this first system to develop additional systems.
I have already attempted to make a crude cutting jig out of two layers of acrylic using the laser cutter, but the result was flimsy and had too many grooves in it which weakened the structure to the point of uselessness. My first order of business will be to retool this design into something workable, by using thicker material and making many prototypes out of a less expensive material than acrylic, such as wood.

Parallel to this, I am looking at an alternate design path involving modified scissors or shears embedded in a houseing modeled after compound mitre saws. This direction was suggested to me by one of my fellow students and it seems like a worthwhile direction to investigate.