19. Invention, intellectual property and income¶
This week, I learned what should be required for dissermination of my final project. In the class, it is discussed patents, copyright, trademarks, incomes.... the class video is here.
assignment¶
develop a plan for dissemination of your final project
prepare drafts of your summary slide (presentation.png, 1920x1080) and video clip (presentation.mp4, 1080p HTML5, < ~minute, < ~10 MB) and put them in your root directory.
Summary slide draft¶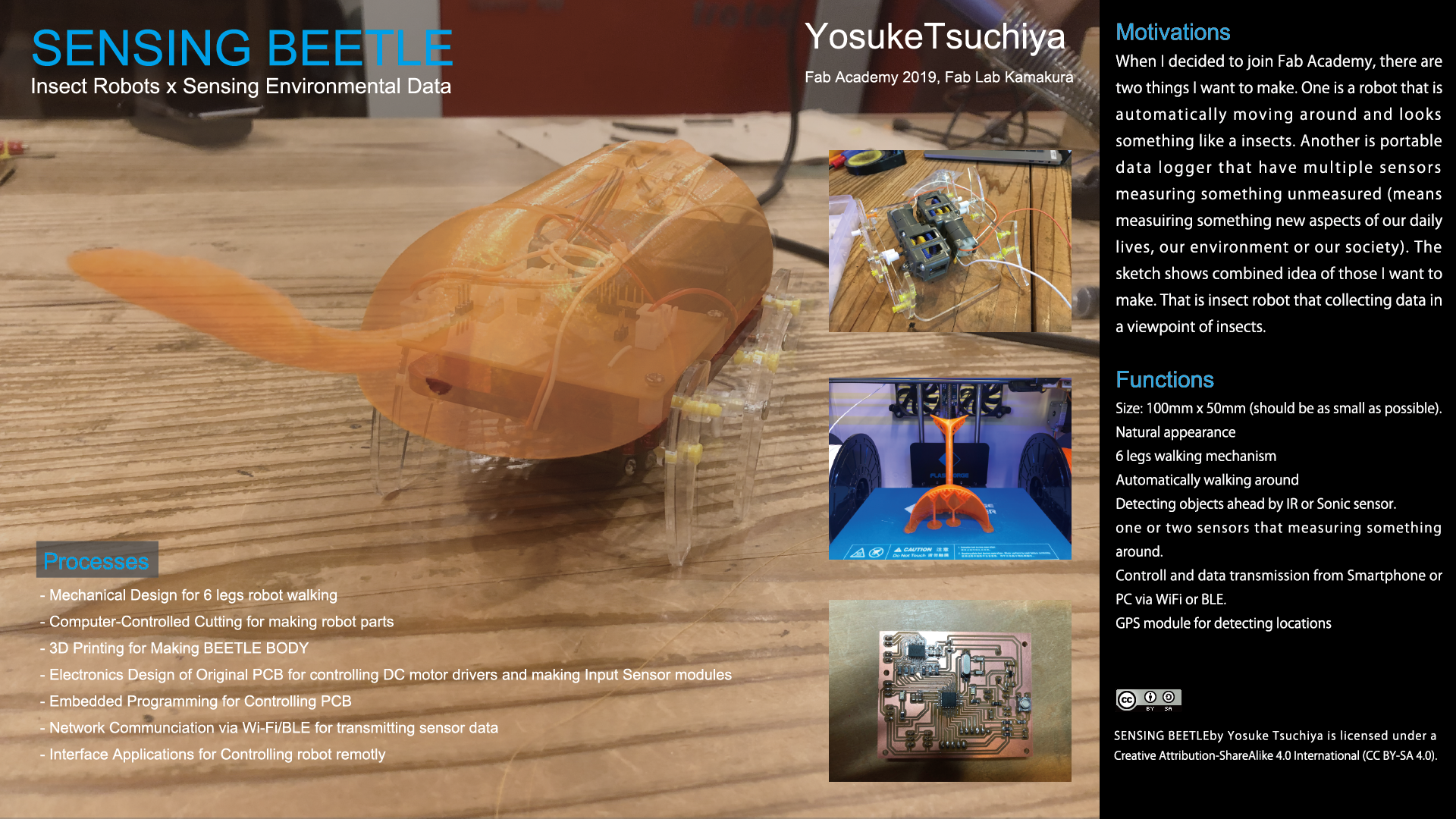 Draft Video¶
dissemination plan¶
workshop
I will use my final project product (SENSING BEETLE) in the workshop for local community in Japan. As a researcher for local community in Japan, I will use this sensing robot with local people to find out something new aspects of their own lives.
At least, there are three types of workshop based on this final project. One is to demonstrate this sensing robot and let local people think what kind of sensor data they want to collect.
2nd type of workshop is to collect sensor data practically with using this robot. I will provide all parts of the robots to workshop participants. Workshop participants (local community people) build up the robot by themselves and run it to collect the sensor data they want.
3rd type of workshop is to visualize sensor data that their robot collected, and discuss with local people about what could be find out from their sensor data.
Conferences and Events
I will plan to present this final project in some international conference such as SIGGRAPH ASIA. Also, it would be presented at the Maker's Faire Tokyo 2019 (held in August 3 - 4).
license
Of course, the outcome of this final project does not limit to my own study. I would like to ask anyohe who concern this project to use and revise this insect sensing robot. So, as follow below, I apply this final project to creative commons license.
License¶
Creative Commons 4.0
My Choice is as follow.

This work is licensed under a Creative Commons Attribution-ShareAlike 4.0 International License.
Insect Sensing Robot by Yosuke Tsuchiya is licensed under a Creative Attribution-ShareAlike 4.0 International (CC BY-SA 4.0).
You are free to:
Share — copy and redistribute the material in any medium or format
Adapt — remix, transform, and build upon the material for any purpose, even commercially. This license is acceptable for Free Cultural Works.
The licensor cannot revoke these freedoms as long as you follow the license terms.