About me¶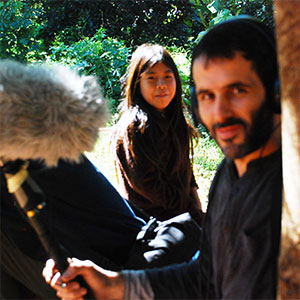 Hi all! I am Edu Segovia. I am finally a Fab Academy student! I'm using this space to develop my project and to track my progresses and to share them to the community.
Any questions or suggestions are welcome! Find me at gitlab
Fields¶
I'm between Paraguay and Spain, and between 30 and 40 years old.
I'm coming from arts and technology.
Through the studies "Virtual Design" of the Istituto Europeo di Design in Madrid, I specialized in visual arts, acquiring knowledge about art, projects, digital media and marketing, among others. Specifically, I learned how to make computer design: graphic design, 3D modeling/texturing/animation/rendering, graphics interaction, and audiovisual edition/composition/postproduction.
I have also consolidated my interest in sound and recordings through the "Technology of Sound" career of the Professional Institute of the Arts of Communication in Asunción, Paraguay, which let me study and take experience in depth the nature of sound and its branches, from both the exact sciences as from the expressive and communicational ones.
In addition to the 'official' studies, I have restlessness and extracurricular training in technological, artistic and cultural subjects, in fields such as networks and computers, programming, web design, indie video game development, visual arts, photography and cinematography, music production, literature, history and social implications and problems.
Some things I have done¶
I work for more than 10 years at UNA -National University of Asunción-, in FADA -Faculty of Architecture, Design and Art- which currently hosts 5 college careers. I'm co funder of the first official FabLab in Paraguay - FabLab Universitario CIDi- which nowadays is 4 years old and growing, in where were made numerous projects and workshops, in addition of giving dayly design and fabrication services. I was involved in FabLat community working together with other Latinamerican countries partners. I also were coordinating FabLab internships. From Fab Lab Universitario CIDi I seek to strengthen human resources and offer services and solutions to the community and other areas. The Fab Academy 2019 course will enable the formation of the first node of official instruction in Paraguay through the application of my updated resources.
On the other hand, I worked and gained some experience in network, data and computers and also I have been involved in projects related to sound, such as audiovisual and musical productions, for about 20 years.
As one of my targets is the culture's development and capacitation to new generations, during the last years I have been working in social and community issues, specifically in generating knowledge networks and initiatives. That incorporates new and complementary aspects to my personal and professional profile, allowing me to apply creativity and knowledge to the realities and needs of the environment.​
Carvin 742 replica¶
The classic speaker made by recycling old components and with the help of digital manufacturing.