Week 09 : (Milling) Moulding and Casting
Assignment
Design a 3D mold, machine it, and cast parts from it.
My Goals
Design a test mould for my final project
What I Learned
How to do 3D modeling in Houdini
How to use the Modela MDX 40A
How to make a one-part mould
How to melt machinable wax
How to use SRP Player
How to read a Materials Safety Datasheet (MSD)
How to make a Vario 40
How to cast in Flexicast
Tooling, Materials & Speeds
Modela MDX 40A
1/8" square mill bit for rough cut
1/32" square mill bit for final pass
Feed Rate: 720 mm/min
Speindle: 9000 rpm
Vario40 (120 g)
Flexicast (80 g)
Downloads
Documentation
This week's "Moulding and Casting" assignment sounds simple enough until you start having to think of the object you want to make as a positive and negative. I found it a bit confusing having to mill an object and then mould it and then cast it, but it makes sense if you want to make a unique design from scratch, rather than replicating an existing object.
For this assignment, I wanted to create a mould for my Final Project, the Holdable Heart. This would be a "holdable" object that would house the LED light and vibration motor that would "beat".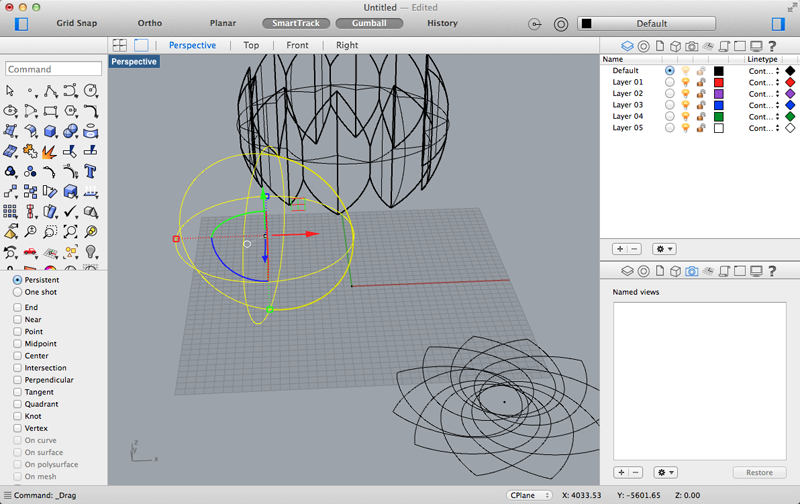 To accomplish this, I tried to extend on the 3D design of a lotus I modelled in Rhino in Week 05. In that design, the lotus was a bowl, but for my Final Project, I would need it to be a solid shape.
First, I tried to model it in Rhino, but it was difficult to create a complex pattern without Grasshopper, and I was unable to turn all these petal surfaces into a solid object that could be milled.
So I try a new 3D tool called Houdini. This tool was recommended to me by my partner who is a VFX artist at Weta Digital. He uses Houdini to create FX shots for films and there is a free non-commercial version for Mac that I was able to download and use.
Houdini is based on procedural modelling, which is similar to (or the same as) parametric modelling - using parameters and relationships to create geometry rather than creating individual shapes and surfaces. It was significantly more intuitive to use than Rhino. Even though I didn't have any previous experience using this software, I was able to create the shape that I wanted (with the guidance of my partner) that was airtight (passed Netfabb).
Unfortunately, Houdini does not work on my Macbook Pro because I need to install a new graphics card. I will definitely look into this because it's such a fun tool. I would probably only use it to create organic shapes, and continue to use Rhino to create mechanical parts.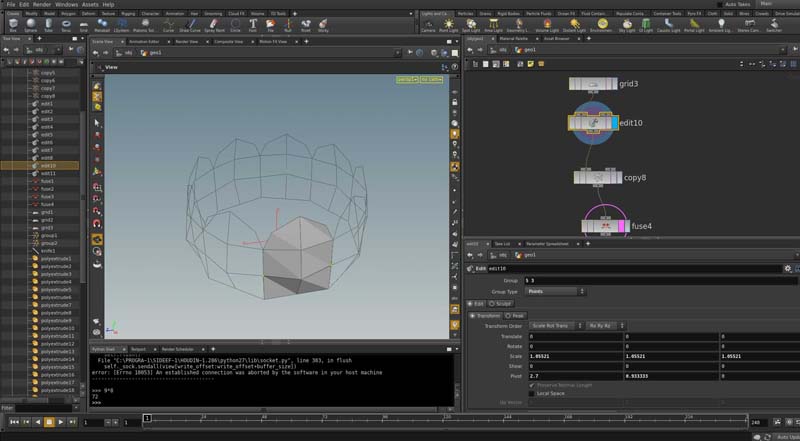 How to create a 3D Flower in Houdini
Create petal shape
Duplicate petal and rotate (parameters - number of petals, the * of rotation)
Extrude (parameters - depth of surfaces and spacing between the layers of petals)
Group - to create a solid, airtight base
Knife function - to trim the bottom
Fine tuning - to adjust the depth of the base, the spacing between the layers of petals
Subdivide function - to round the edges
After every step, I would group unshared edges to ensure ensure geometry is airtight. This additional step paid off when I checked the final object in Netfab and found that it was pretty much ready to print.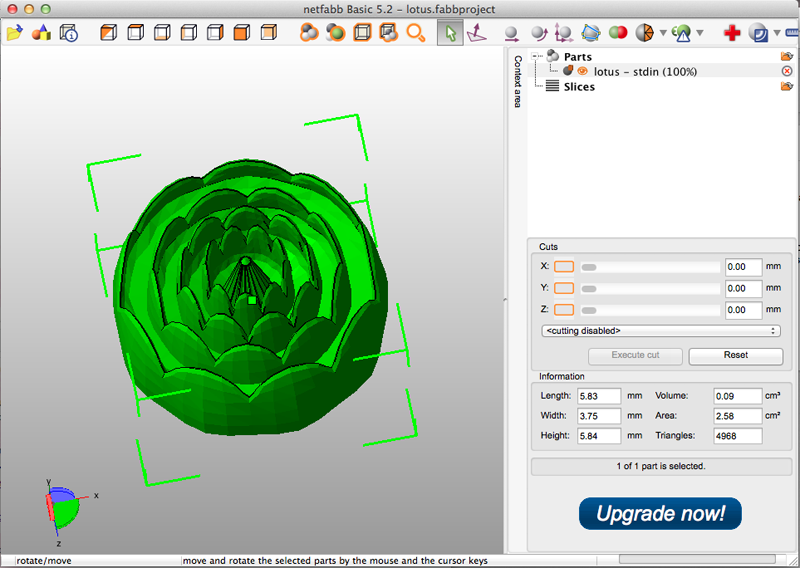 I showed my model to Wendy, and realized that I had unconsciously limited the aesthetic of my design based on some inaccurate assumptions I made about the MDX. While it's true that I have to consider the diameter of the drill bit and the shaft, as well as the drill-able length of the bit, I didn't necessarily have to provide that amount of spacing between each layer of petals or individual petals. The MDZ is capable of fine engraving using a 1/32" bit. With this size bit, I would be limited to 3.2 mm width cut and 15 mm depth cut.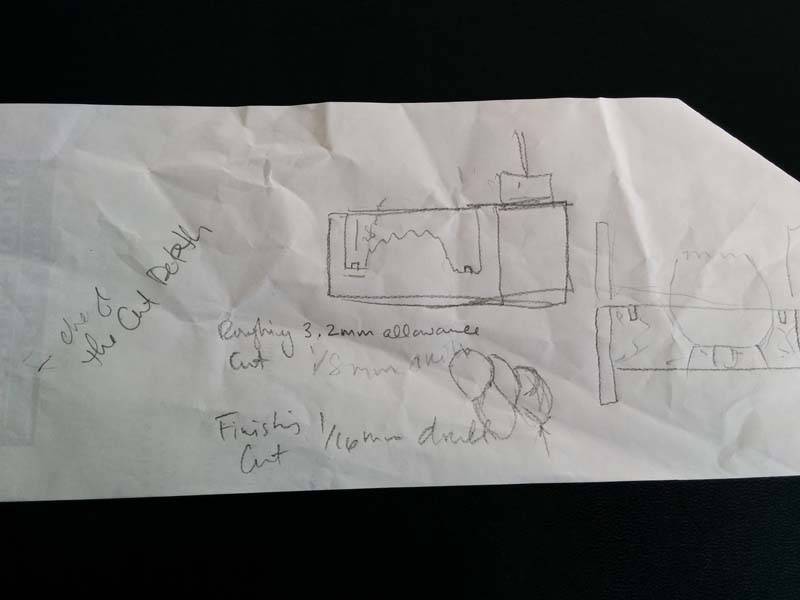 She showed me in SRP how I could set-up my design so that I would use a 1/8" bit for roughing, and 1/32" for engraving. She also gave me some advice on how to construct the platform (leaving room to re-set the Z axis when I change bits) and to leave enough room for the locator points.
I went back into Houdini and adjusted the model to remove the spacing between the layers of petals and individual petals. The effect looked more like a mandala which I really liked.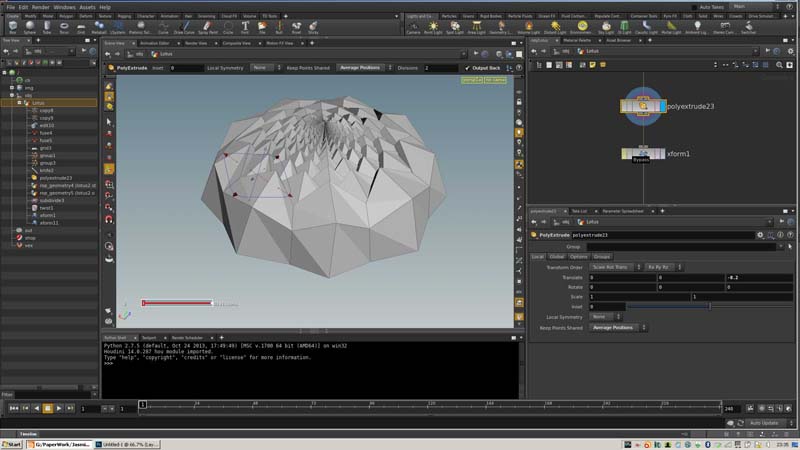 I tried to import the object into Rhino to build the base of the wax mould, and I had to convert the mesh that was exported from Houdini into a NURBS polysurface by watching this YouTube video. Unfortunately, I was unable to fill in all the holes in the many layers of mesh that made up my object, and the object became quite deformed through this process.
So I tried to build the base in Netfabb, but found out that I couldn't merge the objects without paying $299 for a non-commercial license.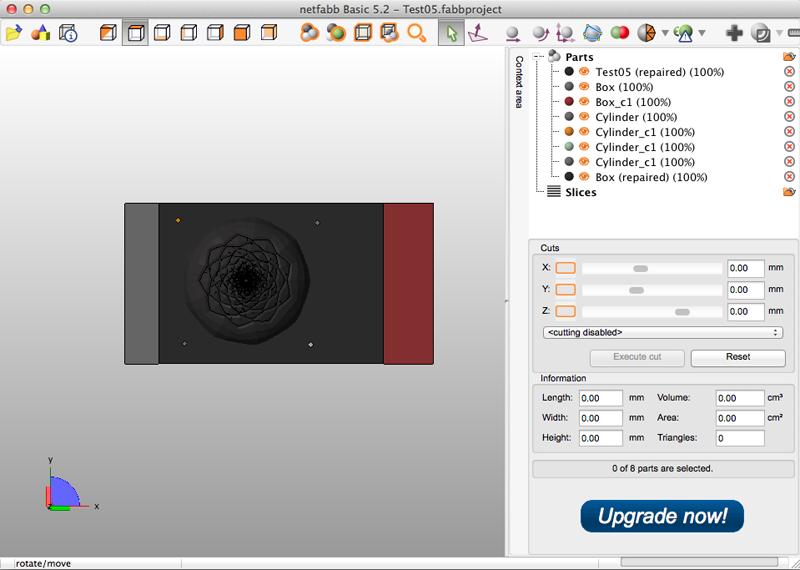 I also tried to build the base in 123D Design, but it gave me a warning that the objects I was merging had too many faces. I tried to merge them anyway, and it crashed. I merged all the primitives of the base and left the object in embedded in the base for now.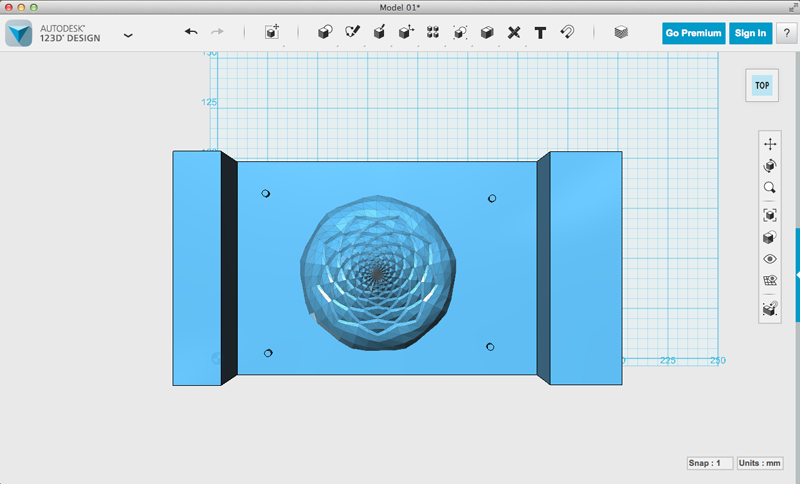 Finally, I went back into Houdini and designed the base as an extrusion to my object. This ensures that it is a closed, water-tight object, but it is very difficult to be precise in measurements in Houdini. I would not recommend using Houdini if you want to create something with precise measurements. But anyway, it did work after much tweaking.
How to Create a Machinable Wax Mold
Turn on extraction
Turn on the hot plate (medium high heat - you don't want the wax the burn)
Place wax into pot on top of hot plate (make sure you have enough wax to fill your mould because you can't add more once you've started pouring)
Stay by the wax as it's melting (it's tempting to walk away and let it melt, but it's not safe)
Do NOT stir the wax - it creates bubbles (I like to pop the bubbles on the surface with the knife)
When all the wax has melted (you can check by poking carefully with a metal knife), pour the wax into the mould very quickly (if you pour too slow, the wax starts to get cold creating layers)
If your mould leaks, stop pouring immediately and clean up the mess!
How to set-up on SRP
Engrave a small X at the centre of your block of machinable wax
Use hot glue to mount the wax block on the machine
Save the STL of your object and base on the local desktop
Set the dimensions of your mould
Define the kind of cut that you want to make
Select the drill bit you'll use for the rough cut (1/8")
Select the drill bit you'll use for the finishing cut (1/32")
You can choose to give a smaller cutting area for the finishing cut to speed up the machining time (I only needed the the finishing cut on the top part of my object)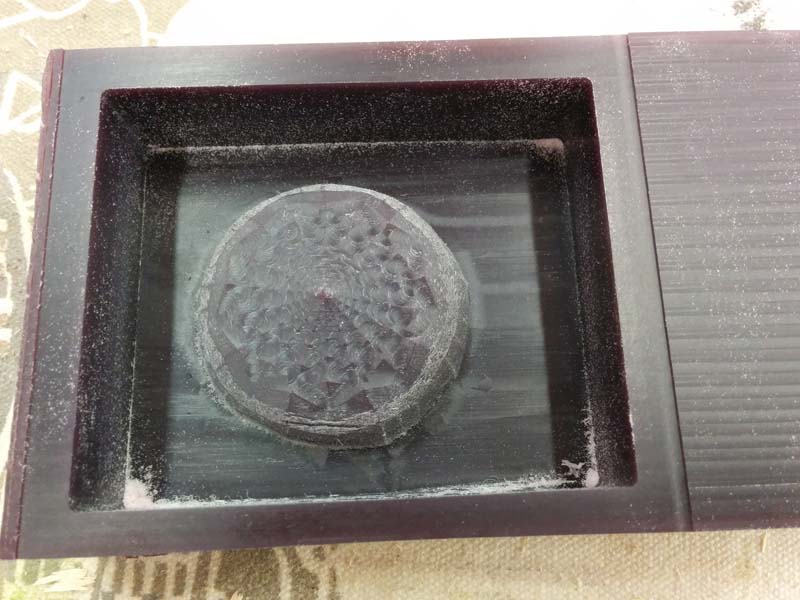 Casting Checklist
Before opening up a jar of toxic materials, here's a checklist to stay safe:
Read the Materials Safety Datasheet (MSD) - you can access it on the computer at the lab, and there is also a binder of them in the 3D workshop
Put on your safety glasses
Wear a air filter mask - a dust mask will do nothing - try to put it on before entering the chamber
Wear latex gloves
Turn on the extraction
Bring pen and paper and a calculator - for the maths
Use a scale
Lots of paper towels
Newspaper to cover the work surface
Take photos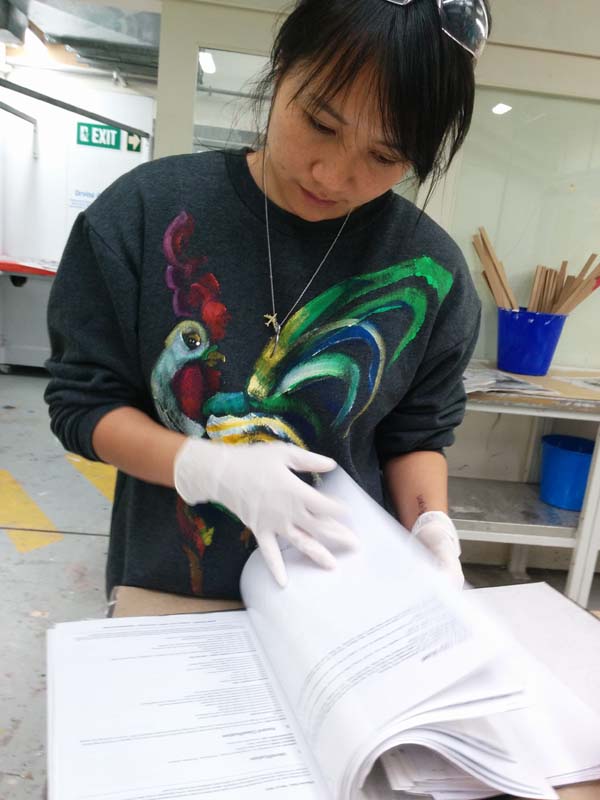 The Maths
A couple of things you should think about before casting:
Mix ratio - it says so right on the bottles - this tells you how much to pour of each material, based on the total volume you need - try not waste
Bubbles - using a vaccuum chamber is most effective, but trickierfor less viscous materials like silicone
Pot Life - says so right on the bottle. This tells you how long you have to mix and pour before it starts to cure.
Curing Time - this tells you how long to wait before you can see the fruits of your labour.