February 2013
Computer Aided Design / Computer Controlled Cutting / Electronics Production
Working on my Final Project idea but also struggling with setting up Mercurial and making a website. It's taking time to sort out when to watch the class video, and when to meet with the 'gurus'. NZ is so out of sync with the rest of the world. I've also reached a new record for watching tutorials - not since I learned Cinema 4D have I been so confused.
3D modelling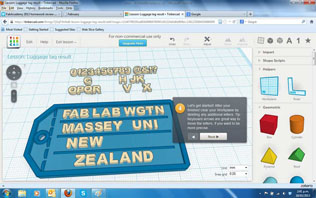 Had a play with TinkerCAD, just using the tutorials. There are some nice simple aspects to it, and enough similarities to other 2D and 3D programmes I've used to make me think it'd be easy for beginners to move on to other programmes if they wish. It looks like people have done some interesting things with it as well.
I'll be getting Rhino 5 in the next few days so will have a play with that as well. It's been a long time since I've used Rhino or Solidworks, so I'm anticipating slow progress there.
2D Modelling
Had a look at Gimp - only to modify a photo, haven't got any more adventurous than that. Yet. Had a play with inkscape as well.
I generated my Racing Car file for the laser cutter in Illustrator. We've got the newer Universal Lasers here - so unable to try the fab modules on this project. Testing components and calculating offsets before making a final.
The Lab computers are all being re-configured at the moment so that we can run Ubuntu within the university environment. They should be fixed by the end of the week.
Electronics production
Or maybe next week... spent a bit of time, actually quite a lot of time, on the phone troubleshooting with Bas.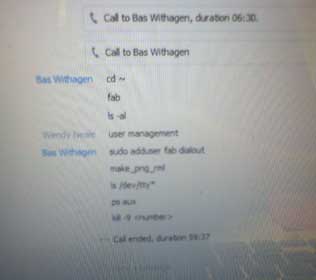 Did some practicing on a kit with no instructions in the meantime - no surprise that I didn't have complete success, but I learnt a lot. And the red light worked.For a while. Until I pulled it apart and tried to solder it back together differently.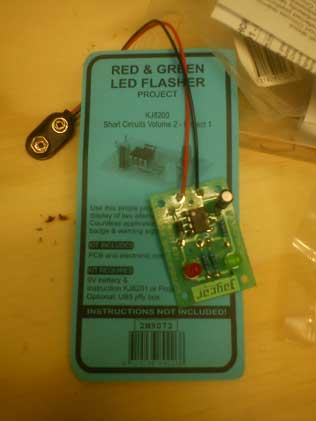 Then nothing worked.
Design and Make a press-fit construction kit.
My young nephew is crazy about cars so I decided to make something that he could put together easily, and paint or colour.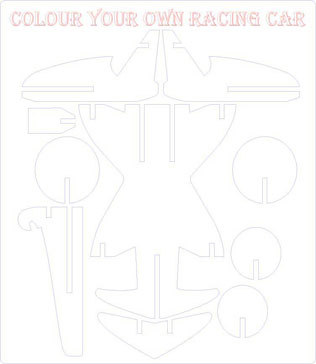 The pattern is based on a tiny plastic one that used to come with chewing gum in the 1950s. I made this one with 4mm poplar ply.
I've also done a press fit model of the standing desk - photos will come later.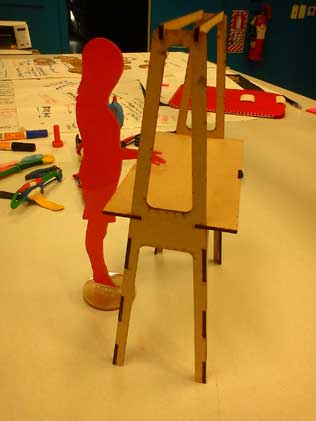 Just the one photo, but with a scale person to add some context.
Electronics production continued...
About an hour after the skype call I had time for another go and I finally got the traces milled out.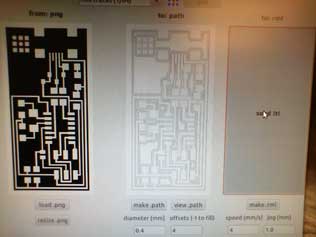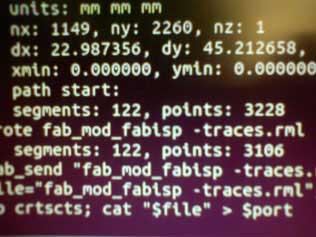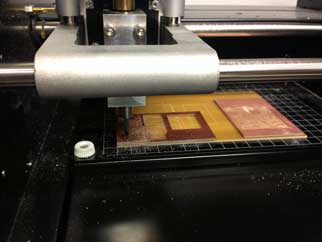 Yay! on to the next bit...
I cut it out, spent ages looking for all the bits and pieces, laid them all out. Sneezed. Hay fever season here. Found everything again and proceeded to SUCCESSFULLY solder it all this first time!!!
I've hooked it up with the AVRISP programmer but haven't yet got the programming working. Luckily it's skype night with Bas tonight.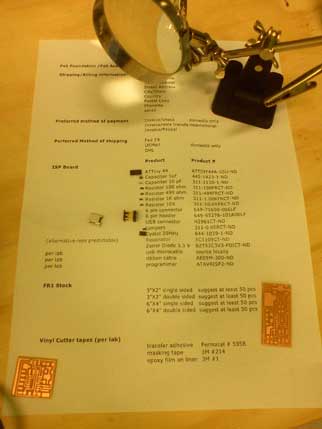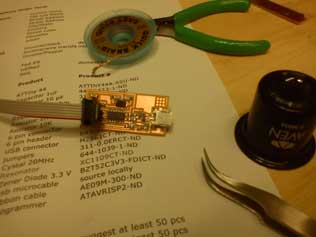 ...I am SO OVER the electronics - spent the whole week trying to get last week's work done again because my first one worked up until the bit where you see whether your computer recognises it as a USB. It didn't. We tested everything for ages on skype, with Bas's inventive use of his webcam that's a head mountable microscope!!! And then, every time I went to make a new one, I get all the problems that I didn't get the first time around - so today, I finally solder up a second one successfully (and slightly more beautifully) and it works to the same point!!! It's programmed, but isn't recognisable. Grrr.... but here are the files.
The Project possibilities:
A standing desk which is environmentally reactive to light and can be controlled by computer as well.
A bag with pockets that are heated for your hands in case you don't have gloves.
A stackable compost bin that lights up green when you've got the right temperature (and red when it's too hot?) Probably been done before...
Electronics continued again:
Note to self: do a better website layout for March.
So, no luck downloading Eagle, have resorted to Photoshop in the meantime. Diodes, Leds, resistors, headache. Must eat Gaspacho.