Electronics production
Student in charge of documentation in this group assignment: Edu Segovia
General considerations and values about PCB production process: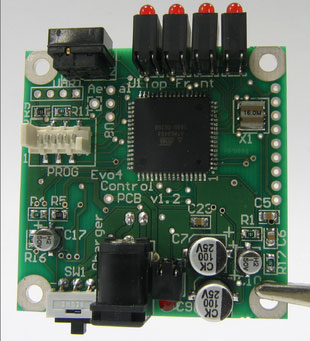 A printed circuit board (PCB) mechanically supports and electrically connects electronic components or electrical components using conductive tracks, pads and other features etched from one or more sheet layers of copper laminated onto and/or between sheet layers of a non-conductive substrate.
The way to produce a PCB is by milling the surface of a copper layered board in X, Y and Z axes with a desktop milling machine. It also includes soldering electronic components on it.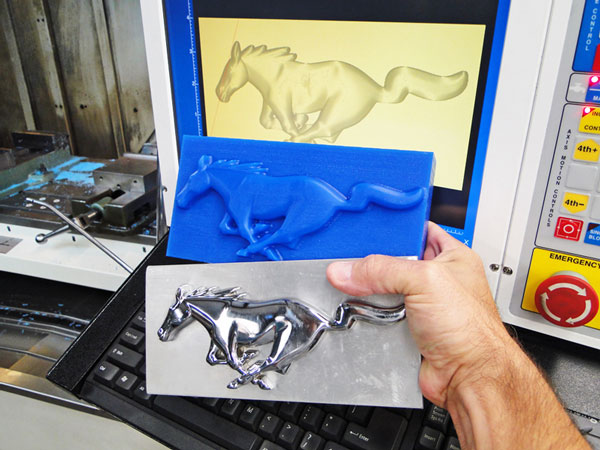 Desktop milling machines usually work with very tiny mills to reach very precise results. Designing grayscale images, vectors and 3D models, machine jobs can be defined; this is known as G-CODE. The mill cuts:
Vector: curved and straight lines defined by points and interpolations in the (x, y) coordinate system.
Image: areas defined by plain colors in B/W and grayscale modes.
3D model: volumes defined by points and interpolations in the (x, y, z) coordinate system.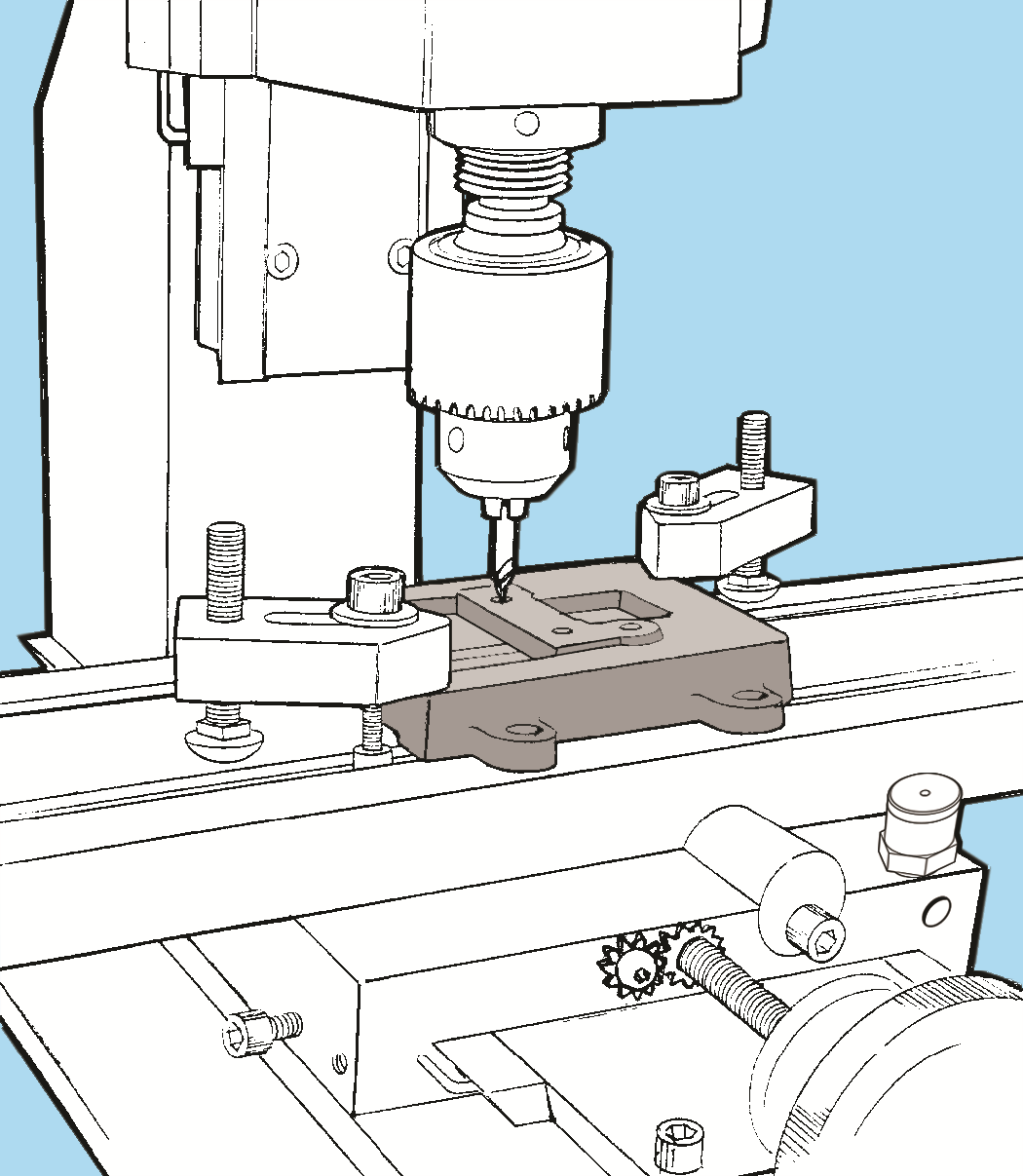 How it works
As a general idea, desktop milling machines work by cutting and wearing materials in 3 dimensions with the support of a mill and a machine-bed that are controlled by computer. Lines, areas and colors should be defined in the design during the 'prepare to machine' step.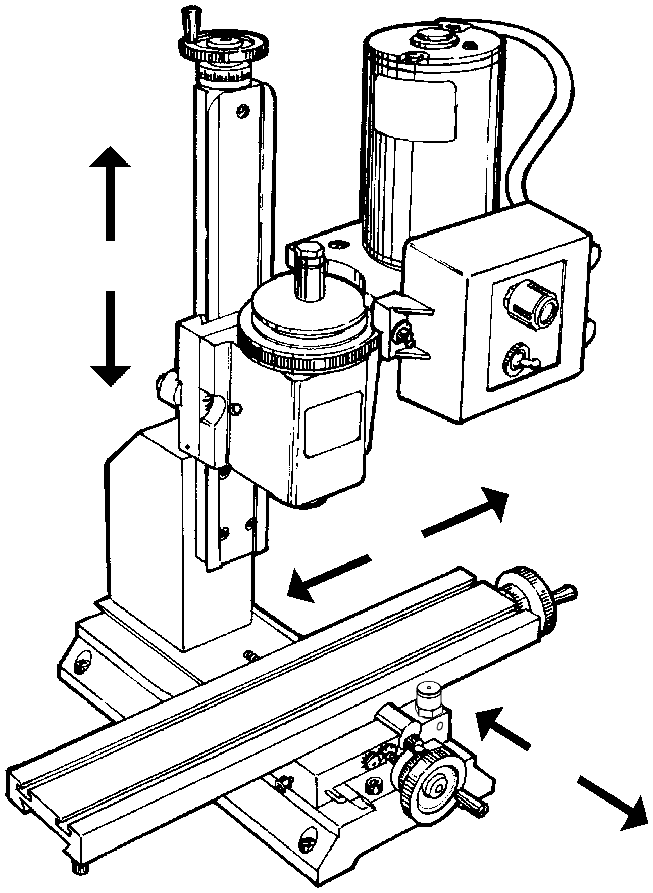 Main jobs and parameters
Basically, desktop milling machines work with 2 parameters: mill rotation speed and bed displacement speed. There is one basic rule to be considered to use desktop milling machine: mill will enter into the material, so it is a delicate process that must be set correctly for general security reasons. The reasonable rules are:
LOW speeds = safe jobs
HIGH speeds = risky jobs
Jobs are made from inside to outside. This is governed by the 'amount' of material (mm) that mill must cut in a time period (s). The job total speed depends on the complexity of the design (traces, areas and volumes) and on the material and tools used. In the PCB case, these two are the jobs:
Tracing > Mill works just on the material surface, 'printing' (wearing) the design on it.
Cutting > Mill goes through the whole material thickness to free from the board the pieces defined by design.
Machine description
The desktop milling machine we used to do the assignment is a Roland monoFab SRM-20, which basic technical data is this: (Source)
Workpiece table size > 232.2 (X) x 156.6 (Y) mm
Distance From Collet Tip to Table > Max, 130.75mm (5.15 in)
Loadable Workpiece Weight > 2 kg (4.4 lb)
X-, Y-, and Z-Axis Drive System > Stepping motor
Operating Speed > 6 - 1800mm/min / 0.24 - 70.87inch/min
Software Resolution > 0.01 mm/step (RML-1), 0.001mm/step (NC code) / 0.000039 inches/step (RML-1), 0.000039 inches/step (NC code)
Mechanical Resolution > 0.000998594 mm/step - 0.0000393 inches/step
Spindle Rotation Speed > Adjustable 3000 - 7000 rpm
Cutting Tool Chuck > Collet method
Control Command Sets > RML-1, NC code
Operating Noise > During operation: 65 dB (A) or less (when not cutting) / During standby: 45 dB (A) or less
External Dimensions > 451.0 (W) x 426.6 (D) x 426.2 (H) mm Weight > 19.6 kg (43.2 lb)
These are the recommended materials. (Source)
Modelling Wax
Chemical Wood
Foam
Acrylic
Poly acetate
ABS
PC board
Machine description
The desktop milling machine we used to do the assignment is a Roland monoFab SRM-20, which basic technical data is this: (Source)
Material description
For this assignment we used FR-1 board.
FR-1 is a hard, flat material that consists of a thin layer of copper over a non-conductive phenolic resin (…) primarily used for making circuit boards. The thin copper layer can be milled or etched away, leaving traces to which electronic components can be soldered. (Source)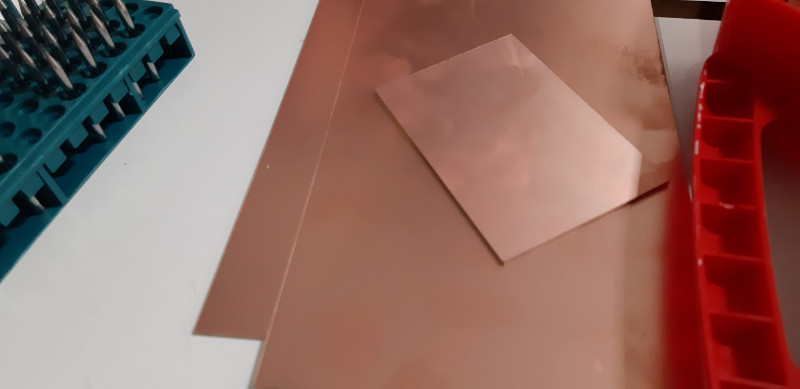 Design description
There was a design to be made for testing the desktop milling machine:

The idea with this design is to test the milling precision. We used a 0.4 mm (1/64'') thickness mill.
Process
These were the followed steps to do the assignment:
Review material > FR-1 (copper non fiberglass board) (150mm * 100mm). Watch for dirt and scratches

Prepare desktop milling machine file(s) > We used fabmodules.org to generate the g-code

Prepare materials in the bed of the desktop milling machine > Used doubled faced tape. Recommended to clean and put the board in the center of the bed to reduce milling depth differences

Prepare the machine (remember that opened machine door limits some functions for security and also can freeze the VPanel software):

Put and fix (just enough) g-code programmed mill into the machine rotor (0.4 mm (1/64'') thickness). Check the straight rotation by testing 'in the air' from VPanel

Calibrate (x, y, z) axes to set the job origin > Used Roland provided VPanel software




Retire the mill in Z axis from the board (use +Z VPanel button in 'continue' mode)

Set initial spindle and axes speeds (40% rpm – 50 % mm/s from VPanel)

Load file to the desktop milling machine > Used Roland provided VPanel software
(WARNING: pressing 'Output' button will begin the job)

Test operation > Watch/Hear if mill slashes the board

Check operation and results > Use VIEW button to bring closer the machine's bed. Check mill tip and material depth worn (copper layer must be completely removed at the design black zones)

Readjust (in needed) machine settings/material/design/laser machine file(s) > If material or mill are changed, machine's preparation must be done again

Start and monitor job > Press 'Cut' and 'Output' again
Watch job and wait it to be finished > Use speed controls to modify spin and axes velocity (warning: consider milling rules exposed). Use 'PAUSE/RESUME' to stop the job for a while. Use CANCEL to clear the running job

Clean cutting dust on the machine and parts >

Secure the workspace (turn-off the machine, close door…)

Check final design results > Magnifying glass, backlighting, side light to see reliefs,… can be used
Results
These are the 0.4 mm (1/64'') mill tracing test results of desktop milling machine: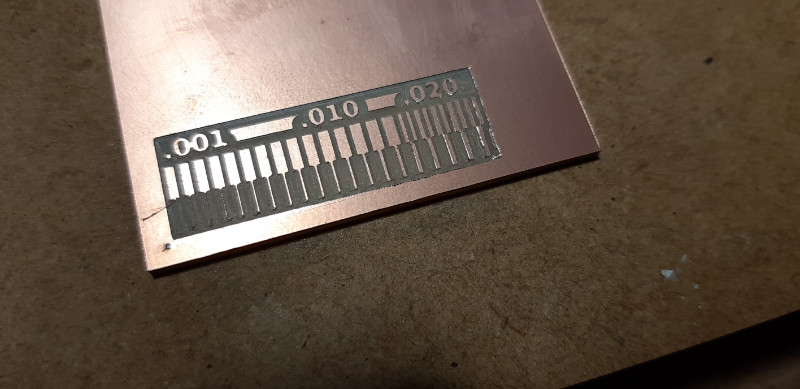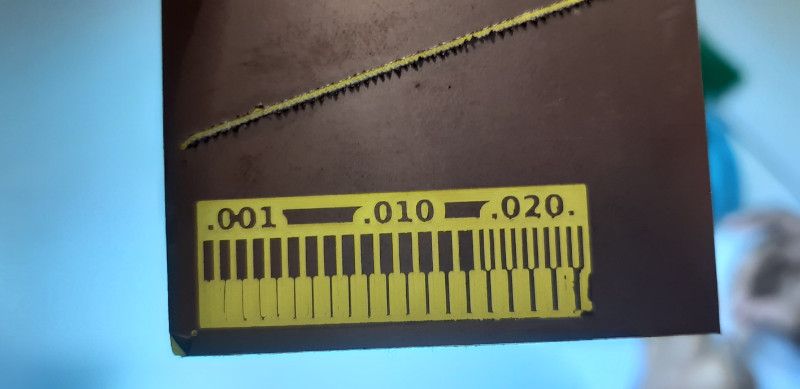 Resolution starts to get lost at 0.03 point and down, and functional limit is lost at 0.01.
Conclusions
Roland monoFab SRM-20 desktop milling machine on 1.7 mm FR-1 board reports these main pros/cons conclusions:
PROS

High precision
Mill/Bed remote control
Relatively fast jobs
Silent jobs

CONS

Lack of Z sensor for calibration
Lack of bed calibration system
Reduced manual operating space
Lack of interior lighting and visibility
Leveling
The way the machine works needs a bed well calibrated to avoid Z distance differences, which would return some parts more worn than others or some parts even without being worn.
All non machine bed-parts were removed and replaced with ones.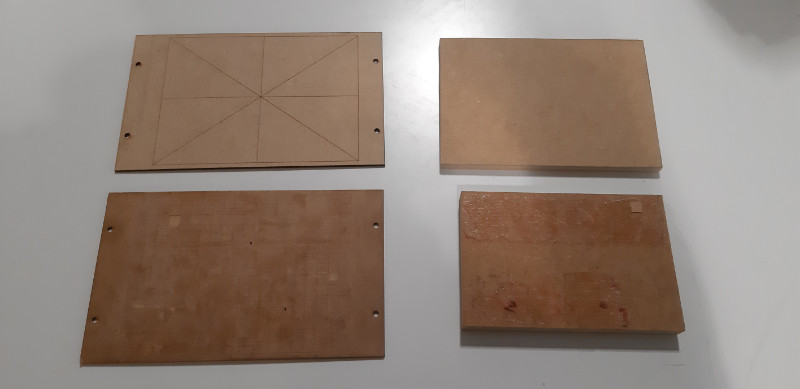 Then, a 1 mm cut was made on the material to ensure the same Z distance on any part of the bed. It was done with a bigger mill in two Z=-0.5 mm passes. The g-code was generated in Cut2D Pro.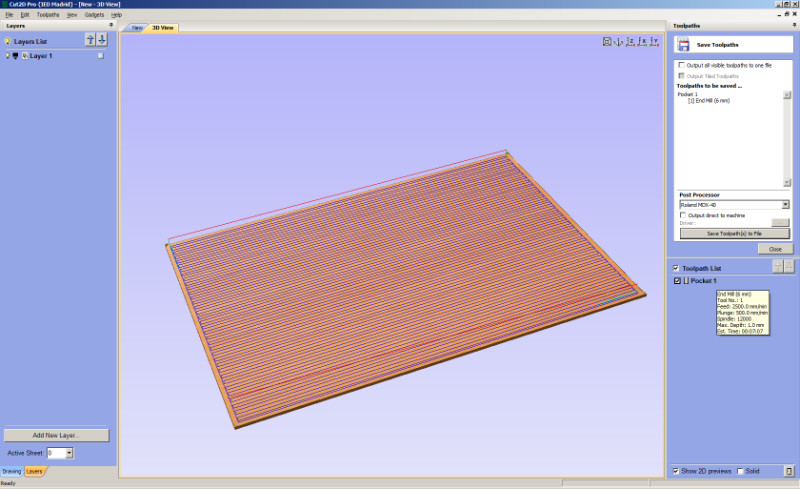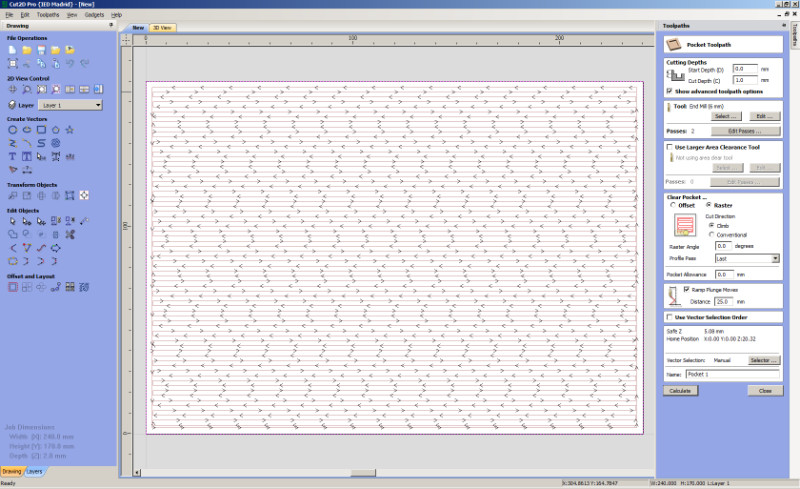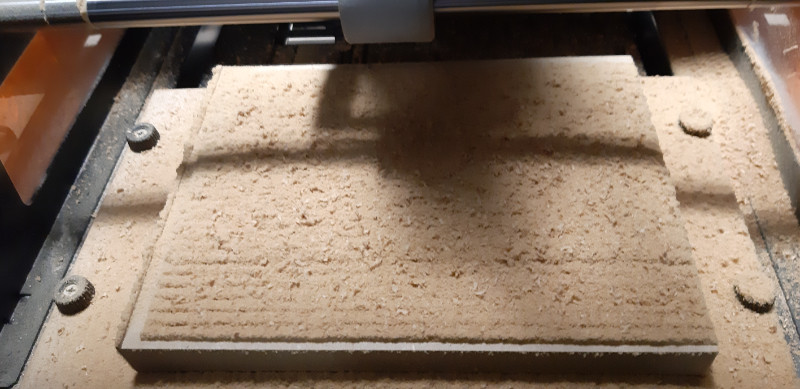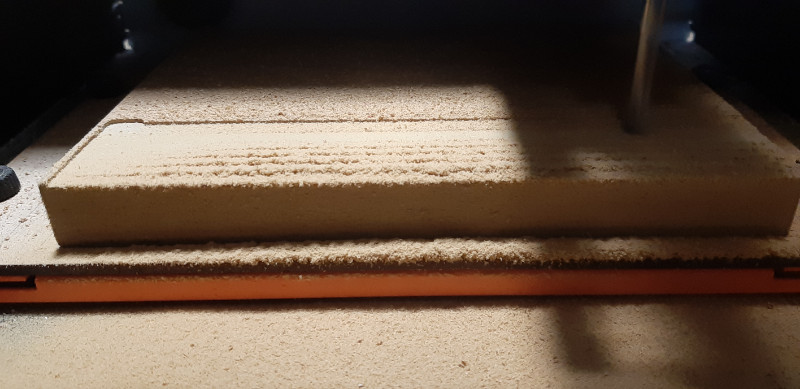 This is the result of a new well calibrated bed-machine in where to put the material for PCB production.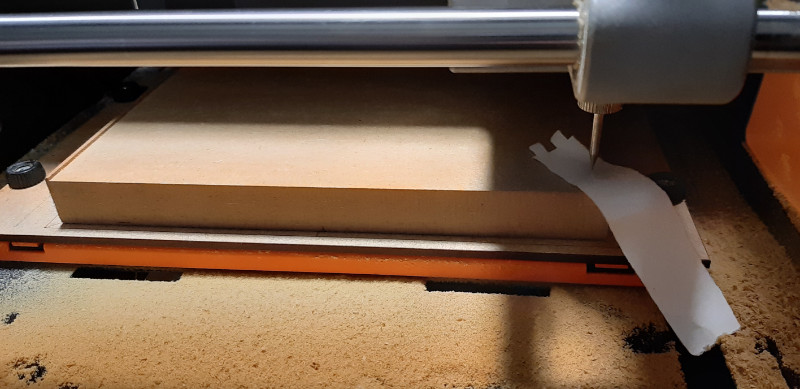 week 2