Fusion 360 CAM Tool Paths
I'll have to admit I'm kinda already pretty good with Fusion, but what I really wanted to spend time mastering was the CAM Tool Paths utilities.

The majority of things I've needed to do involved CNC machining and so being able to design parts with tool paths in mind as well as setting up the machines myself is something I would find very beneficial.


The basics of sketching - Part Zero
In basic 3D modelling you have a cartesian workspace, (X, Y, Z). The easiest way to start, is to create a profile of your part in what's called a "sketch". This sketch is a 2D drawing on a plane within the workspace, and you can "extrude" the shapes that you draw.
So when you start a sketch, there are basic geometry tools like line, circle, rectangle and some others. These are pretty self explanatory, you just create your shapes that you need in a sketch. Don't worry a lot about getting it perfect, or even rounding the corners at this stage. If you've got a profile that's closed you should be happy.
My mantra when designing a part is that you'll never get it right the first time. So don't even bother. How many times in your life has the first decision you've made been the best decision? Studies? Career? Romance? Pretty much never.
Designing is just like that. No matter how good you are at it, I bet you the first time you draw it you generate a million ideas of how you could have started it even better!
The trick is to get through this stage quickly, the more iterations of a part you can make in an hour the better your design is going to be. Personally, it takes me 3 tries to get something looking the way I like it. For a finished design I may have somewhere in the realm of 30 designs. That may sound like a lot, but they are FAST >>>>>> !
So after you've made a bunch of shapes, you can get into some more advanced sketching tools. They are construction lines, relationships, mirror, offset, linear pattern and circular pattern.
Construction lines - These can be found in the right pane. They don't form part of any closed profiles, but can be used to set up many entities in a line, create mirror lines, rotational axes or set up centre-points of shapes.
Relationships - In general, I'm pretty useless at these. Jokes aside, these are some of the most powerful tools you can master in modelling. I'm going to take you (quickly) on through the geometric words and what they mean.
Read this, even if you don't care:
Coincident - This translates to "in the same place". If you want the two ends of a line to be joined and form a corner, you can use the coincident relation.
Parallel - Sometimes, especially if you're drawing fast, your lines don't come out perfectly parallel (at the same angle). This is ok, just use the parallel relationship and click both lines you want to be parallel.
Midpoint - If you want something to be halfway along a line you can set them to be midpoint (middle point).
Concentric - This is a fancy word for two circles sharing the same centre. This is good if you want one circle to be centred on another circle.
Colinear - This is a fancy word for "sharing the same line". You can use it to make two lines (that don't necessarily join) to be in line with eachother, and also if you have a point that you want to line up with a line that you've drawn.
Tangent - Another fancy word, it translates to touching a circle at one point. So if you want a line to touch the edge of a circle you would use tangent.
Fixed - Don't use this one often. It basically will hold the entity in that position so you can't drag it around. I generally use this only temporarily, and always remember to un-fix the entity after I'm done.
Mirror - You can mirror your drawing to make sure everything is symmetrical. Sometimes it is easiest to use a construction line to define the axis of symmetry.
Offset - This is useful if you've made a complex shape, and want to reproduce it a few millimetres one side or the other. Nice for making thin walls.
Linear pattern - This takes a shape and copies it a certain distance away. However, it can work in both X- and Y-axes meaning you can create a rectangle of sketch objects! Really nice for an array of say, holes, if you did a 3x4 linear pattern it would create 12 holes at the spacing you ask.
Circular pattern - This is just like the linear pattern, but copies sketch objects around a point or a circle. Say you are making a wheel hub and need 6 holes, you would draw one and then circular pattern the other five about the centre-point of the hub. Suuuper neat!
Back to the story
I'd been meaning to buy a hard case for all the stuff I bought from the electronics markets in China but Wendy and I went to the shops and after seeing the price of a
genuine Nanuk case
Wendy inspired me to print a case instead. Given the huge amounts of machine resources at FabLabUAE and the abundance of orange ABS I decided I would try it out as a sub-project!
This also means I'd be able to store my final project in something protective while I travel.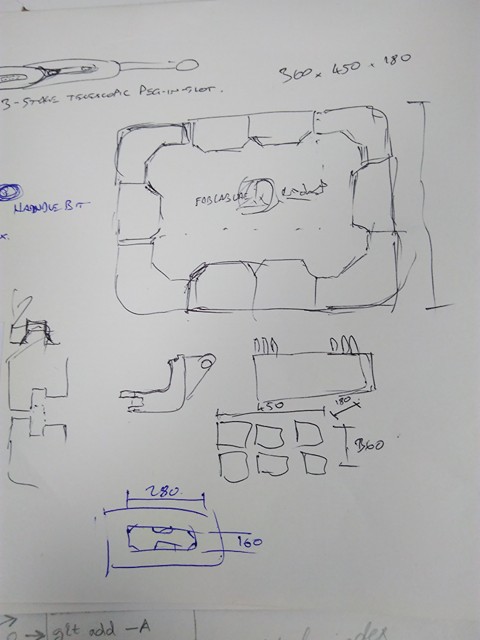 The idea is that each segment needs to be able to fit in the print bed (180x180x300mm roughly for each segment). Also I'll use some kind of plywood or other as the flat panels. I'll also machine or etch the panel with the FabLabUAE logo for bonus levels of awesome. I'll need to use Inkscape to vectorise the logo and send it to Fusion 360.
How to design things fast and learn to do other stuff fast too
There are many ways to start designing a part, one thing that I've found that helps (at least initially) is to pretend I was a CNC machine and trying to model the part that way.
To do this I start with a big block roughly the size of the part I'm modelling. Then I draw sketches on the front, side and top views of the part, and use an extruded cut to remove material and make the outline shape of what I have in my head.
This is a fast way to get a quick shape, and understand the geometries involved in 3D space. After this I might do some fine tuning of any angles and lengths in my sketches, then I'll finish up by using the fillet and shell tools to round out the model.
My next favourite tool (after fillet of course), is the shell tool. Basically you select a face and it hollows out the remaining faces of your part to the thickness you specify. This is a particularly efficient operation for creating, say a box with filleted edges, because you don't have to worry about creating walls. You simply model the outside of the box, and click on the lid to remove, and tell Fusion how thick you want the walls to be.
It really takes practice to understand when and where to use these tools, and sometimes (ok, a lot of the time..) what you thought a tool would do simply doesn't work.
It's ok though, you can get by on a healthy breakfast of extrudes, extruded cuts, fillets and shelling for a long time before you feel the need to move to any of the other features.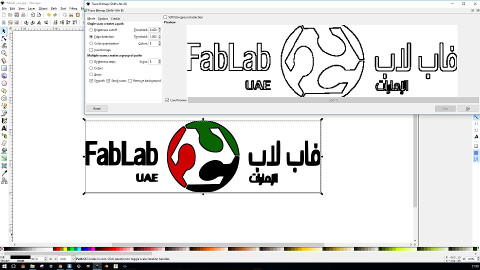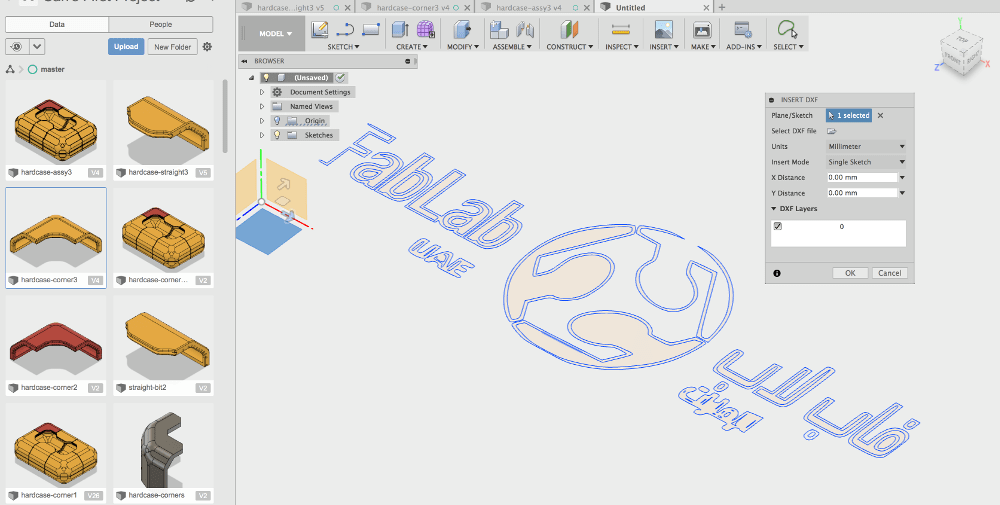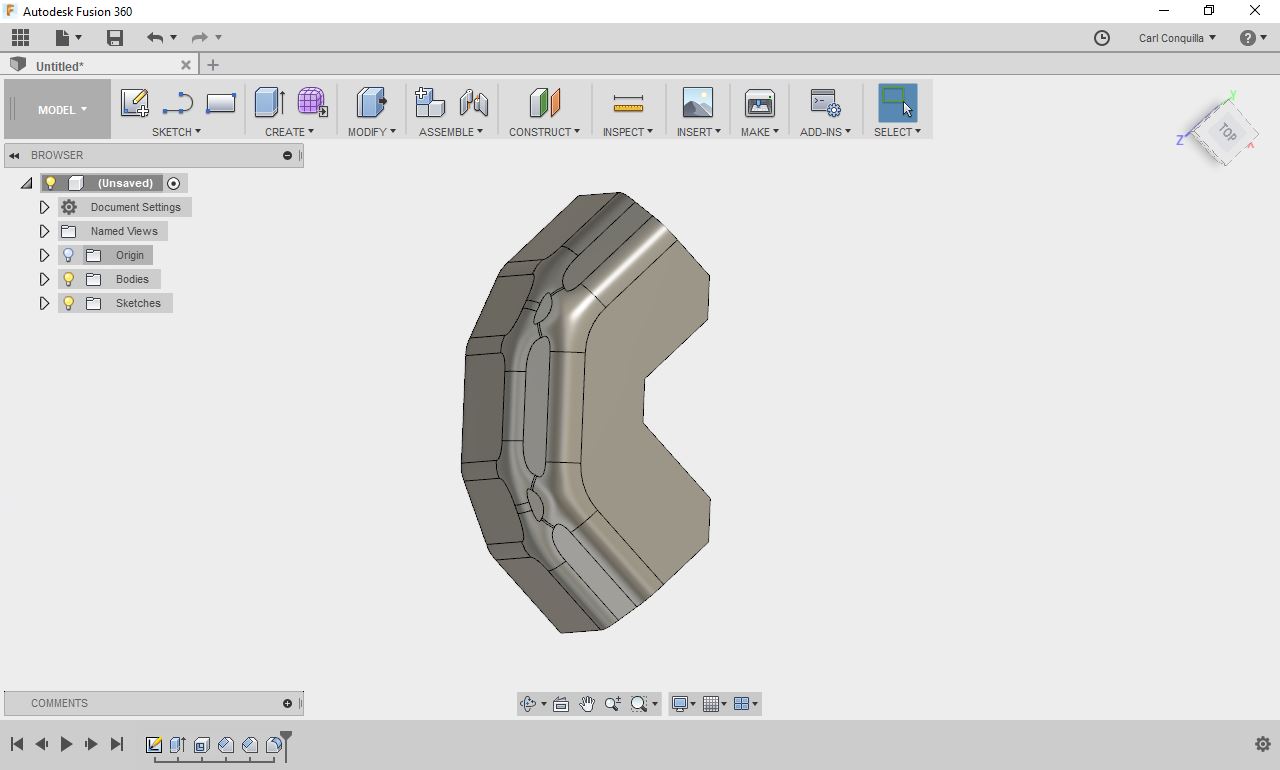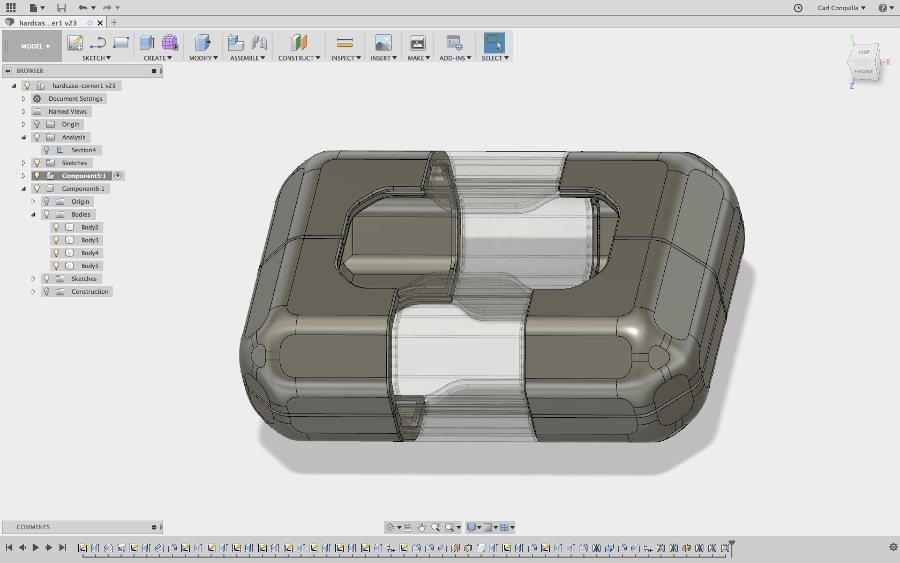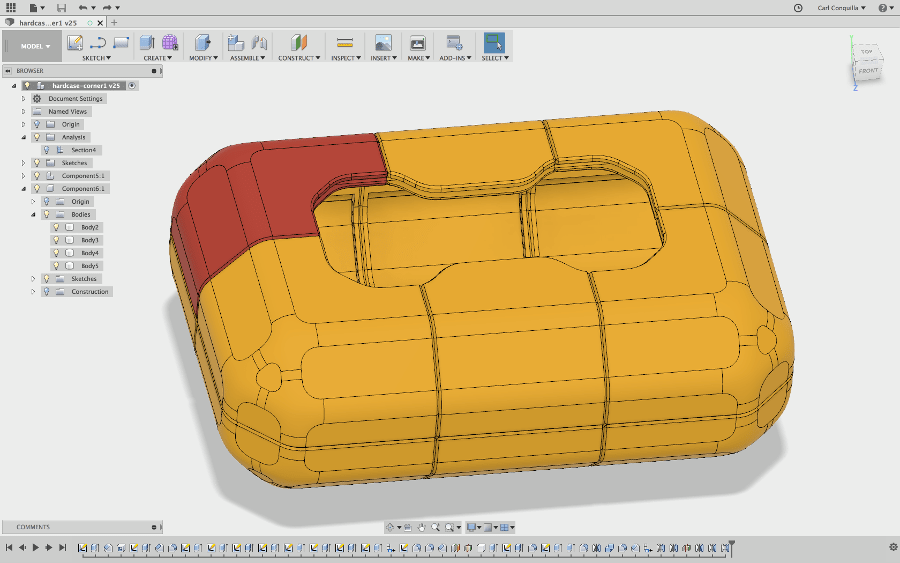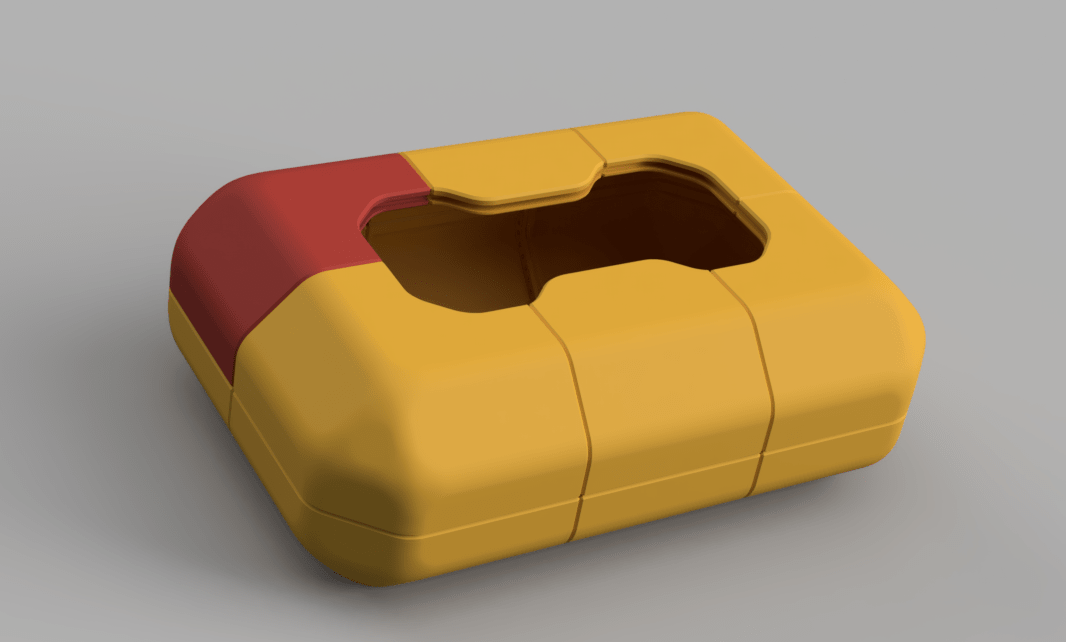 Single sided machining - roughing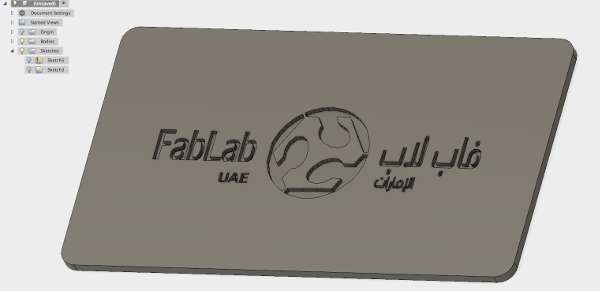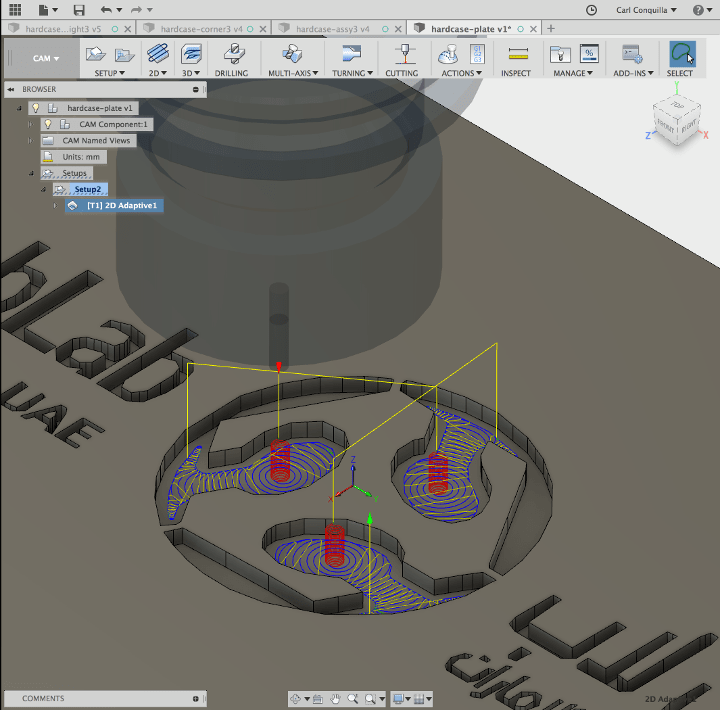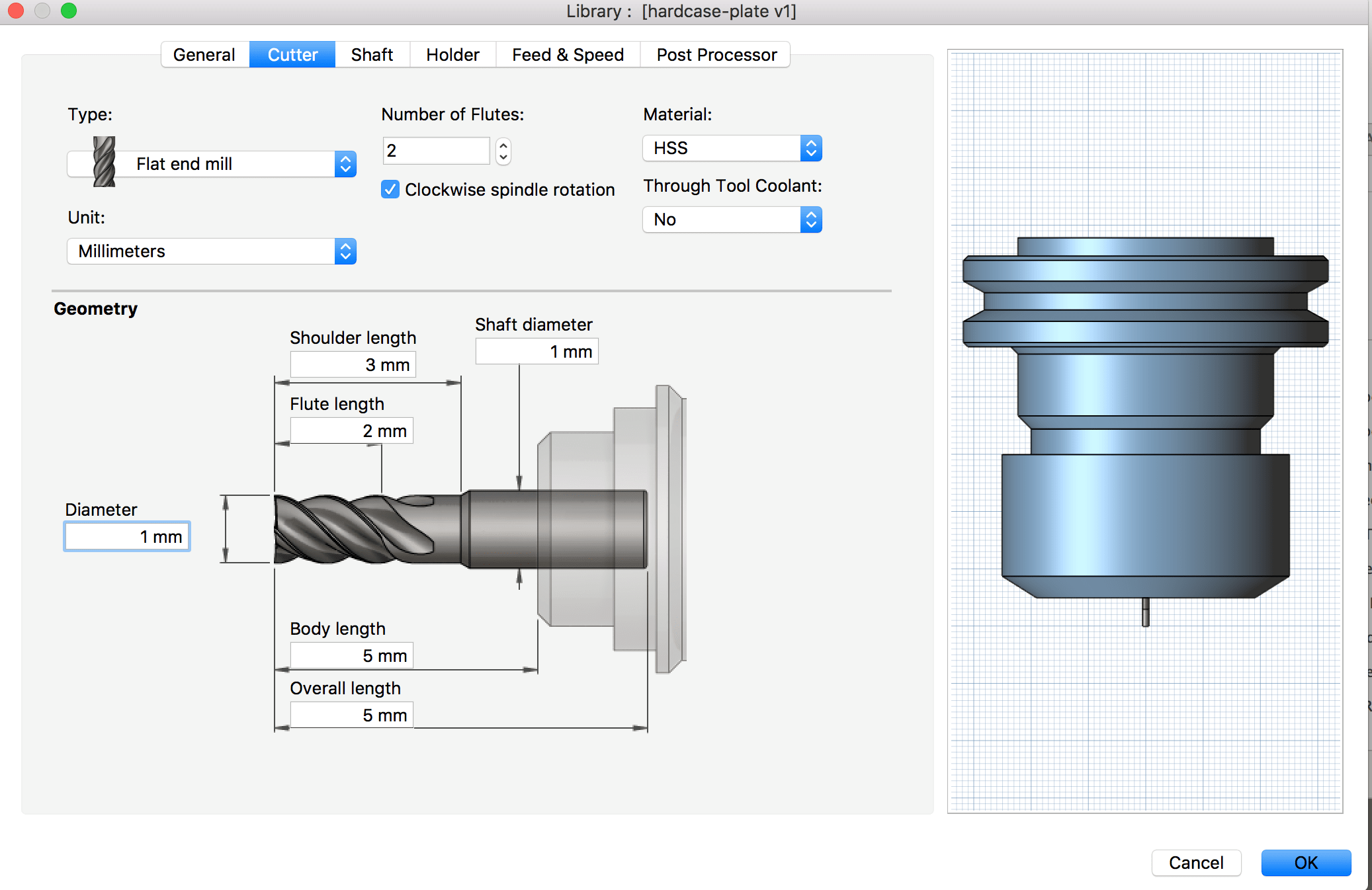 To use the CAM tools in Fusion you go through the menu on the top left (that usually says "Model") . From there you basically work left-to-right on the top menu, starting with "Setup".

The Setup defines things like which way your part will be facing in the machine, how much material around your part there is to remove.

Next you start with an operation - there's 2D and 3D types of operations, as well as turning and cutting. I'm not fully on top of the different operations, so I stick with adaptive clearing for majority of what I would need.

When you pick an operation it's going to ask you for a profile to cut, and then things like the tool you will use and how fine you want to cut.

This is useful because usually you want to do a roughing pass and you don't want to rough too close to where the final part will be. Depending on your material and tools, you can leave 0.5mm to 1mm of material on the workpiece during the roughing pass, and Fusion CAM will know to remove it later when you configure your finishing pass.

The really awesome thing I like about Fusion's CAM is how easily you can update the parameters for your operations and it recalculates your toolpaths. THEN, you can go through and view the simulation of material being removed so you can make yourself familiar with how the machine will move. An amazing feature, especially if you've never done that sort of thing before!
For those of you wondering here's my:
Cheatsheet for Fusion, and other commands I like to have on speed dial
Shortcuts:
Sketch:
+ Line (L)
+ Dimension (D) - Smart dimensioning tool. Use it to define lengths, diameters, distances and angles. You can click two objects to define a distance or angle between them. However, for distances of zero I prefer to use the coincident or tangent relationship instead.
+ Rectangle (R)
+ Circle (C)
+ Trim (T)
+ Offset (O)
Features:
+ Extrude (E)
+ Fillet (F)
And other commands I like to have on speed dial:
Sketch:
+ Point - For those pesky points you want to refer to but don't automatically form references. Some intersections for example, won't automatically let you select them. Centres of complex shapes also
You can apply dimensions to points too, say you want to refer to a point 2/3 the dimension of a line. just make sure you set up the relationships for your point object.
Features:
+ Shell
+ Mirror
+ Pattern (Circular and Linear)
+ Sweep
+ Chamfer
+ Split body - Splits a body by a shape that you've defined, even if they are touching.
+ Combine - Combines two or more bodies so long as they are touching.
Other top tips:
+ Use the timeline at the bottom of the window. The little grey line at the end you can drag left and right to see where changes have been made.
This is super useful if you are trying to debug something that went wrong, or if you came back to your design the next morning and couldn't remember what you did! (Also namely if you're working on someone else's design, you can reverse engineer what they did.)
+ Use the lightbulbs in the design tree - you can hide and show things you do/don't want to see at the time.
Say if you want to use an older sketch you can set it to "Show" or 'lightbulb on' and you will be able to use an existing sketch you had drawn.