Final Project - Concept (work in progress)
Generative FabLab Collective Knitting: a piece of work
Concept
My potential final project could be a blanket, sized 50 x 50 cm, with connected flowers in different materials and functions.
I got some first inspirations from:
earlier Fab Academy Alumnae projects as "hordable heart" by Jasmin Chen, "flower2sound" by Skúlína Hlíf Kjartansdóttir, and "Starry Art" by Rachel Legerski;
the 2nd Fab Academy 2018 live session on Jan 24, with the student, Minsu Choi, from FabLab Seoul, interested in digital fabrication for traditional craft. Neil Gershenfeld told us about projects from FabLab Kamakura, Cook Inlet Tribal Council's Fab Lab, and Haystack FabLab, I would explore;
a talk with our instructor at Opendot, Milan, Enrico Bassi.
Thank you all for inspiring me.
Sketch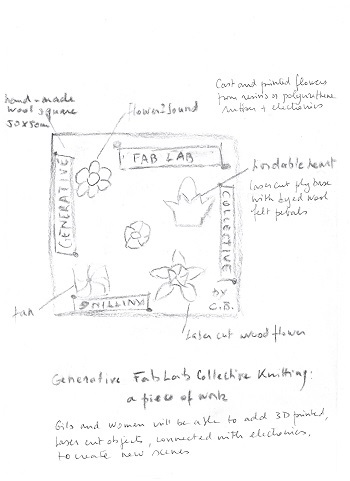 Final Project - Origins
History
Origin of the name Generative FabLab Collective Knitting