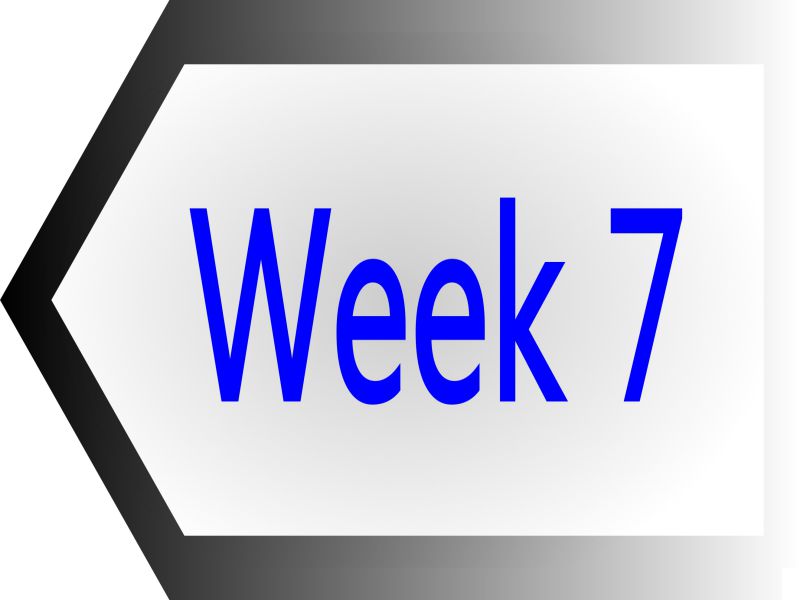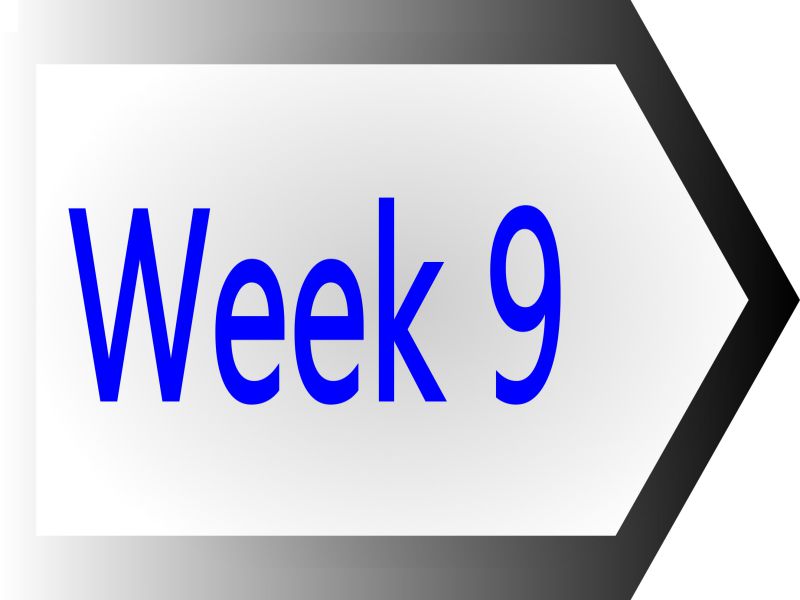 Computer-Controlled Machining
Tasks of the week
Group Assignment:
Test Runout, Alignment, Speeds, Feeds, and Toolpaths for your machine
Individual Assignment:
Make Something BIG
Group Assignment:
We are unable to do this week task on time because our ShopBot was not in operational condition, so we complete the work till designing and leave this week task until Mr. Francisco Sanchez who is in contact with our instructors come to fix the machine, and then suddenly in Week-12 he got the visa to visit Pakistan and came here to rescue our week-8 tasks. Not only how to run ShopBot, we learn many things from him.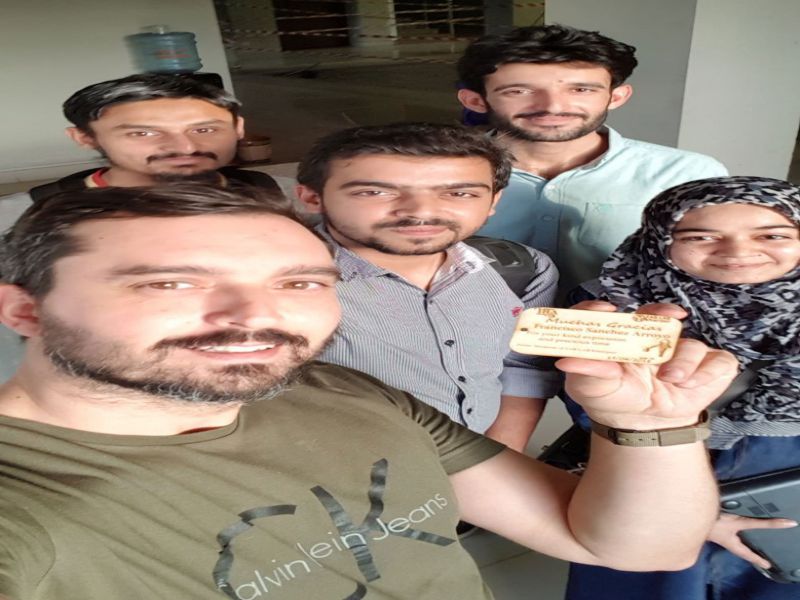 Group selfie with Mr. Francisco
In group assignment we did two things, as our machine is working first time, we need a flat surface platform for it. Second we make a test part which help us to set the size of slots in our Individual Assignments.
Flattening the Platform
Taking Measurements
We are provided 8x4 ft 17mm MDF Wood boards for working on this week task,we use MDF board as platform for our Shopbot, but after checking the thickness we found that the board was not 17mm thick on each side.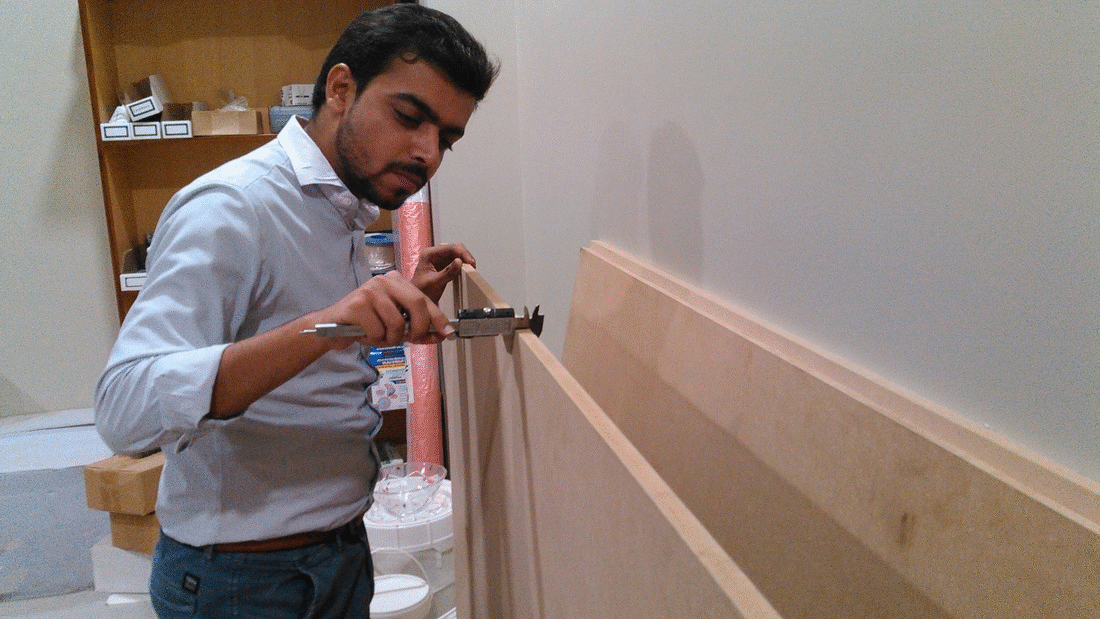 Measuring thickness of the board
We also measured the height and width of the board because while creating toolpath we need to feed these input also.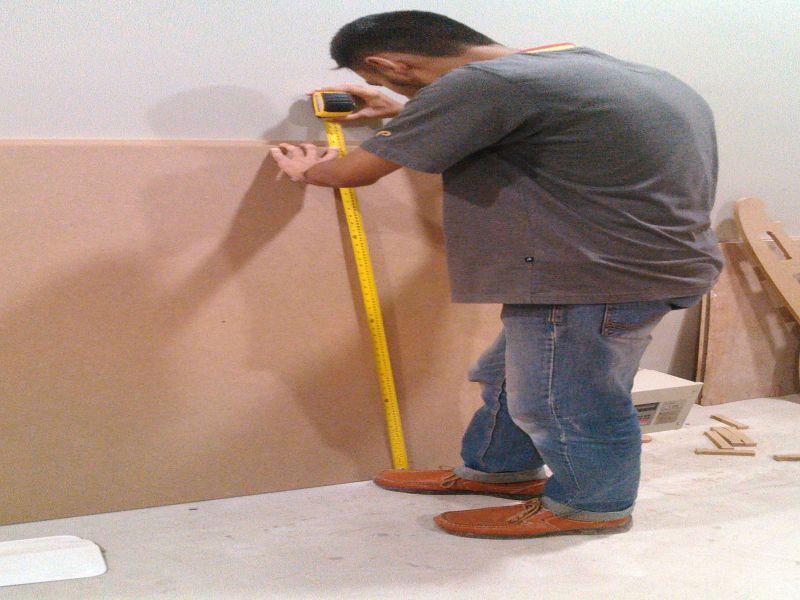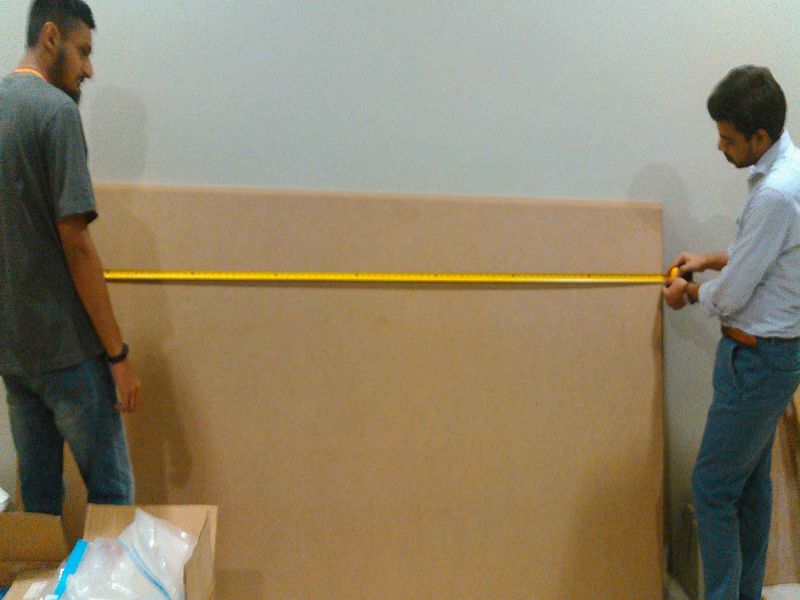 Taking board measurements
To make the surface flat we are using spoiler board cutter which shaves board to same thickness.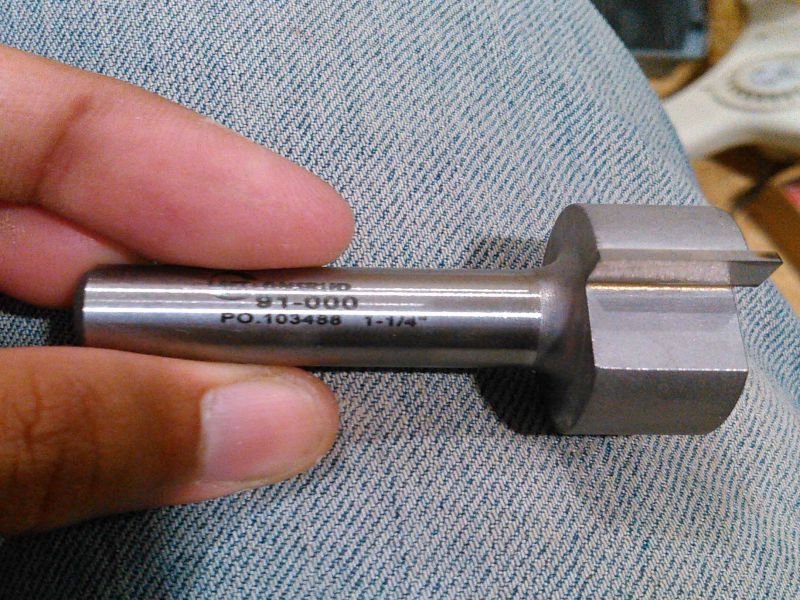 1/4" Spoiler-Board Cutter ( 91-000) Bit
Generating Toolpath
We are using VCarve Pro Software to generate the G-Code for ShopBot, below we described each step for this process:
Double click on VCarve to open it



Fill the job setup menu by entering board dimensions (width, height and thickness), set the XY Datum Position by clicking on bottom left corner, set units (our dxf files are in millimeter so we select "mm" in this column) and in last for appearence we select MDF because we are using MDF, then click "OK" for file operations.



To generate a toolpath a vector is required, so we draw rectangle on whole board.



after making vector now we are setting up the toolpath. Click on "Pocket toolpath" option in toolpath tab, then set the cut depth to "1mm" this shaves the whole board over 1mm, then select the "tool", in our case we select 1/4" Spoil-board cutter (the picture of the tool is mentioned above). Now select the vector, name the toolpath and click on "Calculate".



After calculate the toolpath it is good practice to check the Preview of toolpath, if something is not shown right then change the settings and again generate toolpath.



If everything is correct in preview save the toolpath by checking post processor and set it to the dimensions we use to make the file. and then click on "Save Toolpath(s) to File", this can generate .sbp file which is used by ShopBot as instruction to work on job.



Generated .sbp file is given to shopbot, after setting x,y and z coordinates, we click on "Cut" in Shopbot panel to start the job.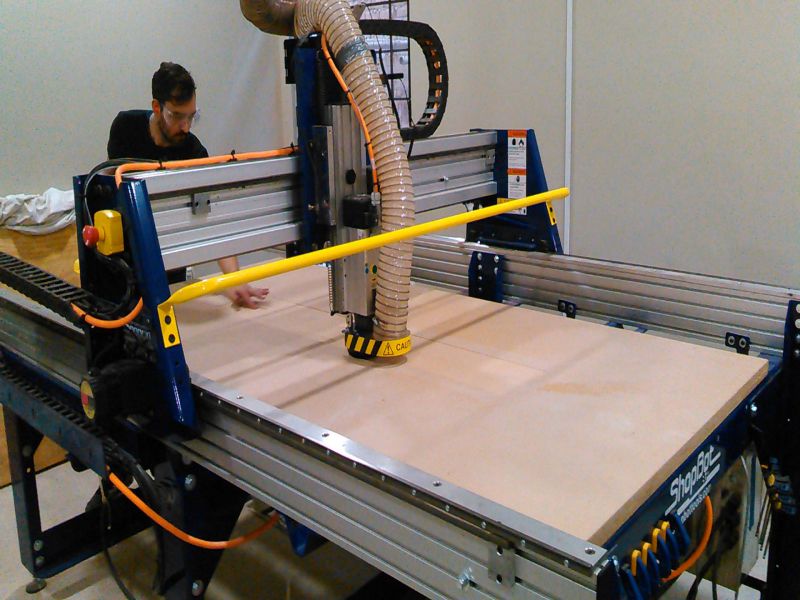 Mr. Francisco checking machine performace while machine is paused between surface flattening process.
Making Test Part for Press-Fit
Most of our assignments are press fit so we made a test part with different thickness slots to check in which slot the wood is better press fit. The design is made in SolidWorks while using two parameters, one is average thickness of material and other is the "difference" which is used to set the slot sizes.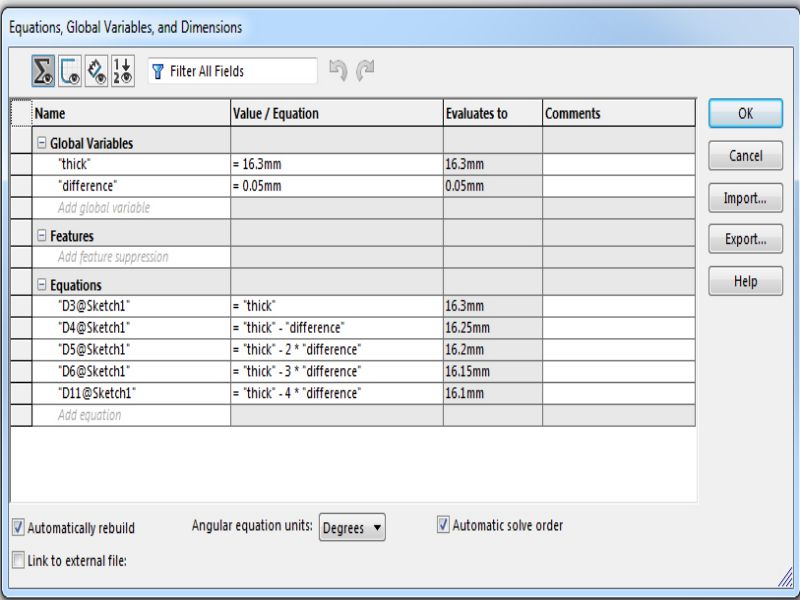 Using "Line" tool and "smart dimensions" we made this little piece of 60x150mm.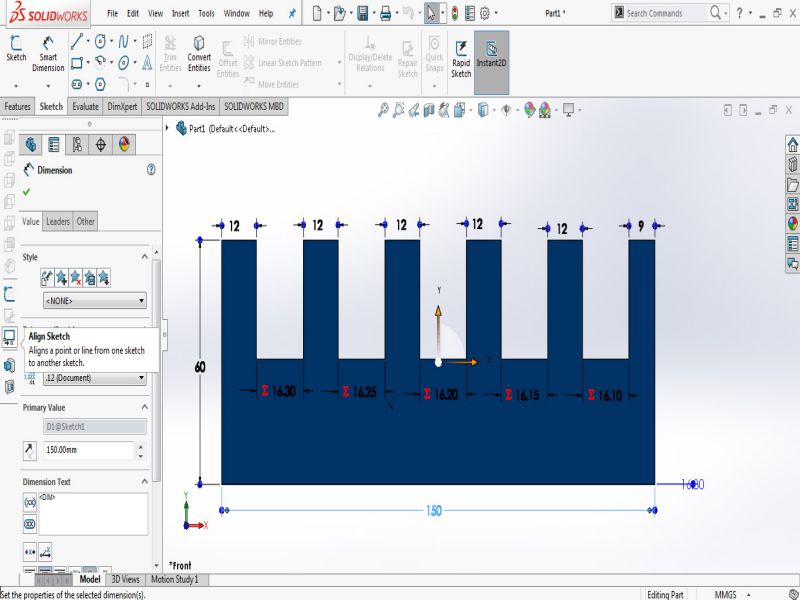 For VCarve we need a file in .dxf format and to make a dxf in Solidworks first we need to open the file in "drawing" window then save it as .dxf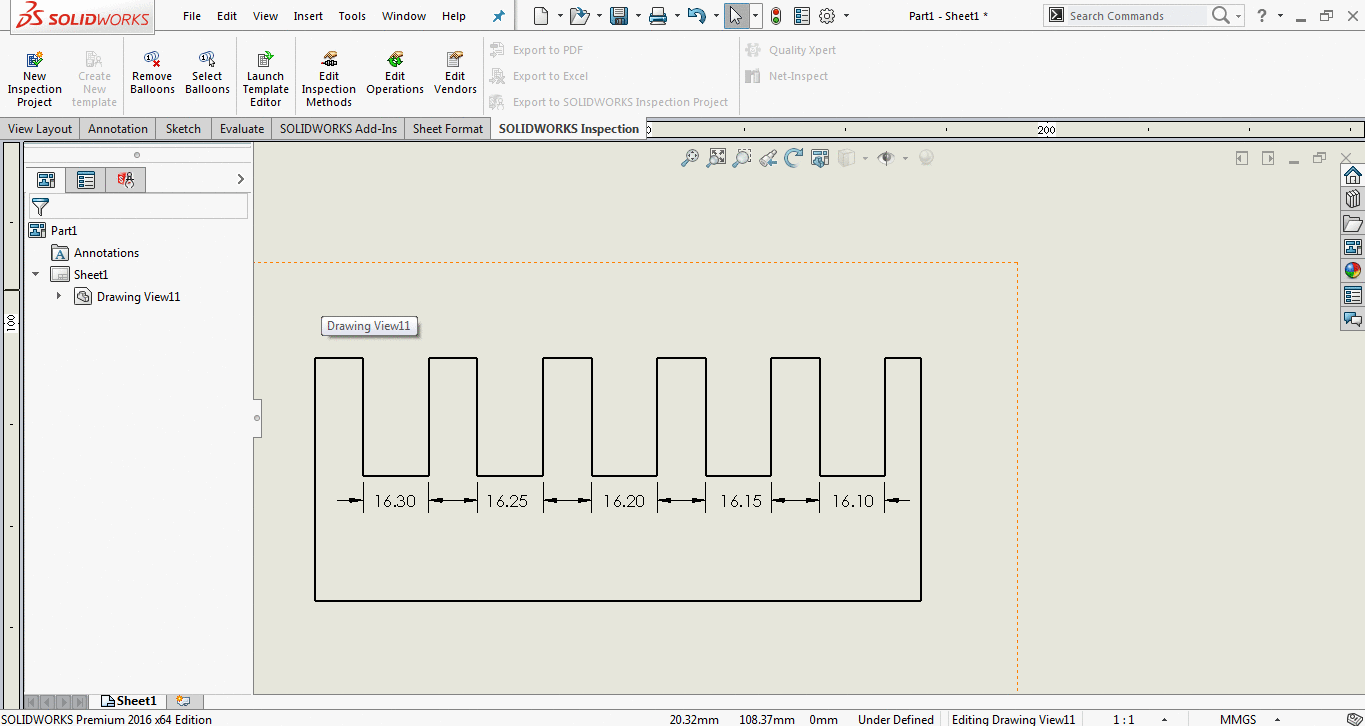 After making test part design we are instructed to prepare our week assignments and set them along with test part in VCarve for job.
Individual Assignment:
This week is amazing one, designing and making something on wood using shopbot machine. This week task is to design something big using shopbot machine which is computer controlled wood cutting machine. For this I designed a Chair, I, then cut the designed chair on laser cutting machine using cardboard, for checking purpose. For cutting it on laser cutter machine on cardboard, I designed its layout on Inkscape software.
I got idaa of the chair from a video, the image is given below from which I tend my mind to design a chair similar to this one.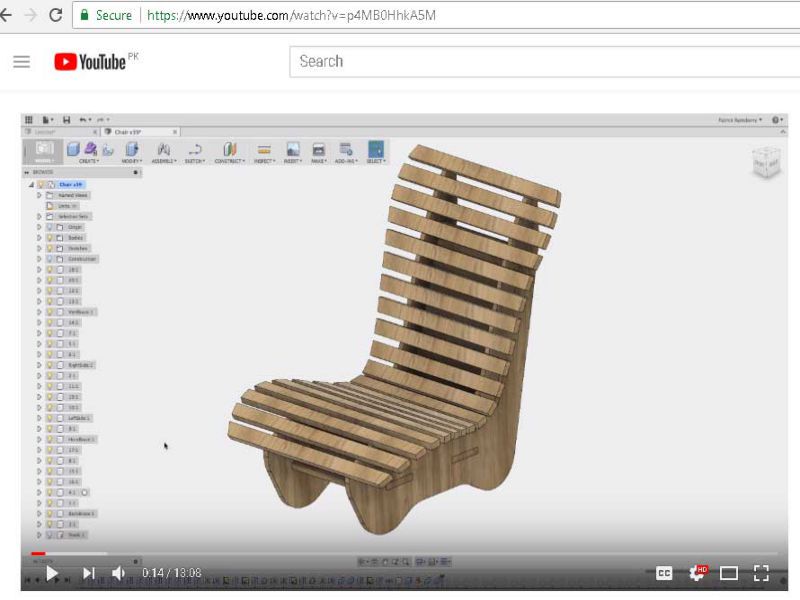 I modified this model to design a chair of my version
Following is the rough sketch, designed for laser cutting machine, I knew it needs changes after cutting it on laser cutter machine on cardboard.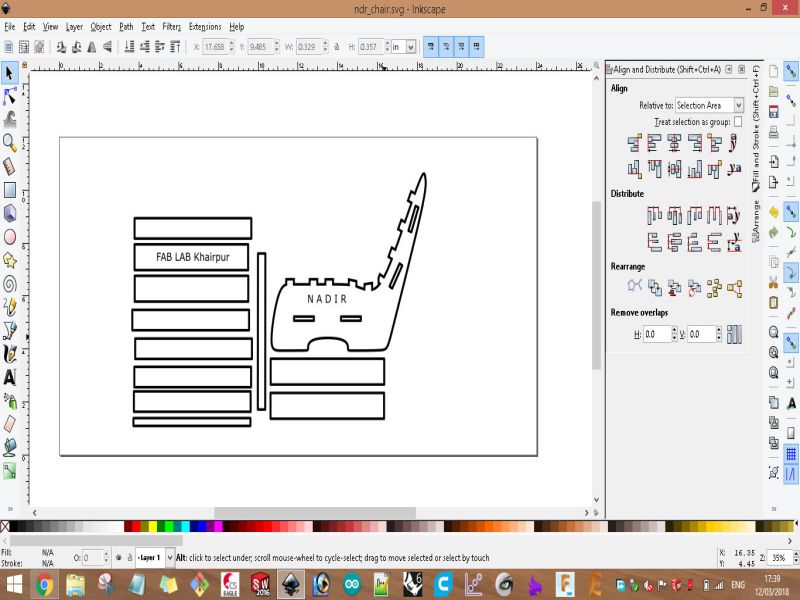 Initial model designed in Inkscape for Laser Cut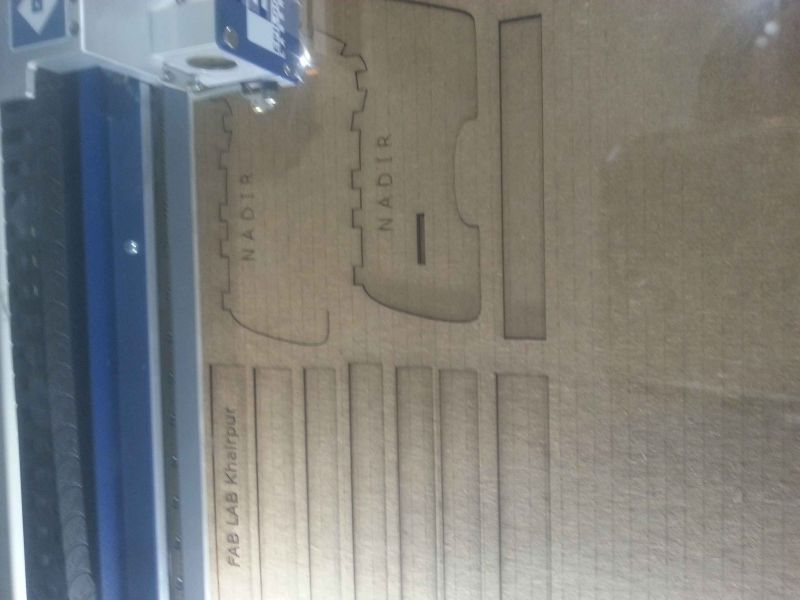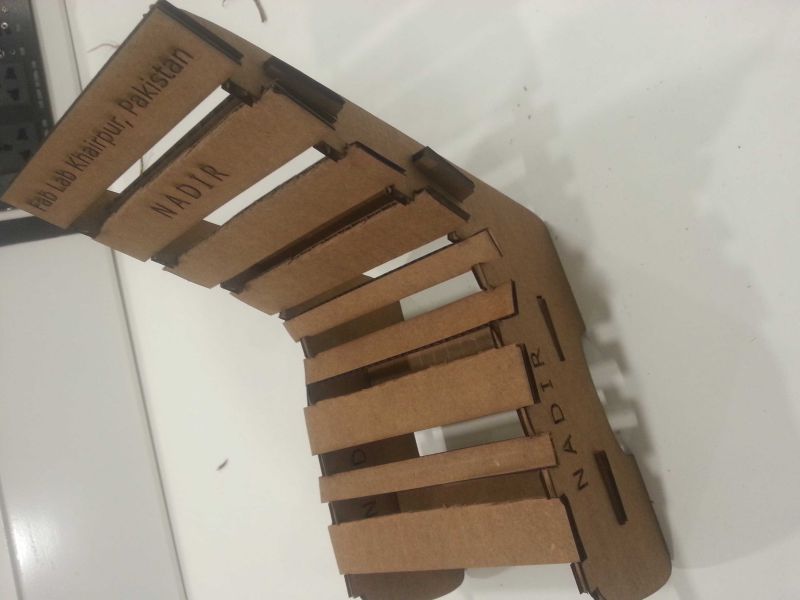 Laser cut demo
I noticed few changes in my first version of chair, so then I designed it accordingly. Below is the sketch of my model.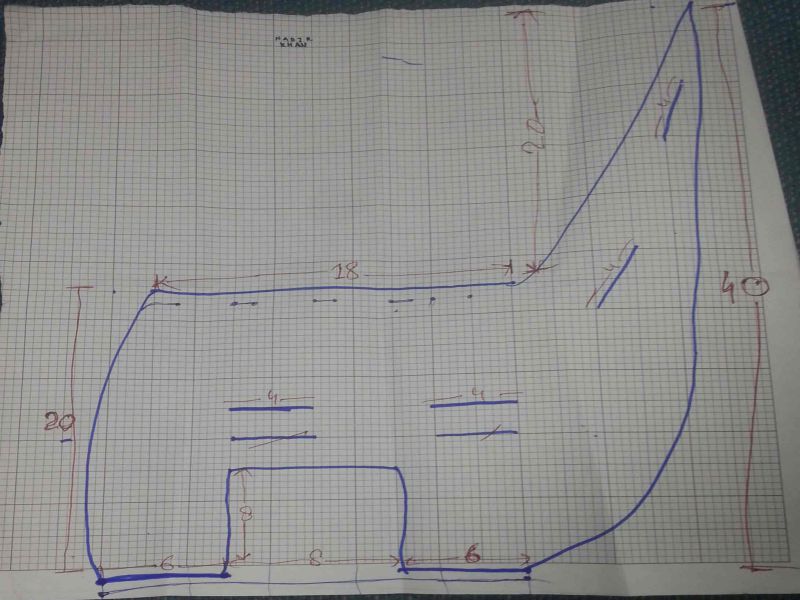 This is the basic sketch of chair
And, started designing it on Rhino CAD software. I download its trial version (Rhino 6) for 90 days and then installed it on my laptop. In last I came to a conclusion that working with rhino is good. As, Rhino has another facility of providing parametric modeling through 'Grasshopper'. Grasshopper is a plugin to do parametric modeling in Rhino environment. So, I started designing it here on Rhino6's environment, where many times I stucked then watch tutorials to get my desired edge of designing. It was a good experience of making a design which is in your mind, so this did not bothered me.
Setting files for Vcarve
After finishing the designing process in Rhino 3D, I exported .dxf file for opening it in Vcarve. Vcarve is a software which provides us to solutions of cutting parts in our CNC machine. This software can import 2D designs from other programs and also provides the full set of drawing and editing tools. For 3D we can rough and finish the model, which we will use in Composite week's task. So, I imported the .dxf file in Vcarve file for further process.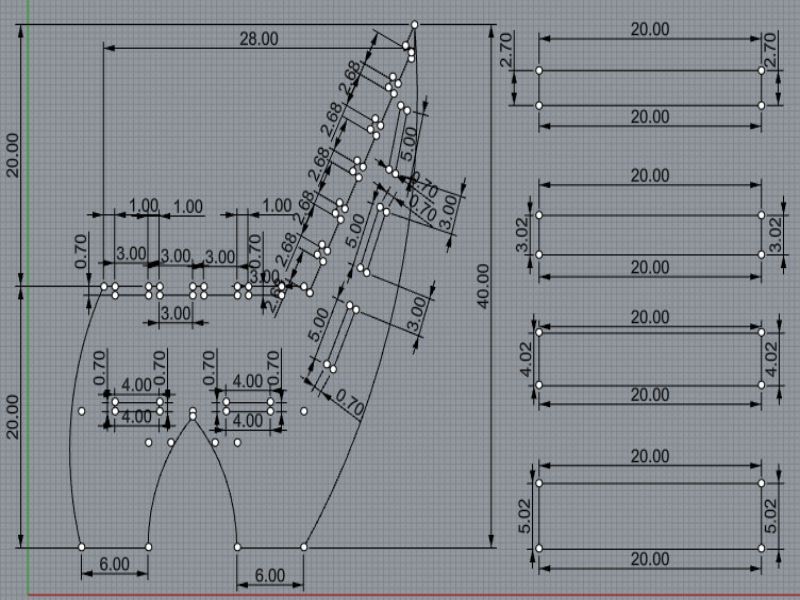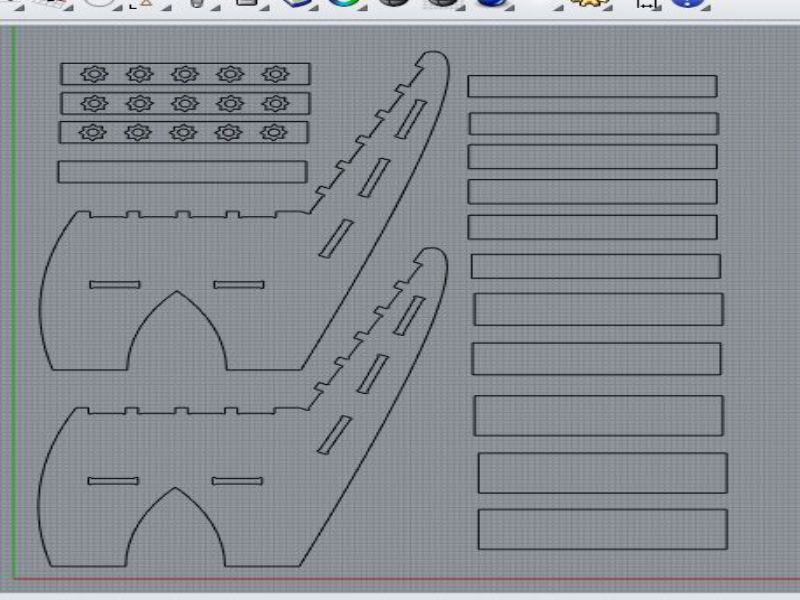 All part are shown to cut. I remove some texts as these were creating problems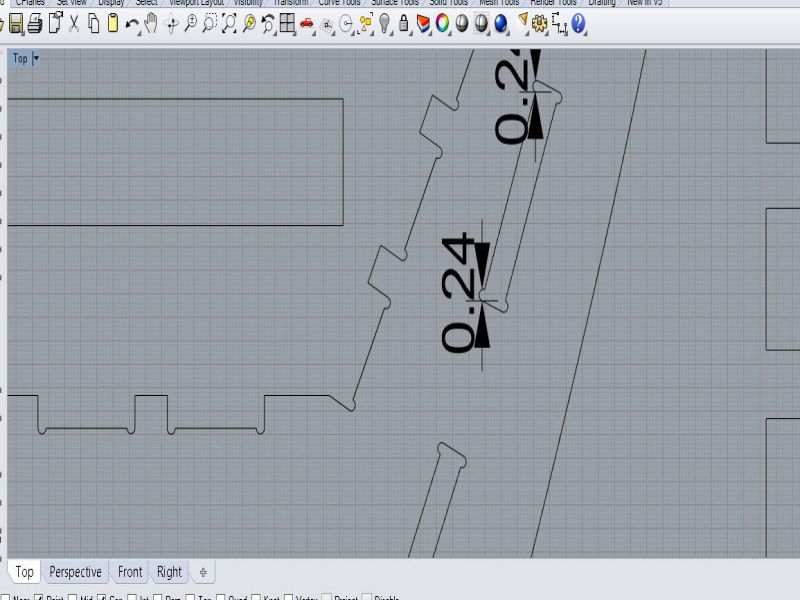 Creating dogBones
Creating toolpaths in Vcarve
Below images best illustrates the steps of generating toolpaths for final cut in shopbot.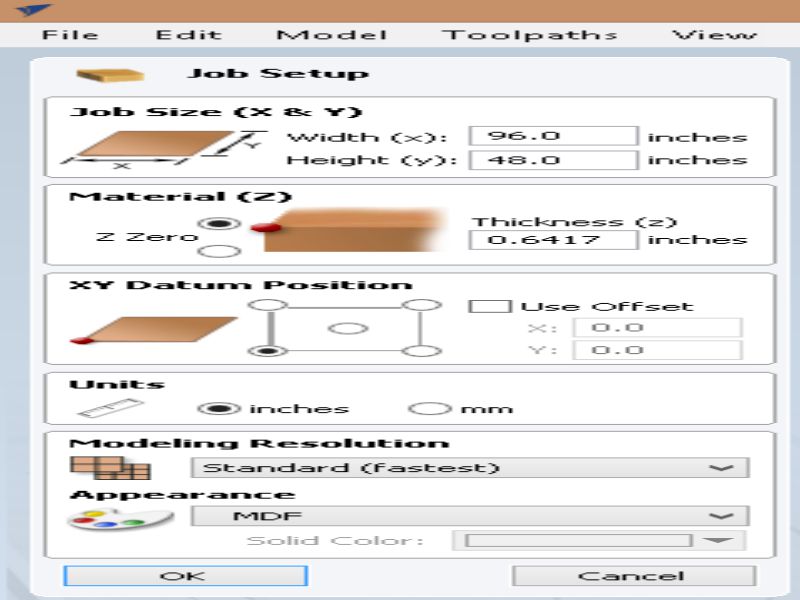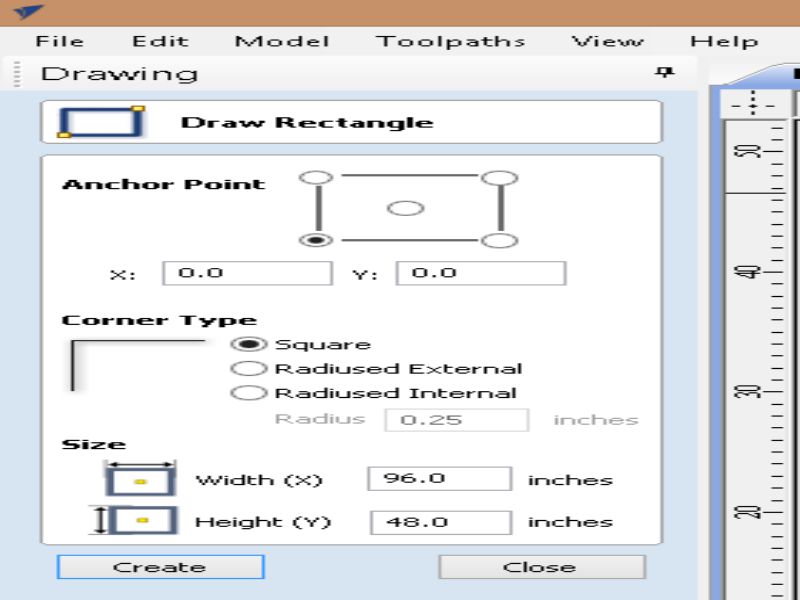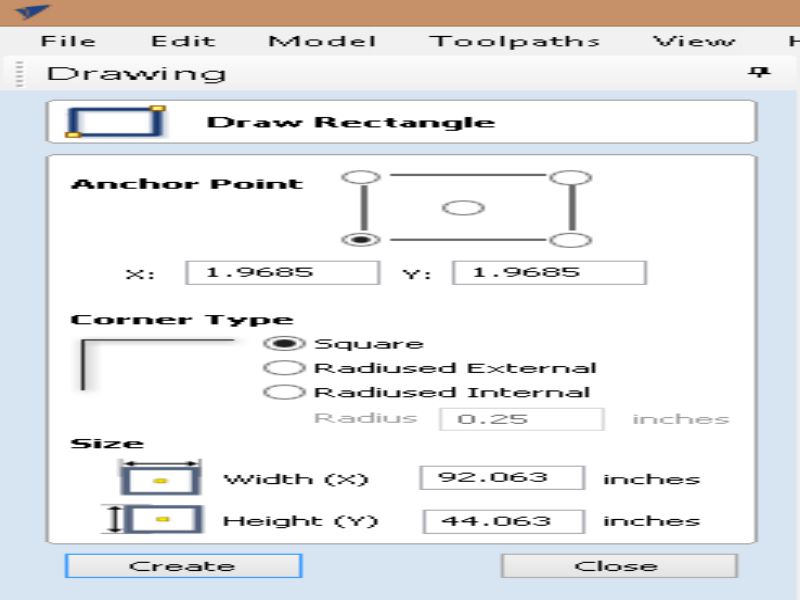 Setting wood sheet size as 96 by 48 inches with thickness of 0.64 inches. Drawing a rectangle for border of full size as wood sheet is. Drawing another rectangle for guide by reducing about two inches from all four sides.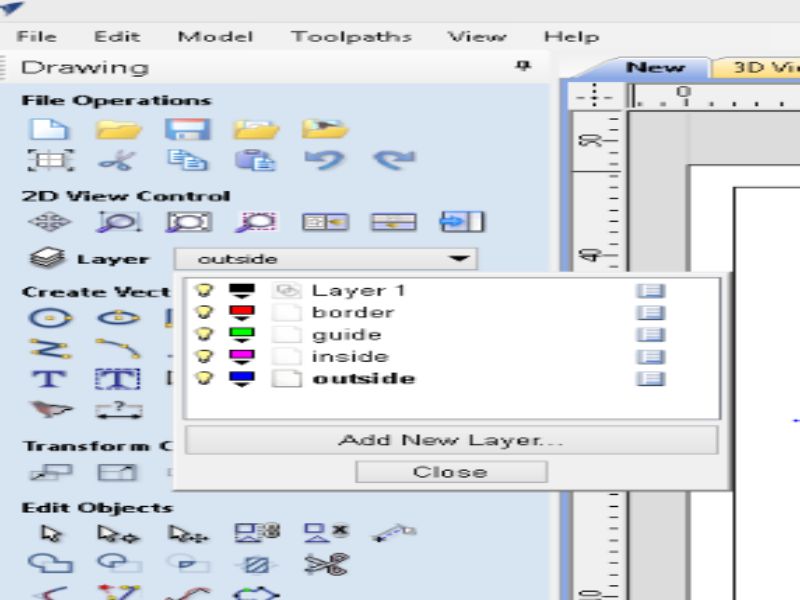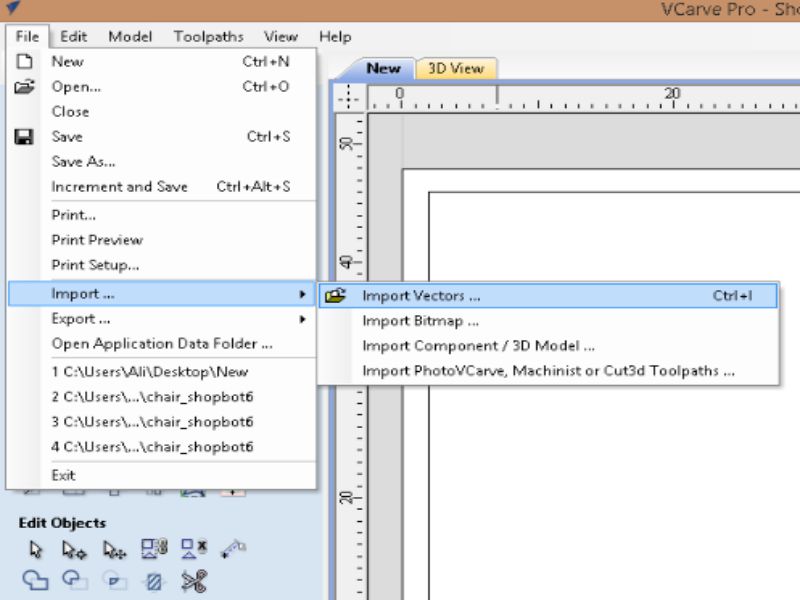 Creating layers for Inside, Outside, Guide, and Boundary. Then, importing .dxf file.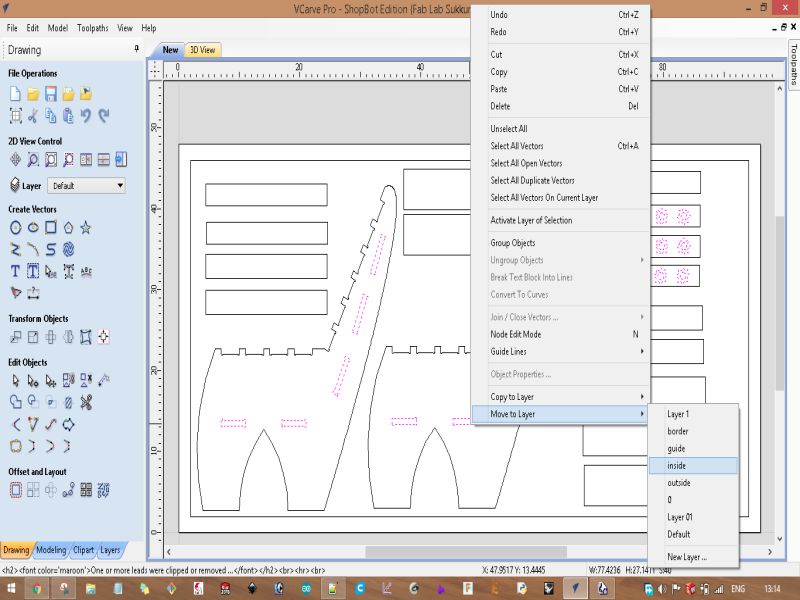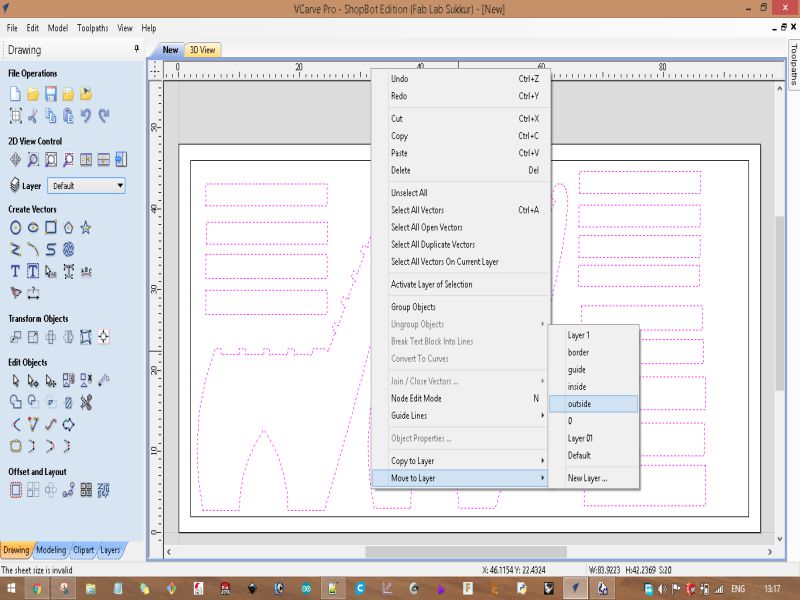 Assigning layers to interior parts and exterior parts.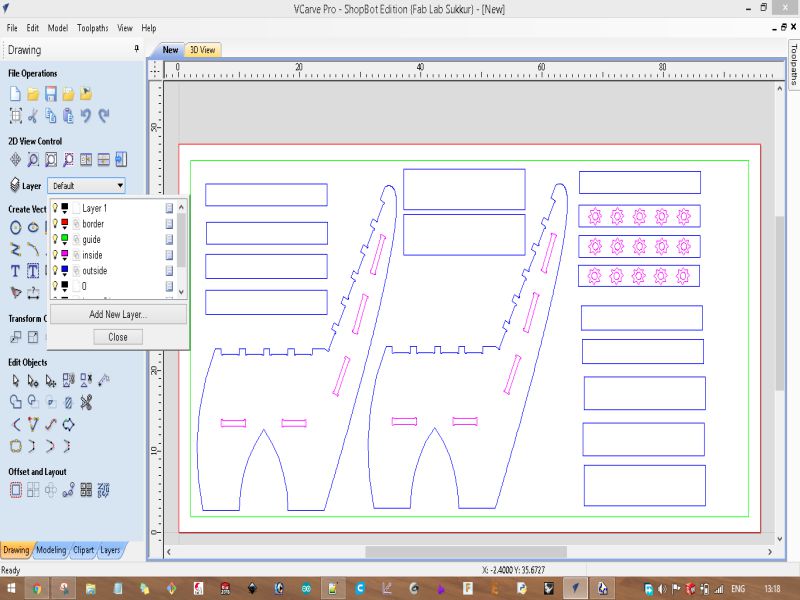 Assigning different colors to layers for differentiating well.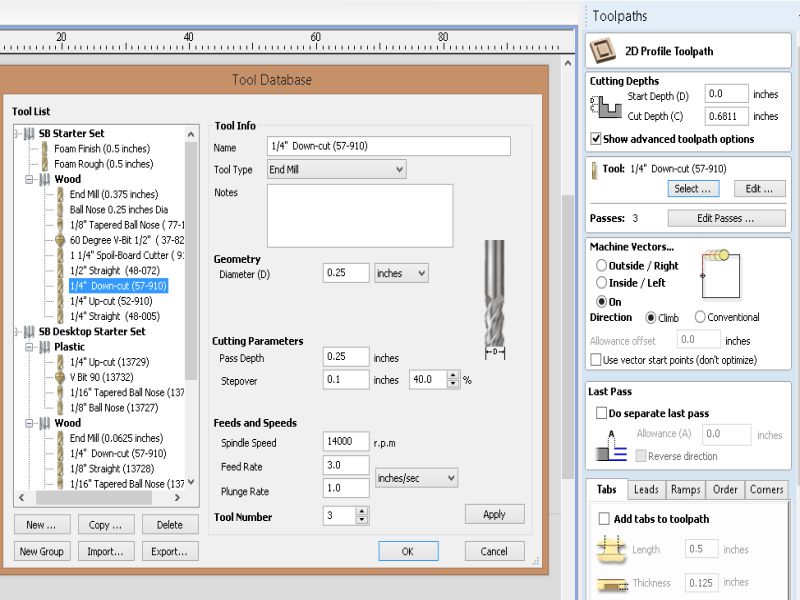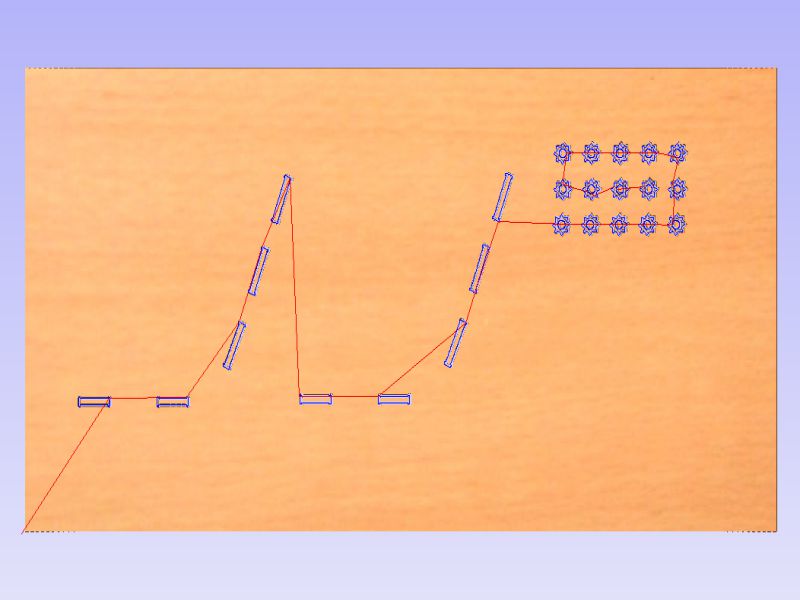 Assigning tool, and preview of interior cut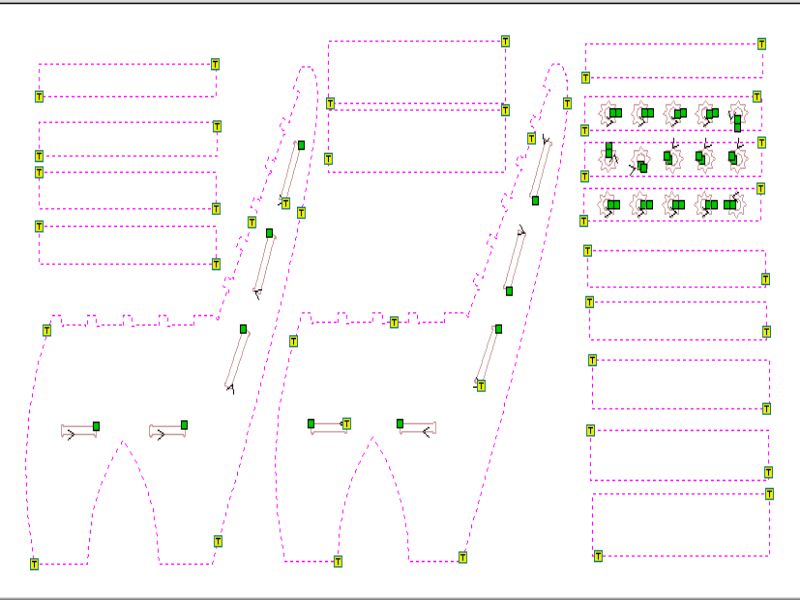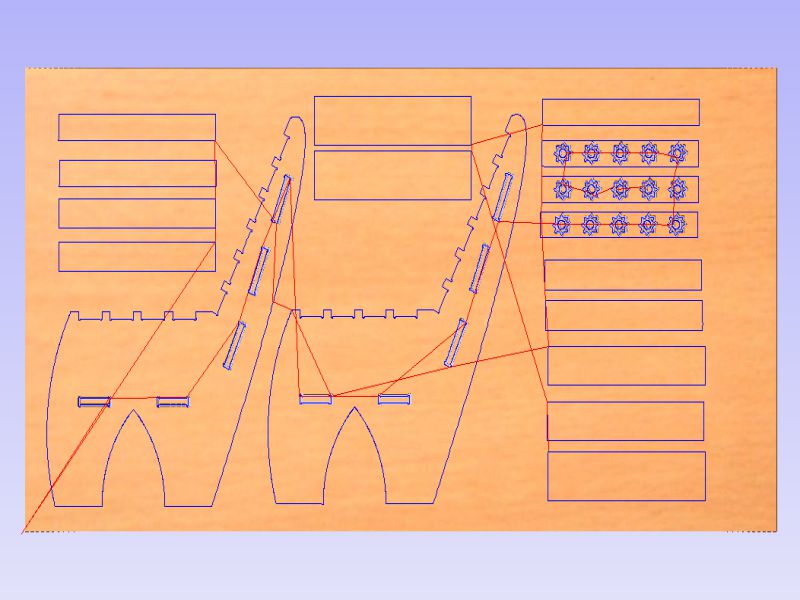 Adding tabs to toolpath, and preview of both interior and exterior cut.
ShopBot
Way to ShopBot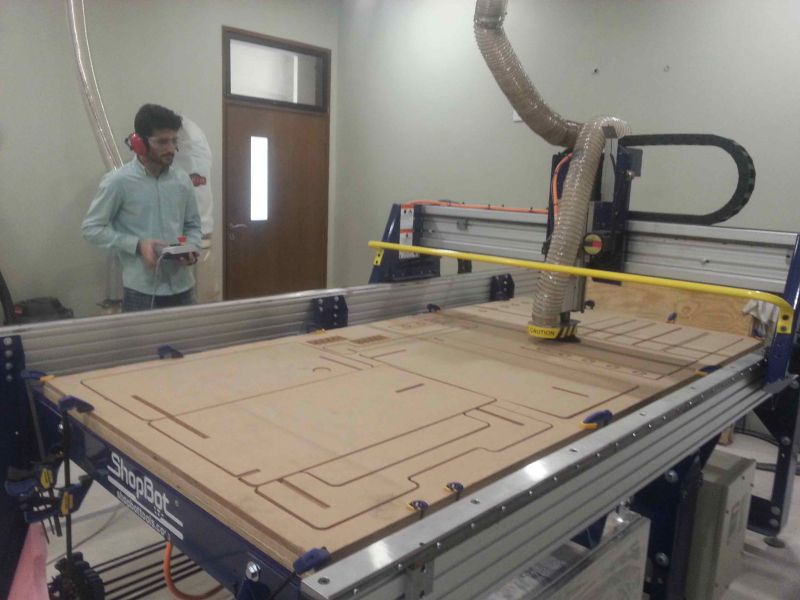 Work is in progress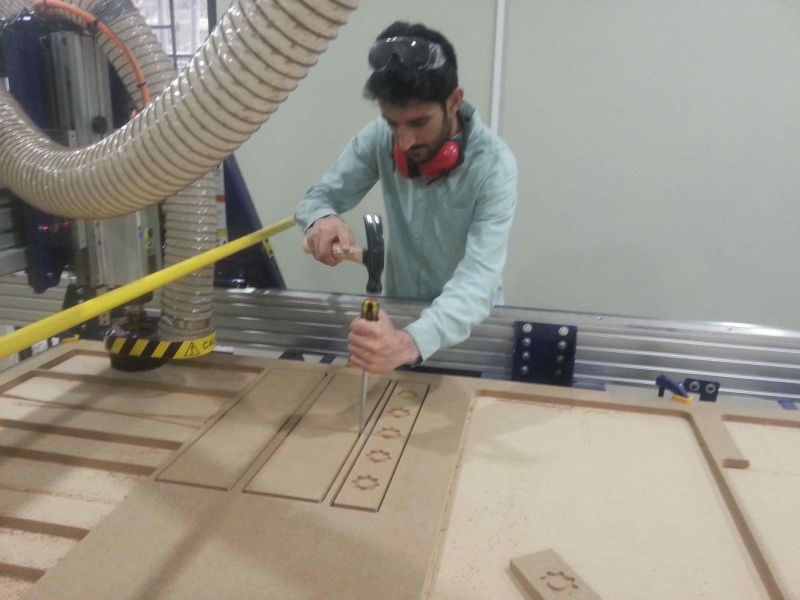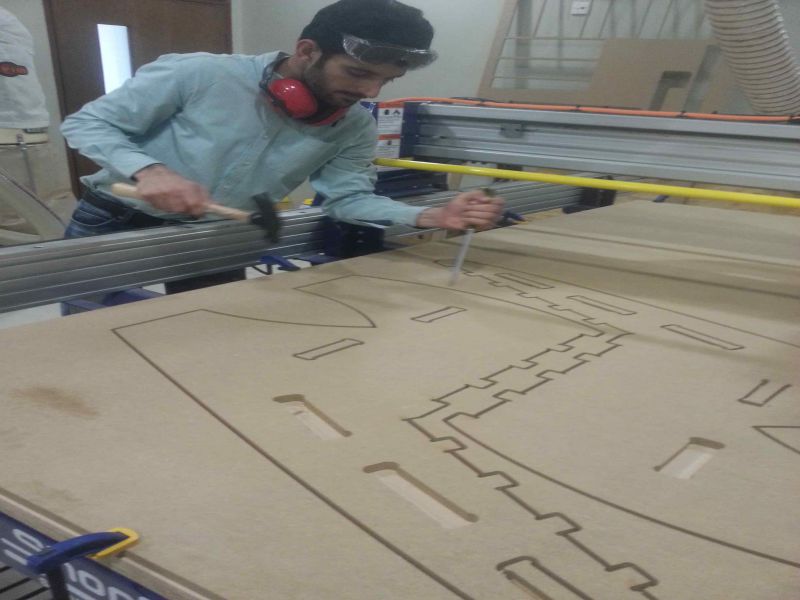 Removing tabs by a gentle hitting of hammer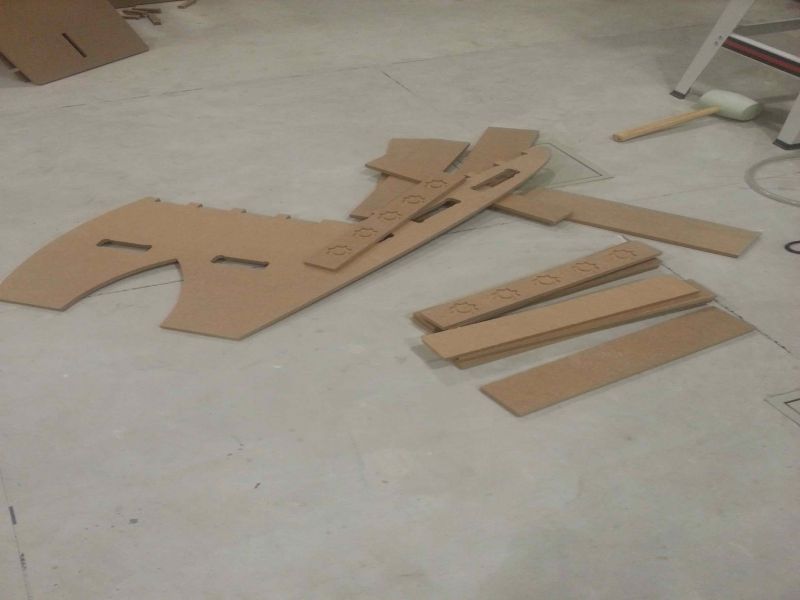 Few parts of the model before assembling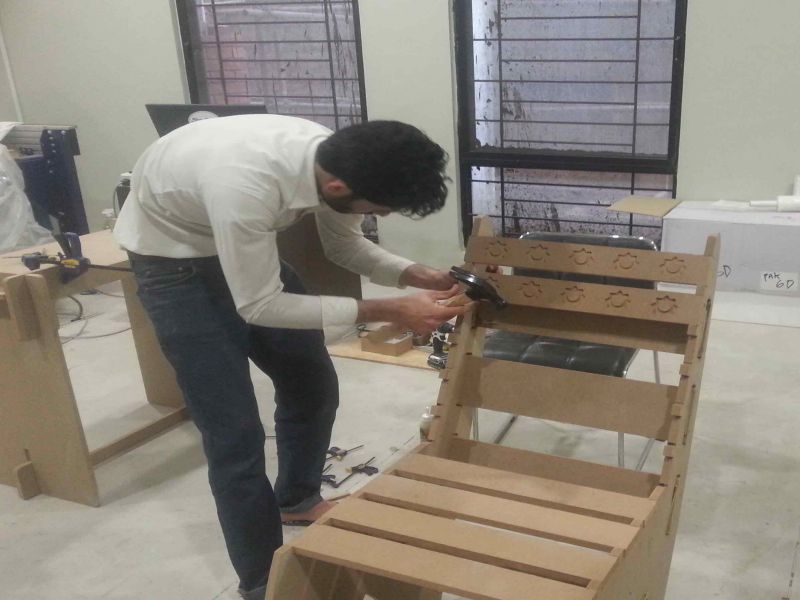 Here I am assembling the parts, I used gentle hit of hammer where I needed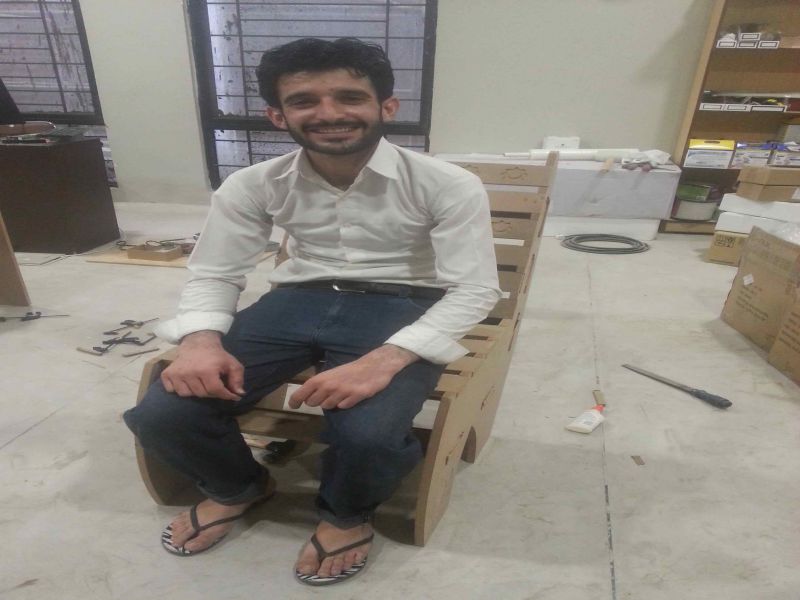 Happiness overloaded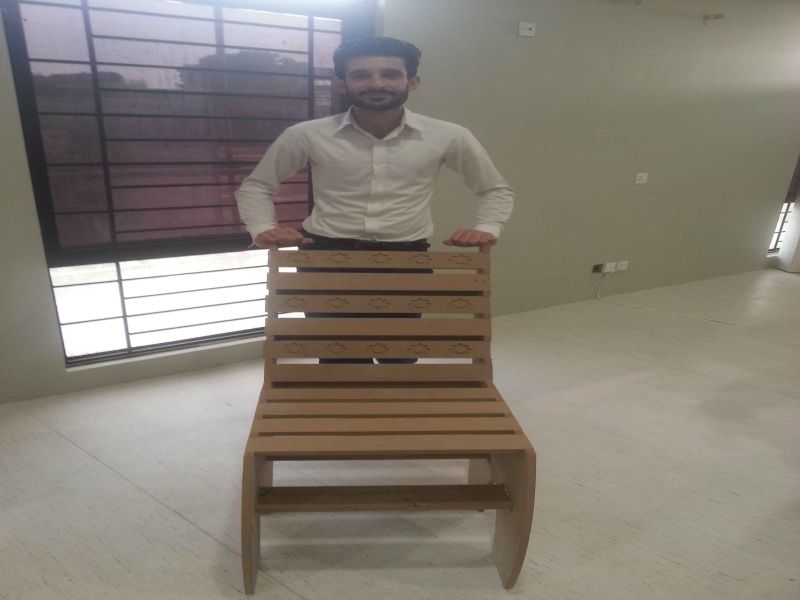 I put my chair in my working station where I usualy sit and work on my documentation
Download all files from here
This work is licensed under a
Creative Commons Attribution-NonCommercial 4.0 International License
.