Molding and Casting#
This week's group assignment is designed to familiarize ourselves with the the molding and casting materials we will be using.
Review the safety data sheets for each of your molding and casting materials,
Make and compare test casts with each of them.
The Material Line-up#
As part of the FabAcademy inventory, we have access to two different types of molding materials and two different types of casting materials, all by Smooth On.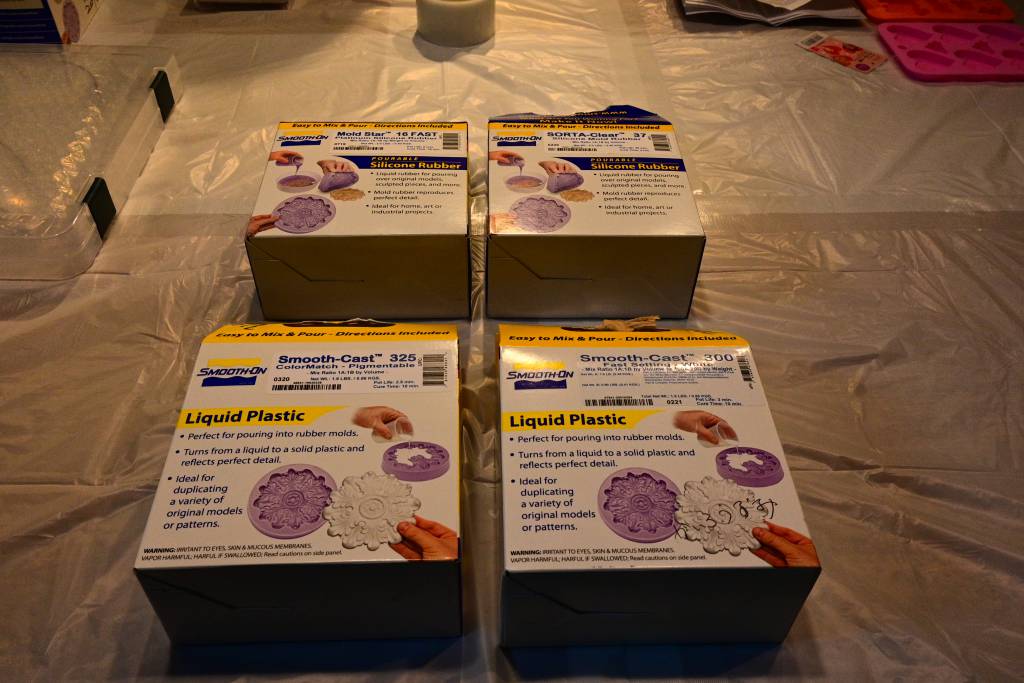 The Smooth-On Document Library holds all the Technical Bulletins and Safety Data Sheets of their products.
A quick comparison of the main features:#
| type | Mold Star 16 | SORTA-Clear 37 | Smooth-Cast 300 | Smooth-Cast 325 |
| --- | --- | --- | --- | --- |
| Color | Blue | Water Clear Translucent | White | Clear-ish Amber |
| Pot Life | 6min | 25min | 3min | 2.5min |
| Cure Time | 30min | 4hours | 10min | 10min |
| Mix Ratio(Volume) | 1A:1B | 1A:1B | 1A:1B | 1A:1B |
| Mix Ratio(Weight) | 1A:1B | 1A:1B | 10A:9B | 115A:100B |
Stirring and Bubbles#
The 2-part materials need to be mixed properly, if that is not the case, they will not work as expected. The problem is, that stirring introduces air-bubbles. This creates a challenges, especially if the pot time is in the range of 3 min. Mix, stir, pour, de-gas (if available). Too fast, air bubbles. Too slow, materials starts to hardens.
The Safety Data Overview#
The safety data for the molding and casting material is basically the same-
Wear protective clothing, gloves and glasses, so that the material does not touch your skin.
Don't eat or drink it. Don't eat or drink anything in the working area.
If swallowed, do not trigger nausea, call a doctor.
Ventilate. Don't inhale.
Don't do anything stupid with the material.
Test Casts#
For test casts we could either use normal plastic cups, empty PET bottles. Or we could go to the ¥100 shop and get some character silicon molds. We did the later.

We measured an poured all 4 materials, we introduced air bubbles on purpose and did not use the vacuum chamber to reduce the bubbles. (Thank you @Rico for borrowing the vacuum chamber).
Results are mixed.

But pretty and nice and かわいい。

What we learned: Do not cast silicon in silicon. It will be difficult to remove and some details will get lost when peeling.