Week #7 || Embedded Programming
Software used:
Arduino IDE
Eclipse C/C++ IDE
Fritzing
Setbacks:
The main problem this week was the malfunctioning of my FabISP programmer. For unknown reasons, the ISP continued to fail to be picked up by my computer. After quite some time of troubleshooting I gave up and used the ISP of a classmate to program the board. This went without trouble. Today, 17-03, I made a new FabISP which I will program again from a clean Ubuntu install.
Even though the assignment for this week was not the biggest of all, I lacked time to dive as deeply into everything as I would have wanted. I started working with Eclipse C/C++ in order to learn C coding, but I did not get beyond an introduction this week.
1. Arduino
We started this week with a class on Arduino by our in-house genius Guillem. The lecture by Neil this week was rather overwhelming, with a lot of terminology unknown to me. The class we had on Arduino clarified a lot, giving us some history on computing and microcontrollers and putting this weeks' theme in a wider context.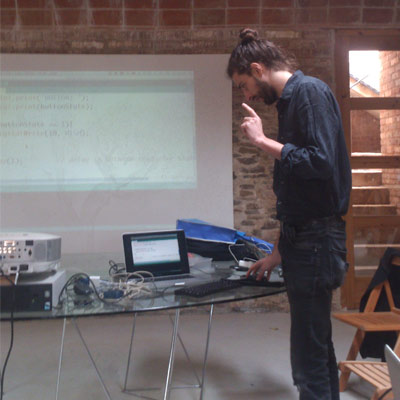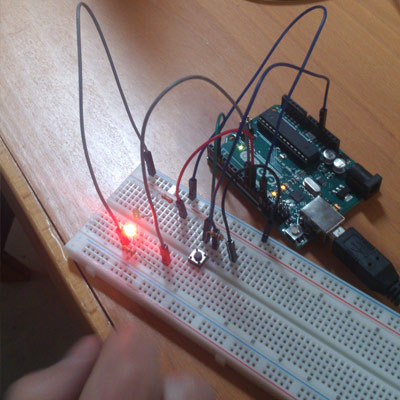 Guillem gave us a lengthy introduction to microcontrollers, Arduino, and the code structure of C / Arduino. We did some tests with a breadboard, working our way through the basic examples given by the Arduino IDE. We could already try out the set-up we had on our circuitboard we made last week.
2. Programming the board
To program the board, I wrote a short program to run a sequence of blinks on the LED light when the button is pressed. I used the examples given by Arduino, but wrote it from scratch to get some feeling for it. It was the first code I have ever written for a microcontroller.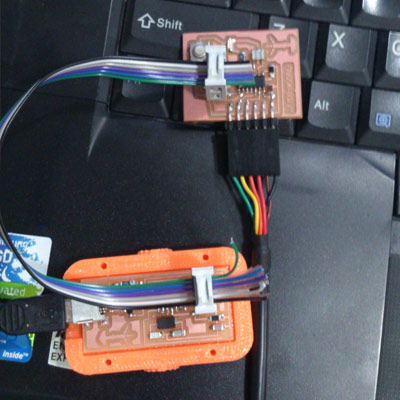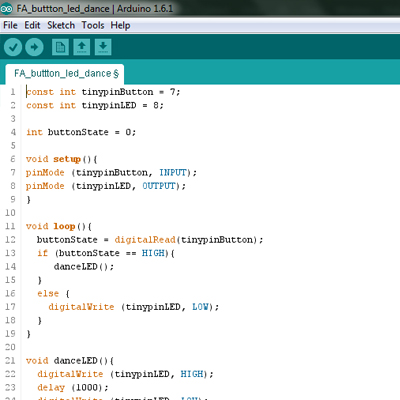 When it came to programming the actual board using the Arduino IDE, I followed the instructions given in a tutorial on High-Low Tech. This page links to the Atmel ATtiny library for Arduino, explains how to install it, and how to set up the parameters for programming. It also shows a very handy diagram showing the parallels between the ATtiny44 and Arduino, needed to put the right pin references into the code.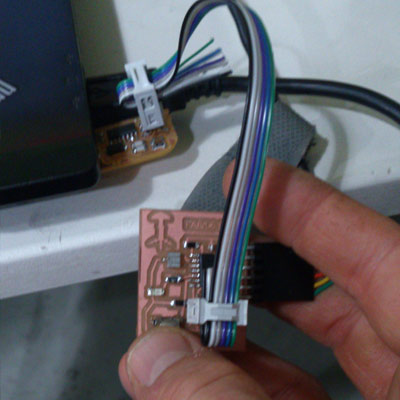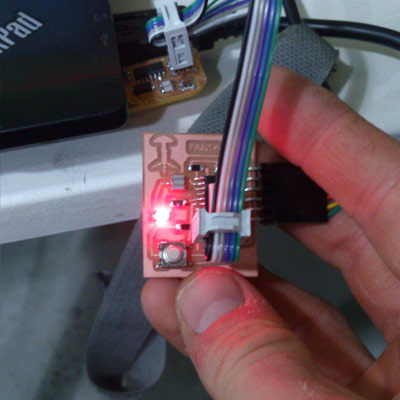 As I mentioned, I was experiencing trouble with my FabISP. My computer would not recognize it, although it did appear when I listed USB devices. After about 2 hours of trying and getting quite frustrated, I decided to use the FabISP of a classmate. This worked instantly, and I pushed the code onto the board. Still in a frustrated vibe, I literally jumped up and shouted out a victory cry when I saw the LED lighting up in the sequence I wrote! It was truly an amazing moment, I saw my whole project coming into sight!
Today, 17-03, I made a new FabISP, and I am preparing a fresh install of Ubuntu on my system. I was having some errors before with both, so I think a fresh start with these will do me well. I am very excited to continue programming and to soon start writing the code for my final project. I have browsed the datasheet for the ATtiny44, but I have not had the time to read it very deeply yet. I will do so, because it is important to know the system I am basing my project upon (or not, depending on the requirements and size of the code).
Files
Click here to download the code used for the blink sequence ARDUINO IDE.