Thursday 4:th of June.
Mill(er) Time.
My 3D printed part had a hole in it where it was the thinnest. It was probably to thin to print. and will definitely case problems in the molding process. So I went back to my 3D model and increased the distance to... and re did the mold in Blender
I milled the top half on the Roland modella first with a 1/8 bit and final pas with a 1/32 bit end mill. On the first pass, of the final cut, the drill bit really dug in to the side. Remember tilted walls! I compensated for this with the clearance setting. After a couple of tries I got a nice working setting clearance diameter 3.35mm, clearance length 2.
Roland MDX 20 clearance settings from Anders Haldin on Vimeo.
For the bottom half I got curious if I would do the final pass with the 1/8 bit as well... I had no small details in the design that required a smaller end mill. Dangerous to start experimenting when you are on a tight schedule... but I'm here to learn so I went for it. I used the default settings in (local) Fab modules I only change the overlap to 65%... and it turned out very well.
Inspecting my finish molds I noticed that the first one had not milled properly. It was missing about 1 mm in depth. I assume something got pushed when the end mill got stuck in wax. I will redo that one tomorrow.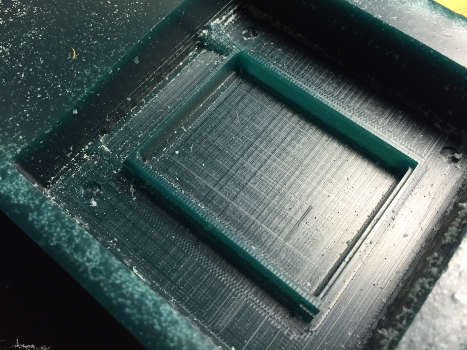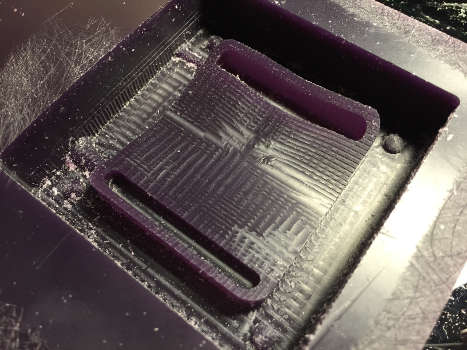 While my mold was milling I looked at some burlap and thought maybe I should use this for the strap? Plastic leather and old wood just seems like an weird material combination but burlap and old wood fits much better, get more of a worn beach look. And could I raster burlap with the laser... just burn it a little bit?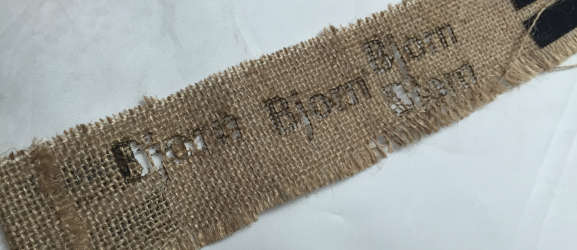 Milling double layered PBC
I moved on to mill the PBC, I'm making a double sided board, having batteries on the back side, I had made both side in Kokopelli retro and just commented/uncommented the part I wanted to export. The working order for milling a two sided PCB is:
Run the trace job
Run the cut holes job
Run the cut out board job
Remove it and clean up the back side.
Add double sided tape to the milled side.
Place it back using the cut out frame ass a reference.(make adjustments before pressing it down)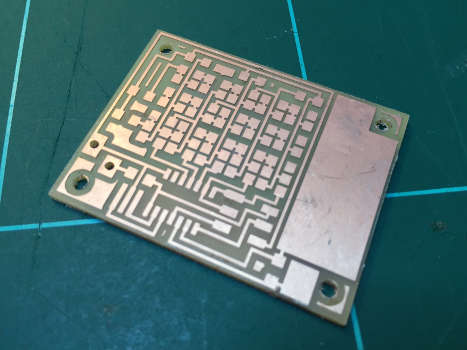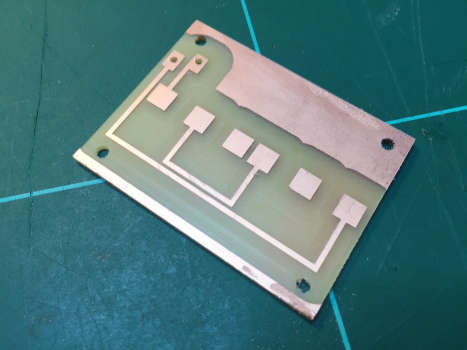 The board came out nicely but I had unfortunately made an design error, plugged the returning battery cable from + not - as it should be... so we are back to jumper wires.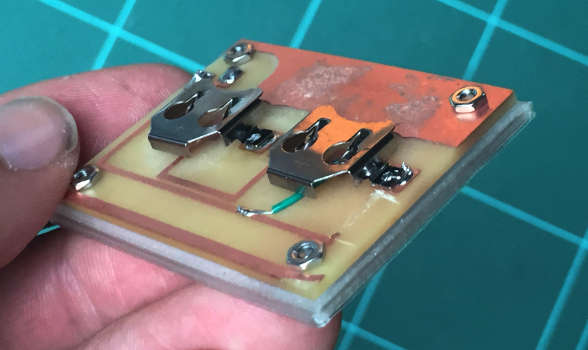 Designing Top part
I modeled the top part in free cad. I used boolean operator to get different depths (0.3mm, 0.5mm and 0.8 mm) for a thickness test. I'm experimenting with transparent filament but I'm quite sure I want it in wood in the end. I started to do a test print to see if my measurement was correct.
The transparent material I'm using is transparent XT-COPOLYESTERdepending on the temperature you print at you get different translucence.Printing at 240 degrees gives more translucence then 270 degrees.
Print settings:
Speed 65% (of 150)
nozzle temperature 240
bed temperature 90
material flow 118%
I was recommended to use masking tape for better adhesion and to avoid wrapping. But I could not get it to stick so I went back to the trusted glue stick. Even here I had problems but when I slowed down the speed to 65% it worked like a charm.